Makeup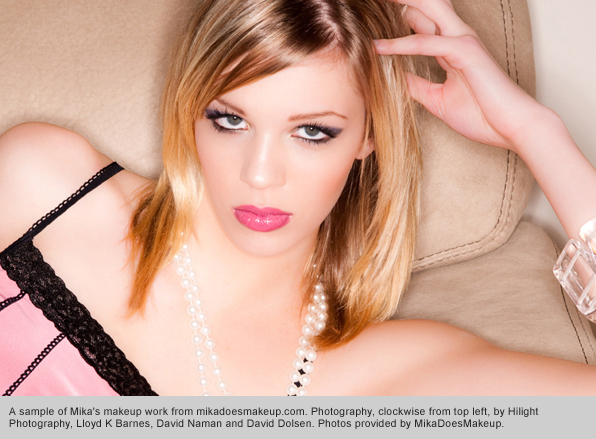 Mika from MikaDoesMakeup doesn't like using her real surname.
That's the only mysterious thing about her. Everything else is open, engaging and instantly likeable. You'll learn that first hand when you walk into The Studio, her elegantly eclectic spa and makeup palace in downtown Vancouver. Mika's personality is stamped all over the unique décor of her cute and cosy two-floor store. It's the career culmination and dream workspace for the graduate from Blanche Macdonald's Makeup and Esthetics Schools.
"When I was in high school I thought it would be cool to be on movie sets doing special effects," she recalls. "That's what brought me to makeup school. Watching the characters in Star Wars, I thought it would be amazing to transform people like that.
"I researched a whole bunch of schools and pretty much every review on the Internet said Blanche Macdonald was the best for makeup in Vancouver. I talked to a lot of people who went there too.
"I was never a good student before I came to Blanche Macdonald. But I really wanted to do this, and I wanted to learn. Although the program was hard, they made it easy for you to want to study. There was a lot to learn too. We had to know the bones of the face and we were tested on it all the time."

The enthusiastic student didn't throw herself into the industry straight after graduation. The Port Coquitlam native travelled extensively first, funding four years' worth of trips around Australia, Japan and Hawaii with a little makeup work on the way.
A fair chunk of the world explored, Mika returned to Canada with fresh ideas.
"I wanted to try esthetics too. I wanted to have more options and perhaps work in spas. I knew what Blanche Macdonald was like. I had a connection with the school because I'd been there already. So I signed up and it was great.
"The program was so fun and relaxing. A big part of that was how much I liked getting the treatments, although I never wanted to work after I received them. When you have a massage early in the morning sometimes you're so relaxed you don't want to work after that!"
After graduation, Mika worked at Tuscany Salon and Spa in Pitt Meadows for three years before, once again, the call of the makeup box proved irresistible.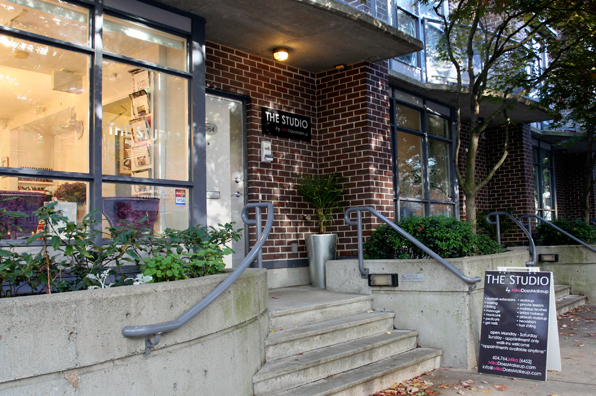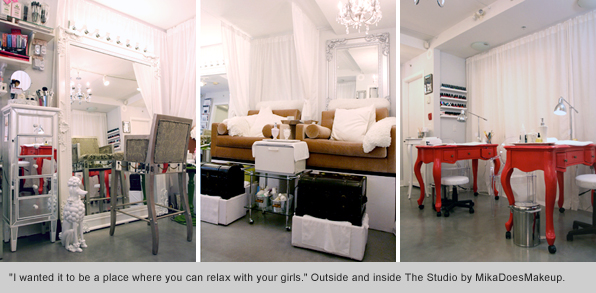 "I decided that I wanted to go back into makeup again. I called myself MikaDoesMakeup, quit the spa and got my web site, facebook page and youtube videos up. My boyfriend, Jay, suggested I did videos. I did one and kind of became addicted to them. People from Illinois and California started commenting and asking for advice on youtube. Surfers would ask about waxing tips."
The movie magic that first inspired her would have to wait. Fashion and beauty had won a place in Mika's heart.
"I went into fashion because I could do more with it," she explains. "My friends always wanted me to make them look beautiful. They didn't want prosthetic broken noses, and I loved making them feel so good.
"I contacted every single photographer I knew, googled the photographers in Vancouver I didn't know and emailed all of them. I'd do shoots for free. They started recommending me to other photographers."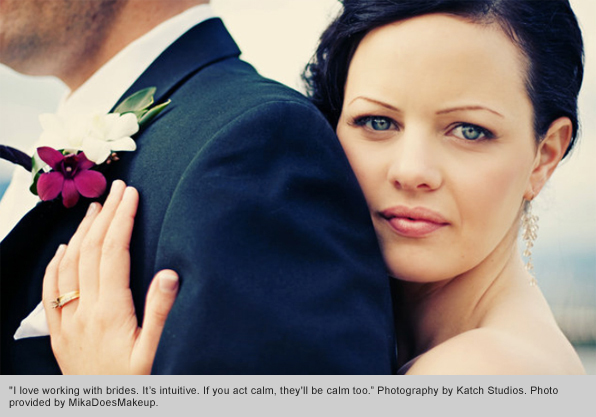 MikaDoesMakeup soon had a healthy bridal clientele, impressed by her portfolio and the excellent reviews spreading by word of mouth around BC, and inspired by the charm on display in her on line videos. It had been a while since she'd graduated from Blanche Macdonald, but the lessons she'd learnt there – about how makeup artistry is about more than technique – hadn't been forgotten.
"If you're a makeup artist and you're not doing anything out of the ordinary, then why are people going to choose you? People can see my work on youtube. Because I have videos and I'm easy to find on the Internet, people have that familiarity and feel comfortable booking me. The last person that booked me sent out a group email to five or six makeup artists asking for help for her wedding. I wrote back within an hour. Some artists took a week to write back!
"You've got to be the most professional and have the best attitude. I love working with brides. I never get bridezillas. You bring them back down to earth by making them calm and comfortable and reminding them that you're taking care of everything. It's intuitive. If you act calm, they will too."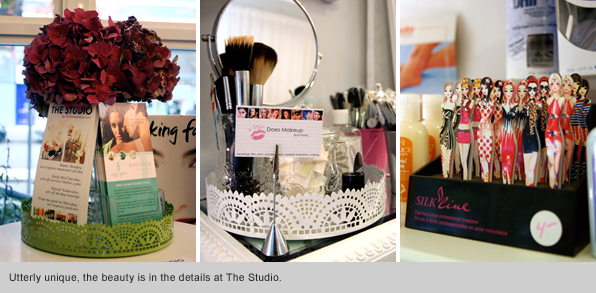 Mika was working as a makeup artist by night and at weekends, and in a real estate office on weekdays. She had had thoughts about committing to her own business full time. It just took a push from her boyfriend to make it a reality.
"I had an idea about what my own place could be. I'd always wanted to open up somewhere but I didn't think I could do it. Jay said, 'Just do it!' We researched everything in a month. We visited the most expensive stores to get ideas, and then looked on line to get better prices. I quit my job and we opened up The Studio.
"Because people come for treatments like waxing or having their nails done every day, it made sense to combine esthetics and makeup. People don't have their makeup done professionally to go to work every day. I wish they did!"
The Studio hasn't been open long, but it's already winning fans. As havens of relaxation go, it's a little different. Just like its owner.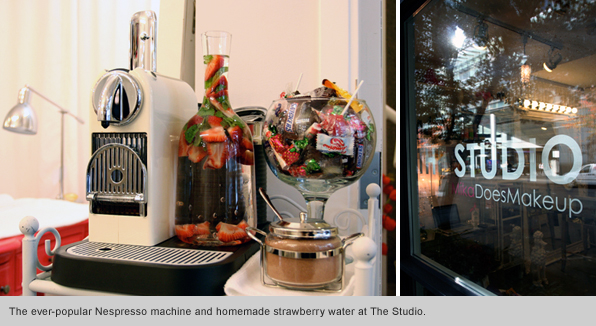 "I don't like the word spa, even though it is a spa," she smiles. "I didn't want to say that in the name of the store. I wanted it to be relaxing, but I wanted cool music too. I wanted wine and champagne. I wanted it to be a place where you can relax with your girls. You get strawberry water. You get to play on an iPad. People walk by and see the bright lights from the street. Sometimes they just stand there and stare."
Although it's only been a matter of months since Mika decided to make The Studio her life, it's already a thriving business. She employs a nail technician ("I'm not really like a boss. More a friend with guidelines") and has been speaking to her old instructors at Blanche Macdonald about taking on more staff. It's all working out beautifully.
"Jay and I live upstairs, so I can make my own hours. If people want to make an appointment to come in at 9pm, that's fine. Everything we offer here is something I enjoy doing and the products I carry are the ones I use myself. They're products I stand behind.
"I love being my own boss. I have to work harder, but I'm working for myself. This is my environment."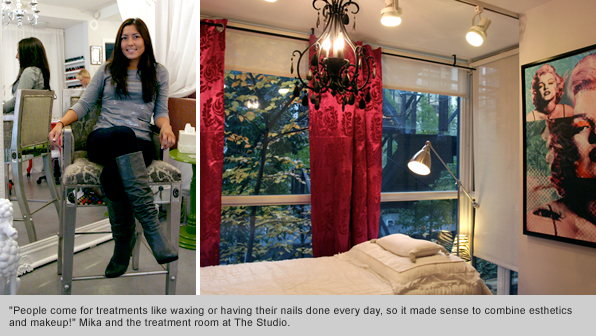 It took Mika a while to become MikaDoesMakeup, and even longer to open The Studio. She understands that there's nothing wrong with waiting for the moment to be right.
"I graduated in 2001 but only started blossoming three years ago when I started focusing. I needed to get travelling out of my system. When you decide to do it, know what you want and go in full force. Start your web site, get your business cards and go for it. Don't go half hearted."
Of course, it helps to start out with the right training.
"A lot of clients ask me what school I went to. When I say Blanche Macdonald, they're like, ok, good, good. People know the name. It's always a relief for them to hear I went to school there."
Mika will tell you her real surname too, but you'll have to visit The Studio to ask her yourself.