Makeup
BLANCHE MACDONALD MAKEUP GRADUATE AND MAC RESIDENT TRAINER JENNIFER DELESOY-ESMERIA: "MY GOAL IS TO GIVE PEOPLE AN AMAZING EXPERIENCE."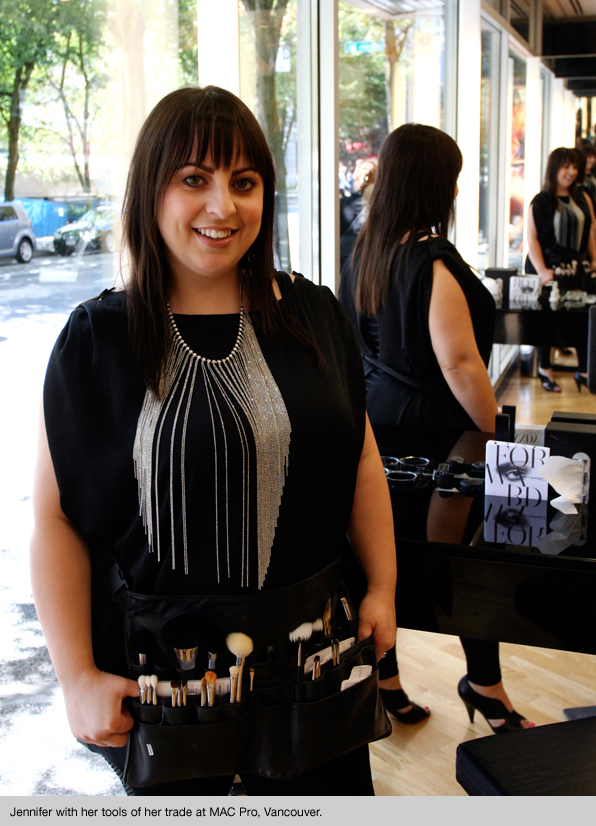 "I always knew I wanted to work at MAC," smiles Jennifer Delesoy-Esmeria. "It's corny, I know, but it's true."
Landing the dream job might sound corny, but it's also reality. For the past four years Jennifer has been a Resident Trainer covering the four MAC stores across Vancouver. It's a management role that goes beyond the responsibility of teaching the best young makeup artists in the retail world. MAC, Makeup Arts Cosmetics, is the professional makeup artist's choice after all. That's why Jennifer is one of the first artists called when big events need the top professionals. She worked on Chantal Kreviazuk, Nikki Yanofsky, Tara Oram and Zaki Ibrahim when the Juno Awards visited Vancouver in 2009, and it was Jennifer who did the makeup for k.d. lang's amazing performance at the Opening Ceremony at the 2010 Olympics.
None of this would have happened if it weren't for two seemingly innocuous yet life-altering moments.
"It was 1999, I was 19 and going to legal secretary school," recalls Jennifer. "Holy crap, was that boring. I learnt there that I didn't like office life. One day I was reading The Province newspaper and saw an article about Blanche Macdonald. I instantly thought, 'I can go to school and make a career out of being a makeup artist'.
"Once I'd decided to go to makeup school a friend introduced me to MAC. For my birthday she paid for me to go to the MAC counter at The Bay in Downtown Vancouver and have my makeup done there. Right then I knew I wanted to work for MAC. They all wore black and were super-cool. The girl who served me is now a dear friend, but she had a lot of attitude and kind of scared me. She's tall and she was wearing black leather pants. She looked like a model. I felt kind of intimidated, but in a strange way I liked it. It seemed so cool. It opened my eyes to a world I didn't know existed."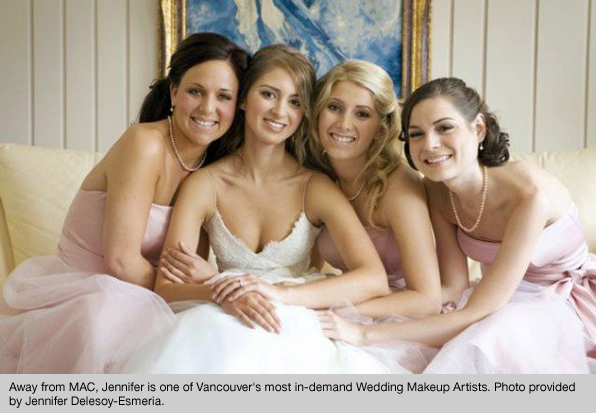 Jennifer was new to professional cosmetics, but she proved that lack of previous experience isn't a hindrance to success at Canada's top makeup school.
"A lot of students at Blanche Macdonald come from an art background or have always done makeup," she explains. "I had no experience of makeup on anyone but myself. Makeup artist school gave me the confidence to make a career of this. I loved it! It was the only school I ever went to that I actually enjoyed. They were teaching me things I wanted to learn about. And it was very hands-on. We didn't sit and listen to lectures. It was more like, this is how you do it – now go do it! It was about getting in there and doing it. And practicing!
"Seeing people build a career in makeup was inspiring. I was 19 and that's what I was looking for. And I realised what the creative possibilities were. Even though I knew I wanted to go into the retail side of the makeup business I still loved the special effects courses. I still have pictures of me in a bald cap with no eyebrows looking absolutely hideous!"
Jennifer's sights were set on MAC. After graduation she went for a job interview there, only to be turned down for a lack of makeup retail experience. To gain that experience, she took a job at Estée Lauder at The Bay in Downtown Vancouver. Three months later, MAC decided they wanted to speak to Jennifer again.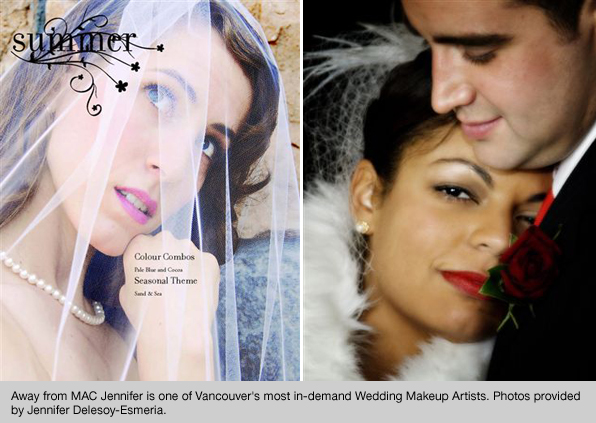 "MAC called because they had my resumé on file. I was still working at The Bay so I did my interview with them in my blue Estée Lauder smock. I got the job and I started part time in 2000.
"I started as a MAC artist, where my job was to work the floor, sell product and do makeup. I moved into a key holder position when they opened a new location in Metropolis at Metrotown. Then I was made an assistant manager. And four years ago I became a Resident Trainer. That was my ultimate goal at MAC. I like it because I'm always doing something different. That keeps things interesting. You're leading by example and you're training people. It's coaching the staff on artistry, customer service and product knowledge. A bit of everything really. I even get the opportunity to incorporate some of those legal secretary skills!"
Resident Trainer may be a senior and full-time position, but that doesn't mean Jennifer puts her feet up when she's not working at MAC. She's one of Vancouver's most in-demand freelance wedding makeup artists and when MAC presents her with opportunities, she's eager to take them.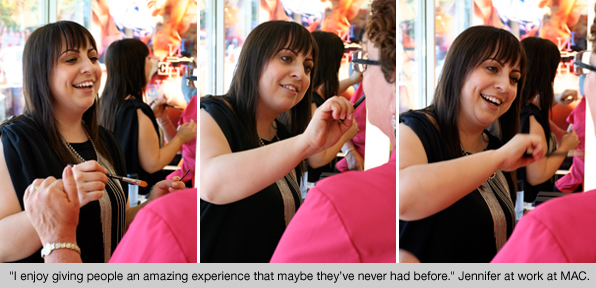 "MAC has an artist relations department that filters cool jobs out to us. Getting to do celebrity makeup is something I love. Last year the Juno Awards were in Vancouver, and I did the makeup for Chantal Kreviazuk, Nikki Yanofsky, Tara Oram and Zaki Ibrahim. At the Olympic Opening Ceremony I did k.d. lang's makeup! That was an awesome experience. It was a lot of fun and a once in a lifetime opportunity."
It's safe to say that after a decade with the company, Jennifer's love for MAC is stronger than ever. She hasn't forgotten the impression the MAC team made when she first entered the world of professional makeup.
"You can tell when someone is visiting a MAC store for the first time," she explains. "They can look shell-shocked. I want to share my energy, enthusiasm, excitement and passion for MAC. I enjoy providing great customer service and giving people an amazing experience that maybe they've never had before. Makeup is such an emotional purchase. People don't buy it because they need it to survive but because it makes them feel good. And being able to make people feel good is super-rewarding for me."
There are more rewards than the pleasures that come with satisfied staff and customers. Jennifer continues to grow as an artist as MAC enables and encourages its team to become the ultimate makeup professionals. Thankfully, for Jennifer and the rest of the MAC team, that tends to result in a lot of fun for all involved.
"One of the coolest thing about working at MAC is that you do get to work with other makeup artists, so you can really grow your skill set. There are always workshops and master-classes to attend. I've been to New York, Miami, LA, Toronto and Washington DC for Train the Trainer workshops. We learn and share tips and tricks. You can grow so much more as an artist with the pool of people you work with every day. It's a family-type community."
Jennifer has been blessed with a great job, celebrity glamour and all-expenses paid trans-continental travel. Honestly, it doesn't sound corny at all.