Makeup
The sights and excitement of the 2010 Olympics will be forever seared into the memory of anyone lucky enough to have been in Vancouver during the Games. The two weeks were awash with unforgettable highlights: spectacular ceremonies, incredible performances, dancing in the streets and many, many Canadian gold medals.
The Blanche Macdonald Centre had its own share of Olympic glory, with instructors, graduates and students seizing the unique opportunity to play their part in ensuring the Games looked great from beginning to end.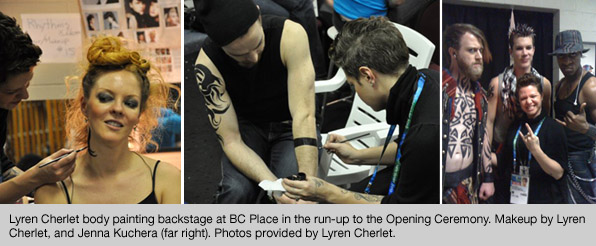 "Blanche Macdonald was the only makeup school contacted by MAC and VANOC to assist on the Opening and Closing Ceremonies," explains Blanche Macdonald's Makeup Program Director Karen Esprez, "Associate Makeup Director, Jennifer Powell and I worked with MAC's Pro Makeup Artist Caitlin Callahan to determine who would assist the MAC Makeup team. With the entire world watching, it was an incredible vote of confidence from MAC in the quality of makeup artist we're producing at Blanche Macdonald."
Instructors Jayna Bussiere, Donna Stocker and Jennifer Rothfelder, and grads and students Kyla Giesbrecht, Jenna Kuchera, Lyren Cherlet, Tiffany Easton, Holly Roberts, Brie Christianson, Joanna Vulcano, Win Liu, Fiona Kennedy and Stephanie Young had the honour of being part of the Opening Ceremony's makeup team.
"I was working on the placard bearers for the Opening Ceremony and on the athletes' marshals for the Closing Ceremonies," explains Donna Stocker. "There were 82 bearers with only four makeup artists doing them, and 204 marshals with five makeup artists. The biggest challenge was making sure everyone was done to the specifications of the Artistic Designer.
"I was on the stage in the Opening Ceremony's rehearsal too, as a stand-in for the athletes. I carried the Bosnian flag! I also was a stand-in on the Canadian team, which was very emotional. There were 60,000 people cheering!"

"I worked with a group of MAC Pro artists on the Sacred Grove dancers for the Opening Ceremony," adds Jennifer Rothfelder, "and the violinist, Ashley MacIsaac. And during the Closing Ceremonies I worked on Michael Bublé's RCMP dancers. It was amazingly creative and extremely exciting! I felt lucky to have been a part of it."
Instructor Jayna Bussiere had up-close meetings with sports stars past and present at Team USA's Olympic headquarters. She spent a day providing makeup for a series of American public service film shoots; part of Michelle Obama's campaign to promote activity and combat childhood obesity.
"I got to work with famous skaters like Kristi Yamaguchi, Michelle Kwan and a lot of current Olympians, including the snowboarder Seth Westcott. I got to hold his gold medal! Pretty cool!"
Pro Hair student Valerie Webb had her own inside view of the ceremonies.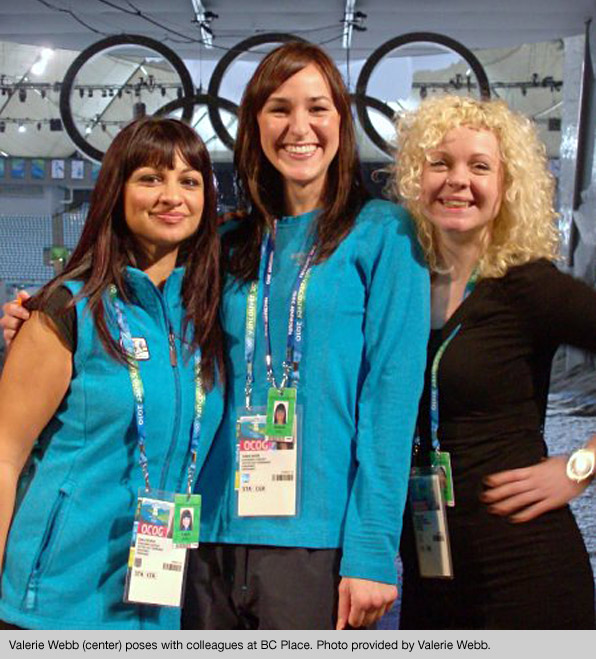 "My job was to do the hair for the Sacred Grove segment of the Opening Ceremony, working with three other full time hairstylists. Our job was to prepare the 56 dancers from the Alberta Ballet and Ballet BC.
"For the Closing Ceremonies I was in charge, along with one other girl, of preparing the swing band that accompanied Michael Bublé.
"My favourite memory was being a part of the group that made the show happen. It was very rewarding to see the performers on stage and have them come back into the dressing room filled with adrenaline and excitement. As they walked out the doors they were so grateful for all of our hard work. It was a feeling I will never forget; definitely a once in a lifetime opportunity."
Away from the Ceremonies, Blanche Macdonald students and graduates were busy across the Olympic city.
"They Rep is one of Vancouver's leading Agencies for the fashion and advertising industries," explains Career Director Jennifer Daerendinger. "My colleague Heather Sosa and I had to find as many makeup artists and hair stylists as we could recommend to work at the Aboriginal Fashion Showcase at the Olympic Aboriginal Pavilion. This event was presented by the Four Host Nations, so it was absolutely imperative for the show to be utterly professional. They Rep knew that Blanche Macdonald makeup artists and hair stylists could deliver under pressure."
One of the Hair Stylists at the Aboriginal Fashion Showcase was Blanche Macdonald Pro Hair student Jason Manzano.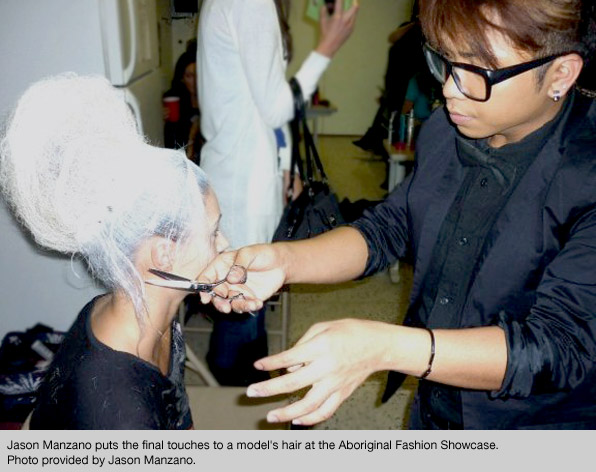 "I was cutting and styling the hair on the models," he recalls. "I expected a fun and exciting day, which was exactly what happened. There were fifteen models in total and seven hair stylists. This was my first fashion show. It was pretty busy!
"I'm so proud to have been part of the Olympics. This is my first year in Vancouver having come from the Philippines. It was amazing to be here."
"Our phones were ringing non-stop," continues Jennifer Daerendinger. "We had casting calls for medal presenters and flower holders. The Bay came to Blanche Macdonald to select students to work at the official Olympic store, and with the thousands of extra visitors to Vancouver, Lancome, Chanel, Estée Lauder and many other lines were all eager to recruit Blanche Macdonald makeup students."
Blanche Macdonald's great reputation led to makeup graduate Sanaa Martinez's work being seen around the world.
"The college connected me with a TV news job during the Games," she explains. "I worked with a crew from Europe who was contracted out to Fox and other news stations around the world for their Olympic coverage. I got to provide the makeup on the American mogul skier Michelle Rourk for a five-minute live TV segment. I also provided the makeup for Tara Lipinski, the gold medal figure skater from the 1998 Games, when she was reporting on her Olympic experiences in Vancouver. For the live shots, I had to get up at 4am and stand outside on a rooftop deck overlooking Vancouver in the freezing cold. In the crisp air and clear sky it was a spectacular view."
Across Vancouver, at the Pacific Coliseum, Blanche Macdonald graduate Kathryn Jarymy was Head of Hair and Makeup for all the Figure Skating events.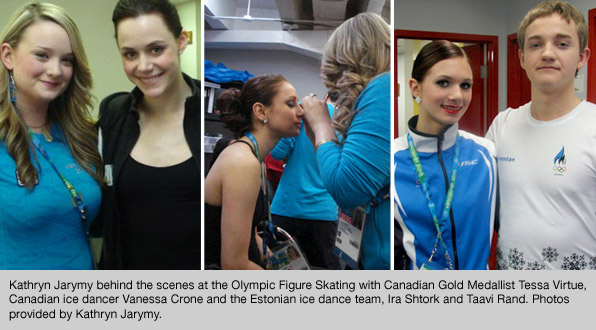 "We had Tessa Virtue, one of Canada's ice dance gold medallists, and Joannie Rochette in our chairs," she smiles. "Joannie was in amazing spirits considering what she'd been through with the tragic passing of her mother.
"Qing Pang and Jian Tong were the silver medallists from the Pairs. I designed her makeup for the short program. A lot of skaters were pretty trusting with us. I got to work with an Eastern European skater with vitiligo on her left arm. We did a full body makeup with her.
"I stood right by the ice and was able to watch Joannie the first time she'd been on the ice after her mother passed away. It was really emotional because my mom was also there volunteering with me."
As one of Canada's top Fashion Schools, VANOC called on Blanche Macdonald's fashion skills as well. Looking for Vancouver-based talent, designer Yumi Eto had contacted Fashion Program Director Peggy Morrison before the Games. Peggy recommended Fashion Design graduates Amanda Montgomery, Mickelli Orbe, Jillian Rothert and Sayaka Toyoda, who were hired as sewing contractors to work on the indoor medal bearers' Heritage Sweaters, the outdoor medal bearers' toques, and the caged petticoats on the athlete escorts' costumes.
"My tasks included weaving the colours into the sweaters," explains Amanda Montgomery. "Blues, browns, teal and orange – and finishing the details for each sweater.
"Yumi Eto, the designer for this project with Aritzia, had contacted me personally for this project as I had been recommended by the staff at Blanche Macdonald. The highlight of this experience was working and learning under Yumi. She has an incredible eye for design, and her immaculate attention to detail was great to observe and learn from. It's really been the most rewarding experience, and I'm truly grateful!"
Gaining their own media exposure were Fashion Merchandising graduates Jenn Co and Kaitlyn Kuipers, who spent the Games as the local talent on NBC's Olympic wardrobe team.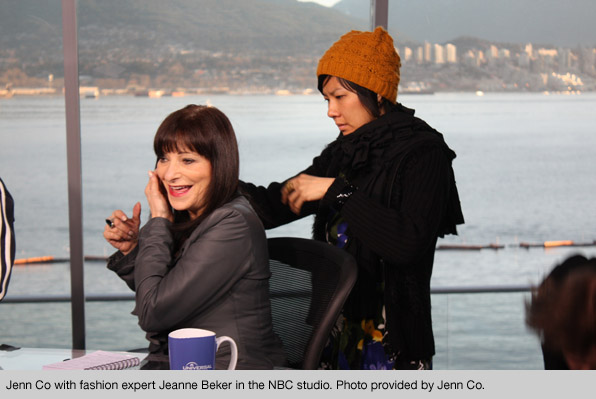 "I worked on Universal Sports, four daily shows under the NBC umbrella," explains Jenn. "My typical day would start around 5-6am, when I would arrive on set. My role as the shows' Wardrobe Stylist was to ensure everyone, including hosts and on-air talents, looked camera-ready. We'd go live-to-air by 7am after pre-rehearsals, and continue onward with four different live shows until noon. We would wrap-up around 2 or 4pm after pre-taping segments for the next day. Then I'd join the rest of the wardrobe team to help them prep for their shows slated for that afternoon or evening.
"We had a lot of guests on set, including close to 100 American and Canadian medalists. Fashion designer Vera Wang and Ralph Lauren's son, David, were also guests. Both talked about the fashion side of the Olympics.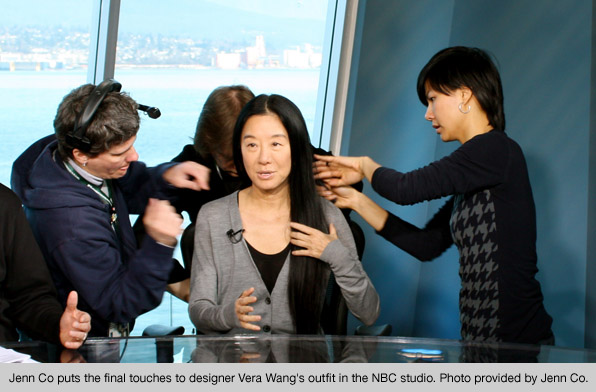 "Being a Vancouverite was a bonus for the job. Normally, NBC Olympics would send their New York or LA stylists to work on projects like these. They appreciated having a local member in their team who knew their way around the city and knew where to get supplies."
"I was at GM Place, the hockey venue, dressing the women and men sportscasters," adds Kaitlyn. "We'd pick out their outfits the night before, make sure everyone was wearing what they were supposed to be wearing, as they were sponsored by Ralph Lauren, and ensure everyone looked appropriate.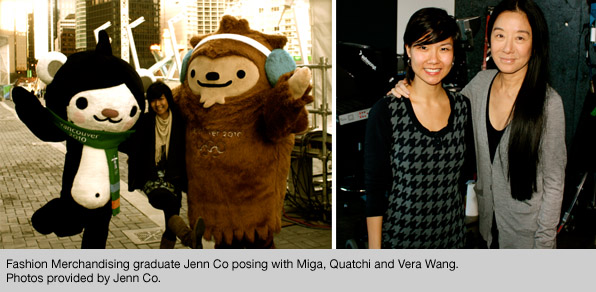 "I love hockey so it was perfect for me. I was at the gold medal game. We got to meet tons of people and did lots of great networking. It was one of the best jobs I've ever had!"
The debate on what was the greatest Winter Olympics will go on forever. The debate on what was the best-looking Winter Olympics is over. The instructors, graduates and students of the Blanche Macdonald Centre, the home of champions, were proud to play their part.