Makeup
LEO AWARDS, HOT POCKETS AND HOT TUB TIME MACHINES.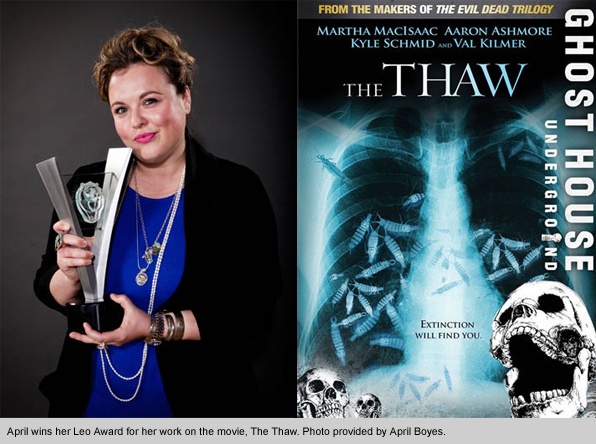 Never underestimate the power of a stiff drink.
Not that Blanche Macdonald would ever condone excessive consumption of alcoholic beverages, you understand. But for makeup graduate April Boyes it was a night of partying that began a journey that's taken her to the corners of the galaxy with Stargate and Caprica, and brought her back to Vancouver to pick up a Leo Award for Best Makeup in a Feature Length Drama.
"Back in 2000 I was 20, studying criminology and working in a coffee shop with a girl who was going to Blanche Macdonald," explains the native Vancouverite. "I was planning on a career working with criminals. Then we went out for Bellini Tuesday. By midnight I was yelling, 'I'm going to makeup school!' I called first thing the next day, and there were two spaces on the program left. I was there at 3pm with my deposit."
Deciding to commit to makeup artist school was anything but blurred logic. That night of fun made April realise that the opportunity to pursue a passion was too good to pass up.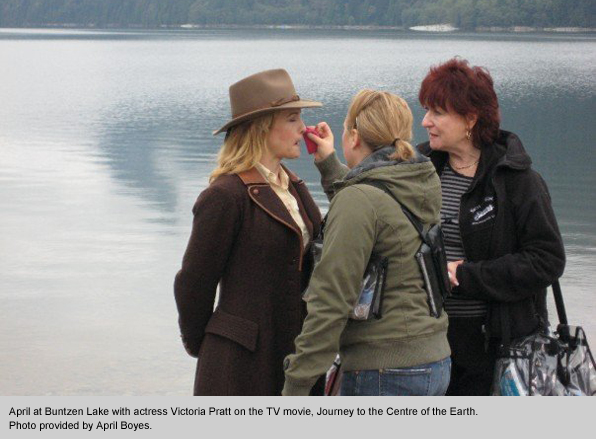 "My step dad did music videos when I was a kid," she recalls. "When I went to set it never mattered who was singing. It was more like, where's the makeup? All I wanted to see were the little pots and containers with stuff inside. I went to Eric Hamber High School, which was very theatre-based. But I was never in the plays. I did the makeup. I begged my teachers to let me to join the makeup team. It was only for seniors, and I was a junior. But I got on the team."
April knew what she wanted from her makeup career, and Blanche Macdonald was the first step.
"I knew I needed to go to school to apply to the union and make my way. I was very determined and focused. Blanche Macdonald gave me the confidence and the knowledge to do this. It made me comfortable touching someone's face. You totally invade someone's privacy when you're doing makeup. You're literally in their face. So you need to have the right approach. I came out of makeup school confident in my ability to work with people. Halfway through the program I took five days off to make an A&W commercial. I made more money in five days than I'd ever done in a month!"
That A&W shoot was the beginning of April's long stint in the advertising world.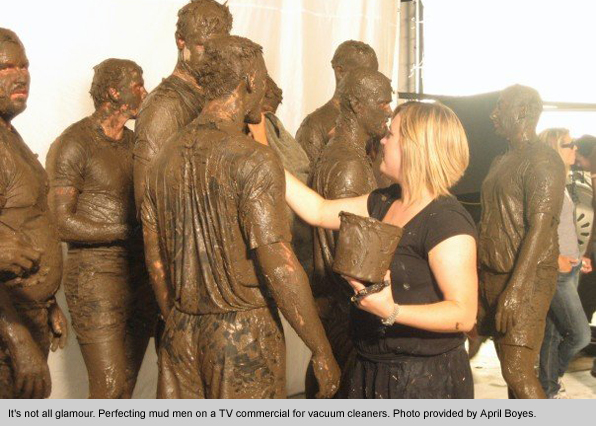 "After graduation I did solid three years of commercials. I volunteered for a three-day Public Service Announcement shoot and the producer of that still calls me to this day. That led to a paid job on a Panago commercial. I was only 20 but I was able to think on my feet. So much of makeup is about the people and the situation and reading them. If you're doing a Mum in an A&W commercial it's not about using either charcoal or black eyeliner. It's about using common sense in the situation to make everyone happy. It's what I want and what the actress wants."
Each job led to new offers and opportunities. There was no secret to April's networking technique. It was simply a matter of being her fun self and doing the best job possible in every situation.
"Remember Hot Pockets? The creative people behind Napoleon Dynamite had written these ads for them. The Hot Pocket Master would turn up in awkward teen moments and deliver Hot Pockets. Two nights before the shoot I got a call, 'We'd like the Hot Pocket Master to have a wiry beard'. I'm thinking, how am I going to make this work? I called people who helped me, got a chin piece made and did the rest. I even did a wart with hair coming out of it. People on set were on the floor dying with laughter. Failure wasn't an option."
It was only a matter of time before the no nonsense makeup artist with the infectious personality entered the world of feature films.
"In 2003 I heard about someone needing a non-union assistant for a movie, Chestnut: Hero of Central Park. I called, and she called me back the next day to tell me the job was mine."
Although Chestnut failed to set the cinematic world alight, it led to a second movie, I Want To Marry Ryan Banks, that came with additional benefits.
"Ryan Banks had Jason Priestly in it," laughs April. "The coolest thing ever was when he came in on the first day and took his shirt off, probably just to see our reaction. I was the 90210 generation. I had to pull myself together."
It wasn't long before department head jobs were being offered her way. A last minute firing opened the door for April to key Brooke Shields and Tom Green's Bob The Butler, and soon after April was hired on her own merits to head the makeup team on Almost Heaven.
"I loved keying," she enthuses. "I felt like I was in my element. I'd learnt a lot working under other people. I'd picked up so many tricks of the trade. When you need to make a bruise and all you have is lipstick, how do you make it work? It's improvisation."
April's improvisational skills were tested by the sci-fi horror The Thaw. Starring Val Kilmer, the real scene-stealers were the movie's makeup and special effects team. A story of prehistoric parasites unleashed onto the modern world, it was the perfect opportunity for April to unleash the darker side of her makeup box.

"I had to research burrowing bugs," she recalls. "I did all the regular makeup and a couple of the characters as they broke down and became ill. The characters would get infected and slowly the sores would become more open. I did a lot of those, crossing over with the effects team. That was a real learning show for me."
Although the movie wasn't a hit, the makeup was, winning the title of Best Makeup in a Feature Length Drama at BC's most prestigious movie awards, The Leos.
"I was the only member of the makeup team that went," laughs April. "Everyone else bailed. I got off the spaceship, brushed my hair, put on a dress and there I was. Then I heard my name and realised I had to go up on stage."
Getting off the spaceship isn't a metaphor. It's reality. For the last couple of years April has taken a step back from keying to focus her attention on bigger budget shows, including the forthcoming series of Stargate and Battlestar Galactica prequel, Caprica.
"Rebecca Lee, who's won an Emmy, asked me to do the pilot of The Good Wife. Now I work with her on Stargate and Caprica. She's the head of the department and I'm the key makeup artist. Working on bigger budget shows means more money, and it gives me the opportunity to learn more. There's still so much I don't know. Caprica was the most rewarding thing I've ever done, artistically. We could step back and say, that's amazing.

"I keyed on Hot Tub Time Machine with the head of makeup Linda Dowds, who has also won an Emmy. The movie is funny, but the behind the scenes stuff was way funnier. Craig Robinson, Rob Corddry and Clark Duke are hilarious. There were a lot of f-bombs flying around that set. It took me a month after that to start talking like a lady again."
Enjoying the artistic and social side of makeup illustrates April's formula for success. Fit your personality to the job, not the other way around. And never settle for less than your best.
"Stay with it, stay focused and stay nervous. That nervousness gives you your edge. When you have an attitude that good enough is fine, that's when you don't care. It's not got to be good enough. It's got to be perfect. My version of perfect anyway."