Makeup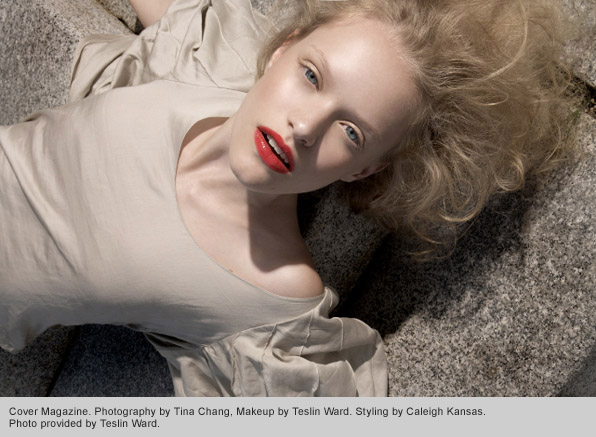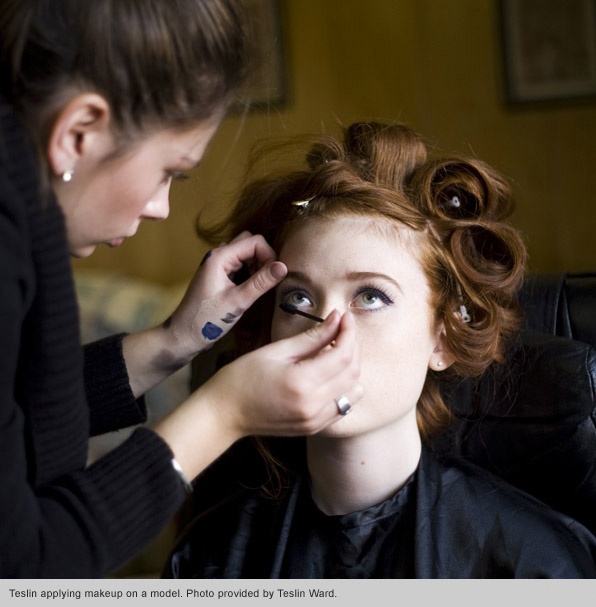 Calgary's Teslin Ward didn't grow up with a passion for makeup. Her young heart was elsewhere. On the dance floor to be precise.

"I used to be a competitive ballroom dancer," explains the Blanche Macdonald makeup graduate. "I did Latin dancing. When my partner moved back to Montreal, I stopped, which was just around the time shows like Dancing with the Stars started to catch on. I'm still dancing, but not competitively anymore."

Teslin can laugh now she's one of the busiest up-and-coming makeup artists for Calgary's fashion and print industries. Because if it weren't for her time on the dance floor, she might never have made her way to Canada's top makeup school.

"That's where my love of makeup started," she recalls. "I was a big tomboy before that. My first foray into makeup was for dance competitions. Everyone has their own interpretation of the stage look. I remember using a lot of black and white; very heavy on the eyes."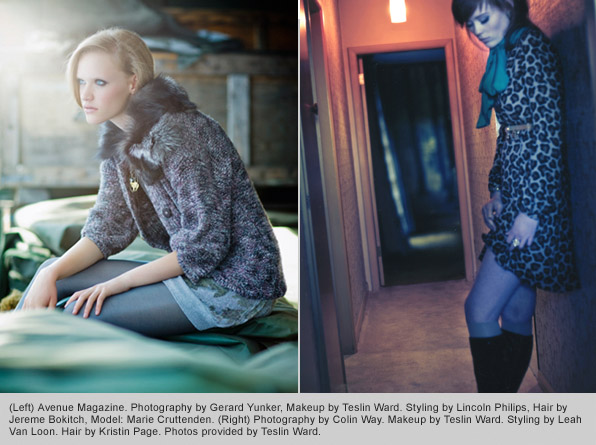 With a career as a professional ballroom dancer unlikely, Teslin made a wise move. She listened to her mother.

"I wasn't a big bookworm in high school," she's happy to admit. "My Mum said that if I didn't want to go to university, I had to get trained in something and be the best I could be, although she didn't care what it was. I thought I'd give makeup a shot. There were two makeup schools in Canada I looked at, Blanche Macdonald and one in Toronto. Speaking to people at Blanche Macdonald was awesome. And the first time I visited the school Caitlin Callaghan from MAC was giving a talk and a demonstration. I thought that was really cool. It was something I could see myself doing. Also Vancouver was an hour plane ride from Calgary rather than five hours."

Teslin arrived at Blanche Macdonald in 2004 and began the full one-year course. The love for dancing hadn't gone away. It just had a new passion along for company.

"I loved it!" beams Teslin. "For the first time in my life I loved going to school. The instructors at Blanche were very passionate about their work, and I found that to be infectious.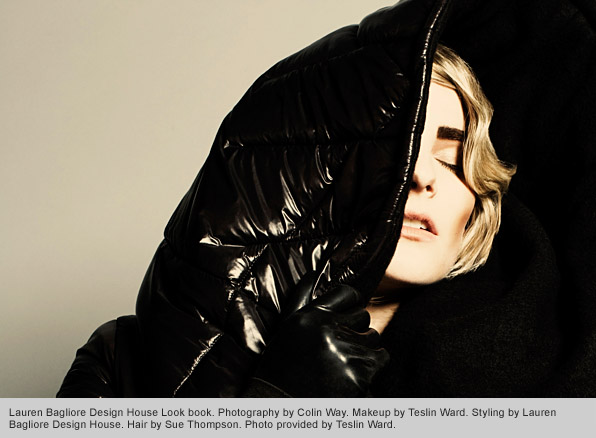 "I loved doing my homework! It was fascinating for me to go down to the library and do the research. I remember doing character breakdowns and going to Value Village to put together costumes that would complete the character. There were always reasons behind what the characters would look like, and I loved that.

"I've met so many artists in the makeup industry that are self-taught; people who have been doing this for fifteen years. But they'll still look at something I'm doing that I was taught in school and say 'I never thought of doing it that way'."

Teslin understood from the start that there's more to the Blanche Macdonald makeup education experience than just what goes on in class.

"Students at makeup school should be volunteering for everything they possibly can while they're in school," she insists. "I volunteered for a local cable show called Studio 4 and some dance performances and photo shoots. You can be told about all aspects of the job in the classroom, but until you actually experience it, it's always going to be different to the real thing. You can see how things actually work, as opposed to how they are supposed to work in theory."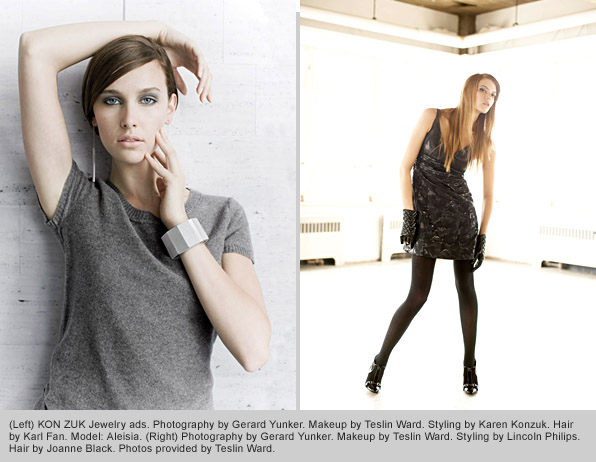 Teslin's enthusiasm in and out of the classroom was recognised by the staff at Blanche Macdonald. After Teslin graduated, she decided to move back to Calgary. Career Director Jennifer Daerendinger knew that BC's loss was Alberta's gain, and recommended Teslin for a job on the makeup counter at the Calgary branch of The Bay.

"Jen Daerendinger has been fantastic!" enthuses Teslin. "Even now if there's something I need or if there's something I'm unsure about I'll facebook her and she'll always have the right person for me to speak to. She must have helped thousands of students by now."

The makeup counter wasn't where Teslin saw her future career. But it was a place where she was able to practice her skills and make contacts.

"I hooked up with some models that came to The Bay for a fashion show," she explains. "We did their makeup at the counter and I asked them who their agencies were. I got in contact with one of those agencies and started getting a few jobs through them."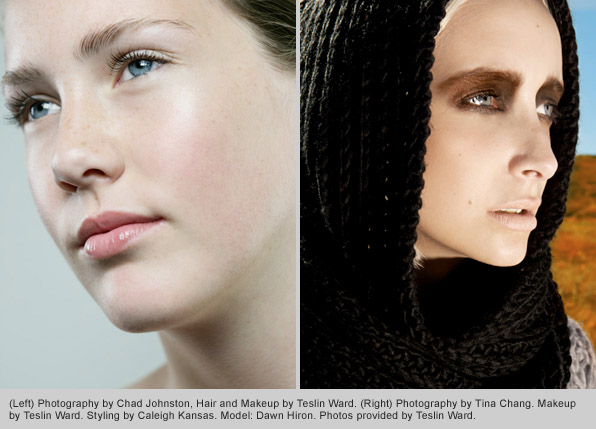 More than a few. Since launching herself into Calgary's fashion and print industries Teslin has been in almost continual demand. She started with model test shoots and was soon being put forward for campaigns by Brinkhaus Jewellers, Calgary Core, Shaw Cable, and shoots for magazines including Air Canada's EnRoute, Vancouver View and Hello Canada (which led to working with Olympic heroine Cheryl Bernard).

"When I hooked up with the agency I started doing fashion and connecting more with fashion people," smiles Teslin. "The more people you work with, the more they get to know you. Photographer's assistants that I worked with have recommended me for jobs with other photographers.

"People think fashion and photo shoots are a lot more glamorous than they really are. It's not like Zoolander. There are long days working in strange locations. Sometimes it's dirty. Sometimes it's freezing cold. When the models are changing in the back of a van and we're shooting in three feet of snow it doesn't seem that glamorous. But I still love it.

"The Brinkhaus Jewellers shoot was really fun. We did it in a big old mansion. We don't shoot in too many opulent locations in Calgary so this was awesome."

Teslin is the first to admit that while Calgary is a growing metropolis, its fashion and photography communities are still evolving. It's where home, and her work, is right now. But she understands that when the time comes for her next challenge, whether it's in her own neighbourhood or a far flung corner of the globe, Blanche Macdonald's makeup training equipped to continue her success.

"Of course it's important to have good skills," she points out, "But it's the little things, like being on time, and being polite that are important too. People will want to work with you even if you're not the best artist on the planet, as long as they know you're going to be reliable, and easy to work with. That was something that was definitely drilled into me at Blanche Macdonald. Now if I'm less than fifteen minutes early I consider myself late."