Makeup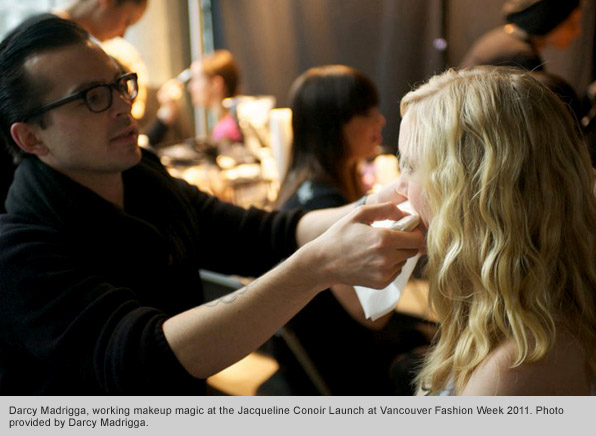 Darcy Madrigga is a busy guy. He's an occasional instructor at Blanche Macdonald, he was a Key Makeup Artist at the Opening Ceremony at the 2010 Olympics, and he's been called on to work at the Juno Awards and at multiple shows during Vancouver Fashion Week.
But ask him what's the most exciting thing about being a professional makeup artist and he'll tell you it's the challenges that come with his day job, managing the MAC counter at The Bay in Downtown Vancouver.
"I can't expect anything," he smiles. "I'll plan a day and it will end up going completely differently. Typically I'll go in, get my paperwork out of the way and try to get out on the floor. Then I'll lead my team and have some fun with makeup and the customers, trying new techniques and listening to great music. It's like a party."
It's no coincidence that Darcy is managing at MAC. That's the brand that got the Winnipeg native excited about makeup in the first place.
"I was working on reception at a hair salon and the salon had a MAC counter," he recalls. "I was 19 at the time. I was really into fashion. I thought I was going to get into fashion styling for photo shoots. Then I fell in love with the MAC brand – their philosophy and their image. I was transfixed. That's when I decided I wanted to get into makeup."

Darcy didn't make the leap from makeup fan to makeup student overnight. Instead, he began a career in market research, seizing opportunities when they arose to bombard Winnipeg's MAC team with questions and using his best friend as a guinea pig.
"I would buy products and use them on her, but I really didn't know what I was doing. I would practice on her with crazy colours. But really I had no experience when I started the Makeup Program at Blanche Macdonald."
Darcy had first heard about Blanche Macdonald from one of MAC's makeup artists. After an inspirational trip to Tokyo ("I was mesmerised by the fashion") he quit his job. Three weeks later, he had moved to Vancouver and enrolled in Makeup School. MAC was still the ultimate aim, but Darcy understood that to reach that position, he needed all the makeup knowledge he could get.
"I loved Makeup School. With makeup for film and TV you learn things with colour correction and camouflage, like how to hide a tattoo or a bruise. All that stuff comes in handy whatever type of makeup you're doing. Especially if you're into retail or beauty. Weddings are a huge part of the industry in BC. I've had teenagers come in with a hickey on their neck and they're terrified to go home because their parents will freak out. We can hide that."
He also displayed the talent and hard work ethic to get noticed. Darcy was halfway through the program when he was offered a job on the Bobbi Brown counter at Holt Renfrew. He stayed there, honing his makeup and customer service skills, for a year and ten months. That's when he heard there was a position opening at MAC. He applied for the job and was accepted straight away. He'd finally made it.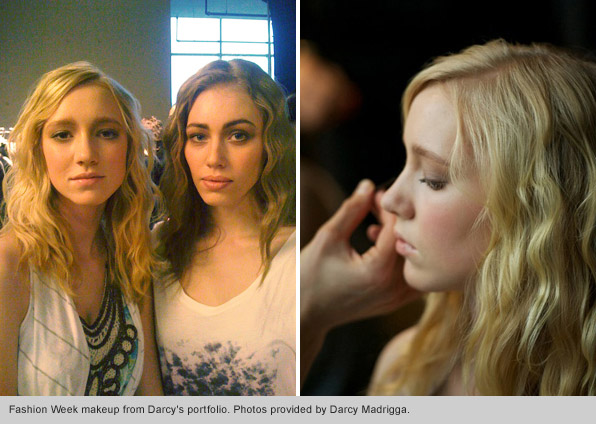 "My first day was terrifying," he laughs. "It was my dream to work for this company. There was a lot of self-imposed intimidation there. They have such a great reputation and image and brand identity. There was a lot of pride when I started working there. But that was just the tip of the iceberg. I've learnt so much about makeup and the industry. And also about myself."
The Makeup School that had launched Darcy knew MAC had someone special. Before Darcy had risen to his management position, Blanche Macdonald had invited their grad back to instruct the fundamentals, bridal and fashion courses.
"It was scary to me because I was so terrified of public speaking," continues Darcy. "Teaching here taught me how to do that. I tried to show that this job is not just about being a good makeup artist. It's about being good with communicating with people too. We call it Style Stepping at MAC. It's how you talk to people in a way that they'll be receptive to what you're saying. It's a skill you can learn, but it's something that's always changing too.
"I was working at Blanche Macdonald and MAC at the same time for a while. I'll still come in if the school needs me and I have the time."
Time is precious for Darcy now. The management position was given to him after his gold medal performance at the Olympics' Opening Ceremony, where Darcy was a Key Artist, looking after the Placard Bearers leading out each country's athletes.
"They chose people on merit," he explains. "People who worked hard and accomplished a lot with MAC. It wasn't an easy job but they knew we could do it. MAC had supplied product to the Placard Bearers so they could do their own makeup beforehand, but sometimes it didn't look right. It was all being shot in hi-def and, as the key artist; everything was on me to make sure everything was perfect. Which meant sometimes we'd have to start all over again. On the first run-through we were able to go watch it. We were the only people sitting in the stadium. It was emotional and a really great experience."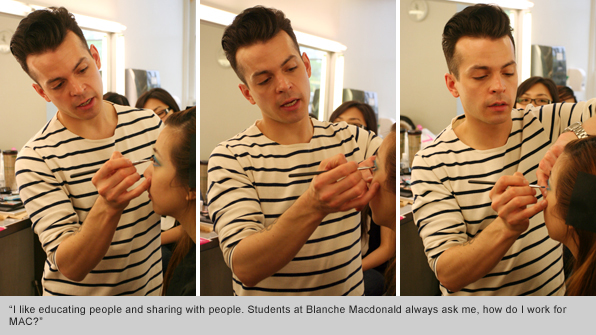 When the Juno Awards landed in Vancouver in 2009, Darcy was in the thick of the action too.
"When MAC does an event I usually get to go," he continues. "That night I did a lot of men, like Gord Downie from the Tragically Hip and Mike Reno, the lead singer from Loverboy. And I did some touch ups to the host, Russell Peters."
Darcy's position with MAC was opening doors. It was confirmation that the 19-year-old infatuated with the MAC counter was wise beyond his years.
"The Olympic experience made me realise that I wanted to progress with MAC. I spoke to one of my colleagues and decided to go for it. I had no management experience before starting. Nothing close to this, where I need to know about scheduling, money and balancing. I have 12 people working for me now.
"Vancouver has been a great place to live but there's a lot of room for growth if I ever want to move away. I can work with MAC in cities like London, New York or Paris with their Fashion Weeks. MAC does at least 150 shows every season with high-end designers. And we do major film festivals and award shows. I would love to do that."
In the meantime, Darcy is making a difference in Vancouver; stimulating students at Blanche Macdonald and transforming customers with his team at MAC.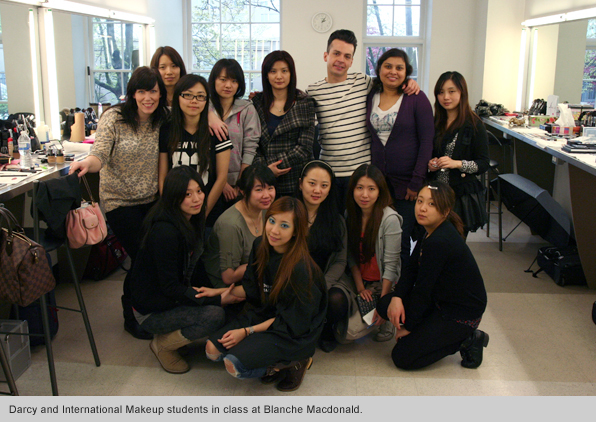 "I really made the right choice about this industry," he smiles. "If you're interested in makeup, look into it. Talk to people in the industry. Do your research. Look at which type of makeup you want to go into. And be aware that what you want might change. For example, sometimes people don't see the benefit of being a retail makeup artist. But every day you're learning techniques that people in other branches of makeup maybe won't be privy to. You're practicing on different people and face shapes and skin textures that you wouldn't get working on 15-year old models."
Darcy was inspired to become a makeup artist. Now he's doing the inspiring.
"I like educating people and sharing with people. Students at Blanche Macdonald always ask me, how do I work for MAC?"