Makeup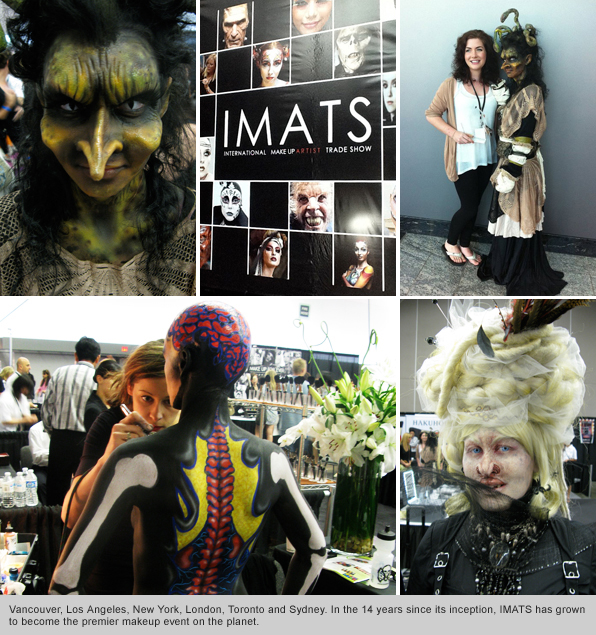 And they say lightning never strikes twice…
After a historic first day of the Vancouver International Makeup Artist Trade Show (IMATS) 2011 where Blanche Macdonald's incredible students and graduates took home all three trophies in a clean sweep of the Fantasy/Beauty Competition, the triumphs continued on Day Two. Recent graduate Candice Johnson took a well-deserved Second Place in the Prosthetics competition and a pair of graduates-turned-instructors, Ashley Forshaw and Celine Godeau produced dazzling creations on the Blanche Macdonald stand, one of which may very well have been the first of its kind in the world.
Now held in six cities around the world – Vancouver, Los Angeles, New York, London, Toronto and Sydney – the IMATS is the premier makeup show on the planet. Over two hectic days, thousands of makeup artists, from beginners to fashion and movie professionals, descended upon the Vancouver Convention Centre to experience the newest products in person and to listen to presentations by TV and movie makeup legends like Michael Key (the head of IMATS, editor of Make-up Artist Magazine and a two-time Emmy winner), Eve Pearl (five-time Emmy winner), specials effects mogul Steve Johnson (two-time Emmy winner) and monster-maker extraordinaire Todd Masters (one-time Emmy winner).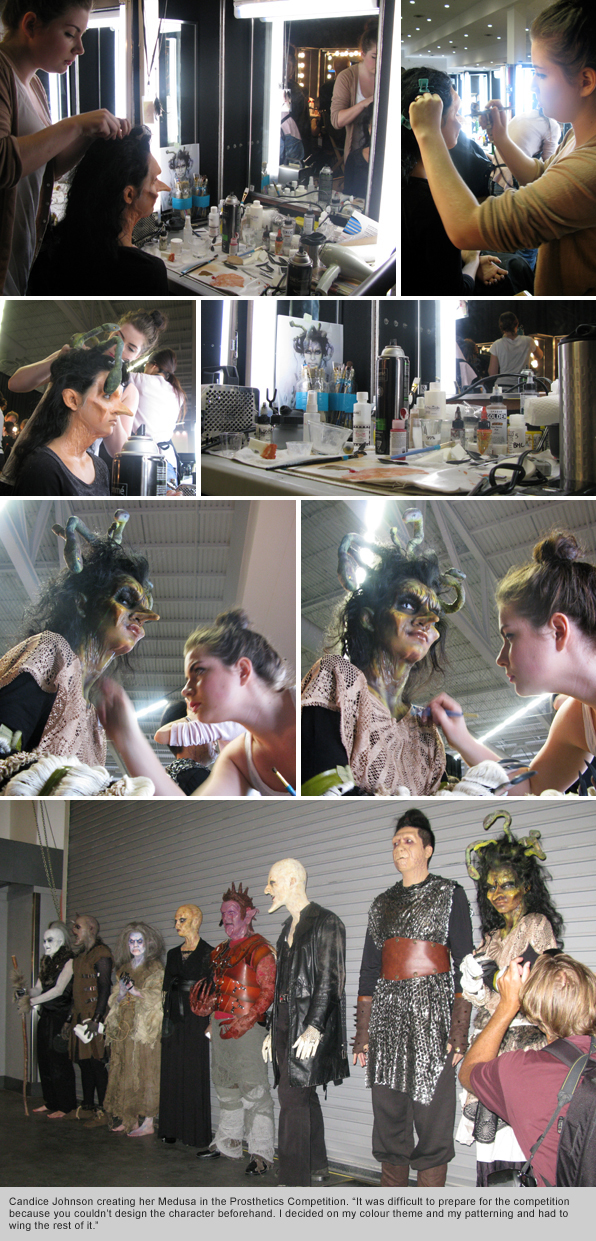 Saskatoon native Candice Johnson had three hours to create a character from scratch in the Prosthetics Competition, using the theme of 'Tribal' as inspiration. The catch was that she, like all the entrants, didn't know what prosthetic pieces they would be given until 15 minutes before the competition began.
"It was difficult to prepare for the competition because you couldn't design the character beforehand," explained Candice. "I didn't know what the shape of the face or the neck would be. I decided on my colour theme and my patterning and had to wing the rest of it."
Once Candice had been given her three pieces, she put her skills and talent to work.
"I got a large neck-piece, a large forehead-to-nose piece and two ears. The cheeks were part of the forehead-to-nose piece. I think the secret is concentrating on keeping on schedule. If you start falling behind it's hard to get that time back. I'm fortunate. I come from an arts background so I knew I could pick up time with the colouration if I took too long with the applications of such large pieces."
That colouration, and the seamless application of bulky prosthetics under the ultimate pressure, won Candice second place in a final that featured the top eight from the hundreds of entrants from across Canada and around the world.
"I was already really nervous so I had to do a double take when my name was announced to check I'd heard correctly," she laughed. "And Steve Johnson told me that I had his vote for first place. It was a huge compliment to hear that from him. I gave him my card so hopefully we'll be able to touch base again when this is all over."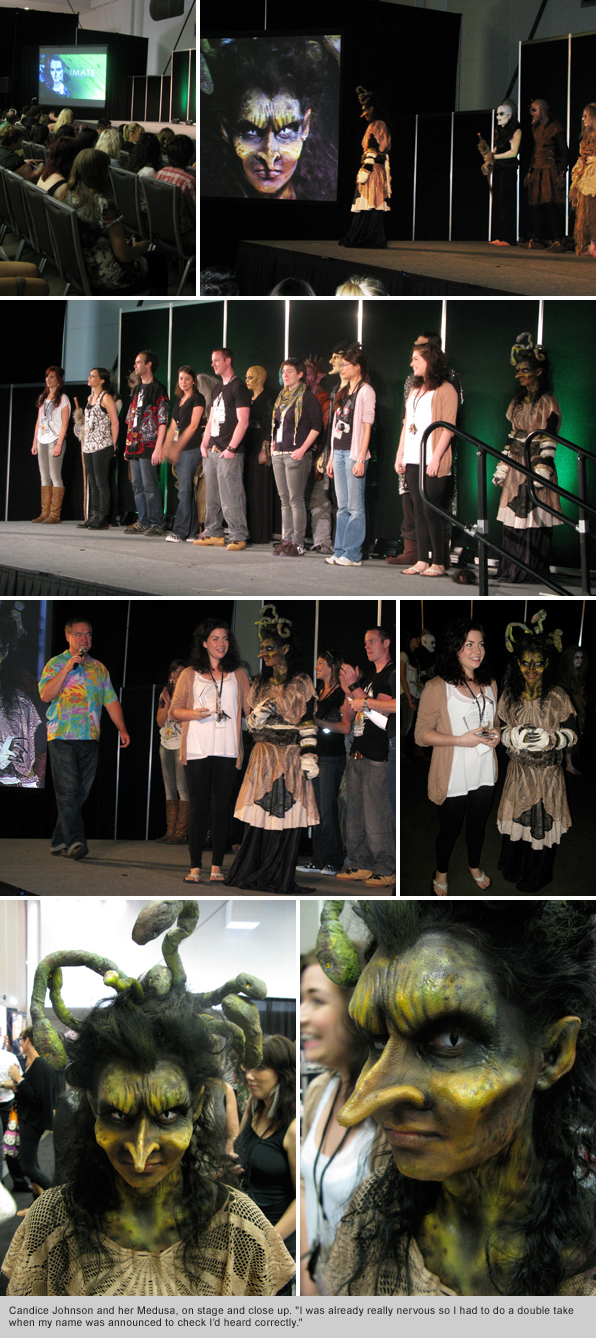 The news that a Blanche Macdonald grad had caught the eye and passed her business card onto an effects legend like Steve Johnson (the creator of the iconic effects in American Werewolf in London, Ghostbusters, The Abyss, Species and Big Trouble in Little China) produced an audible gasp of admiration from instructor Celine Godeau.
"Steve Johnson is one of my biggest influences!" she beamed. "When I saw the finished work I was so proud of Candice. She disguised those edges so well. There are people I know who work on set who would be very nervous to walk into that kind of situation. She had beautiful highlights with strong gold and yellow undertones. She works like an artist and she approaches the face like a canvas."
Celine spent most of her day on the Blanche Macdonald stand with her assistant, graduate Shelagh McIvor, creating an eye-popping prosthetic creation of her own: an Albino Vampire Goddess.
"I like challenges," she explained. "And skin tones are especially challenging. An albino skin tone is something that I find really appealing to my own sense of aesthetic. I wanted to incorporate prosthetics, because that's what I'm known for. The whole character represented Blanche Macdonald from head to toe. We teach hair, makeup, makeup effects, skincare in our Esthetics Program, and the costume represents fashion design and merchandising.
"Everybody wanted photos. I was mistaken for a student a lot. I had to let people know I wasn't in the competition. Which made them look at it even closer."

On the other side of the Blanche Macdonald stand instructor Ashley Forshaw was crafting something utterly unique – painting internal organs on her model's skin that, when viewed through 3D glasses, appeared to pop out from the body. It wasn't magic. Just incredible use of colour.
"When I was in LA last September I met a gentleman who owned a 3D glasses company," recalled Ashley. "He was introducing me to various different techniques. One of them was this ChromeTech system. He showed me a piece of paper where the reds would come forward and the blues would recede. I thought, why can't I do that on a body? We practiced and kept playing with colours until we found a scheme that worked."
Photos don't really reveal the truly spectacular nature of Ashley's 3D bodypaint. You'd have to see it in person, and through 3D glasses, to get the full effect.
"Michael Key was impressed. He said that it's really hard to show him something new. But this is something new. I'm not certain, but I'm pretty sure this hasn't been done before. The reactions today were really positive. Everyone's been so excited about it. My model, Kristen, has been phenomenal. I'm so pleased we pulled it off."

Two days at the Vancouver IMATS produced incredible makeups and triumphs for the Blanche Macdonald Centre. Congratulations to all of our graduates, instructors and students, including our incredibly patient student Paige Roy, the model for both Candice Johnson and Day One's Fantasy/Beauty Competition first-place winner, Duk Soo Veronica Cho.
"Paige is a lucky charm!" laughed Candice. "She's been beauty and the beast this weekend."