Makeup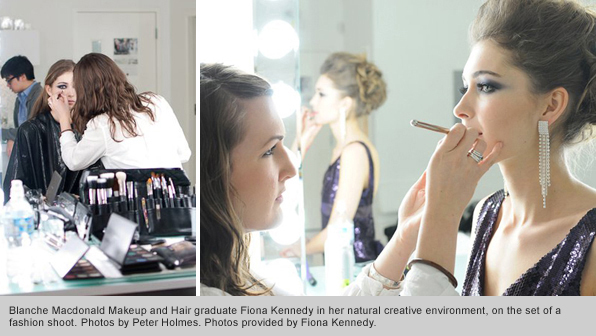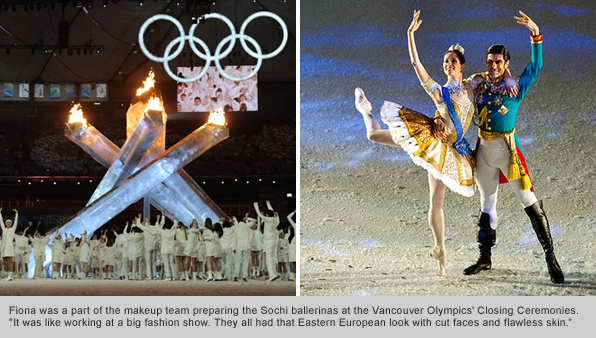 Fiona Kennedy came to Makeup School at Blanche Macdonald with some bold ideas about where she wanted to take her career.
"On the first day of classes, the instructor asked what we eventually wanted to do," she recalls. "I said, 'I'm a musician and an artist and I'd love to combine the two, touring with a band that has really fun makeup like Lady Gaga or Kiss.' I thought that would be living the dream."
She hasn't worked with Lady Gaga or Kiss. Not yet anyway. But the Makeup and Hair graduate has fulfilled her creative dream of working at the heart of the music business. You've seen her work in videos for Hedley, Marianas Trench, Band of Horses and many more. Rock and roll.
"It's such a fascinating industry to be a part of," she continues. "Bands need to be actors, writers, performers and models to be what they are. Josh Ramsay from Marianas Trench, he can do everything. I got shivers watching Jacob Hoggard from Hedley perform. It was so intense. It's great to work and be around people like that. You totally vibe off it and it enhances what you're doing. And they're all so bloody nice! They'll come and give us a hug at the end of the shoot and say how much they appreciate what we do.

"I generally pack my hair kit if I'm on for makeup and pack a bit of makeup if I'm on for hair. On the last Marianas Trench video, I was brought on for makeup, but I brought my hair kit and ended up doing that as well. I see what needs to be done and I do it."
Fiona first investigated makeup schools after a suggestion by another prominent artist; her painter sister, Kate.
"I'd always painted, but my sister was so good I thought I should stick with music. One day she said, 'You would be a really good makeup artist'. I always did everyone's hair and makeup but never thought about it as a viable career. I went to Blanche Macdonald to get some information on the program. My admissions director went through everything and I was like, 'Ok, sign me up'. It sounded so good and fun."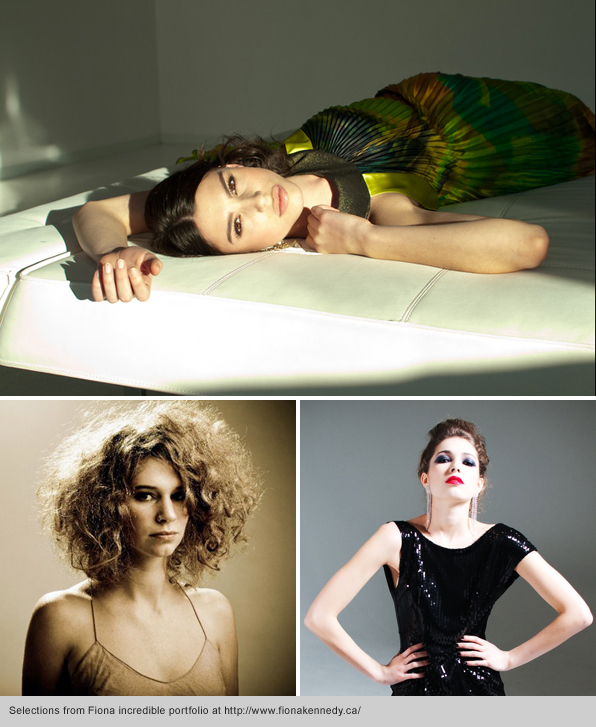 For the girl from Salt Spring Island, any initial feelings of being out of her depth were soon replaced by the confidence of knowing she'd made the right decision.
"People had pro brushes and MAC products at home. I used Maybelline foundation and put it on with my fingers. I felt behind at first, but by the end of the first week I knew I was in the right place. I thought I wasn't as good as my sister, but I'd been using the wrong canvas. I found working on the face and body let me enjoy the art I was making."
Fiona had only been in school a couple of months when she received a call from makeup instructor Jon Hennessey, asking if she could work on the video for a Band of Horses song the very next day. Fiona would be the only makeup artist on set. Jon already had that confidence in her.
"She was a student of mine so I was familiar with her strengths and temperament," explains Jon. "Anyone that I bring out for jobs has to be both talented and understated, especially on music videos. I want someone who's attentive, but can be a ghost on set."
Fiona hasn't worked on a Lady Gaga video yet. But she did get a close encounter with Gaga's makeup artist, Sharon Gault, when she came to speak at Blanche Macdonald and asked for an assistant to complete her application.
"I stuck my hand up and volunteered," smiles Fiona. "She said, 'Very good young lady'. We're facebook friends now! I want to be one of the people working on one of Gaga's videos in the future."
Excelling in and out of school, Fiona was unable to attend her own graduation. She was busy that day being one of the makeup artists on the first run through the 2010 Olympics' Opening Ceremony.
"That was a really nice graduation present," she laughs. "There were 250 people having their makeup done by four people. It wasn't just lip-gloss. Everyone had to look good. We didn't know who the cameras would close up on and it would all be in HD. Everyone needed a decent eye and tight lips. They had to look good. For the Closing Ceremonies, I got to work with Jenna Kuchera on the Sochi Ballerinas, which was like working at a big fashion show. They all had that Eastern European look with cut faces and flawless skin. Living the dream!"
Fiona had made a superb start to her makeup career, but she wanted more. She was regularly doing makeup for bridal clients when she realised that if she doubled her skill set, she could double what she could offer.
"I'd wanted to be a hairdresser since I was really little. If I could provide hair and makeup services to everyone that would be vital whatever direction I chose. I went right back to Blanche and asked them to sign me up. I didn't look anywhere else. I knew it would be good. The education at Blanche Macdonald is like nothing else I've ever seen. Of course, you make it what it is, but when you graduate Hair School there you're so far beyond what anyone even realises what a new student can do."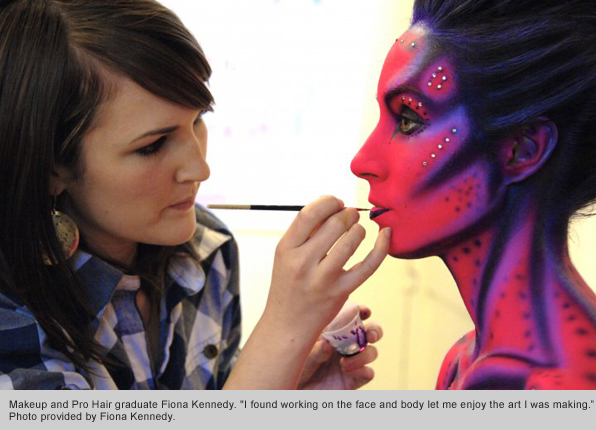 Doubling her skill set has meant more calls from Jon Hennessey, who also happens to be the owner of Artists Management Agency Nobasura.
"Hair and makeup are equal strengths for Fiona," he continues. "That makes her far more marketable. And she's capable of producing any style of work equally effectively, from clean, straight makeup to effects. But her most important strength is her adaptability and willingness to tackle any project, regardless of its scope."
"You have to be an easy-going, cool person," agrees Fiona. "If you're working a 22-hour day, don't complain or ask when you can go home. Everyone else is working a 22-hour day too. Roll with the punches. Because I want it so much, I'm willing to do what it takes.
"Every job is different. For that Marianas Trench video I was Josh's personal artist, and when I wasn't looking after him I was taking off makeups and reapplying them. There was Jon, Jenna and I looking after the band, and a few Blanche Macdonald students and grads looking after about 200 extras. Jenna and I did the band as zombies.
"I just did a cover for a British Poker magazine. That was my first cover. Everyone was so cool. At 11am they were like, 'You guys want a drink?' I go in, do a haircut, and get a ton of money afterwards."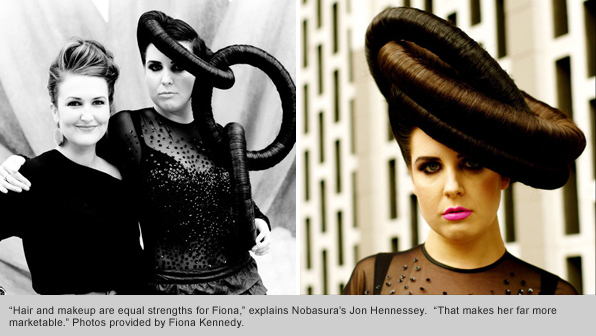 With a rock and roll résumé like Fiona's, it came as little surprise that when she started looking for a full-time position, she was snapped up by the very best; Holts Salon and Spa at Holt Renfrew.
"I walked in and asked if I could leave my résumé," she explains. "They called me back two hours later and asked me for an interview. There wasn't a position available, but they still wanted me to come in for a trial. Two months later they asked me to come back, we did another interview and they offered me a position. I told them, without sounding too conceited, that I often get offered the chance to work on some really exciting jobs. They were happy to work with me so I can continue doing that."
You don't have to be a rock star to get your hair done by Fiona. In fact, she'll enjoy herself the same whoever you are.
"It's kind of an egotistical job," she laughs. "It's so rewarding. I get to have someone sit down in my chair, and they get to leave looking like a million bucks. Clients will be like, 'You're amazing'. It's nice to be recognised for what you do. It's a great feeling to think, 'Wow, I just created that'."