Makeup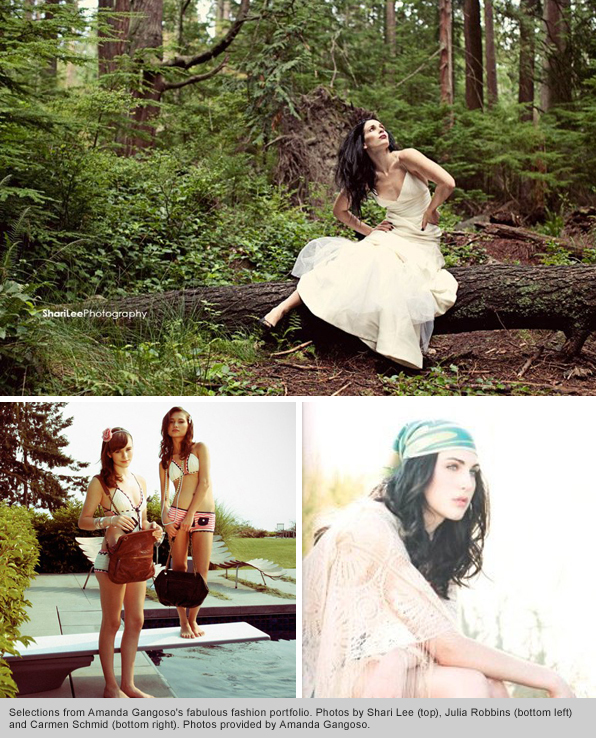 Every student at Blanche Macdonald learns that for makeup artists working in the television or movie business, early call times are a harsh reality of the job. For Amanda Gangoso, makeup artist for Citytv's Breakfast Television, those call times are taken to extremes.
"I have it down to a precise schedule," she laughs. "I shower the night before and get my breakfast ready and packed. I wake up at 4.15, splash some water on my face, get my things together, call a cab and I'm at the studio before 5am.
"I'll sleep in on days I'm not working at Citytv. But even then, waking up for a 6.00am start is normal. I'll think, 'Awesome, I get to sleep in until 5.30!'"
Early starts lead to early finishes. But Amanda rarely climbs back into bed when Breakfast Television wraps for the day. She fills the rest of her time bringing her makeup skills to commercials, films, web projects and bridal clients . That's the life of a successful freelance makeup artist. Every week is different. Even the ones that start before dawn.
"I'll arrive at the studio at 4.50 and have to get five people TV-ready in an hour," she explains. "On a slow day we'll only have a couple of guests, but sometimes we'll do a fashion show and there could be four models, plus a bunch of guests. It's about making people TV ready. You don't have to spend an hour on their makeup. Speed is something you learn; what's necessary and what isn't for any particular moment.
"I've had the privilege of meeting some really interesting people. People don't tend to be super-peppy first thing in the morning, but you can usually have a nice conversation. Paul Brandt, the country singer, was just here. He was lovely. Jay Baruchel was very energetic and a lot of fun. Kat Von Dee came in – but she was 100% powdered and ready. She does have her own makeup line. That might have had something to do with it."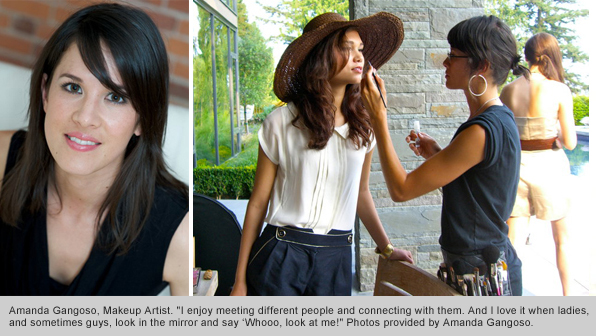 Morning coffee with the stars is a regular occurrence for Amanda these days. This makeup artist has come a long way since she was a high schooler in Edmonton helping her friends get ready for evenings out.
"I was definitely artistic," she recalls. "I loved fashion. I knew I wanted to be involved in that, although I didn't know how. I wasn't thinking of a career in anything at that point. I just wanted to get out of Edmonton and discover something different."
That desire eventually brought Amanda to sunny Vancouver. She was only looking for a casual introduction to what was available when she first visited Blanche Macdonald. She was impressed with what she found.
"I'd heard about Blanche Macdonald so I thought I'd pop in and see what they offered. I really enjoyed what I saw. The Makeup Program looked so fun and interesting, although I was thinking about Hair School too. Going through the Makeup Program we had a hair section, and that came really naturally to me too. Being able to do both is a definite bonus.
"My experience with all the teachers was very, very positive. I'm a creative person and I loved being able to play with colours and design. I loved the fantasy section and I really enjoyed the period makeup, the 1920s through to the 1960s. I felt like my creativity could really blossom. I miss that a little bit. Sometimes my work can be creative, but not all the time. It's nice do creatives with a team, expressing yourself, even if it's just for fun."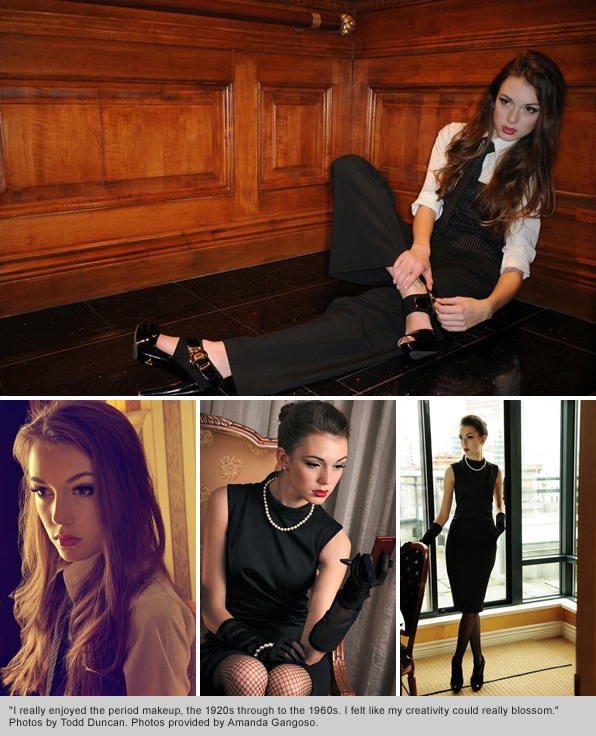 Blanche Macdonald also provided Amanda with her first taste of TV makeup.
"The volunteer opportunities were great," she recalls. "I did a lot. I remember going to Channel M and doing some fashion shows and events. It was a lot of fun and a little intimidating too, because I wanted to do a great job. The confidence comes from experience."
Those volunteer jobs reinforced the concepts she'd learnt in Blanche Macdonald's classrooms. They're lessons she still stands by today.
"You definitely have to work hard. You have to put yourself out there and you have to be social. I remember the instructors at Makeup School telling us that you always have to be friendly, punctual and maintain that work ethic. People want to work with people who are fun to be around and get the job done.
"Now I'm in a position to bring in assistants to help me, I choose according to their skills and whether I can depend on them. But I also need to know that if we're working together for ten hours a day we can get on and have a conversation. I want to work with people who can hold their own, help people feel comfortable and deliver a great outcome.
TV wasn't Amanda's dream job after she graduated Makeup School. Fashion was her priority. It still is. But when the opportunities arose, Amanda was smart enough to seize them.
"When I graduated I scoured the Internet for photographers and tried to meet them in person. On my web site there's a lot of beauty and fashion stuff that's more on the creative side. I'm still getting in touch with agencies and exploring those avenues. But TV and film is definitely where the money's at. And I have these great connections."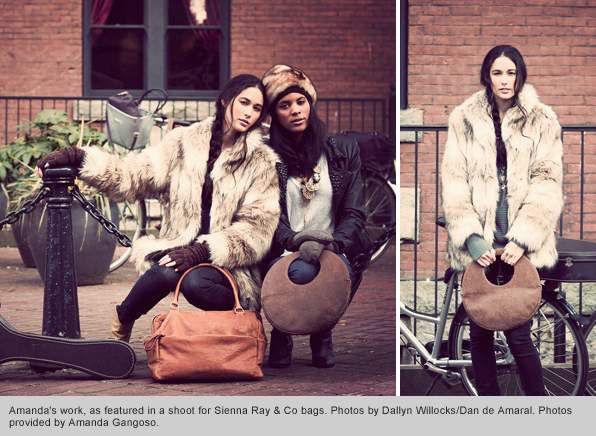 One of those connections was Jessica Steblyk, then a makeup artist at Citytv.
"I contacted Jessica to let me shadow her," smiles Amanda. "One day she needed someone to cover for a couple of hours and I got that chance. Even after that, it took almost a year before I was working here regularly.
"Before that I was doing commercials, assisting Carey Williams, who's been in the industry for 20 years. My first bigger commercial was for Verizon/Blackberry. I'm still working with Carey. I recently did a short film with her – Hip Hop Mom. That was a lot of fun makeup. And the film was so cute too."
The commercials are still arriving on a regular basis for Amanda. Every job brings a new challenge, whether it's beefy firemen, cute kids or even cuter dogs.
"I like the variation of schedule. The last commercial I did was for Coors Light –the one with the adorable St Bernards. I had to babe up the actresses because they're Coors Light girls.
"Every once in a while I get to do effects makeup too. For a kids' webisode about Santa's workshop I made little ear tips for the elves and had to make sure they stayed on all day. I helped out with the Vancouver Fire Department calendar too. I don't know if that's considered difficult special effects, but I was using Hawaiian Tropic and charcoal and oiling up the guys' bodies to make them look like they'd been fighting fires. That was interesting, fun and for a great cause."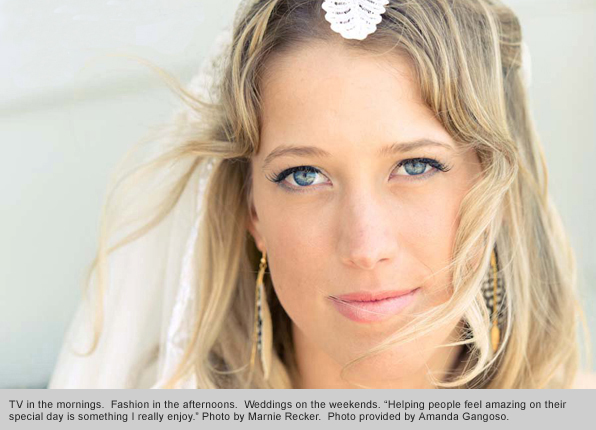 For Amanda, every day's uniqueness is still part of her work's great appeal. She contributed to the Olympic Opening and Closing Ceremonies as a hair stylist and volunteered for over a year as a makeup artist at Beauty Night Society, a Vancouver organisation dedicated to building self-esteem in women and youth living in poverty. Whether thousands of people see her work or just a handful, knowing that she's made a difference is still the most exciting part of what she does.
"I enjoy meeting different people and connecting with them. And I love it when ladies, and sometimes guys, look in the mirror and say 'Whooo, look at me!' You can tell they feel really good about themselves.
"It's bridal season now and I'm working with Mink Makeup and Hair. Every weekend I have at least one wedding. I get asked about Bridezillas, but it's not like you might imagine. I've been told that I have a calm energy. The mothers always give me huge hugs. A lot of the time they haven't had their makeup done since their wedding, so they're feeling sassy and beautiful too. Helping people feel amazing on their special day is something I really enjoy."
Whether it's early starts in the studio, brides' mothers weeping with joy or oiled-up fire fighters, Amanda brings her skill and enthusiasm to every job. The crazy thing is, she's only just begun.
"There's a lot you can do with makeup. That's why I've found it hard to go in one single direction. I like to try everything. At least once."