Makeup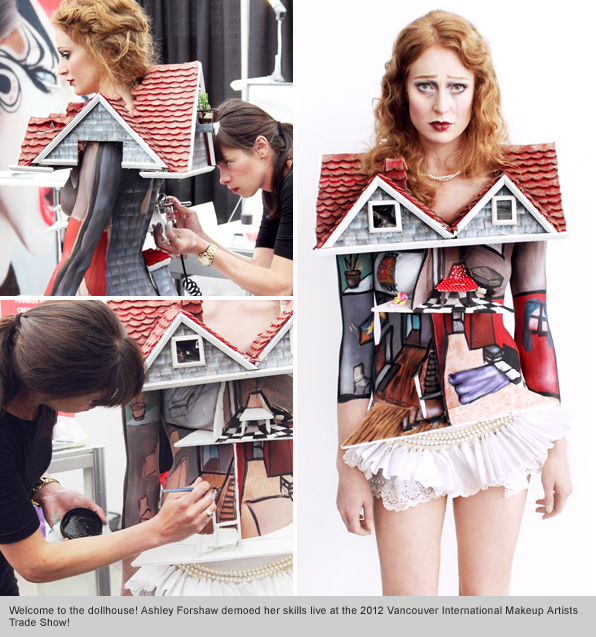 You can do anything with a Makeup Diploma from the Blanche Macdonald Centre. That's what we've always believed. Turns out we were underselling ourselves. Ashley Forshaw is proving that you can more than anything. You can do everything.
Since graduating from Canada's top makeup school in 2003, Ashley has demonstrated how exciting and varied a creative life can be. She's an on-set movie and TV makeup artist, having worked on John Tucker Must Die and the forthcoming Donovan's Echo. She is a regular contributor to the ghouls and gore in Theta Effect special effects lab. She's a stage makeup artist, having keyed the summer's prestigious Bard On The Beach season in Vancouver. She's one of Canada's leading body-painting artists, with clients including Mercedes-Benz. And on top of all that, she's returned to the school that launched her career as one of Blanche Macdonald's industry-leading makeup instructors.
I'm interested in all aspects of makeup," she explains. "I didn't know if I wanted to do fashion or film when I was at makeup school so I tried to enhance my skills in all areas. If I feel confident applying something with a brush for beauty, I feel that I should be confident applying it for effects too. The skills should balance each other. And by opening yourself up to more aspects of makeup you'll continue to challenge yourself, and have a better respect for other artists' skills."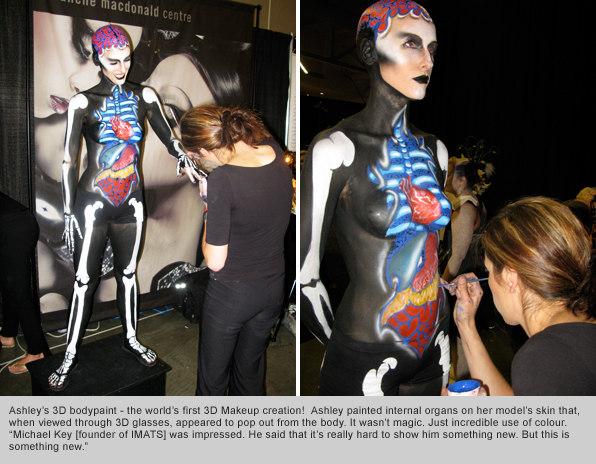 If there's a philosophy behind Ashley's success, it's a continual dedication to grow as an artist.
"I'm always looking for opportunities to learn more," she insists. "There are so many phenomenal makeup artists in Vancouver. There are so many at Blanche Macdonald! They all have so much to offer. If someone can teach me something new I'll always be excited to learn."
Ashley's enthusiasm for makeup and hunger for knowledge are just two of the factors that make her a great artist and instructor. Those qualities have been her companions since she first stumbled upon the makeup industry.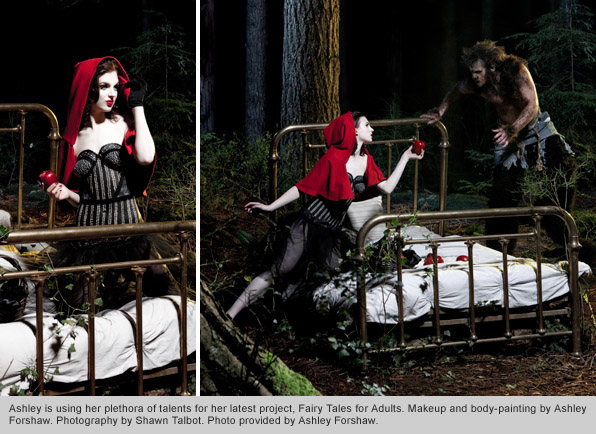 "I wasn't the most academically inclined in high school," she laughs. "I always found myself in the theatre department. My drama teacher introduced me to a program called Youth in Film, where you would go on set and learn about different movie business jobs. They did a slide show about what was available and I got excited when the blood and guts came up.
"I got sent out for a day with the effects guys on a movie called Halloween Town. They saw this 15-year-old kid and said, 'You don't want to be with us', and took me to an amazing artist, Norma Hill Patton. I followed her around the entire time and persuaded her to have me back the next day. And the day after that."
Ashley moved to Toronto and was working as a movie caterer when a chance encounter with a makeup artist provided the spark that would launch her to glory.
"This artist knew I was from Vancouver and recommended that I look at Blanche Macdonald. I started looking at the work grads and instructors produced and it seemed like there was a higher quality of education at Blanche Macdonald than other schools."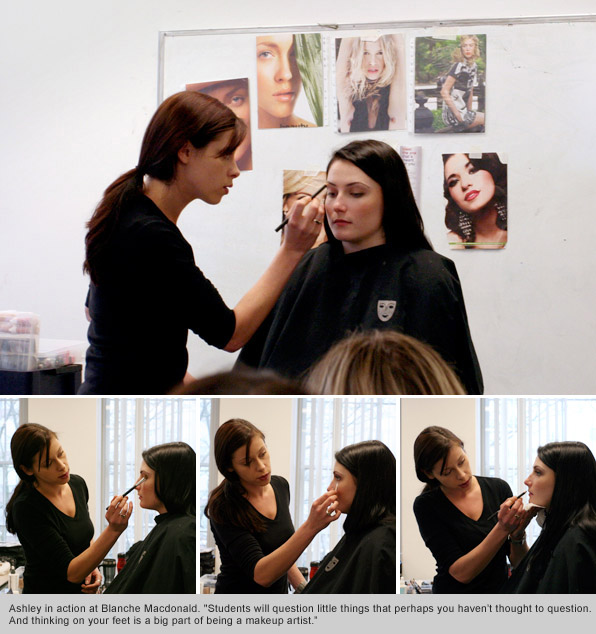 As soon as she started the program, Ashley knew she had made the right decision.
"Holland Miller was my effects teacher. Daemon Cadman was my airbrush instructor. I remember sitting in the courtyard thinking, 'What a brilliant place to be inspired!'"
Surprisingly, Ashley wasn't the star student in terms of grades. But she did have an unquenchable quest for knowledge and experience.
"I didn't have top marks," she a dmits, "but I fed off the creative environment. Towards the end of the program I was very motivated. I would constantly be speaking to my instructors. 'If you're doing a project I would love to wash your brushes or just allow me to stand and watch what you're doing.' I tried to be a part of every opportunity."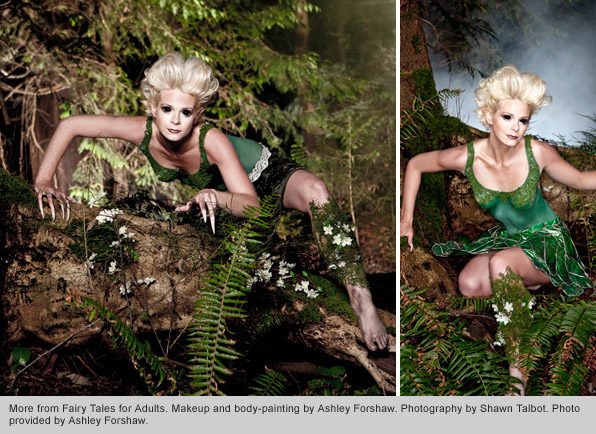 Ashley left makeup school hungry for industry experience. She wasn't going to stop asking until someone said yes.
"I had a list of artists in the industry," she recalls. "Every Monday I would call them and let them know that I would love a chance to assist or simply watch what they do. It was always a voicemail so I'd leave the same message week after week. Eventually one of the biggest artists on the list replied, stating that she had 150 movie extras that needed makeup and asked if I would like to do it. That movie was John Tucker Must Die."
Ashley also stayed in contact with the first movie makeup artist she met. Now a in-demand makeup artist, Norma Hill Patton (who had risen to the role of makeup designer for Twilight: New Moon) welcomed back the high school kid who wouldn't take no for an answer.
"Norma is incredibly talented and I feel very spoiled to be able to learn from her. Just recently Norma called me to be her first assistant on a film we just finished, Donovan's Echo with Bruce Greenwood and Danny Glover. It was a great experience. Danny Glover even made a point of giving me a big hug when we wrapped."
At the same time Ashley was carving a role for herself in the movie industry, she was also establishing herself as an expert in the specialized field of airbrushing.
"When I was learning airbrushing at Blanche Macdonald my father thought it was a good skill, so he purchased a compressor for me. The school heard I had my own compressor, assumed I loved airbrushing, and started putting me up for airbrushing jobs."
Armed with the tools of the trade, Ashley's refined her airbrushing skills. Today, she's able to deceive the eye. Look twice at her beauty shots. Often those models aren't clothed at all.
"It's practice. You need to constantly play with it and use it. It's one of those things that many people don't do. Even some of the most amazing artists weren't trained to use it.
"I primarily teach airbrushing here at Blanche Macdonald, but I'm also instructing basic makeup for hair students. Teaching actually increases your education. Students will question little things that perhaps you haven't thought to question. And thinking on your feet is a big part of being a makeup artist."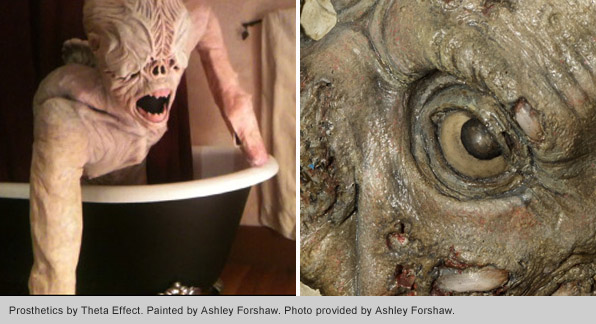 Ashley's story doesn't follow the traditional one-thing-led-to-another career path. Instead, one thing leads to a dozen others, which in turn generate more opportunities. That's life for one of Vancouver's most versatile makeup artists.
"You make your own opportunities!" she insists. "This is a creative industry so you can create your own work. Right now I'm focussed on the collaboration with a photographer that we're going to use to promote a charity: A Dream Come True - Fairy Tales For Adults. It takes in everything I do, fashion and prosthetics and body-painting. That's very exciting to me. And there will be many movies coming into Vancouver. I feel it's going to be ridiculously busy."
Jack-of-all-trades and master of every one of them, Ashley will be staying ridiculously busy. Exactly the way she likes it.