Makeup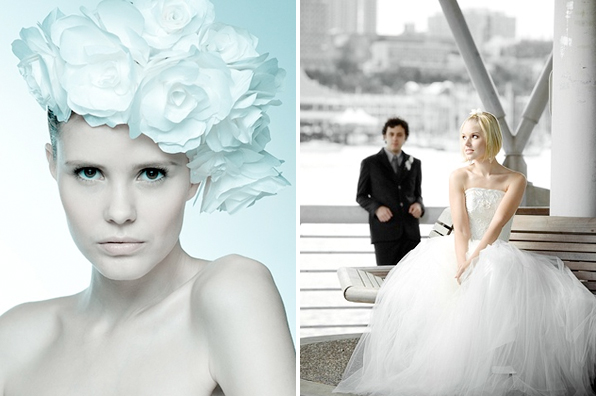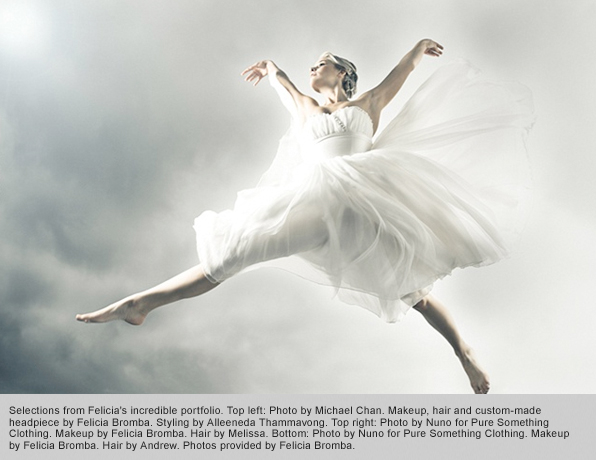 If you recently got married, or are planning on getting married in British Columbia in the near future, you've probably heard of Felicia Bromba already. Not only is Felicia one of the most in-demand bridal makeup artists in the province, she's been officially recognised as the very best by the professionals.
"It totally came out of left field," she beams. "I got a call from the 2010 Professional BC Wedding Awards one day asking if I'd like to come to the event itself. I asked if I could bring my hair stylist with me, and they said sure. We went, I was enjoying networking with people from different areas of the wedding business, and the next thing I knew, my name was being called. I have a glass trophy about a foot high with my name etched on it."
Although the title of BC Wedding Awards Makeup Artist of the Year was hugely appreciated, it wasn't entirely a surprise. With over 100 bridal clients in 2010 alone ("I haven't had a free weekend in over two years"), Felicia's mobile makeup business has already won thousands of fans across the province.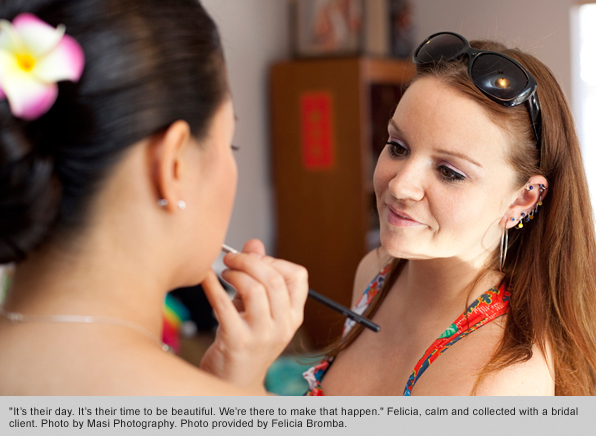 "I've lived in Langley for about eight years but we don't just do weddings in the Lower Mainland. We've done weddings in Duncan, Nanaimo, Campbell River, Victoria, Whistler, Squamish, Kelowna, Kamloops and Penticton. Wherever clients need us, that's where we'll be."
If you'd like to book her for a wedding in 2011 you may be out of luck already. She's nearly booked solid for the year. She's even started taking bookings for 2013. The word is out that brides and their wedding parties are getting more than a gifted technical artist. They're getting someone who is 100% committed to making their big day practically perfect.
"We don't just book weddings and show up," she explains. "We're in full-time contact with every one of our brides and usually have a full year of contact with them before their big day. We send out skincare guides and other tips in the months leading up to their wedding. When I get to the home or hotel I know exactly how many people we're going to be working with. I know the photographer too. We're taking into account everything from the time of year they're getting married, with the humidity and the weather, to the shape of the bride's dress and the type of jewellery they're wearing."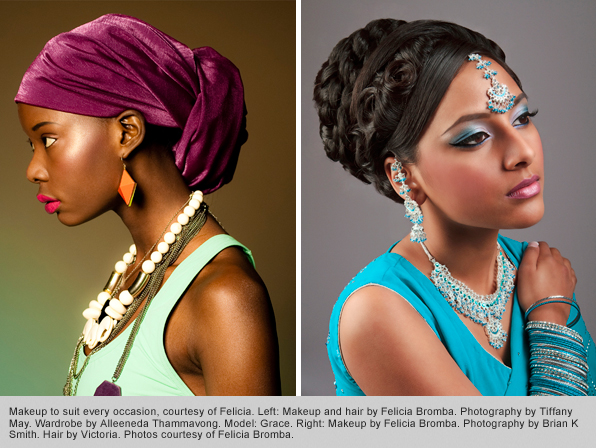 The ultra-professional preparation is all part of the service. The big day is when the magic happens.
"'Happy Wedding Day!' That's the first thing that comes out of my mouth when we arrive. We want to keep the atmosphere light and fun. We're dealing with brides on potentially one of the happiest but most rushed days of their lives. A year's worth of planning comes down to the few short hours that we're with them on the big day. We want them to stay relaxed and calm no matter what's going on. It's their day. It's their time to be beautiful. We're there to make that happen. That's the most important thing to keep in mind.
"Everyone has different ideas on what style of makeup they want, from au naturel to full out glamour. Our consultations with clients are very thorough. We'll look over the reference photos they've brought us, go over all details, narrow them down and pick every detail apart until we know all their likes and dislikes. It's not what I want, it's what they want. But at the same time, what they see in the mirror and what will show up on camera are two different things too. There's a lot that goes into bridal makeup applications.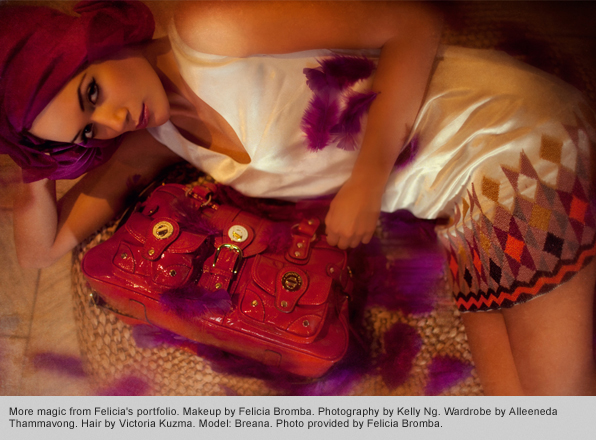 "We don't get bridezillas because of the approach we take with our clients. We're down to earth. 90% of our clients stay friends after the wedding and will call us again when they have their first child and want family photos or maternity shots. Our client base keeps snowballing because we constantly get requests from party members from past weddings. We don't need to do much advertising because we create very loyal clients from the work we do."
It's easy to see why recognition and success have come to Felicia. The service she gives every bride represents the very highest levels of artistic excellence and personal professionalism. But these qualities aren't just reserved for clients. It's how Felicia lived her life even before coming to Blanche Macdonald.
"I started doing makeup in high school for friends and family," she recalls. "It almost became a full time job, although I never thought anything of it. I went to hair school, I did some photography courses and I did some fashion courses. I was still doing makeup for friends during all of this and people were telling me to go and get certified. I wanted to combine all the skills I'd learnt. I'd also done about eight years of art studies so I had an understanding that the face could be my canvas."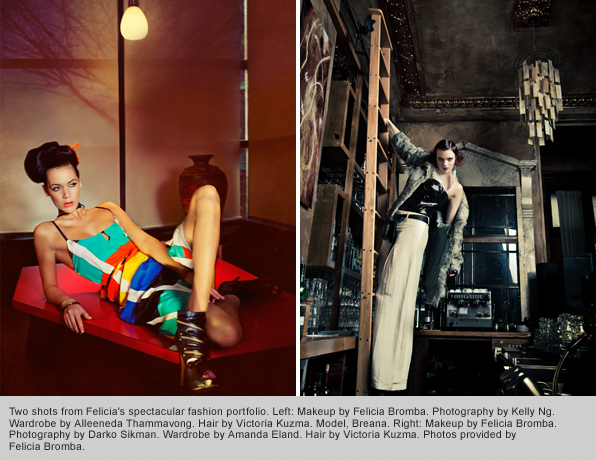 When it came to selecting a makeup school, Felicia carefully reviewed all the options available.
"I'd been researching schools since I was 17 so I knew Blanche Macdonald was the best of the best. I'd researched schools in Canada, the US and Europe. I broke down how long modules were and what was being taught. I read reviews and joined some makeup forums. I wanted to be somewhere that understood all aspects of the business. That was Blanche Macdonald.
"I came here and knew it was where I wanted to be. You had to be professional with the way you dressed and the way you interacted. If you were late to class, you weren't coming in. Those are the things that stick with you. And I had some great instructors like Jon Hennessey, Cory Roberts and Joanne Kinchella. I knew I was never going to do blood and guts effects for a living, but I was very excited to learn it. A lot of the stuff I learnt in the special effects and the TV and film classes has been absolutely invaluable to me in my beauty work. I don't just deal with 16-year old models with beautiful skin. I deal with clients in the real world. My oldest client was 93 years old! These are real people with real skin concerns so I deal with problems like rosacea, psoriasis, eczema and things like that. I've done a lot of work through the Cancer Society of BC too, and a lot of the stuff I learnt in special effects and TV and film class gave me the knowledge to be able to cover skin conditions in real time and make sure that it can translate well to photos."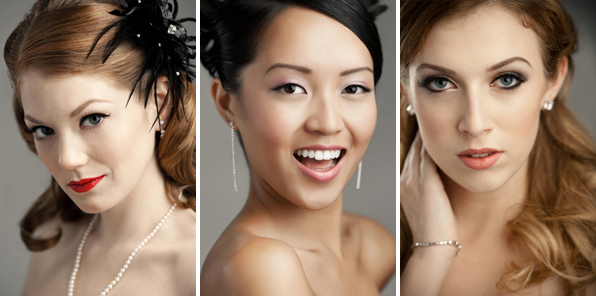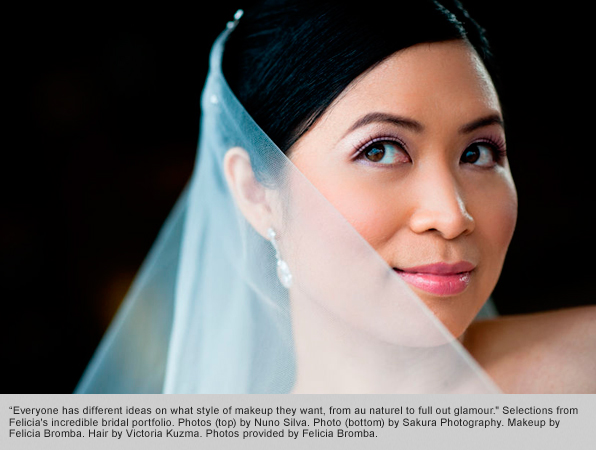 On the few moments she's not working with brides-to-be's and their families, Felicia is doing editorial work for magazines and web sites, shoots for clothing catalogues, portfolio shots for actors and models, even working with musicians like Elise Estrada. She gives private makeup lessons to groups and individuals, and on top of her hectic work schedule she somehow finds the time to run the web site Vancouver Bridal Hub, a pulls-no-punches blog for brides with real life advice from the vendors they're about to hire. Her devotion to her craft is so complete, she's even planning to take language classes in Punjabi and Mandarin to make the service to clients that much smoother. It's simply a matter of committing to her art.
"You have to love it," insists Felicia. "I'm just doing what I was always doing for friends and family. It was meant to be. If you come to makeup school go in with the intent to learn and never stop learning. When you're there, research the areas you're interested in. Network, but do it properly. Blanche Macdonald is your first step but it's up to you to follow through with the rest."
Ladies, if you're planning or even thinking about getting married, better call Felicia soon. Bridegrooms can be found at short notice. Award-winning makeup artists are a different matter entirely.