Makeup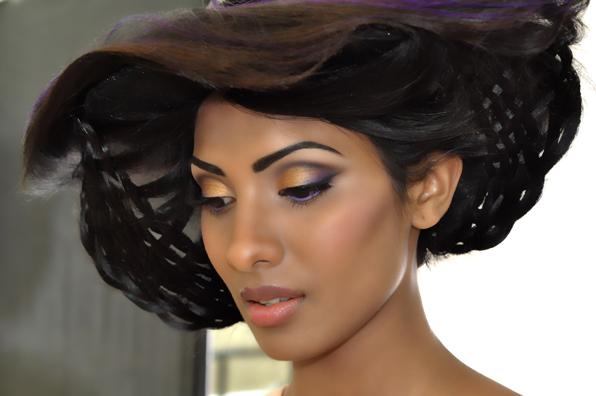 Helen Dao started her makeup career at a young age. Her original model was even younger.
"When I was 12 or 13 I started putting makeup on my little sister," recalls Helen. "Big red lips and blue eye shadow. She was two!"
Helen's artistry has come a long way. But that passion for transformation is still there, and her combination of talent and work ethic has enabled her to create a successful career for herself both as a freelance makeup artist, and as co-owner of a busy Vancouver salon, Glamstar Beauty & Nails.
"I was doing makeup on myself and friends at high school," continues Helen. "I loved the artistic side of it. After high school I was trying to figure out what I wanted to do. I loved fashion and makeup, but after a lot of thought I decided it would be better to go with makeup."
The decision about which makeup school to attend was far simpler.
"A lot of my friends had gone to Blanche Macdonald so I'd heard great reviews about the school since I was young. I knew it was the school for me. I fell in love with it when I met Karen Esprez and Mary Hombrebueno the first time I came to see the school myself. They seemed so professional! I loved the atmosphere. I knew it was what I wanted to do and where I wanted to be."
Armed with a raging hunger for knowledge and a skill set already honed on her friends (and baby sister), Helen shone as a student.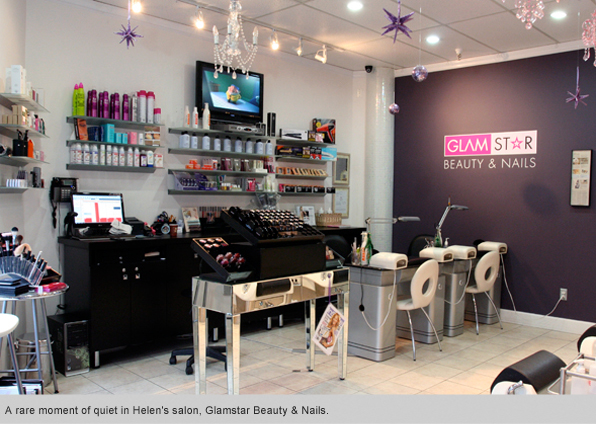 "The first part of the program was the fundamentals course. Cory Roberts was my instructor. I was asking her if I should start volunteering and she was so impressed with my skills she sent me to Holt Renfrew. They hired me right away! I was working on counters there, doing makeups, while I was still at school.
"The more I learnt at makeup school, the more I could feel myself becoming confident as an artist. I knew what I was doing was right. I wasn't just guessing any more. There was always someone there to say, 'You could add a little more, or you should take a little off.'
"Anyone can apply makeup, but when you make it your job there are techniques and sanitary methods that are so important. You learn how to clean and take care of your brushes. You learn that you can't put your hands on your client's face. These are professional things that you wouldn't know yourself. That's where Blanche Macdonald guides you."
Despite being busy working at Holt Renfrew and studying, Helen still found the time to volunteer at numerous Vancouver fashion shows. It's a habit she's kept up since graduation, working behind the scenes at runway events for Agent Provocateur and Holt Renfrew, the Blanche Macdonald Fashion Design Graduation Show and The Grand Wedding Show.
"I was always into fashion," she admits. "Jen Daerendinger and my instructors got me so many photo shoots and fashion shows. The special effects course at Blanche Macdonald made me a better makeup artist, but fashion was what I loved. I got 100% in all my projects for fashion class! My fashion instructor, Jon Hennessey, nominated me for a CNoMA (Canadian Network of Makeup Artists) Award. I was shocked, but happy and flattered."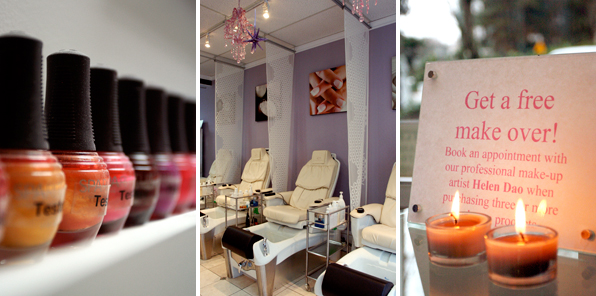 Helen graduated from makeup school with an award nomination and a good job at Holt Renfrew. She'd made a great start, but it was only the beginning.
"I wanted to become a better makeup artist," she insists. "Even after I graduated Blanche Macdonald were calling me a lot for fashion jobs. Some I'd get paid for. Some were volunteer jobs. I knew I was going to do whatever it took to get that skill and get there. I wanted to be one of the top freelance artists in Vancouver."
Helen had more than her Makeup Diploma from Blanche Macdonald in her arsenal. She had a fast growing reputation, and a developing clientele, from her work at Holt Renfrew.
"I'd do clients' makeup for free at the counter, then they'd purchase something. They liked the work I was doing on them so they'd keep coming back and referring their friends. I was getting private clients for weddings through Holt Renfrew. After a while I was so booked up with clients. Even the makeup artists at Holt Renfrew were asking me to do their makeup! I figured, if you're this good, why are you doing people's makeup for free?"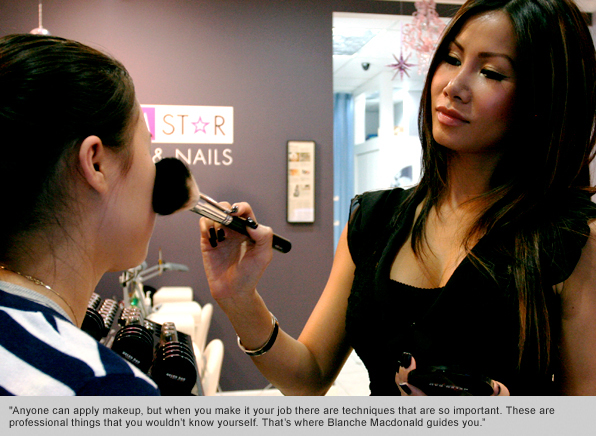 Helen left Holt Renfrew and officially became a freelance makeup artist. Shortly after, when Helen's nail technician cousin and sister suggested opening a new salon, one with a dedicated makeup room, it was too exciting an opportunity to ignore. That salon was Glamstar Beauty & Nails, and it's going from strength to strength.
"It's been wonderful," she smiles. "I have clients who come in for makeup application for parties, weddings, photo shoots or just nights out. I still have clients from my time at Holt Renfrew."
As she continues to grow her client base, Helen is perfectly aware that her greatest marketing tool is her artistry.
"I don't do consultations over the phone any more," she explains. "I know if I can sit clients down in my chair and show them the makeup I can do, they'll come back."
Private clients and running the business take up much of Helen's time now, but she's still working on building her book of contacts too. Helen's work has appeared in magazines including Kim Christie's Unforgettable and Real Wedding. You might even have seen her work on billboards in ads for Rock Band and Bell.
"I still get calls from people I met at Blanche Macdonald," she beams. "Andrea Tiller called me to assist at the Obakki Fashion Show. Jon Hennessey will call me when he needs help too."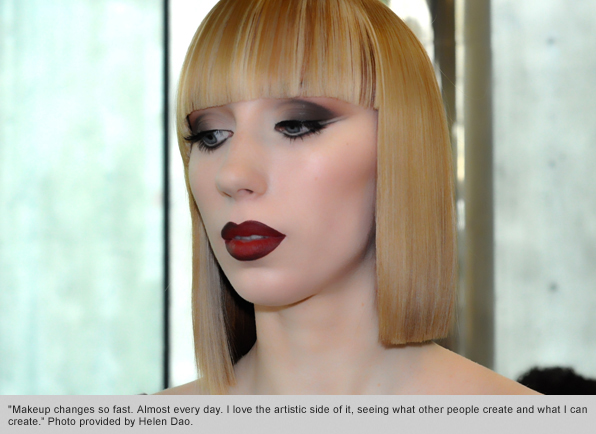 Anyone walking past Suki's Salon on Vancouver's First Avenue c an see Helen's high fashion work blown up in the window of the top-end hair salon. It's the perfect demonstration of just how creative she can be.
"I do the makeup for Suki's Contessa Award entrants every year. That's the big Canadian hair competition. That's so fun for me. I get the chance to express myself. They let me do what I want. And the hair was crazy so I could do anything. There's so much in me I'd still like to express."
Helen's ability to combine elements of cutting edge creativity with classic beauty techniques is just one of the reasons clients keep flocking to Glamstar.
"Makeup changes so fast. Almost every day. I research on line and in magazines all the time. That's how you make your technique better. My iPad is loaded with tons of beauty pictures. That's how I keep up with things. When clients come in and they don't know what nail colour or makeup to use I can show them what models and celebrities are wearing what colours and what styles of makeup."
Helen's two businesses continue to grow, creating new marketing and financial challenges. But that doesn't mean she's any less inspired or enthusiastic about the artistry at its heart than the twelve-year-old girl who first put lipstick on her baby sister.
"I'm still learning and it's still ve ry exciting for me," she smiles. "I love the artistic side of it, seeing what other people create and what I can create. I love makeup!"