Makeup
"I'm not a makeup artist," explained Todd Masters, the Emmy-winning creator and head of MASTERSFX, the Los Angeles and Vancouver-based lab responsible for countless major movie and TV makeup and visual effects. "I'm an artist that uses makeup."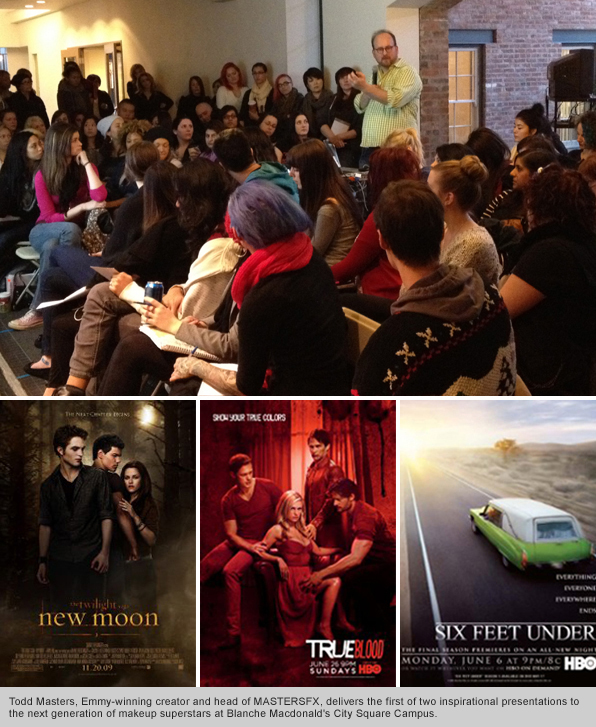 This small detail was at the heart of Todd's two inspirational presentations to Blanche Macdonald's makeup students at our City Square campus, as he repeatedly stressed the importance of the ability to think outside the box and to keep exploring new ideas, along with the vital value of people skills and perseverance.
Exceptionally generous with his advice, Todd acknowledged that this room full of aspiring makeup artists was already on the right track.
"Be creative in your thinking," he insisted. "Be better ­– be different. Look for the medium for success. You're at makeup school, so you're already doing that."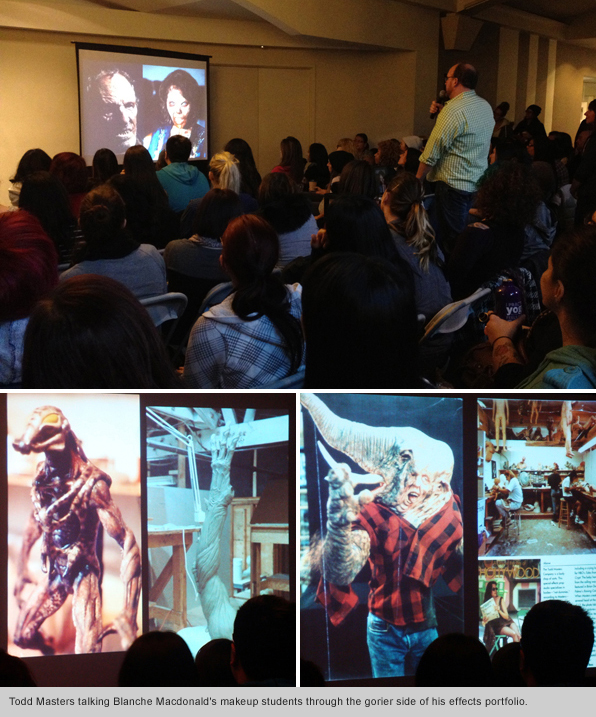 Over the course of a video and slide show that alternated between hilarious (mullets were cool in the 80s, ok) and, thanks to some of MASTERSFX's gorier work, stomach churning, Todd took students behind the scenes through 25 years of cutting edge effects work.
Beginning in his bedroom and later his parents' basement, Todd made his movie debut aged 12 making zombies for Poltergeist 2. By the time he was nearing 20 he had been featured in Time Magazine, worked on Big Trouble In Little China and was one of the original team behind the look of the now-famous Predator.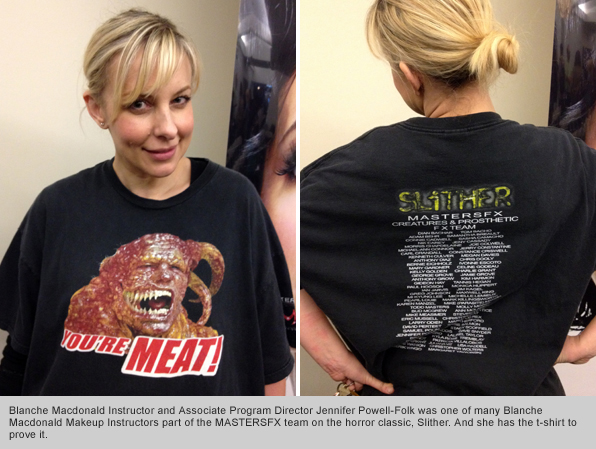 Since then, his career has been at the cutting edge of makeup and visual effects, creating the iconic creatures of Demon Night, Star Trek: First Contact, Slither and Underworld, being at the forefront of TV production with Six Feet Under, True Blood and Fringe, and creating digital makeup 13 years before Hollywood caught up with Benjamin Button. Blanche Macdonald's makeup students and faculty (many of whom have worked and still work regularly with Todd) were treated to incredible behind the scenes stills and footage of the MASTERSFX team in action on all of these shows, providing the ultimate proof that even with the technology available to major Hollywood and commercial productions, there is still no substitute for creativity.
"Don't fear the new brush," he explained, referring to the growing link between makeup, mechanical and digital effects. "But I still use my sketch pad more than my laptop."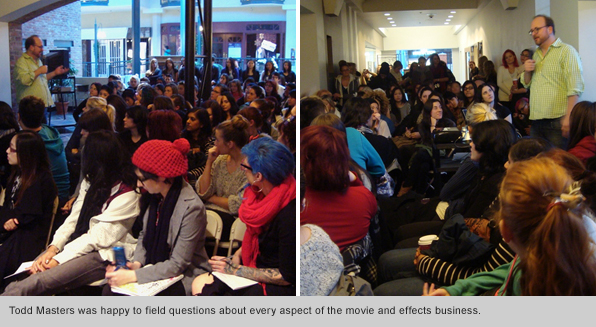 After his fascinating presentation, Todd held an honest and open question and answer session with students, stressing that in the competitive world of on-set makeup and lab effects, people skills are as important as technical skills. To illustrate his point, he revealed a lesson learnt at a young age that continues to help him to this day.
"My big brother used to pin me down with his knees on my arms and he would poke my chest," he laughed. "One I day I realised, this isn't so bad. Once I stopped struggling, he would give up. That taught me how to deal with producers. Patience is the key."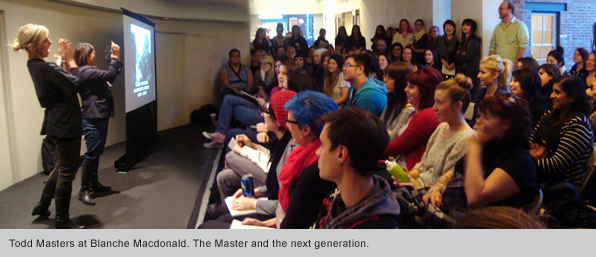 While not downplaying the tougher aspects of his chosen career, Todd definitely made it clear that if he had his time over again, he wouldn't have done it any differently.
"I make monsters for a living," he smiled. "I love doing things that people say can't be done or getting a call from someone saying, 'I was told you're the only person who can do this'. It's a great life."
The staff and students of the Blanche Macdonald Centre would like to extend our warmest thanks to Todd Masters for taking the time and effort out of his busy schedule to give us an incredible, enlightening and unforgettable day.