Makeup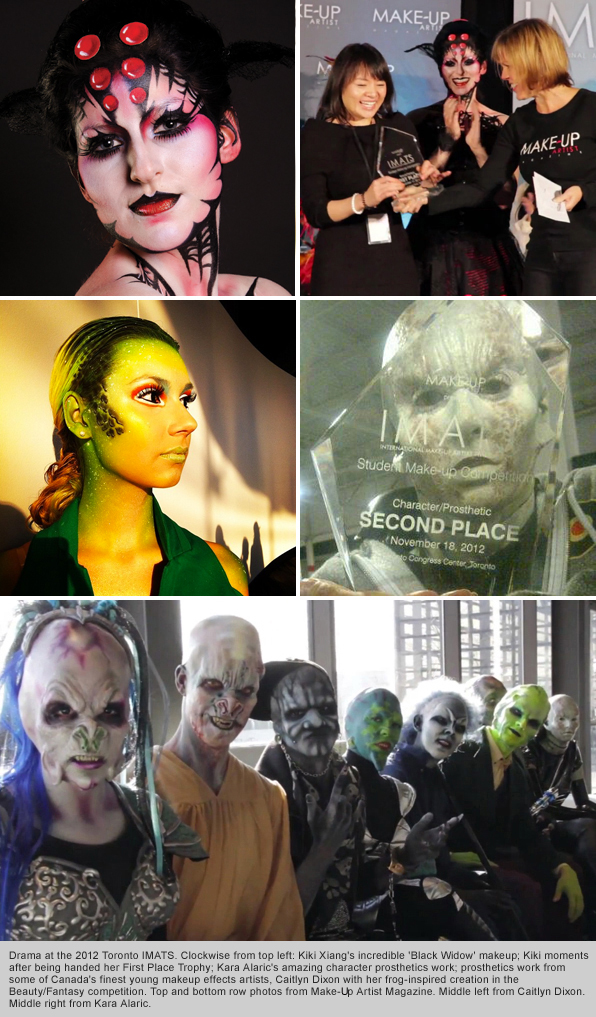 The International Makeup Artist Trade Show (IMATS) turned Toronto into the Global Centre of everything Makeup for an entire weekend this November. And on one of the industry's most prestigious stages, four talented graduates from Blanche Macdonald, Qianwen 'Kiki' Xiang, Kara Alaric, Jessica Wager and Caitlyn Dixon, wowed Ontario's makeup community with their skills and artistry in the two IMATS 'Battle of the Brushes' Student Competitions.
For Kiki Xiang the trip was a glorious success, as she won a fabulous First Place in the Fantasy/Beauty category.
With just two hours to create a Beauty look on the theme of 'Wild Kingdom' Kiki's 'Black Widow' wowed the judges with its bold lines and restrained use of colour.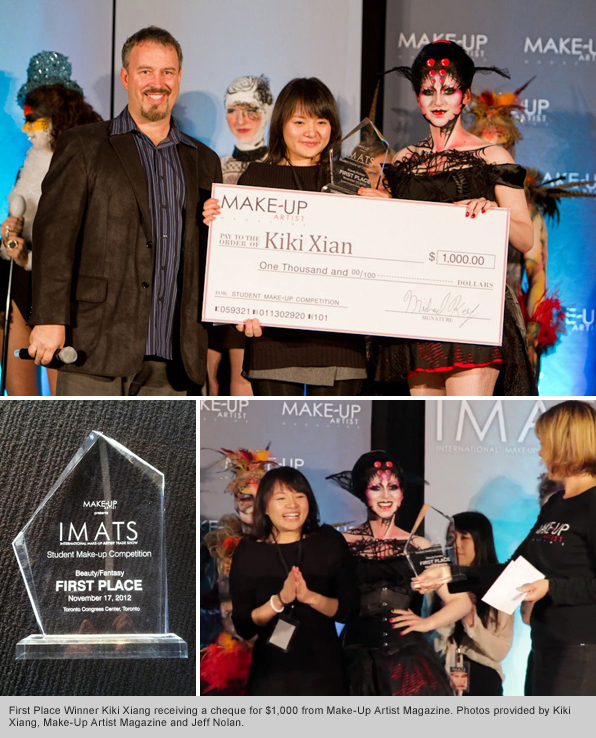 "How I came up with idea for the spider is a funny and sad story," explained Kiki after her win. "I actually broke up with my fiancé three months to the day before I found out that I'd be in the competition. I was thinking about the Black Widow spider. Its colours, black and red, are very good for makeup. I wanted to use four colours. No more. Also, it was easy to style the model's costume to this idea. It's super cool.
"Before the competition started I looked around at the other artists on the stage and they all had a lot more makeup than me. I just had three eye shadow creams, one powder puff, one white foundation, one natural foundation, one eye shadow pigment, one lip colour, clear powder, and two boxes of eye shadows. Everyone else had much more Makeup, which made me more nervous."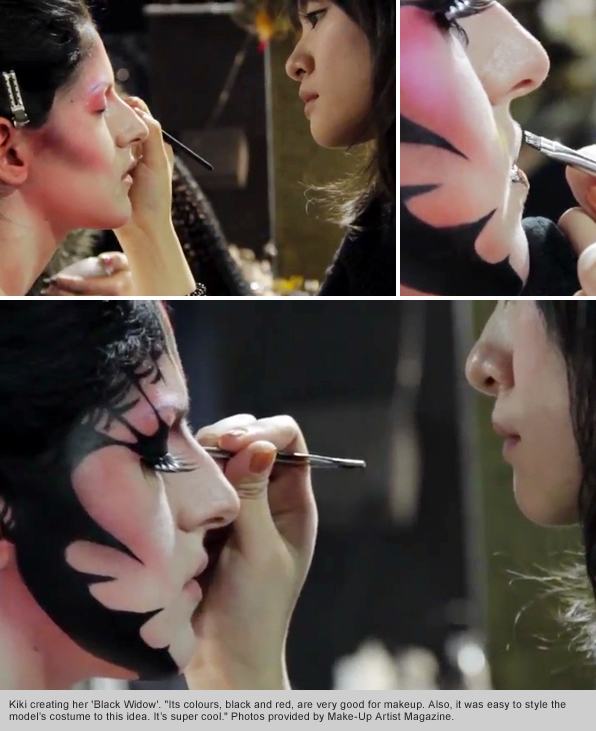 Kiki, whose makeup skills have shone at Vancouver Fashion Week and Vancouver Eco Fashion Week since graduating, had a pair of tricks up her sleeve: an incredible natural talent and the advice from her instructors and career directors at Canada's Top Makeup School.
"I'm taking an ESL course from Monday to Friday," she continues. I need to get up at 6.30 every morning and after class we have a lot of homework. I created the design on paper, and for a whole week I'd go to my English classes in the morning then come to Blanche Macdonald and practice. I loved my time at Makeup School."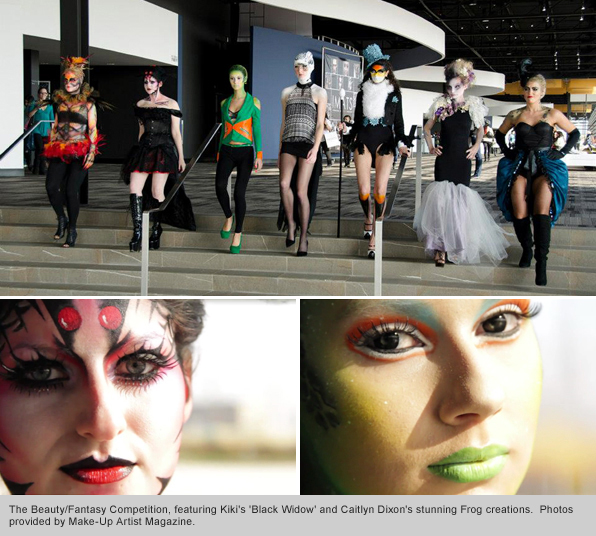 Winning the First Place Trophy, alongside a cheque for $1000, was a defining moment in Kiki's short makeup career.
"There were a lot of good Makeup Artists in the competition. After I was done I felt that I could have done better, even though I tried my best. I thought I might get second or third place. After [Make-Up Artist magazine Editor-in-Chief] Michael Key read the second place winner's name I thought, 'Oh no!' Then he called my name and it took me a moment to react. He told me I did a great job. Over dinner that night I showed him my portfolio and he asked me how long I'd been doing Makeup. I said less than two years. He couldn't believe it.
"I also have to thank my sweet model Sammie Crockett for coming to Toronto and always encouraging me."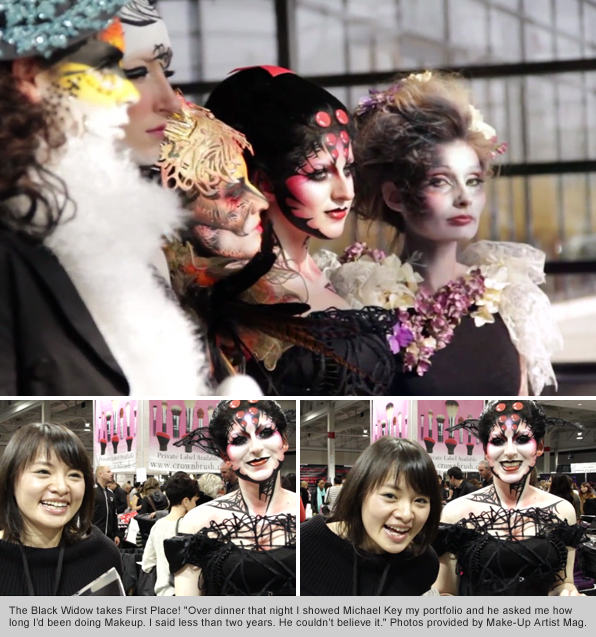 Kara Alaric also took home a trophy, winning a splendid Second in the Character Prosthetics competition.
"It was amazing just doing the makeup and having so many people take pictures of my work," recalls Kara. "Even taking my model to the washroom, we couldn't go 30 seconds without someone stopping us and taking photos. She looked like a shocking, believable alien. Just having other makeup artists tell me that I'm really good gave me the feeling that I'd place."
Having just moved back home to Whitehorse, Yukon, the news that she'd been accepted to compete at the Toronto IMATS radically changed Kara's plans.
"I came back to Vancouver and started practicing at Blanche Macdonald! I learned a lot about foam. It's not going to fit properly unless it was made for your specific model. It's not easy, but it can be very forgiving and you can do whatever you want with it. Céline Godeau was so kind. She actually lent me her huge platform boots for my model's costume."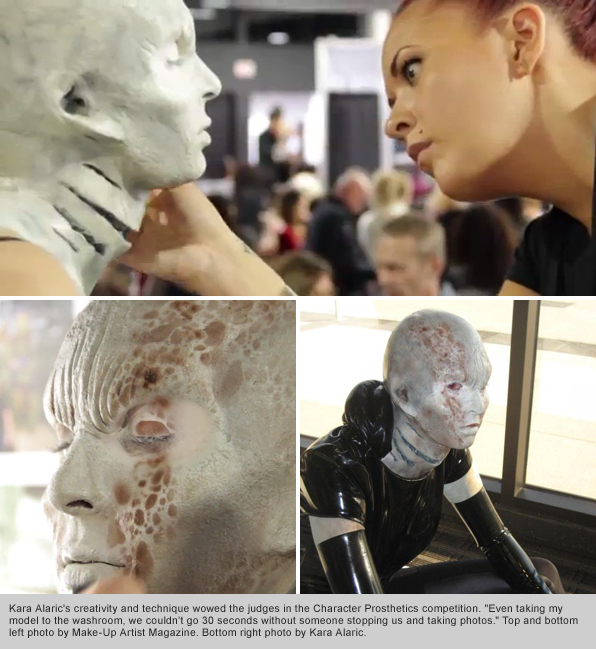 Working on the concept, as well as her technique, proved invaluable. Knowing that 2012's competition theme was 'Men In Black Aliens' sent Kara into research mode.
"My parents bought me the Men In Black DVDs. I watched them over and over. I wanted to take elements from each film. My brother made me a gun that had an LED in it. I made a chain of galaxies, like Orion's Belt. There's a sexy female alien in the second movie. I wanted my costume to be badass like her. The third movie had a lot of fishy aliens that I loved. When I was practicing I originally had more of an amphibian colour scheme. In the competition I took elements of that paint scheme but altered the colouration, and it turned out more reptilian. I was looking around at what the other contestants were doing and wanted mine to stand out more."
With no competitors aware of what pieces they'll receive, a big part of the Character Prosthetics competition depends on the makeup artists' ability to create ideas from scratch. It's an element that Kara excelled at, fitting an oversized brow piece on her model's petite face, creating ears from horns, and turning a gashed throat into gills.
"I don't think I'm the best, but I do feel confident making creatures. I didn't go into makeup thinking I would end up loving making monsters," she laughs. "I thought I'd work in fashion. Now throw me a zombie over a bride any day!"
"In this industry you need people who have your back and support you. I know that Blanche Macdonald will always be there for me."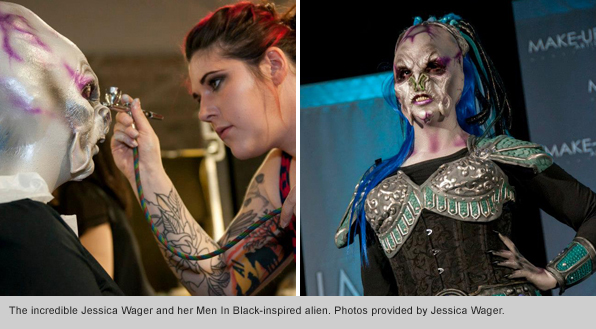 The Blanche Macdonald Centre offers our warmest congratulation to all four Toronto IMATS finalists. Reaching that stage of excellence is a remarkable achievement and a huge step towards great things in their futures.
Watch our graduates in action at the 2012 Toronto International Makeup Artist Tradeshow:
IMATS Toronto 2012 Battle of the Brushes: Beauty/Fantasy — The Big Day
IMATS Toronto 2012 Battle of the Brushes: Beauty/Fantasy — The Awards
IMATS Toronto 2012 Battle of the Brushes: Character/Prosthetic — The Big Day