Makeup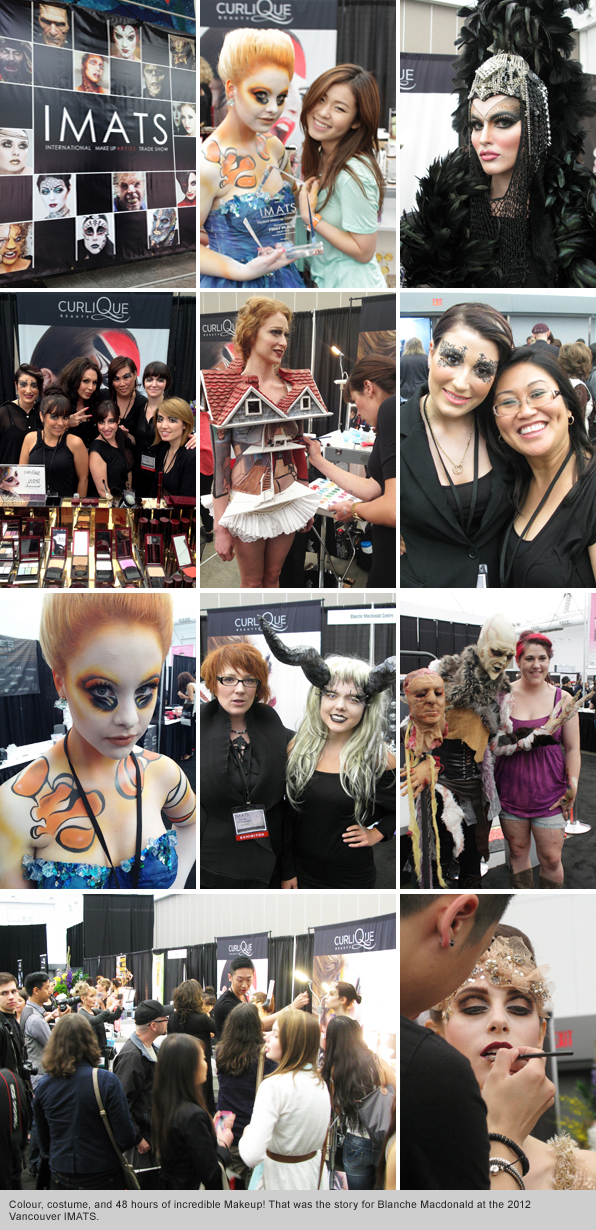 The eyes of the planet may have been on London for the Olympics, but for Makeup Professionals around the world attention was firmly focussed on Vancouver as the International Makeup Artist Trade Show (IMATS) made its third visit to our beautiful city. And in the Olympics of Makeup, Blanche Macdonald once again struck gold when recent graduate Catlyn Jeong took home a fabulous First Place in the 'Battle of the Brushes' Student Competition in the Fantasy/Beauty category.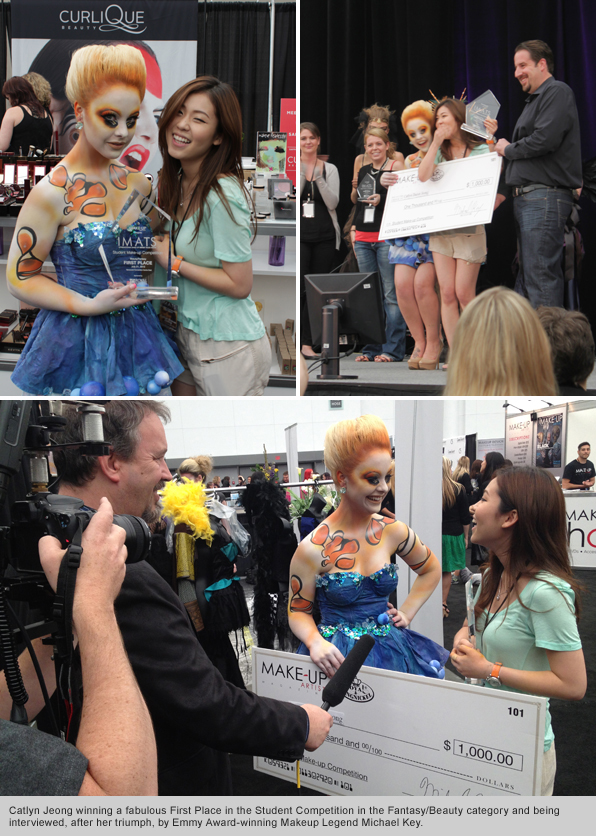 From the thousands of entries worldwide, the experts at Make-Up Artist Magazine selected a mere eight students to compete in the Fantasy/Beauty final. And remarkably, out of those eight spots, four contestants came from Blanche Macdonald; Kristin Brezden, Jessica Wager, Joyce Yeh and the eventual winner, Catlyn Jeong.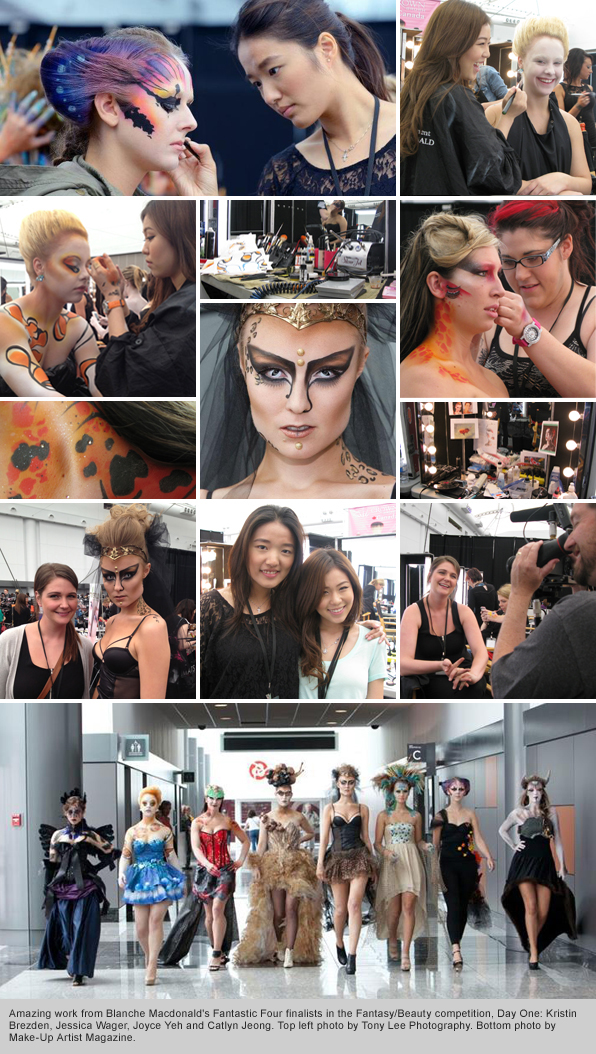 "They announced my name and I went blank," laughed Catlyn, minutes after receiving her trophy and a cheque for $1000. "I thought, 'Catlyn? Who's Catlyn? Who won first place?' And it was me! I was going crazy. I wasn't expecting anything. I was so excited and honoured just to be part of this. I was actually having fun when I was doing the application. I wasn't nervous because I wasn't expecting anything."
Using the theme of 'Wild Kingdom' as their launch pad, Catlyn and the other contestants had three hours to create their looks from scratch before being judged by a group of high-profile industry professionals. Catlyn took her 'Wild Kingdom' inspiration from the humble clown fish, impressing the judges by integrating its distinctive patterning in her model's eyes and lashes (and by how much of her body painting was applied by hand).
"I was inspired by Finding Nemo!" continued Catlyn. "My original concept was a butterfly, but I was told that had been done too many times before. So I had to come up with something completely different. Tim Hung and I googled different types of animals, and we played around with character charts using significant patterns from different type of animals. And by accident I came up with what turned out to be the winning design!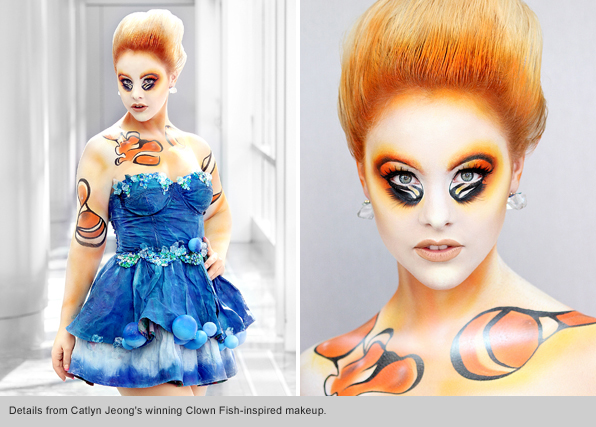 "How was my year at Blanche? Every single penny was worth it. Every module was so different. It made me so passionate about makeup and helped me realise that's it's just another way of expressing art. I learned more than I could ever have imagined. A year ago I would have never thought I was good enough to do this, but I was lucky enough to meet classmates who cheered and encouraged me through the program. And, of course, I was taught by the best!"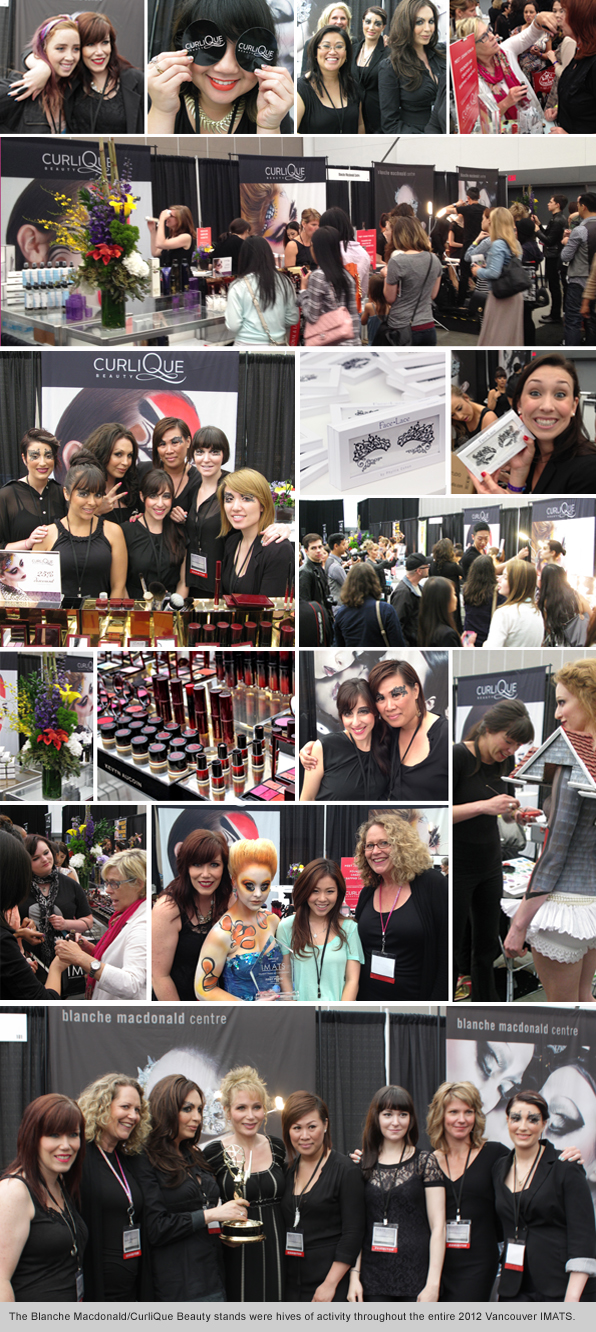 The appeal of IMATS goes beyond student competitions. Now held in six cities – Vancouver, Los Angeles, New York, London, Toronto and Sydney – IMATS is the premier makeup show on the planet. Over two hectic days, thousands of makeup artists, from beginners to fashion, TV and movie professionals, descended upon the Vancouver Convention Centre to experience the newest products and to listen to presentations by Emmy-winners like Eve Pearl and Valenté Frazier, keynote speaker and effects legend (and Blanche Macdonald graduate) Toby Lindala, and a 25th Anniversary panel discussion with Todd Masters of Masters FX that included Blanche Macdonald graduate Sarah Pickersgill.
Vancouver-via-Milan graduate-turned-instructor Tim Hung dazzled on Day One, creating a 21st Century Joan of Arc on the Blanche Macdonald and CurliQue Beauty stands as a stream of visitors' cameras caught every moment.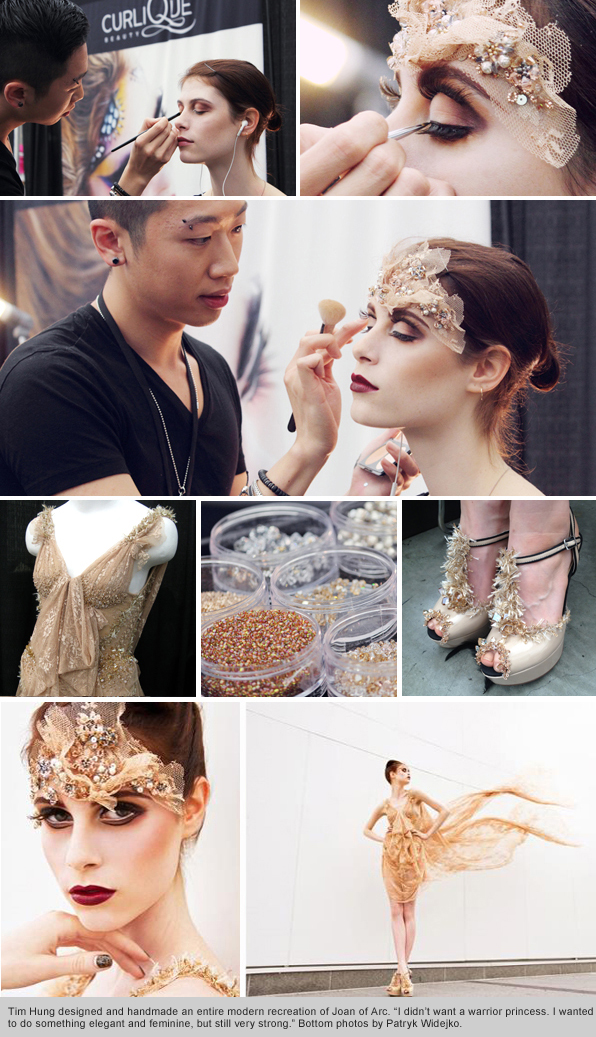 "Karen Esprez asked me if I was available to do an extreme fashion makeup," he explained. "I always want to challenge myself to do something different, so I said of course!
"I wanted to recreate Joan of Arc. But I didn't want a warrior princess. I wanted to do something elegant and feminine, but still very strong. I knew I wanted to make it elaborate. Two weeks ago I had a concept but I didn't have a dress. I wanted to do beading, crystals and crystal flowers. I thought, maybe I could make one."
Working non-stop for two weeks to create a dress as well as a makeup design was exhausting, but ultimately rewarding for Tim.
"It's worth it, because this is an international stage," he insisted. "The school is always so supportive of what I do. I really appreciate that."
Tim is just one of many Blanche Macdonald graduates who've returned to the School where they began their makeup careers. Two more of them, Andrea Tiller and Jaylene McRae were happy to delve into their imaginations on our stands in front of the expert eyes of Vancouver's makeup community. For CurliQue Beauty's Talent Leader Jaylene, creating a modern twist on a 1930s showgirl was opportunity to collaborate and create.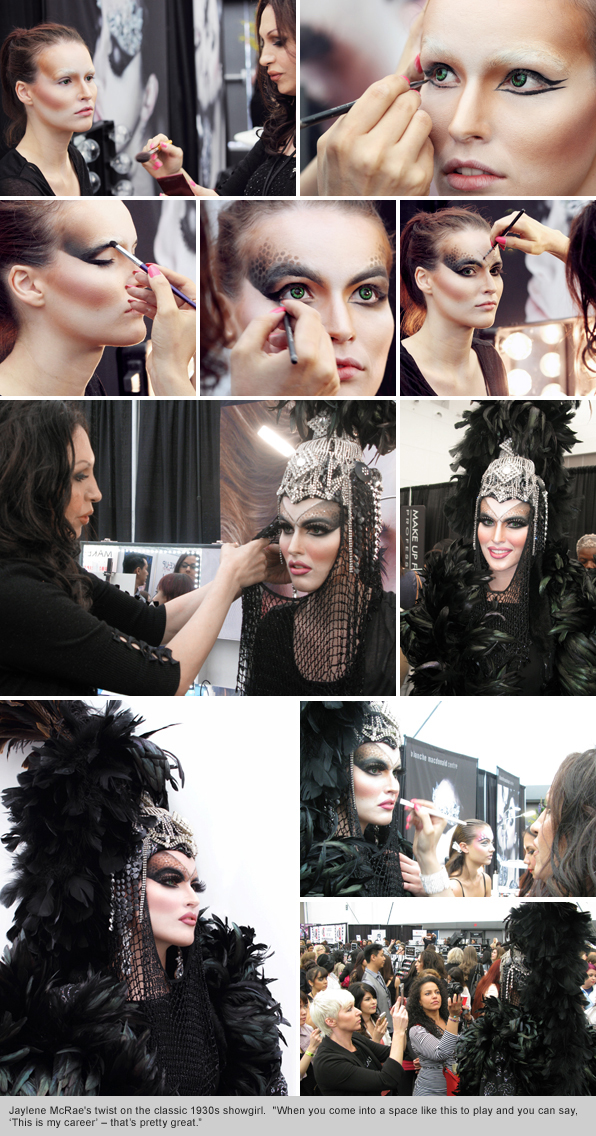 "I guess you could say this is the grand introduction of CurliQue to the beauty industry," she smiled. "This concept is a collaboration with the vision of Lily Lim, Karen Esprez, Kelly Schmidt and myself; the whole creative team. It's something that reflects our concepts as a makeup school and a brand. And it's also something that's visually stimulating."
For Jaylene, a makeup application in full view of thousands of curious cameras was pure fun.
"I'm a performer and entertainer as well as a makeup artist, so doing makeup in this environment, surrounded by likeminded people, suits me perfectly. It really is about celebrating the products that are available to create what's in our minds. And it's about celebrating the artist. When those things come together it's kind of intoxicating. When you come into a space like this to play and you can say, 'this is my career' – that's pretty great."
The spectacular makeups continued on Day Two of IMATS, with a pair of incredible applications by two more Blanche Macdonald finalists in the Character Prosthetics Student Competition, Alina Wong and, competing for the second day in a row, Jessica Wager.
On the Blanche Macdonald stand the excitement continued as grads-turned-instructors Ashley Forshaw and Celine Godeau all delivered stunning yet radically different applications.
For Ashley, who turned her model into a doll too big for her own (three-dimensional) dollhouse, she had her own high standards to maintain.
"I want my makeups to stand out," she explained. "I want them to be unique. I want people to come to the show and see what crazy thing Ashley did. I want them to wonder what's she going to do next year."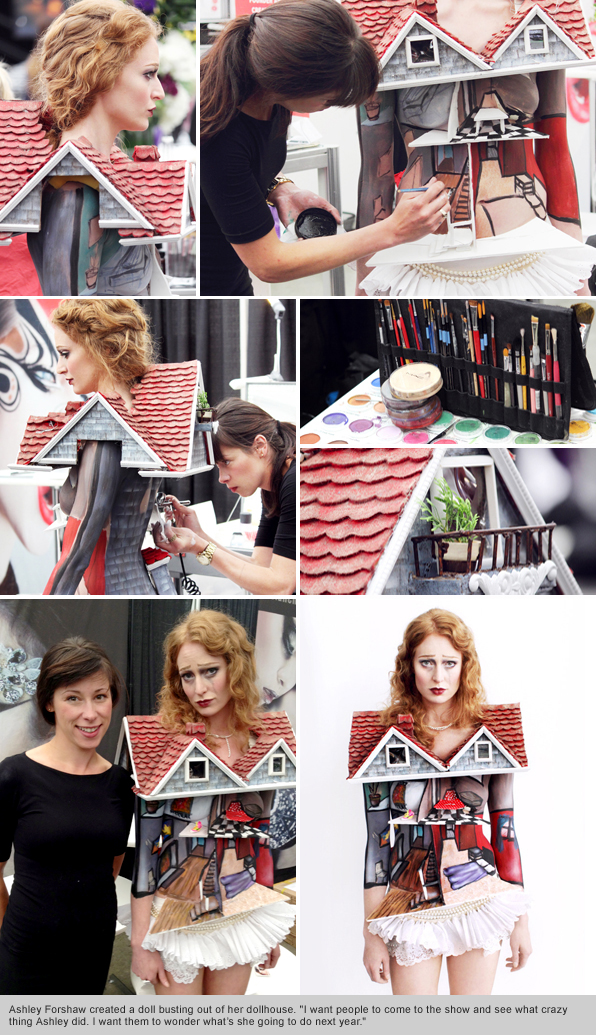 "I built the roof and all the floors. The roof on its own took four nights of hard work. I wanted the painting in perspective, so it was hard to work out where everything was going to sit on the body. The makeup took about five and a half hours once I'd put the house and floors in place. Part of the challenge was, how do I top last year's makeup? I couldn't do something less than what I did then. Make-Up Artist Magazine seemed quite excited. So did tons of people around the show. Dana Nye of Ben Nye supplied me with a lot of products and he was blown away. He couldn't stop taking photos."
Like her Blanche Macdonald colleagues, the many days of hard work really was a labour of love.
"I adore doing makeup. So for me it's a great opportunity to network and have everyone around to really showcase my work. Having so many eyes viewing it and seeing what I've done is so rewarding for me."
Celine Godeau was another instructor who took the opportunity to demonstrate on the Blanche Macdonald stand to let her creativity run wild.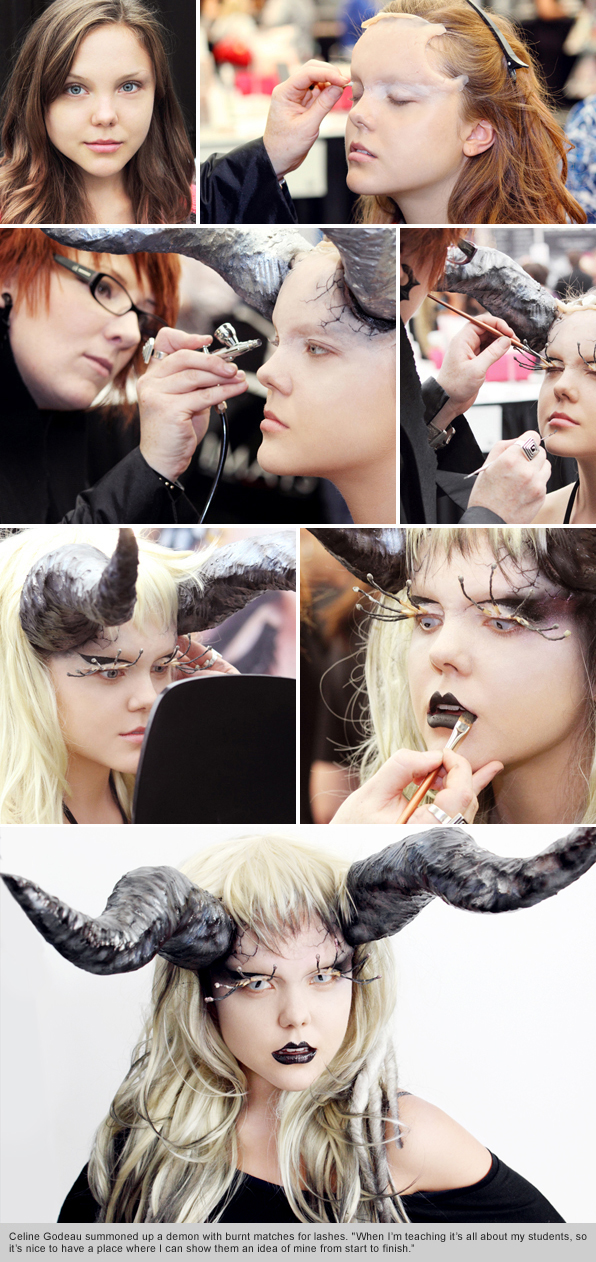 "I'd done a makeup at IMATS last year so I was stoked to do it again," she smiled. "This idea has been something I sketched out and has been gestating in my mind for years – a demon with eyelashes that were matches that would catch fire and burn. You could never do that with a model, but it's something I could do with a makeup and Photoshop flames in after.
"The brow piece was gelatin and it blended onto the crease of the eye. The eyelashes were part of a full eyelid piece, which I constructed with latex, then I burned matchstick after matchstick to get a nice curve lash. They're really fragile, so I immediately soaked them in crazy glue and bonded everything together with layers of latex. They're fragile but flexible."
Despite the hours preparing, constructing and applying the makeup, the smiles make the sweat more than worthwhile.
"This is a fun time for me. It's not stressful. It's a makeup party! Being here on behalf of Blanche Macdonald I get to balance special makeup effects and my airbrushing, which I'm known for, with some sort of beauty trends. I love being able to create something that's definitely a monster but you can still see current trends in there.
"My old and current students are excited to see what's coming out of my head. It's a chance to see me in a different context. When I'm teaching it's all about my students, so it's nice to have a place where I can show them an idea of mine from start to finish."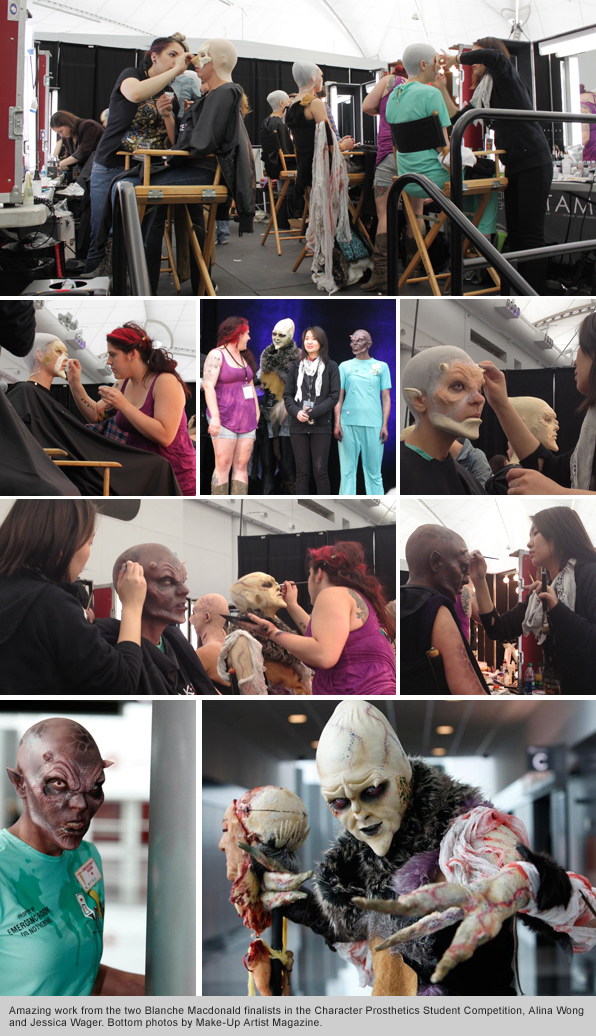 The Blanche Macdonald Centre offers our warmest congratulation to all five IMATS finalists. Reaching that stage of excellence is a remarkable achievement and a huge step towards great things in their futures.
Remember the names Catlyn Jeong, Kristin Brezden, Jessica Wager, Joyce Yeh and Alina Wong. You'll be hearing more from them very soon.