Makeup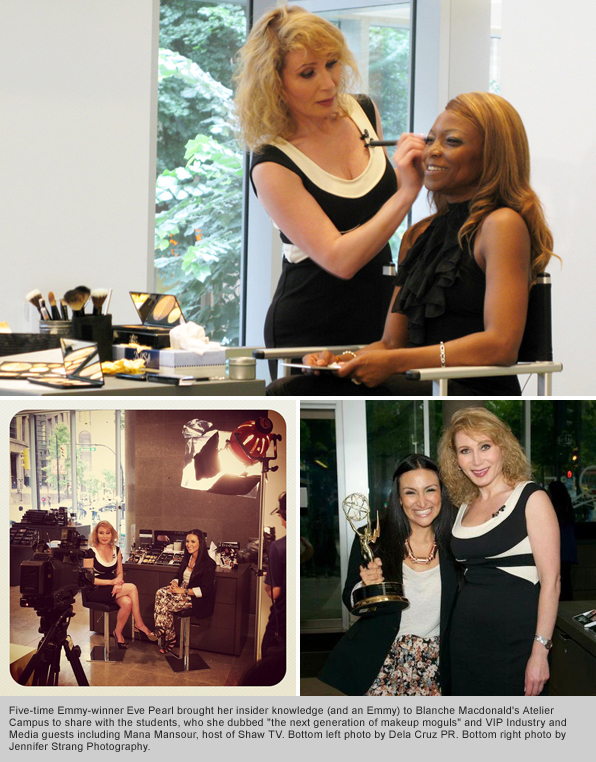 If Eve Pearl had one message to give to Blanche Macdonald's Makeup Students, it was this:
"Don't have fear! Fear is the biggest paralyzer. That's what keeps people back more than anything. I've seen people with no fear and no talent succeed. Look at me! My biggest asset is my ignorance, and not letting my lack of knowledge stop me from pursuing my goals and ideas."
The five-time Emmy-winner shared her insider knowledge with Makeup Students at Blanche Macdonald's Atelier Campus, delivering an amazing two-hour presentation where she demonstrated a few of her techniques and the positive attitude that's put her behind and in front of the camera on hit shows including The View, Good Morning America, The Today Show, and Live with Regis and Kelly.
"Half of what we do is troubleshoot. The other half is staying out of trouble," she half-joked. "I have bad eyesight and shaky hands. I'm not an artist, but I have good taste and good skills. Speed is important. Simplify your technique. I'm letting you borrow mine."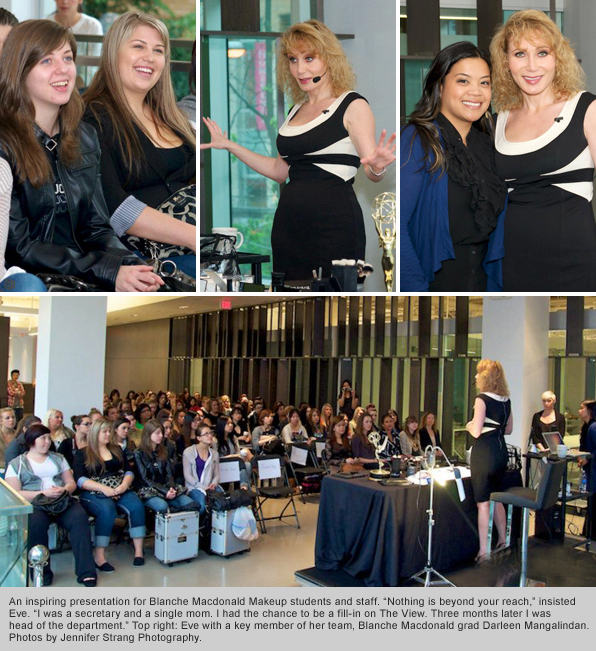 Eve's generosity extended beyond loaning her techniques to Blanche Macdonald's students. She also marked the occasion by unveiling the prototype of her next generation Pro Palette (as compact as you'd expect, but with individually removable sections), and canvassing students' opinion on what its label should look like. Most of the time though, she was combining hard-won advice with the reassuring confirmation that everyone present, by choosing to come to Blanche Macdonald, was already on the right track.
"Nothing is beyond your reach," she insisted. "I was a secretary and a single mum. I had the chance to be a fill-in on All My Children. Three months later I was head of the department."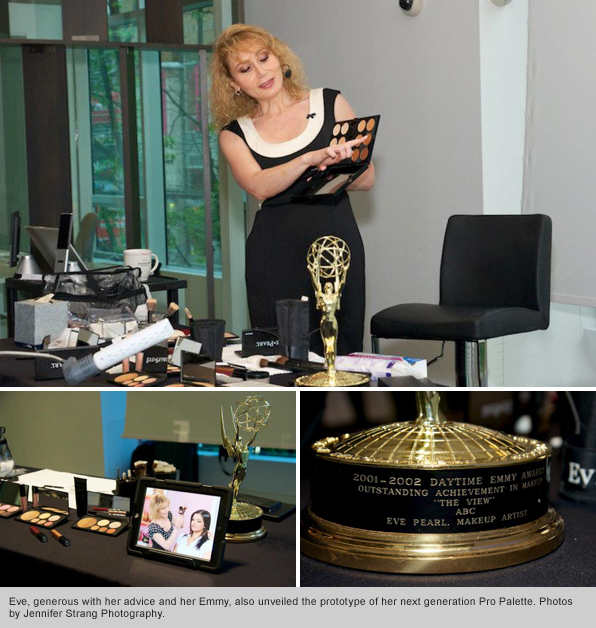 Speaking after her presentation, Eve happily described why she keeps coming back to Blanche Macdonald, and why she's always ready to share both techniques and a little bit of inspiration.
"Just by being here, that's a huge step for these students and their families," she explained. "I'm sure a lot of them were told you can't do this, or you shouldn't do this. Everyone at this Makeup School has passed through hurdles to get here, whether it was logistical or just convincing their family. They've made that commitment. That's a huge step. When I look at their faces, I can see they want to hear something that will tell them it's ok and that they made the right choice.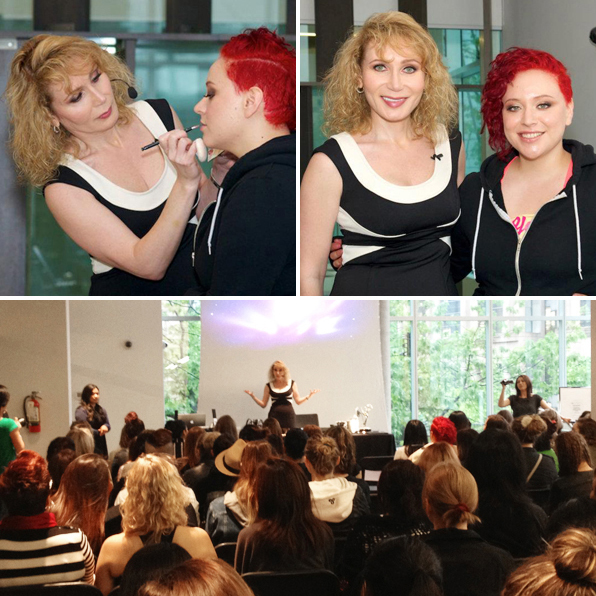 "For me, having someone tell me it'll be ok was important. It doesn't matter what they look like. Some people in the industry start out fabulous, but I came into this industry with bad skin, acne marks and kind of schlubby. Now I enjoy spreading the message that that doesn't matter. Sometimes all it takes is one person to believe in us."
Eve was originally introduced to Blanche Macdonald when she was working for NBC at the Vancouver Olympics. Contacted by student Darleen Mangalindan offering her assistance, Eve took the opportunity to swing by the Makeup School to see what all the fuss was about. She loved what she saw, the people she met, and she's been coming back ever since.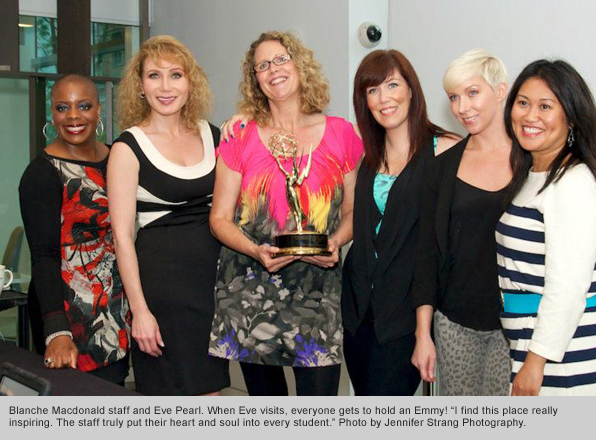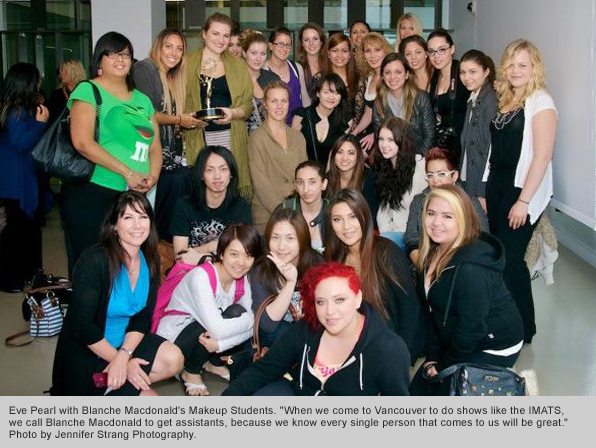 "I find this place really inspiring," insists Eve. "Blanche Macdonald is a living entity. It's constantly evolving, and every time I've been here, something new is happening. The staff truly put their heart and soul into every student. When we come here to do shows like the IMATS, we call this school to get assistants, because we know every single person that comes to us will be great. They're all so professional in how they speak and how they conduct themselves. For me, I care about your professionalism more than your artistic talents.
"Just because this is a makeup school doesn't mean that there isn't a serious amount of business education here. These students are learning, not just makeup, but business and negotiating skills. They're learning to articulate social skills and how to be responsible. Makeup artists are walking entrepreneurs. This is actually double the amount of education you get at business school. A business school will teach you business but they might not teach you common sense and how to get a visual competitive edge. These students know how to get that visual competitive edge. They know how to make someone look and feel good. That elevates the entire level of excellence across our industry."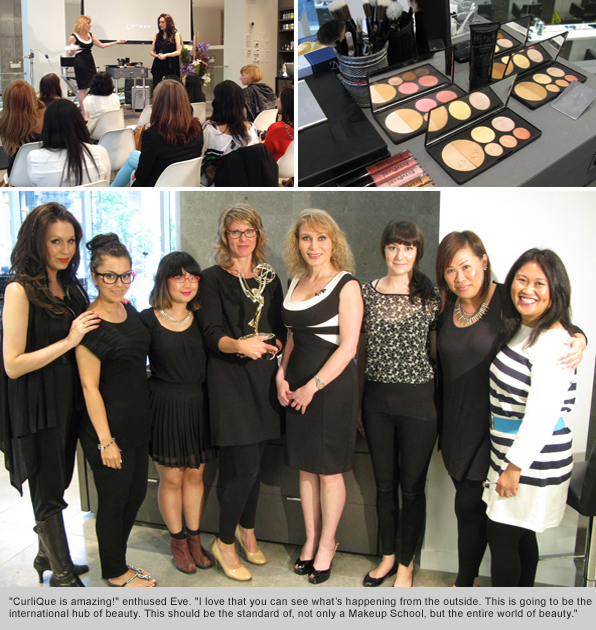 Although this was Eve's third visit to the school she described as "the Harvard of Makeup", it was the first time she'd seen the new Atelier campus and its spectacular beauty boutique, CurliQue Beauty.
"A year ago this space was cement and some white walls!" she laughed. "To see it come to reality is truly incredible. CurliQue is amazing! I love that it's a fishbowl and you can see what's happening from the outside. This is going to be the international hub of beauty. This should be the standard of, not only a Makeup School, but the entire world of beauty. This should be the guideline for everything.
"Makeup artists used to not be well respected. People like us are changing how makeup artists are perceived. Kevyn Aucoin was the first one to do that. We should feel comfortable sitting around a table with finance people, doctors and lawyers. We should be just as valued. These students are the next generation of makeup moguls. I don't see it as competition. I see it as an evolution for all of us. We will change how people see makeup artists. We already have."