Makeup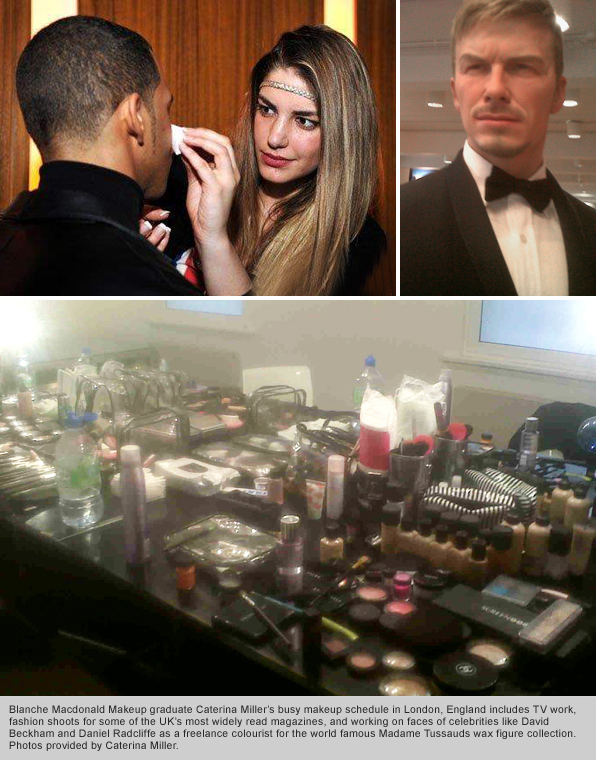 It's not unusual for Blanche Macdonald makeup graduates to work on celebrity faces and build successful careers from homes in Richmond.
That's the story for Caterina Miller too. But the Richmond where she lives is in Southwest London, England, not suburban Vancouver. And although she's regularly working on faces of celebrities like David Beckham and Daniel Radcliffe, that's a little different too. The faces are the same. The bodies aren't. Because Caterina, as part of her increasingly busy makeup career, is a freelance colourist for the world famous Madame Tussauds wax figure collection.
"I take care of the wax figures at The London Eye, the Sea Life London Aquarium and Piccadilly Circus," she explains. "I've worked on the painting for David Beckham at The London Eye, Daniel Radcliffe and Luciano Pavarotti at Madame Tussauds, and I maintain Susan Sarandon at Piccadilly Circus. I don't sculpt the figures' faces, but if an ear or a finger has been broken or someone has put chewing gum in their hair, I'll fix it. It's been a great experience. I love it there!"
"I did an internship with Madame Tussauds for four months, then they offered me a job as a freelance colourist, painting the figures' faces. The Special Makeup Effects training I had at Blanche Macdonald really helped with that. On our last module we had prosthetics pieces that we had to paint to match the skin exactly. Madame Tussauds has made me even more aware of the colours in people's skin. The skills I've learnt with paint have really crossed over into my makeup. I can look at foundations now and don't have to test them. I can take three colours, mix them, and it will be the right foundation."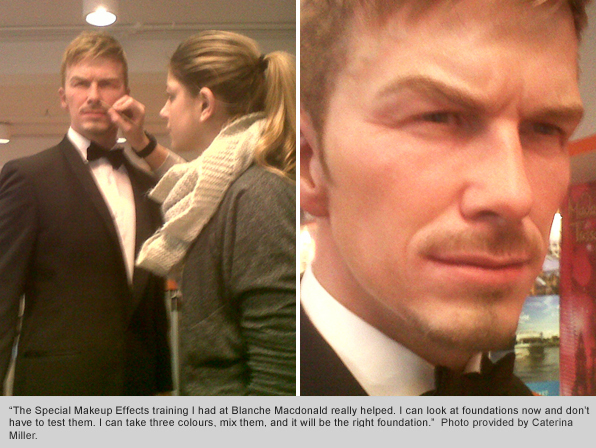 Madame Tussauds is perhaps the most unusual fixture on Caterina's makeup schedule that includes TV work with nationally broadcast shows on Channel 5 and NBC News and fashion shoots in some of the UK's most widely read magazines. All of which raises the question of why someone born, raised and now working in London, England, would come all the way to Vancouver for her makeup education at Blanche Macdonald?
"I loved makeup and knew I wanted to do it as a career ever since I did it for a play at school," she recalls. "I had no skills, no idea what I was doing and no makeup. I literally used talcum powder to make a student look like he had grey hair. I was taking a Makeup Program at Kingston College here in London when I met a teacher called Nina Westbury. She's Canadian and a Blanche Macdonald grad. She said if you're really serious about makeup you should go to Blanche Macdonald.
"I looked at the web site, spoke to an instructor and asked a few questions. And Nina had told me about the life of the school; the teachers and what's she's achieved. She told me about Vancouver and how beautiful it is. That sounded ok – going to a new country to study something I absolutely loved at a great school. I thought it would be good to see the world a bit. And to go skiing!"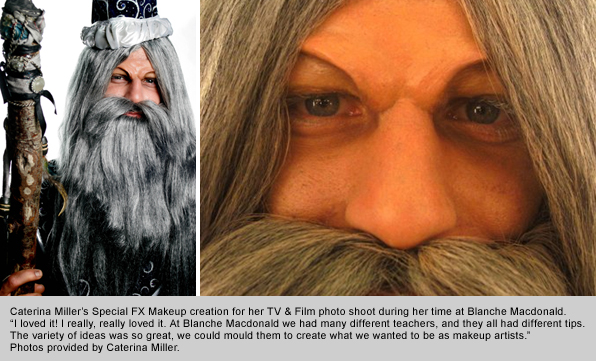 Caterina hit the slopes and, more importantly, Blanche Macdonald's classrooms with the same enthusiasm that had led her across the planet.
"I loved it! I really, really loved it. At Kingston people weren't taking it seriously. At Blanche Macdonald everyone wants to be a professional makeup artist. At Kingston there were two teachers. At Blanche Macdonald we had many different teachers, and they all had different tips. The variety of ideas was so great, we could mould them to create what we wanted to be as makeup artists. Karen Esprez didn't teach me, but she often spent extra time with me after school. She'd take time out from her busiest day, when she could have gone home, but she'd stay for an hour or two encouraging me or helping me with my studies. That was really cool and I really appreciated it. And I got to meet two girls on the program who are still amazingly close friends, like sisters, even now."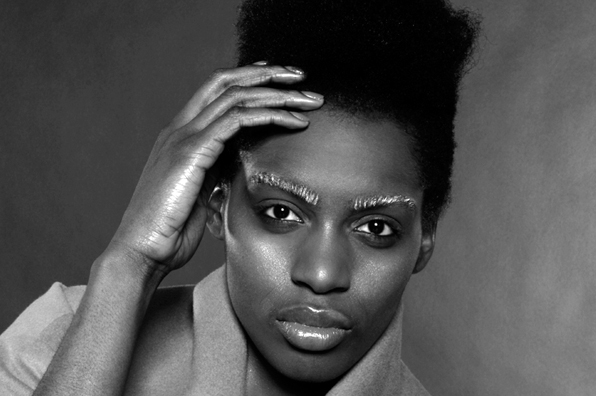 Caterina moved back to England with few contacts but great skills and a secret weapon; a determination to succeed that wouldn't be derailed by a few tough months when she'd volunteer to provide makeup services for free while working in a pub to pay for bills, travel and her kit.
Caterina was still working behind the bar when the opportunity of that internship at Madame Tussauds arrived. Wax figures weren't the type of models Caterina was used to working on, but the job wasn't nearly as different as she had imagined.
"When you're sculpting and painting wax figures it has a lot to do with makeup because it's all about skin – textures and colours. If you're painting a figure of an old person you need to open your mind up to get all the details right. You have to use greens, purples, blues, everything. It has to look like real skin. It's broadened my imagination and that experience with painting has really helped with my makeup."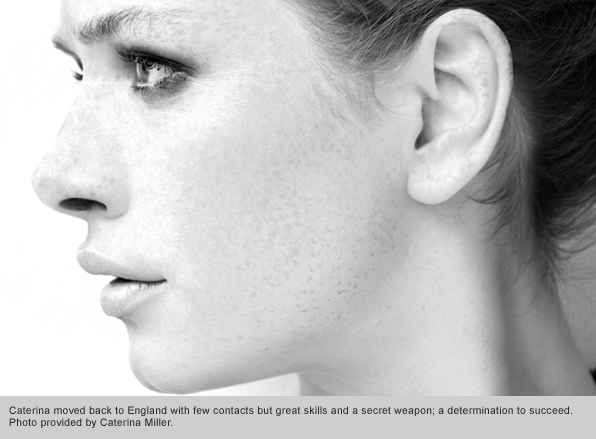 Another benefit that comes with working in a pub is the chance to meet a lot of people. One fortunate encounter proved that any time is the time to network.
"I found out that the chef's wife was a makeup artist. I offered to assist her for nothing. I ended up assisting her, actually doing makeup, not just washing brushes, on a shoot for Fabulous Magazine, which was a section of the News of the World. I did a shoot that appeared in two issues. This was a real fashion shoot in the studio that I knew would be seen by millions of people across Britain and my name would be on it! It was all incredibly professional."
Before Caterina even came to Makeup School she had interned at British TV Company ITN. Back then the Network's Head of Makeup, Phil Briggs, had told her to get an education and as much experience as she could muster.
"I kept in contact with Phil, and asked if he was looking for any freelancers. He was looking for someone at Channel 5 at the time, so I sent my CV in and he gave me a chance. After three weeks they offered me a contract! I'm working on Channel 5 News at the moment with Emma Crosby, Sian Welby and Matt Barbet. I do the guests that come on and the reporters when they get drafted into the studio. It's a fun job. People turn up 20 minutes late sometimes and you have to do their makeup so fast. It's hectic and I love it. And when breaking news happens I get the inside scoop."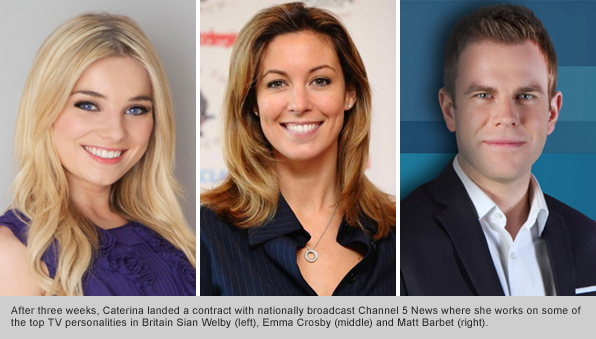 Caterina is proving that variety is the spice of makeup life. When she's not working on wax figures, fashion models and newscasters she's busy building her résumé with independent productions (a student film she provided special makeup effects for is currently being shown at London's National Gallery – "It's kind of like a female scientist turning a man into a robot. It's a bit gory") and a lengthy list of satisfied bridal clients. London is her home and where she'll be for the foreseeable future. But she'll always take a piece of Vancouver with her, whatever the job is.
"I'm really happy I went to Canada. It gave me such an insight. The teachers are so good at Blanche Macdonald. They really understand the industry. Sidney Silvert would give us real life advice. Things like saving money for taxes and for when you're sick, as well as set etiquette. You still have to want it. But if you want to work hard, the instructors at Blanche Macdonald will always give you their time."