Makeup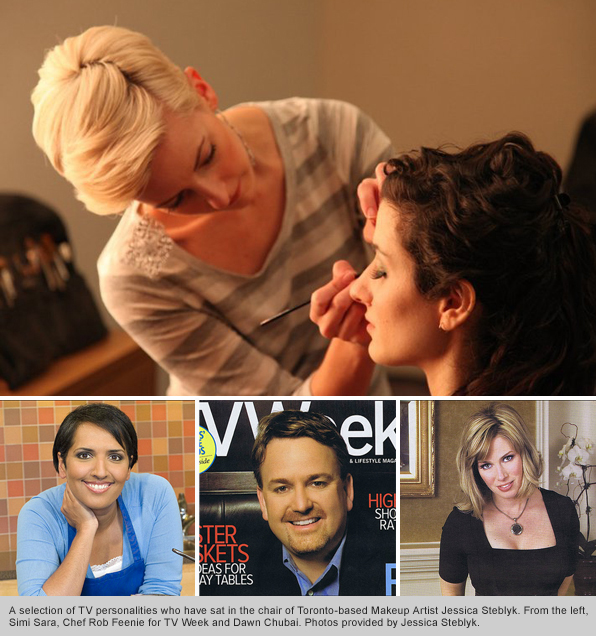 One major benefit of being a professional makeup artist is that you get to work in exciting environments with beautiful people and fascinating celebrities. But no one ever said that this career was easy. For Jessica Steblyk, the makeup artist for The Morning Show for Global TV in Toronto, it helps that she doesn't have an aversion to early starts.
"My alarm is set for 3.20am," she smiles. "Call time is 4am. But it's stress free at Global. I have two hours to get everyone ready, which is luxury."
Late nights are out of the question for Jessica and the rest of The Morning Show team, but there are plenty of positives that come with this position.
"It's cool," she explains. "I didn't sign on expecting to do Regis Philbin and William Shatner's makeup. I had no idea that was the level of guest they were pulling in. Regis was very friendly and professional. I had about three minutes with him. I threw his makeup on and he was on air. He looked amazing."
Global TV is just one of many elements in the professional life of this freelance makeup artist. She's regularly working on TV commercials, a variety of television shows, weddings and print ads in her adopted hometown of Toronto. It's the culmination of a dream that began in drama class in small-town Alberta.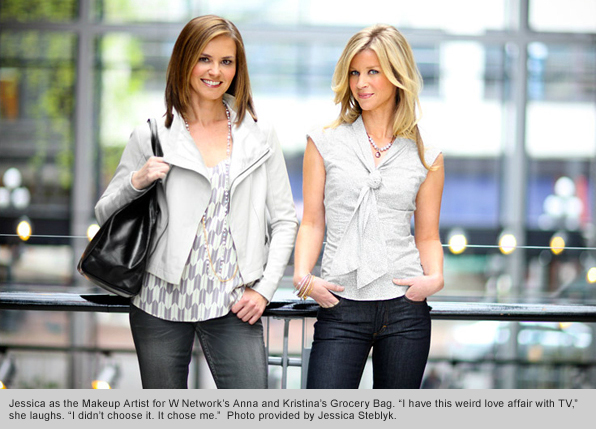 "I grew up in a little town called Beaumont, which is south of Edmonton. I was a big drama nerd. My teacher, Keith Ewasiuk, would always cast me as the homeless woman or the old lady, so I would turn myself into those people with makeup.
"I thought that was really cool. That's when I made the decision that I would become a makeup artist."
Jessica has never wavered from that decision. The only question was how she was going to make it a reality.
"At the hair salon that I went to there was a makeup artist who had been to Blanche Macdonald. She told me she went there and loved it. I didn't look much further after that. I checked it out on line and I was like, 'I'm going there'. So I did."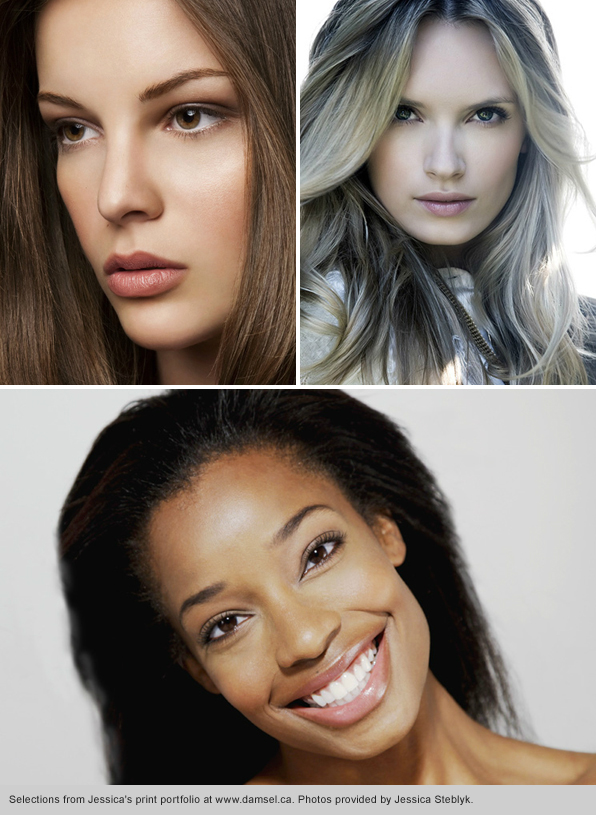 Jessica packed her bags, travelled across The Rockies and embraced life at Vancouver's top makeup school. She quickly learned two things. One, she loved her new home. Two, the effects makeup she was so proud of at high school weren't the masterpieces she'd been led to believe.
"I found that I didn't love special effects," she laughs. "But I really excelled at making people look good. I loved it and found it fun. And it's grown every day since then.
"That whole year was amazing. I got to go to school and play with makeup. What's better than that? And by the time spring came I realised that Vancouver is stunning."
Determined to make the most of any opportunity that came her way, Jessica volunteered for fashion shows and short films, even prepping a Miss Universe contestant for a preliminary event, all while she was still at Makeup School.
"I committed to what I was doing from the very beginning," she continues. "I'd moved my whole life to Vancouver to be a makeup artist. I wasn't going to NOT be a makeup artist. I also knew that the majority of professionals who go to university take at least four years of school before they get a great job. I gave myself a year at Blanche Macdonald and three years of pounding the pavement to get to where I wanted to be.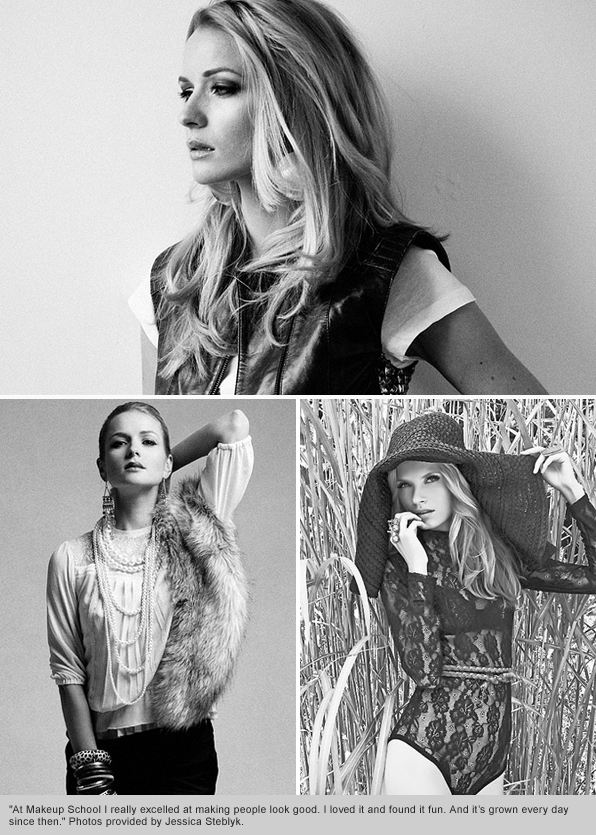 "I worked at BeautyMark in Yaletown for a long time. That was a great place for a new makeup artist to start out. It was a great experience because we were able to practice on a lot of faces. People would trust us to help them find the right lipstick or foundation. That's all learning how to become a better makeup artist."
Jessica had worked on thousands of faces when her first early morning opportunity came knocking.
"I have this weird love affair with TV," she laughs. "I didn't choose it. It chose me. Alicia at BeautyMark was the makeup artist at Citytv for the Breakfast Television show. She got one of our friends, Meghan, to fill for her. Meghan became the regular and I became her fill in. She quit, I got the job, and Amanda Gangoso became my fill in!
"I had to wake up at 4.30 to be there at 5, but I loved it! I never complained. I loved the people I worked with and it was so fun, although the afternoon nap was essential. We had some fun guests like Dave Coulier, Joey from Full House. Cheech and Chong came along regularly. They're a lot more chilled than you would expect. They seemed like Dads."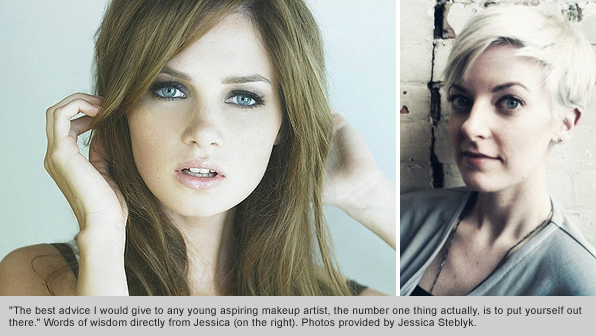 Jessica expanded her portfolio with covers for TV Week, the Vancouver Eating and Drinking Guide and work with plenty of actors and models, including Ricky Gervais on a stop on his publicity tour for the movie Ghost Town.
"He was very calm and sweet. He didn't make me laugh until his sat down for his interview, and once the cameras were on he was hilarious."
After being one of two makeup artists on the first series of the W Network's Anna and Kristina's Grocery Bag, Jessica took sole responsibility for Series Two and returned to Vancouver to finish up Series Three when her successor took maternity leave.
"I was able to work on both Citytv and Anna and Kristina, so I was doing makeup sometimes six days a week. Anna and Kristina are awesome women – and beautiful! Which was great for my reel."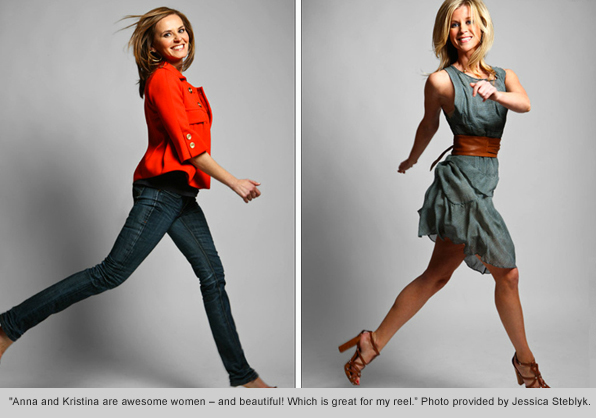 By the time Jessica decided to relocate to Toronto, she'd secured an agency, Judy Inc, to represent her on both sides on the continent. She returned to Vancouver for the Olympic Games, working in the US Family House providing relatives of Olympians with makeovers. Following the Games' conclusion, she settled back in Toronto and has been busy ever since.
"I did a lot of commercials this year," she smiles. "I did two Tim Horton's commercials; the one with two husbands who want to meet at Tim's so they pretend to be lost, and the one with two different goofy husbands racing to the tennis court. I did a few for Scotiabank. I've done some Interac commercials. I've been busy!"
The skills that have led Jessica to all these sets have continued to grow since she first walked through the doors of Canada's best Makeup School. Having seized every chance presented to her, Jessica's now in a position to give opportunities to artists like Amanda Gangoso. Naturally, she's happy to share advice with anyone looking to follow in her footsteps.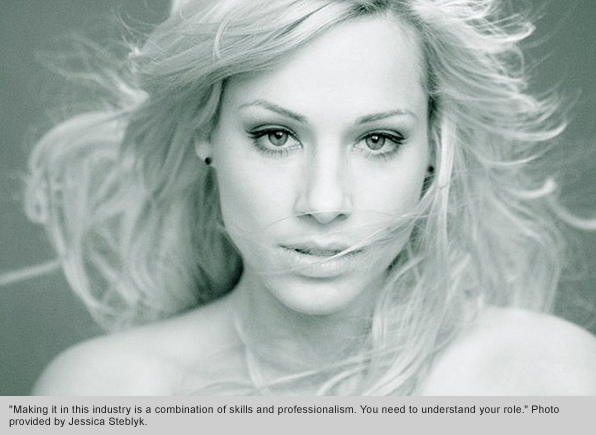 "I tend to have a light hand. For TV and commercials that works. But making it in this industry is a combination of skills and professionalism. You can be the best makeup artist in the world but you still can't be a diva on set. I'm not a diva. You need to understand your role. I've been told that I'm calm and easy to be around, which is important when there are 1000 things going on.
"The best advice I would give to any young aspiring makeup artist, the number one thing actually, is to put yourself out there. Get a website. If you don't have a full book post two fantastic shots – quality over quantity – and contact people who have jobs that you'd like and photographers you'd like to work with. Ask to shadow or assist a working makeup artist and you'll likely end up getting work from that person. That happened to me a number of times. Contact photographers and ask to do a creative with them. There may come a day when they need a makeup artist. They won't call you if they don't know you!"