Makeup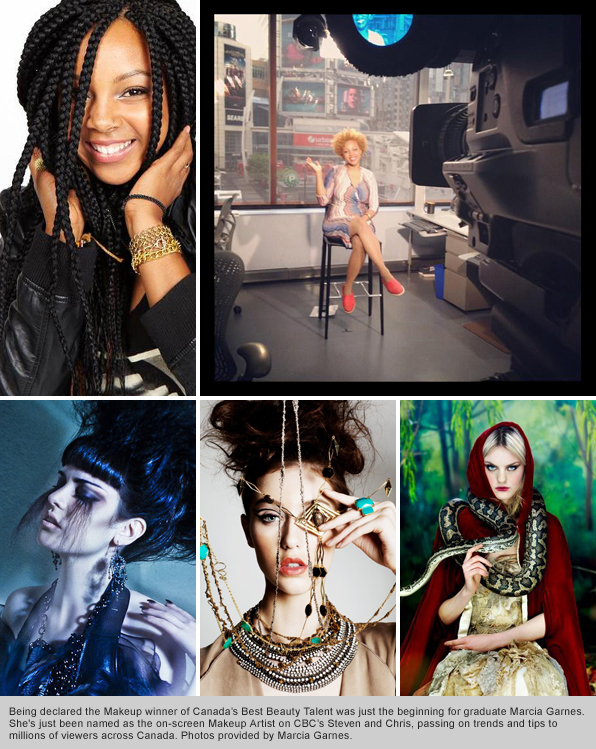 Amazingly enough, the eventual Makeup winner of Canada's Best Beauty Talent wasn't even sure that she wanted to enter the on-line reality show.
"I was pretty anti-reality TV because of how it can sometimes portray individuals in a negative light," explains Toronto-based Blanche Macdonald Makeup graduate Marcia Garnes. "But my boyfriend found out about it and told me I had to audition. I was shocked and excited to get the call. And when we were filming I loved it! It was a humbling experience. There were a lot of great artists there."
Marcia's right. The Six Makeup Artists chosen for the Final of Canada's Best Beauty Talent (including Blanche Macdonald's own Jenna Kuchera and Andrea Tiller) all displayed incredible levels of skill and creativity. And yet, as the eliminations kept coming, the final Makeup Artist standing, was Marcia.
"I'm still shocked that I won," she insists. "I'm still super excited about it. Part of my prize is a series of meetings with the chief editor of Flare and Hello Canada! I still have some meetings to come. Another prize was a sponsorship from L'Oreal that brought me into the Toronto International Film, which was awesome. I received the VIP treatment and was able to go backstage to do makeup for some of the producers affiliated with TIFF."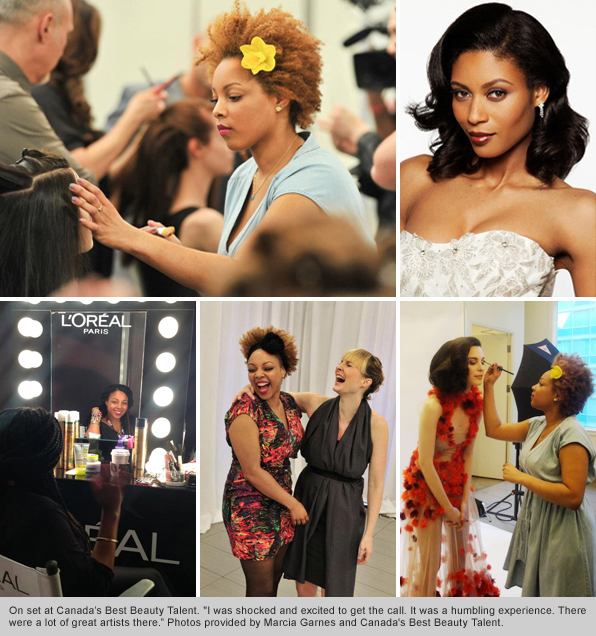 Being named Canada's Best Makeup Talent continues to open doors for Marcia. She signed with major league Toronto Agency The Plutino Group and she's just been named as the regular on-screen Makeup Artist on CBC's Steven and Chris, passing on trends and tips to millions of viewers across Canada.
Marcia's reality show triumph has been a welcome career boost, but things were already going fabulously before the show came along.
"I've worked with West Side Studio, which is an advertising agency in Toronto. I'm lucky enough to work with Nikki Ormerod, who is one of their main photographers. I did a lot of commercials for clients like TD Canada Trust, Rogers, Tim Hortons and Sony. And I did shoots for the 2012 Olympic Team, Sears catalogues, Ignite The Spark – where I was lucky enough to work on Bernadette Morra and Lisa Ray, and WE Day – where I worked on Danny Glover, Nelly Furtado and Rick Hansen. Before Fan Expo happened in Toronto a film student I use to work with in Vancouver gave me a call. He's now working on the show Continuum and asked me to do the makeup on the lead actors who were appearing at Fan Expo, including Rachel Nichols."
"I worked in cosmetic retail some of the time too. That's important. You really learn how to be a diverse Makeup Artist and how to be quick when you do retail. You're working on all skin types and all personalities. Now I'm working on young models who all have amazing skin, which makes my job much easier!"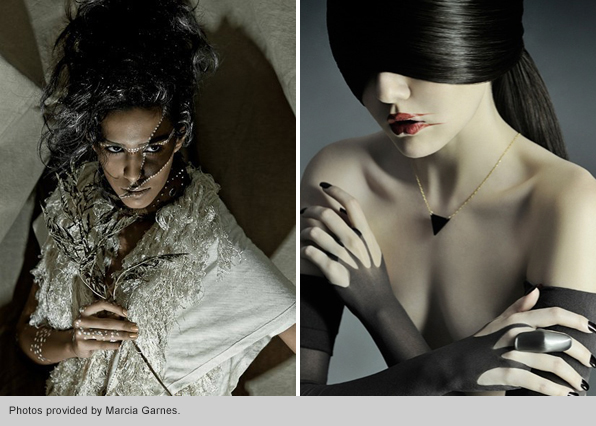 It's easy to see why clients and TV shows have fallen in love with Marcia. Beyond her gift for creating flawless, glowing looks, she's charming, funny and utterly professional. She gives a lot of credit for that professionalism to the school that provided the launch pad for turning her passion into a career.
"I danced with the Canadian School of Dance in Ottawa from when I was four to 18," she explains. "That's where I got my introduction to makeup. I didn't know makeup artistry was a career option. I just thought of it as something you'd do for a stage production. I fell in love with the drama of it! I'd go through my Mum's makeup and do half my face in glamour makeup and the other side in fantasy, full of glitter. I was always playing with different highlights and contours."
The dancing career never materialised ("I'm a great dancer but not a born ballerina," she laughs). Instead, she took a degree in Political Science, doing makeup for university stage productions, and ended up working as a legal assistant for a law firm in Fort McMurray, Alberta.
"I hated that job so much," she recalls. "That's when I realised I needed a new career direction and started thinking seriously about studying makeup. I went on-line and that's when Blanche Macdonald came up. It seemed perfect. I wanted to try living on the West Coast and I wanted to be taught by experienced professionals."
Those high expectations were soon exceeded.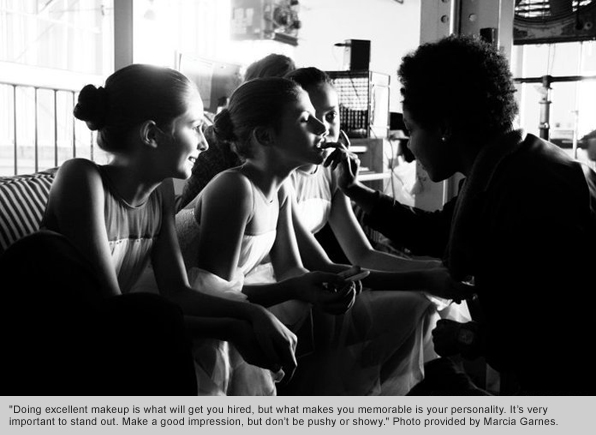 "I had a great experience at Makeup School. That was the first time I got to do makeup for eight or nine hours every day. I was a sponge, soaking up as much knowledge as possible. I had no special effects knowledge about how to make realistic cuts and bruises. It was so cool to know that you could use makeup to create something beautiful or something hideous and grotesque!
"It's a very hands-on school too. One of my instructors, Joanne Kinchella, gave me my first job. She brought me on set for a union film, The King Of Fighters, and I assisted her. She was impressed with my set etiquette and how I conducted myself in the classroom. My skills were good as well. I felt like I was ready. And I had the support of the school."
Looking back, Marcia believes that her instructors' lessons in professionalism were as important as the artistry skills they were sharing.
"There are certain things that you can find difficult learning on your own. Having teachers that were actually in the industry really gave me an insight into what's required and expected on set. If I just turned up on set before going to Makeup School I would have just screwed myself because I didn't know what the code of conduct was. I was able to ask a lot of questions to my instructors about that. I wanted to know the exact standards of what people expected. You leave Blanche Macdonald fully prepared for that environment."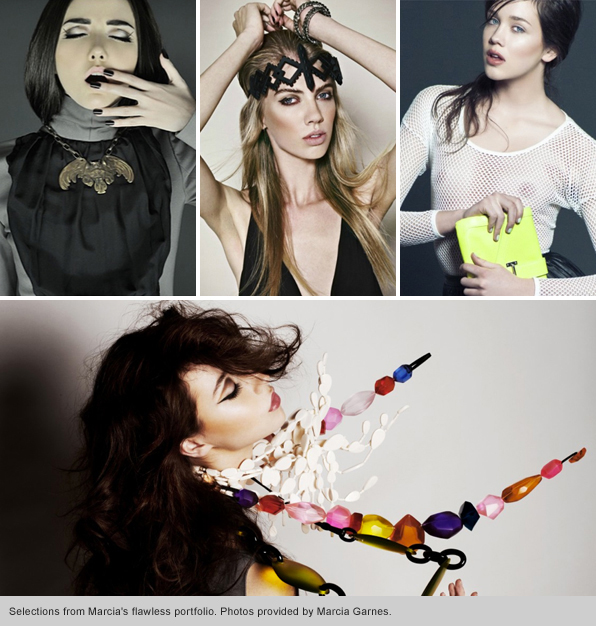 Since winning Canada's Best Beauty Talent the jobs have been pouring in for Marcia. Part of her prize was a beauty column in Chatelaine, which opened up yet another avenue of creativity.
"I love writing! I found that I have a passion for assisting people with their makeup queries. Chatelaine is great. Woman.ca is another magazine I wrote for. And I just did an article on fall trends for Elevate magazine."
Marcia took some time off this summer to visit Ontario's Manitoulin Island and launch her own skincare product, Sandy Bottoms, a natural exfoliant that includes the Island's unique sand. She laughs at the suggestion that it's her celebrity makeup line, but it's not that far from the truth. After all, she's the ultimate combination of artistry and personality.
"There's a big significance attached to how you conduct yourself," she insists. "Doing excellent makeup is what will get you hired, but what makes you memorable is your personality. It's very important to stand out. Make a good impression, but don't be pushy or showy. In the beginning almost every time I went on a set, everyone was new to me. I had to reintroduce myself every time. People don't want crass behaviour or attitude. Because you don't have that regular relationship, you can't mess up. If you do, you won't be seeing them again. It's almost like a first interview every time. Which is exciting."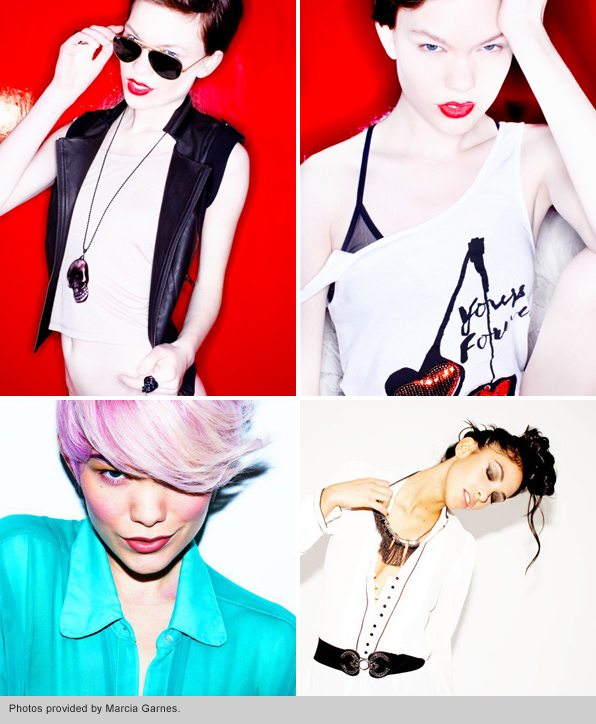 Marcia's rise may seem meteoric, but she's worked hard to earn the title of Canada's Best Beauty Talent and become the Makeup Artist of choice for CBC's flagship afternoon show. When she offers advice to Makeup artists following in her footsteps, it's definitely worth listening.
"I'll literally go into Chapters and spend hours flipping through magazines, seeing what the makeup trends are and what I like. What new techniques can I practice? You don't have to like every single trend out there. If you don't like the black lip then don't follow the trend. Stay disciplined and keep your integrity in the process. Be persistent. It takes a lot to reach your goals so prepare yourself, technically, physically, financially, creatively, mentally, and passionately. I suggest packing wisely. It's a wild ride to an artistic career!"