Makeup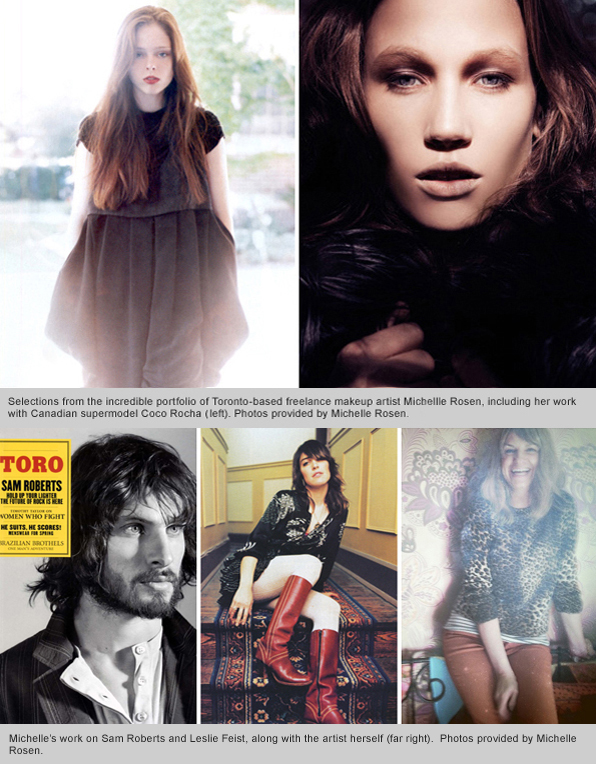 Michelle Rosen understands. Ask the Blanche Macdonald graduate the secret to her incredible career as one of Toronto's busiest makeup artists for the print advertising industry and her answer is both straightforward and illuminating.
"You have to be a good people person," she explains. "The talent can sometimes be anxious before the shoot. I almost think it's part of my job to help them relax before the shoot."
After over a decade in the business, working with clients like Nike, Uniqlo, Old Navy and Dove, and celebrities including Sting, Leslie Feist, Alanis Morissette and Nelly Furtado, the photographers and agencies of Toronto appreciate that when professionalism is the priority, Michelle is the makeup artist they need to call.
It all sounds rigorously professional. But don't underestimate how much fun Michelle's life can be. One of her many jobs is prepping celebrities for days on the Toronto media crawl, travelling across the city making sure they're camera ready when they're meeting George Stroumboulopoulos, Jian Ghomeshi and the folks at Much Music. Which is a gig just as entertaining as it sounds.
"Those days are amazing," she insists. "It's so intimate you get super-close to people. I've worked with Alanis Morissette a few times. I always thought she was amazing and very cool to work with. I loved Hilary from Lady Antebellum. Paul McCartney was great, but it was so quick I didn't really get to talk to him.
"I'd love to do that every day if I could. It's exciting. It's fun. It's the original reason why I wanted to go into makeup. You're meeting interesting people and having cool conversations."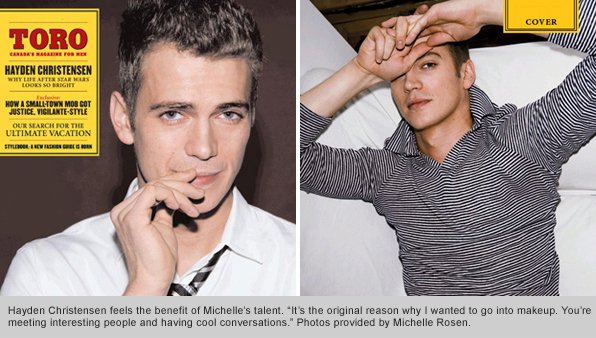 Michelle never dreamed of a career in makeup growing up. In fact, it was only a chance introduction to the possibilities of makeup on the far side of the world that would start her journey towards stars and sets in Toronto.
"I liked the idea of being in the entertainment industry growing up, but I never thought about makeup. I spent some time in Australia, and when I was there my best friend's mum was a film director and her dad was a director of photography. I would go to set with them all the time. That was my introduction into that world. I loved the wardrobe girl and the hair and makeup girl. I thought, 'this was what I want to do'. I liked being behind the scenes and the blend of technical skills and artistry."
Michelle returned from Australia to Calgary, moved to Vancouver almost immediately and soon found herself at Canada's best Makeup School.
"I don't even remember how I found out about Blanche Macdonald," she laughs. "I just ended up there. When people ask me if they should go to makeup school, you have to nowadays. Blanche Macdonald was a stepping-stone for me. It solidified the fact that I was going to do this for the rest of my life. People think they love pretty things. That's half of it, but the other half is very technical and that's what Blanche Macdonald showed me."
Armed with technique and a recommendation from one of her instructors, Michelle landed a prestigious first job on the Make Up For Ever counter in the Vancouver branch of Eaton's (which has since turned into Sears). That's where she had the chance to practice in her aim for perfection.
"Make Up For Ever was such a nice way to do makeup," she recalls. "I didn't care about selling anything. I just wanted to do makeup on faces and that's what I did. Anyone who came near the counter; 'Hello! Can I do your makeup?' I wanted to learn and make mistakes and I did that. You have to learn to work on different skin tones. And working on the counter you have access to all these different makeups that you can play with."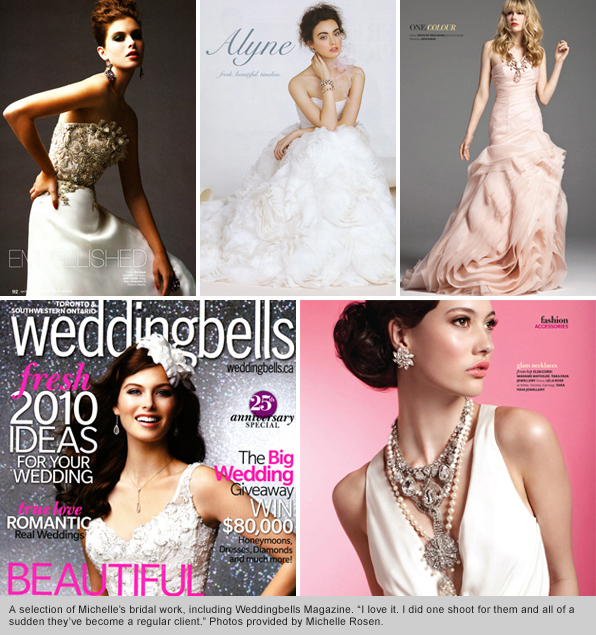 Michelle started freelancing when she was still at the counter. Anything that came up – actresses' headshots, music videos or weddings – the self-proclaimed "yes girl" would leap at the opportunity, confident that it would provide more experience and eventually lead to work.
She was right. After less than a year on the Make Up For Ever counter, a suggestion to hook up with a friend's sister-in-law, a well-known wardrobe stylist in Toronto, was too good an opportunity to turn down. Michelle packed her makeup kit and all her warm clothing and made the move east. She's been there ever since.
"That wardrobe stylist's roommate was one of the producers working on the Eaton's catalogue. Their makeup artist needed an assistant. That was the most important shoot of my career and it was one week after I landed in Toronto. I met the wardrobe stylist, the producers, the photographer and all these people that connected me to everyone else, including my agent. The wardrobe stylist called me for numerous jobs after that and it just went on from then. I was a really good assistant, I knew set etiquette and I worked really hard. Set etiquette is really important. It's the same in any industry. If you work hard people want you on their team."
People wanted Michelle on their teams from the start. The more she was able to diversify her portfolio; the more she was in demand. Take a look at her list of advertising clients and productions, magazines, celebrities, and music videos, way too many to even begin to list here. There are plenty of Toronto photographers and producers Michelle classes as "regular". Even so, she has her favourites.
"I've always had a foot in a little bit of everything," continues Michelle. "I work a lot with Weddingbells magazine now and I love it. I did one shoot for them and all of a sudden they've become a regular client. We just went to Turks and Caicos. I did a gorgeous shoot there.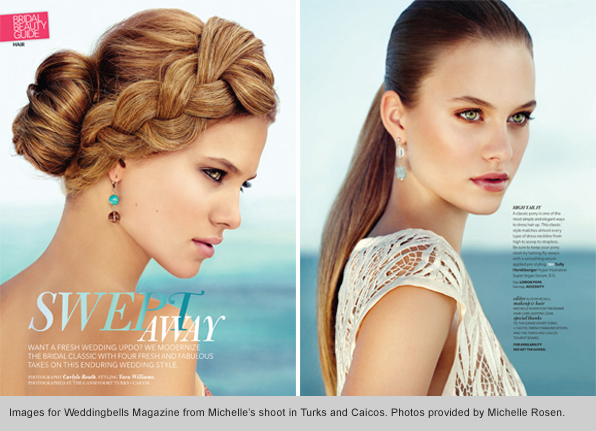 Thirteen years after she graduated from Blanche Macdonald, Michelle is still enjoying her work and giving it straight to aspiring makeup artists. Even when it's one of those occasions when it's not 100% fun, there are still benefits that come with any makeup job.
"Assisting numerous people is essential," she advises. "That way you watch and learn and pick up set etiquette. The makeup is important, but all those other things are equally important.
"Two weeks ago we shot a Samsonite suitcase ad and the talent was harnessed in the air, flying above the set. It's still incredibly exciting for me."