Makeup
James Vincent is a man who proves that Makeup Artists can do it all.
He's worked with Makeup legends like Kevyn Aucoin and Sharon Gault. He's masterminded Fashion shoots and runway shows around the globe for Alexander McQueen, Karl Lagerfeld, Vivienne Westwood, Vera Wang and Marc Jacobs. He's behind celebrity looks for A-listers like Reese Witherspoon, Renee Zellweger and Halle Berry. His TV work ranges from appearances as Featured Artist on The Today Show and Good Morning America, to America's Next Top Model and American Idol, to creating a fresh look for Jersey Shore's Snooki ("It was my job to make her look like she's not wearing makeup").
A rock and roll fan at heart, it was James who did the super studded body paint makeup on Lady Gaga and her entire crew of dancers for "Love Game"; just one of dozens of video makeups he's made major contributions to, and he includes music legends like Joan Jett, Debbie Harry, Karen O and Courtney Love among his favourite clients.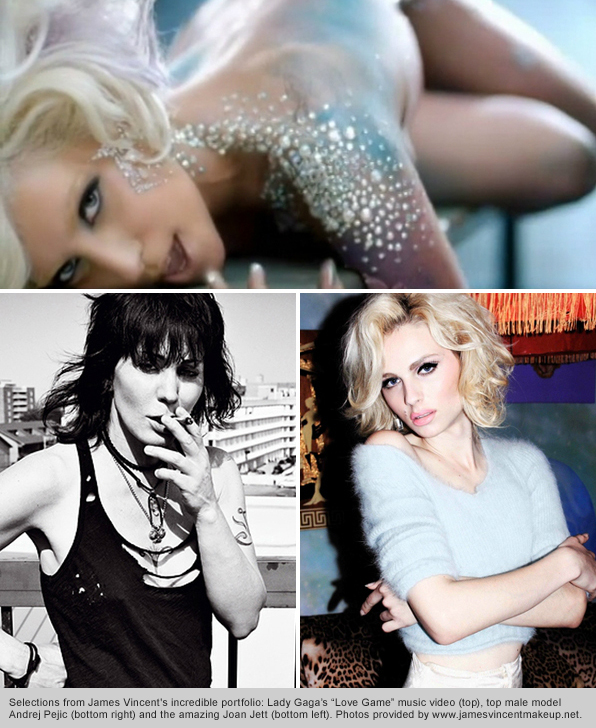 In fact, the day before he came to give the first of two presentations at Blanche Macdonald's Atelier Campus, James was in Los Angeles shooting the latest Florence and The Machine video with legendary photographer David LaChapelle.
James came to Vancouver as Director of Artistry and Education for The Makeup Show, a role that sees him producing and conducting professional-only seminars and workshops from LA to New York to Berlin. While he was in Vancouver he would deliver a series of workshops with his good friend, fashion Makeup Artist extraordinaire and Instructor Jon Hennessey, but he made a special effort to arrive in Vancouver a day early to deliver an exclusive two-hour presentation to Blanche Macdonald students, inspiring them with his incredible journey and insights into his kit and techniques.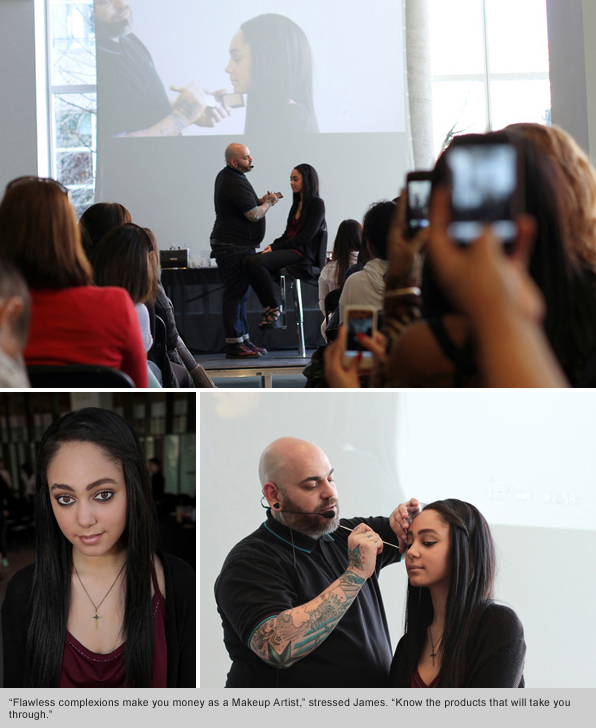 Why exactly was James so eager to leave sunny California to speak at Canada's Top Makeup School?
"I'm very passionate about education and mentoring," explained James. "I feel like I had great mentors and so many people took an interest in my career. I like to give back.
"I knew about Blanche Macdonald because of Jon and other artist friends. I knew that it was very polished and that makeup artists that graduate from Blanche Macdonald have an insight and education that doesn't happen in other places. They really are prepared for the real world and they understand the business and the art of it – which I think is amazing. What I didn't realise about Blanche Macdonald is how personal it is and how modern it is. All the educators and all the people I've met here love and are passionate about what they do. I love that and I'm honoured to be here."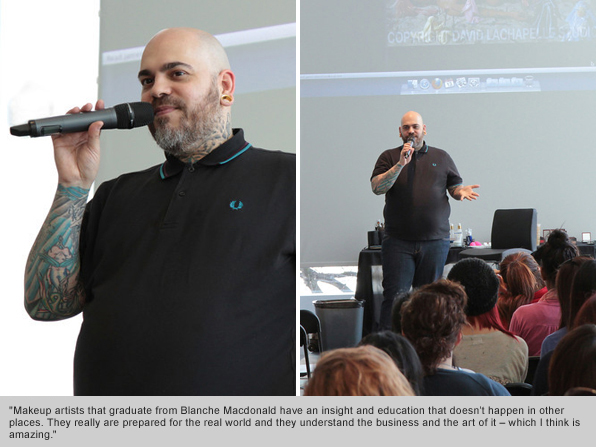 James' story is a remarkable one. The self-described "accidental makeup artist" from Rhode Island ("My Mom sounds just like Lois from Family Guy") started his career behind a counter in a department store, where his warm personality and commitment to customer service led to him being poached for the team that launched MAC across the Southern USA. He was working at the MAC counter in Atlanta when he did an application for a client that turned out to be the singer Peri 'Pebbles' Reid. She was so impressed she insisted he design the makeup for a young R'n'B group she was developing. That group was called TLC, and the rest, as they say, is history.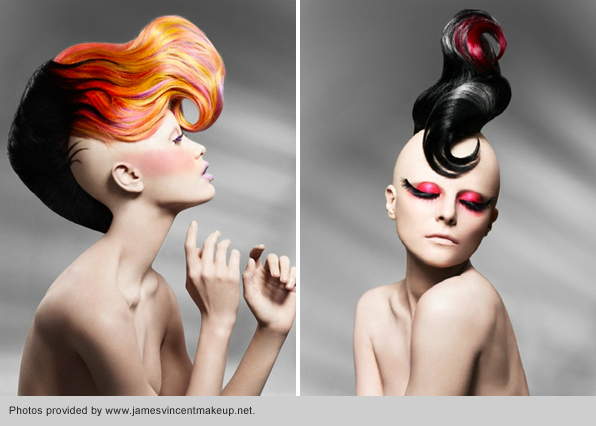 During a friendly, fascinating and frequently hilarious presentation, James stressed the importance of carrying the right products and knowing how to use them.
"I'm lazy," he insisted. "I don't want to carry a big kit. Your kit shouldn't be 'what do I want? More, 'what do I need?' Stop thinking like a consumer!"
As the Director for The Makeup Show, James has tried and tested pretty much every professional makeup brand and he finds that Kevyn Aucoin is one of the easiest brands to fit into his ultra-selective kit. Kevyn Aucoin Eyeliner is his ideal black and great for sensitive eyes, the Sensual Skin Enhancer is a must-have product in his kit, and he really loves the brand's primer, which is uniquely plant based.
"Flawless complexions make you money as a Makeup Artist," stressed James. "Know the products that will take you through."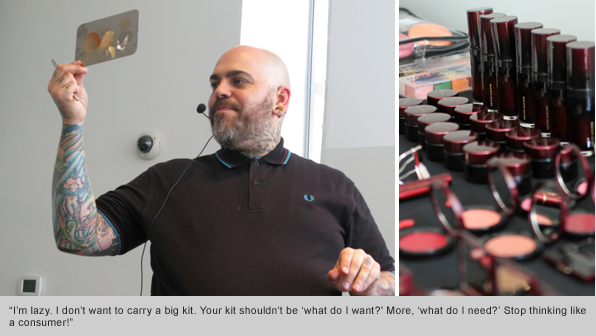 One essential tip straight from the James Vincent book of flawless complexion secrets: "Use like with like". Applying oil-based moisturizers with oil-based foundations, for example, will make for less touch ups during the day and less work in post-production.
Along with the insights into his personal makeup box, James made it clear how much he values creative and job-specific decision-making in his makeup process. Kevyn Aucoin famously said, "There are no rules when it comes to Makeup" and James demonstrated this by revealing a few of his unorthodox techniques such as adding warmth to the complexion with bronzer before applying foundation.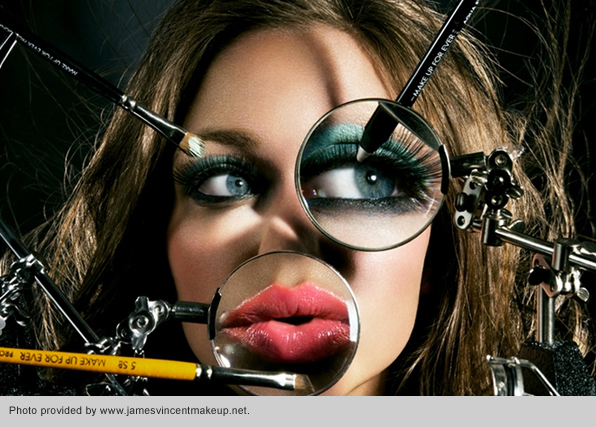 "If there's one thing I hope students took from today," he explained, "it was the importance of education; how valuable and essential it is throughout your career. It's the idea of examining your application and making decisions as a Makeup Artist instead of falling into a pattern of having one set way of doing it. Makeup has to respond to the situation at hand. If you're not responding to the model in your chair, or the direction from the art director or photographer, or actively listening to a client, you're not a successful Makeup Artist. You're just throwing makeup on a face."
Having heard about the education at Blanche Macdonald from Jon Hennessey, he knew students would understand.
"Blanche Macdonald's makeup education makes sense to me because it's all about developing your own techniques and figuring out what works for you. That forces you to really know the fundamentals. That's why I think the Blanche Macdonald method is so smart. You're learning from artists that are really doing it and have actual experience, and are guiding you to set your own goals and develop your own artistry, instead of just saying 'this is how it's done' with no thought. A successful makeup artist always understands the why as well as the how."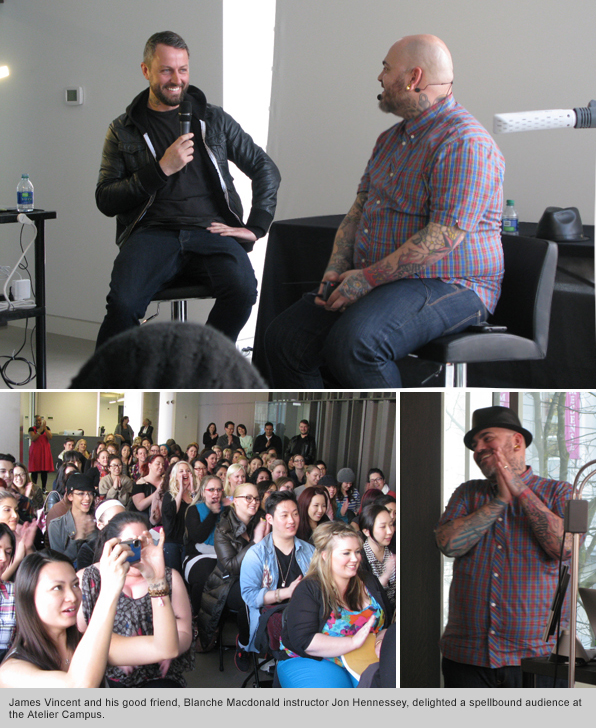 James' enthusiasm for Blanche Macdonald's Makeup education was reflected in presentations, demonstrations and Q&A sessions where wisdom and laughs were both in plentiful supply. James attributes much of his success to his dedication to continue learning and practicing, while his final lesson, one that echoes Blanche Macdonald's own philosophy, was that talent is nothing without a professional attitude.
"Opportunity happens. Be prepared for it. Have the skills and the professionalism to seal the deal. Photographers don't want to work with makeup artists who are touching up during a shoot, leave shine, or leave a lot of work for post-production.
"Have diversity in your kit. Don't be the makeup artist who doesn't have products to work on Black or Asian skin tones. Different people have different ideas to what a smoky eye is. Carry a portfolio of looks so everyone can agree what you're working towards.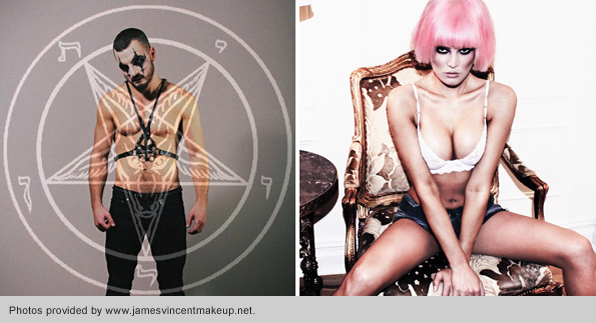 "What are you known for? What's special that you can offer? If I'm known for anything it's uptown glamour with a downtown edge, but I know I still get jobs because I'm nice."
James' ever-present smile beamed extra brightly.
"I can teach techniques but I can't teach manners."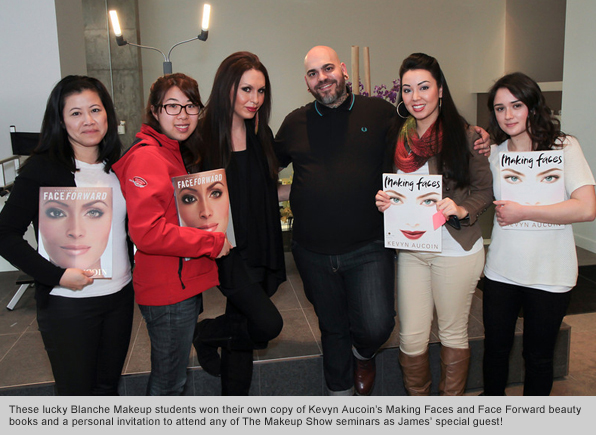 The staff and students of the Blanche Macdonald Centre would like to extend our warmest thanks to James Vincent for taking the time and effort out of his busy schedule to give us an incredible, enlightening and unforgettable day.