Makeup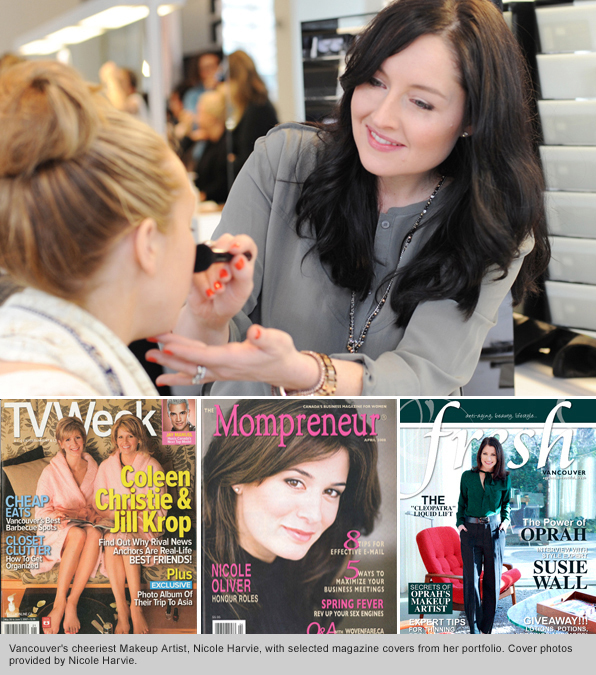 Nicole Harvie always expects the unexpected. As a makeup artist specialising in the twin environments of live and reality-based TV, she knows that on any given day, tension and nerves are potential hurdles that need overcoming. Which is why her job means making sure everybody on screen feels as great as they look.
"I'm the cheermeister!" she laughs. "When I did a stint on the Citytv Morning Show I had to wake up at 3.45am five days a week. No-one feels that good early in the morning. Your responsibility as a makeup artist is to get everyone's day off to a good start. Pretty them up and cheer them up. How are you today? What have you got planned? People feel great when they get their face on and feel taken care of. I want people who sit in my chair to leave with a little extra energy as well as a bit of colour."
Delivering that shot of energy comes naturally to the graduate from Canada's #1 Makeup School. It's noticeable the minute you meet her; a combination of warmth, charisma and gentle professionalism that's led her from Blanche Macdonald to the studios of Shaw, Citytv, Global TV and CTV, and has taken her behind the scenes on some of Canada's most entertaining lifestyle and reality TV shows, including Take it Outside with Kelly Deck, She's Crafty, and Urban Suburban for HGTV Canada, Smart Cookies and The Cupcake Girls for the W Network, Crash Test Mommy for the Slice Network, and Million Dollar Neighbourhood for the Oprah Winfrey Network.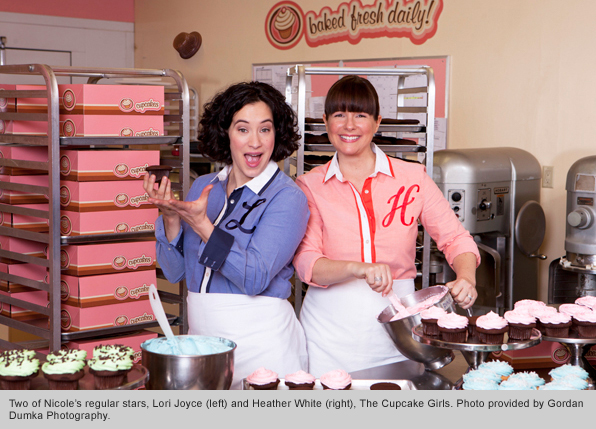 "For the most part, these reality-based shows are pretty real to life. I love being on set in the fervour and all the ups and downs. It's rewarding to see the final result. And it still excites me to see my name roll on the credits.
"I've been on camera on Anna and Kristina's Shopping Bags and Anna and Kristina's Beauty Call, talking about how to do red lips, concealer and so on. For a number of years I did segments on MTV Canada and Citytv on beauty and fashion. I like being on screen when I know what I'm talking about, and I know what I'm talking about when I talk about makeup."
That confidence comes from experience. Having worked with some of Canada's biggest TV stars ("I recently had the opportunity to work with Arlene Dickinson from Dragon's Den and The Big Decision. I was her personal artist while she was in Vancouver and she was lovely!") Nicole is equally comfortable on camera or behind the scenes. It's impressive stuff for a makeup artist who only decided to enter the beauty industry midway through a successful career in marketing.
"Growing up I thought I needed to get a 'proper job'," she explains, "but I always wanted to do makeup and wardrobe styling and be in the arts. I have two younger sisters, and I'd always done their hair and makeup. But they sounded like dream jobs you couldn't make a living at."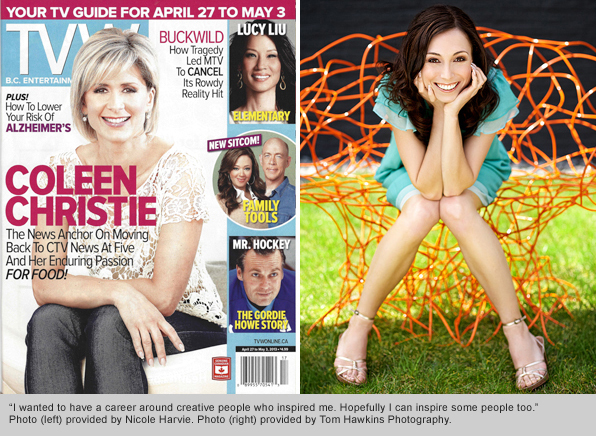 There's one more unmistakable personality trait you'll notice in Nicole. Her drive.
"Life is short. If you don't go after the things you really want, life can pass you by. I decided that I really wanted an artistic career after I'd finished my formal education. I did my research and Blanche Macdonald was obviously the leading school. It still is. It has great people, great history and a proven track record. Going to Makeup School totally exceeded my expectations. It wasn't like work in any way. I couldn't wait to go to class. It was a beautiful creative outlet and it was so much fun."
Nicole took three things from her time at Blanche Macdonald: the techniques of the professional makeup artist, the attitude necessary to succeed and the benefits that sprang from the School's lengthy list of contacts and opportunities.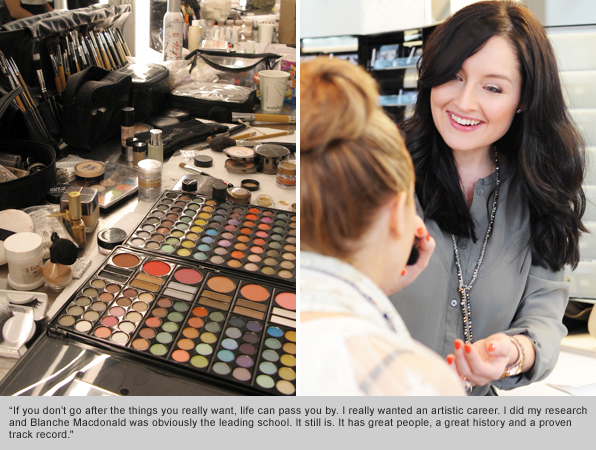 "I learnt to be prompt and prepared, to have a great attitude and to put your best foot forward. I volunteered to do a lot of fashion shows whenever I could fit them in. I did the makeup for Fanny Kiefer on Shaw TV on a volunteer basis and I volunteered to do some styling for Susie Wall from etalk and The Province. She had contacted Blanche Macdonald to find someone to help her. We've worked together for nine years. We're dear friends now and I'm forever grateful for her mentorship and support.
"At the time Susie was making guest appearances on the Vicki Gabereau show on CTV. I would help her prepare. I got a chance to meet Rebecca Simmons, the makeup artist at CTV, who needed some help at the time. The rest is history. I ended up working on the Evening News, The Vicki Gabereau Show, Weekend News and loads of promo material. I was lucky enough to work on the Olympic broadcast with CTV at the International Broadcast Centre, making sure all the presenters and athletes were camera-ready.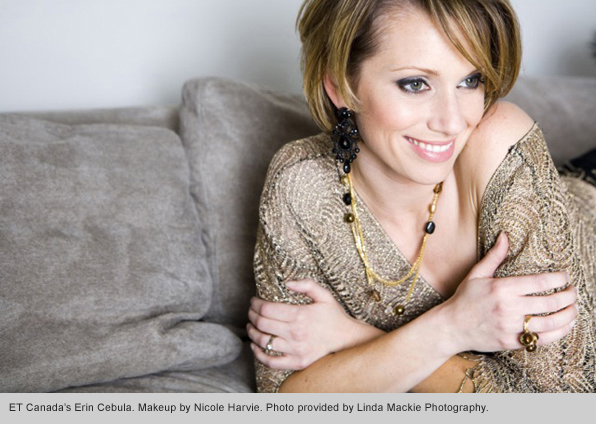 "It was a privilege to work at CTV. I've met a lot of people and had the chance to work with a lot of celebrities. Jon Voight, Angelina Jolie's dad, was in my chair when he was in Vancouver. So were Michael Bublé, Jann Arden and Elvis Costello."
Away from TV studios Nicole has collaborated on editorial spreads for magazines including Hello Canada, Wedluxe, Fresh, Vancouver Lifestyles and TV Week. As an in-demand freelance artist, Global TV is another channel that have called on her talents.
"I keyed the makeup for ET Canada at the Gemini Awards when they were in Vancouver. I had the chance to work with all of their beautiful personalities including Cheryl Hickey, Kim D'Eon, Rick Campanelli and our very own Erin Cebula! I feel honoured to be chosen to take care of people at the top of their game. I really love my craft and I think that shows."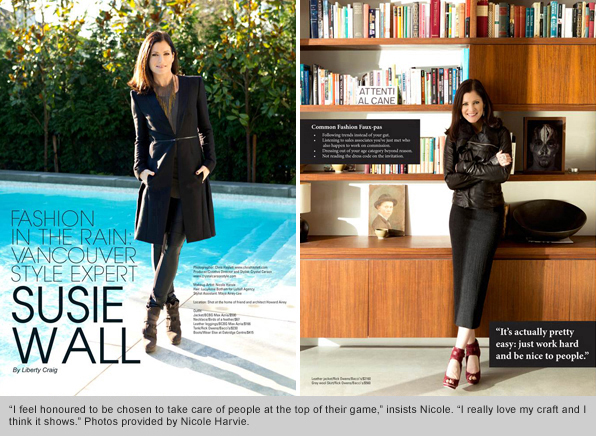 Nicole's now sharing that love across British Columbia as a new "About Face" Beauty Columnist for The Province newspaper.
"I've had opportunities over the last ten years to do makeup and style spreads for The Province, and I've styled for the lifestyle section too. The Lifestyle Editor contacted me to ask about writing a beauty column. It's called About Face, and it's focused on people's makeup looks, giving them tips and tricks to improve their own application skills. It's like a beauty boot camp. I'm going back to my beauty junkie roots – getting inspired again by all the new products and technologies. I share a page with Dr Oz, so I'm in good company!"
Nicole's enthusiasm for her job is impossible to suppress. Put simply, she cares; about the work she's doing and the people she's working on. It's what she was looking for when she was looking for a new career direction and what she's found as a makeup artist.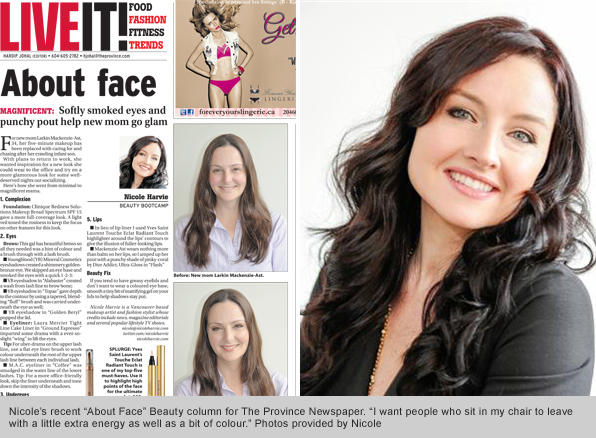 "I wanted to have a career around creative people who inspired me. Hopefully I can inspire some people too. When you're a makeup artist you chat on a really personal level with people. It's one thing to just love the craft. It's another thing to love the people you're doing the craft on. My feeling is you have to be a people lover to work this closely with people. You have to care about how people look when they're going out on camera."
Is there a secret to Nicole's incredible success? She doesn't think so. She would say that though. That's all part of the Harvie charm.
"I don't think there's a secret," she smiles. "People know that I love what I do, and people want to be around people who love what they do. That's the crux of it. Hopefully I'm pretty decent at it now too."