Makeup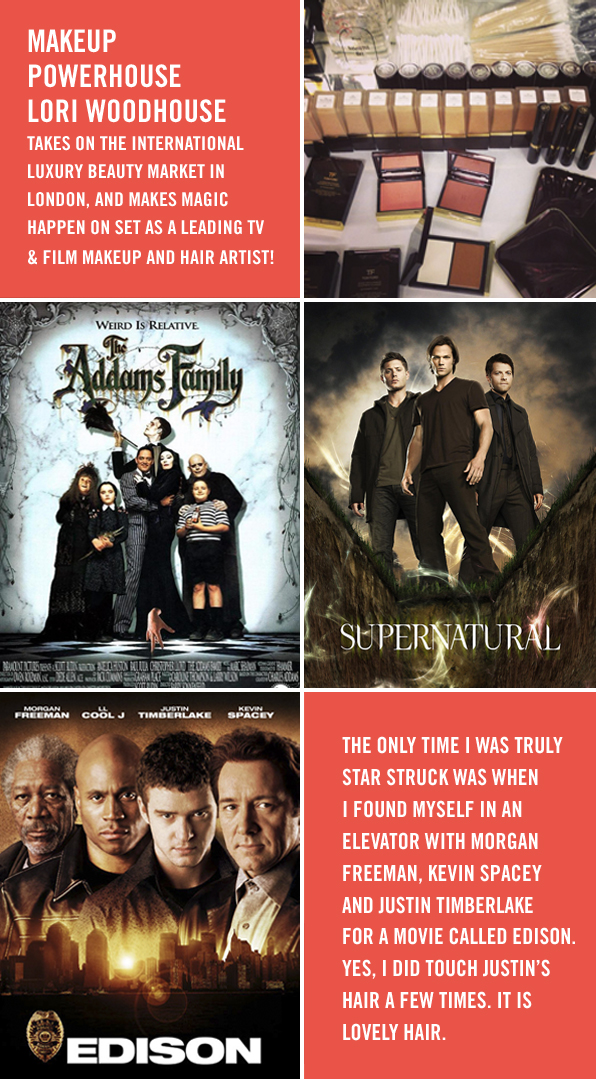 Lori Woodhouse was at Hair School in Victoria when a visiting Makeup Artist arrived to talk about opportunities in the TV and Film industry. That was all it took to convince young Lori that makeup would be her career; a career that took her onto the sets of Supernatural, Masters of Horror, Psych and The Addams Family, before she moved to London, England to take on high profile management roles with MAC, Bobbi Brown and Tom Ford Beauty. Makeup has taken Lori around the world, but she still remembers the thrill when she first heard the potential of a career in makeup.
"The Makeup Artist talking to us had worked on The Scarlet Letter with Demi Moore," recalls Lori. "It sounded super-exciting. I turned to my friend and said, 'I'm going to be a Makeup Artist and work in film.' She said, 'Me too!'"
Lori was working as a hair stylist in Victoria when the lure of Makeup proved too strong to resist. The move to Vancouver, and Canada's top Makeup School, was inevitable.
"In the 1990s everybody who wanted to work in TV and film also wanted to work at MAC. Most of the artists who worked at MAC went to Blanche Macdonald, so that was the school I knew I had to go to. It had a great reputation even back then.
"Learning at Blanche Macdonald was really powerful. My TV and Film instructor had put the bruises on MacGyver. Now she was teaching us bruises! It was inspiring and amazing."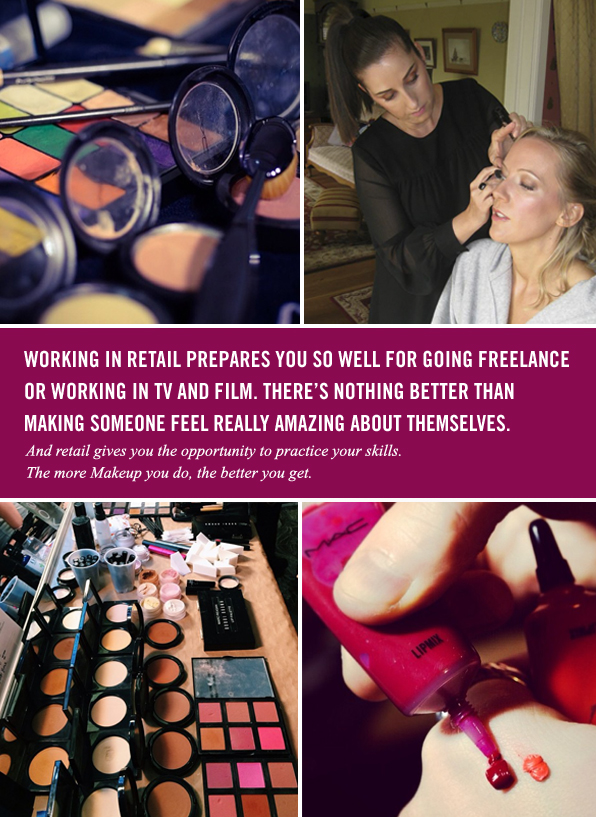 Lori graduated with two career aims. She wanted to work in the movies. And she wanted to work for MAC.
"MAC was opening up a counter at The Bay in Victoria and I was fortunate enough to get one of those jobs. Working in retail prepares you so well for going freelance or working in TV and film. There's nothing better than making someone feel really amazing about themselves. And retail gives you the opportunity to practice your skills. The more Makeup you do, the better you get."
When the chance to enter the world of Film and TV arrived, Lori was ready.
"People kept telling me that I needed to meet this Makeup Artist called Debbie Lelievre. She'd gone to Blanche Macdonald too. She phoned me one day out the blue and the first thing I said was, 'People are always saying that I need to meet you!' She was working on a film and needed a swing assistant that could do hair and makeup. I loved every minute of it! And I was asked to work on more shows after that.
"When you're working in retail you can't take off infinite hours. I loved working at MAC but the opportunity was knocking. My boss was so great. He said they'd always be a place for me there and that I should go follow my dreams."
Entering the TV and Film business, Lori understood that it paid to chase the work she wanted. A promise from her Makeup School instructor Michelle Pedersen wasn't going to be forgotten.
"Michelle said to the entire class, 'If you ever want work, call me. If I don't answer, keep calling.' I kept calling and eventually had the opportunity to work with Michelle and Devyn Griffith doing day calls on the Addams Family. It was super cool doing Wednesday Addams' makeup and powdering Uncle Fester, who was sweating up a storm in the heaviest coat imaginable.
"I worked on MVP: Most Valuable Primate about a hockey-playing chimpanzee. I did a show called The Magician's House where there were real badgers and foxes on set. I didn't care what I was working on. I just wanted the hours to be able to join the union."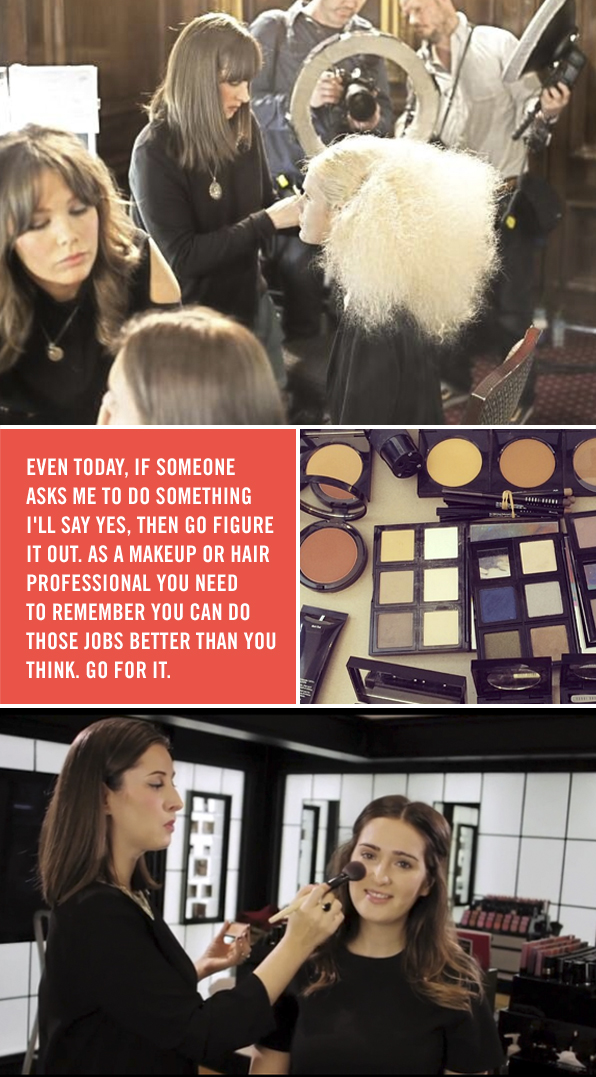 Lori built her hours to the point where she became a full IATSE member. Once word leaked out that she could do both makeup and hair, the work offers started pouring in.
"Anne Caroll, who's been head of countless hair departments, called me for a show called Best Actress. That was my first TV hair job. Even today, if someone asks me to do something I'll say yes, then go figure it out. As a makeup or hair professional you need to remember you can do those jobs better than you think. A non-professional doesn't have your skill and talent. Go for it and figure it out. As long as you can execute it, it'll be fine.I remember doing a bald cap in ten minutes for this cop movie that looked ridiculous. We were laughing at it. But for a quick shot of a stunt double it was fine."
The more time Lori spent on set, the more she loved it.
"Of course it's exciting! If you don't find it magical there's no point in doing it! The only time I was truly star struck was when I found myself in an elevator with Morgan Freeman, Kevin Spacey and Justin Timberlake for a movie called Edison. Yes, I did touch Justin's hair a few times. It is lovely hair.
"From the early days on Best Actress, eventually the hard work led to an amazing opportunity. Jeannie Chow offered me an assisting position on Supernatural! It was the hardest show I've ever worked on. It's mainly shot at night, so it's dark and raining all the time. I joined in Season Two, did that season and was also doing day calls on Masters of Horror, which led to me getting Season Two of Psych. I met my husband in California, and we moved to the UK for what was supposed to be six months. They asked me back for Psych Season Three, but by then we'd decided to stay in England."
Moving continents went hand-in-hand with a change of career direction.
"I thought about all the work I'd put into building my TV and film career and I knew I'd have to do that all over again at 35. Saying you've touched Justin Timberlake's head doesn't actually open doors. You have to start on the shop floor."
Lori went back to where her makeup journey began, applying for a job at MAC in the prestigious Harvey Nichols in Knightsbridge. Naturally, her limitless enthusiasm made a positive impression.
"I interviewed so well that they asked me if I wanted a management role. If you're articulate, confident and truly love it, that should come across in an interview. Management positions aren't just about putting Makeup on people. You have to know about driving a business too. Education and sales go together naturally."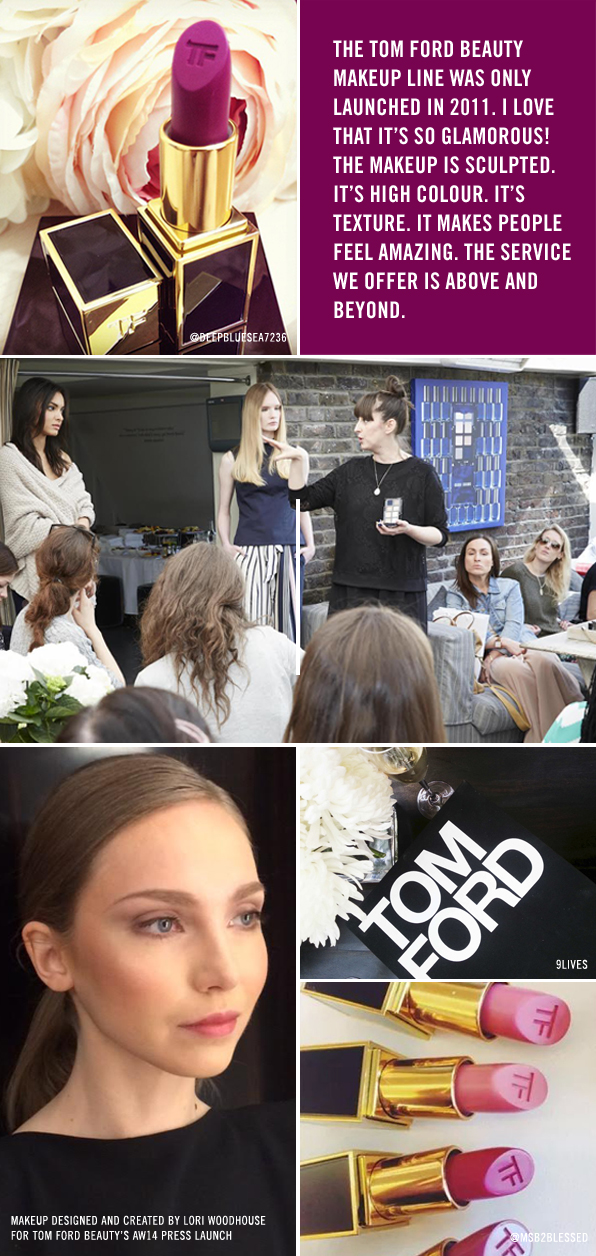 After a year Lori moved from Harvey Nichols to the MAC store at Westfield, Britain's biggest Shopping Centre, overseeing its growth from nine to 20 employees. It was the first in a series of great moves.
"An education position for the South of the UK at Bobbi Brown came up. I worked with them for four years, training staff across the UK. Education in retail isn't just about putting Makeup on. It's practical coaching about how to relate to clients and convert that into sales. I had to lead by example, and that meant doing Makeup every day. I would facilitate training at the office, and work one-on-one with the artists and their clients in store, pitching in when it was needed. There's no agenda when you're educating. It's more about asking effective questions and getting people to set goals for themselves."
The most recent step on Lori's journey is also the most exciting. Tom Ford is already a global force in fashion. Now Lori has a major role in spreading the gospel of Tom Ford across Britain's Beauty Industry.
"Tom Ford Beauty made me their Education Manager, which means I'm head of the department and look after the whole of the UK. It's similar to my role with Bobbi Brown, but this time I get to structure exactly how to bring the line to the market."
Lori's makeup and hair mastery has already taken her around the planet (via Justin Timberlake's head) into a high profile position with one of the world's top luxury brands. This meteoric journey hasn't changed her in the slightest. She's still as enthusiastic as she was when she made her snap decision to become a Makeup Artist.
"The Tom Ford Beauty makeup line was only launched in 2011, even though the brand began with Black Orchid fragrance in 2006. I love that it's so glamorous! The Makeup is sculpted. It's high colour. It's texture. It makes people feel amazing. The service we offer is above and beyond.
"Now I get to meet people from all around the world and work at London Fashion Week. I'm so lucky. I have the best job in the world. I love to teach. I love the people I work with. I love London. I love my life!"