Makeup
The internet – the final and ever-expanding frontier of, well, everything. These Blanche Macdonald SUPERstars are storming the boundaries with a visual vengeance and boldness in voice, as mega-influencers on the World Wide Web. They are bloggers, vloggers, Insta-stars and Facebook friends to millions in the online community. They are beauty gurus, style mavens, entrepreneurs and artists. They are doing what they love, doing it with passion, and sharing this passion the world over, often making of it a killer career. Want to know what it takes to make it, and make a difference online? Take a leaf from the feeds of our #BMCSOCIALSAYERS!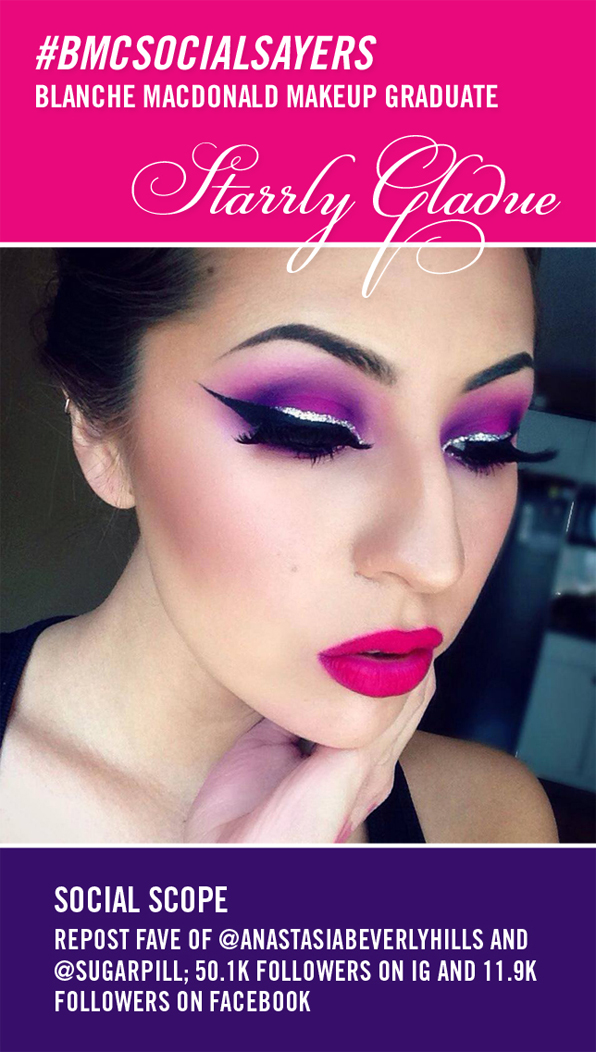 EASY FOLLOW FOR: Kit goods gluttony, fiercer than fierce shadow techniques and eye-popping pigments to pour over.
Bold beauty with an urbanite bite – Blanche Macdonald Makeup graduate Starrly Gladue's creatives hurtle through your feed with eye-pummeling pigment, and flawless flicks of liner that slice through rich hazes of hue. Born into the small community of Beaver First Nation in Northern Alberta, Starrly's star has risen with its trail close to her roots, empowering Native Youth through her journey on the up. She daylights as a Makeup Artist at MAC Cosmetics at Edmonton, and illuminates the insta-sphere with sumptuously saturated glamour and tip-offs to tip-top product. THE Jeffree Star, mega makeup icon and generally fabulous human being, once reposted one of her chroma-tastic looks. Oh, and she once doused models in glow-in-the-dark paint for a Riff Raff rap video...
MEET STARRLY!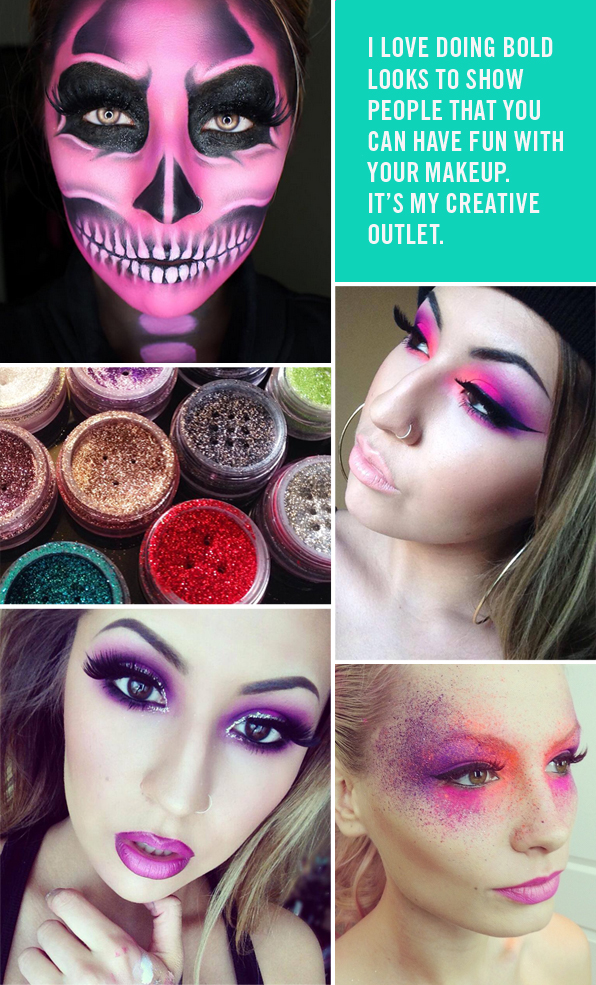 You bring focus on the fact that you are an Aboriginal Makeup Artist – what is the importance of this to you?
I'm proud of my cultural background, and there's not a huge amount of Aboriginal Makeup Artists out there, so I like to represent and prove what we're capable of. And I also want to inspire Native youth, and show them that you can pursue your goals and dreams, no matter where you come from.
One thing that we love about Instagram is that it has given rise to these amazing online communities – people engaging and sharing with one another, giving shout-outs etc. Do you consider yourself a part of an Instagram or social media community?
Yes for sure. Instagram is an awesome place to gain inspiration and connect with other makeup lovers. I've connected with so many amazing artists from all over the world, and it still blows my mind that people have taken interest in my work and choose to share it. If it wasn't for Instagram and the artists involved in these communities, I wouldn't have the large online following that I have today.
How do you approach a face?
When I'm working with a client I first talk with them and determine their overall vision, then I assess their features and decide what colors and techniques will look great on them. I think it's most important to communicate and find out what it is they love about makeup.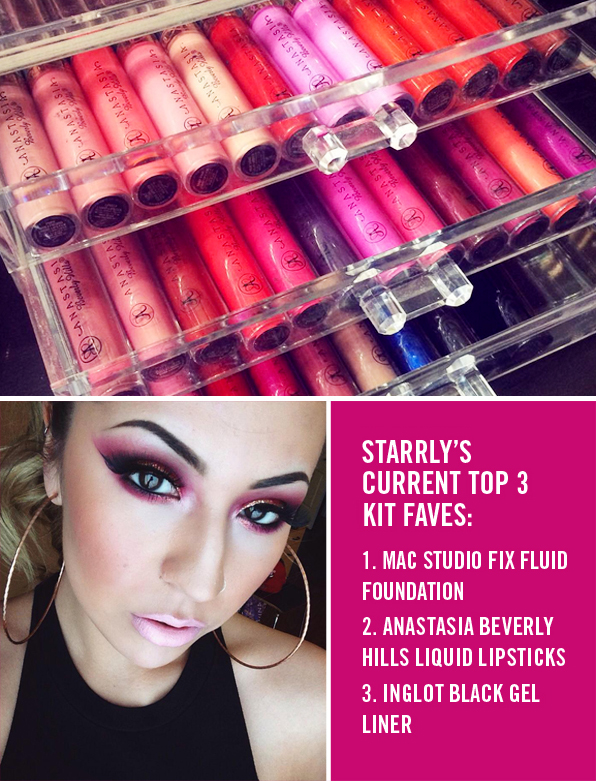 Go-to Makeup technique?
Glamour is probably my favorite style to do. The process of transformation is amazing to me, and I still get excited when clients want to glam it up.
Your current top 3 kit favourites / must haves:
MAC Studio Fix Fluid is my favourite foundation (for normal to oily skin). It's long-wearing and leaves your skin looking flawless without feeling too heavy. Anastasia Beverly Hills liquid lipsticks have been my fav lately too. They're matte and last all day. I love them for weddings! And I recently bought Inglot black gel liner, which is amazing because it's super black and waterproof.
What are some BMC tips that you still use to this day?
My first BMC instructor taught us to always blend everything and pay attention to detail. Unblended makeup is not cute, and those little details can make or break a look. Blanche always told us to be on-time for everything too, even if it's a volunteer job, it's still important to be professional. Also don't burn bridges in the industry, for example, you never know if a makeup assistant that was below you will end up being your boss one day.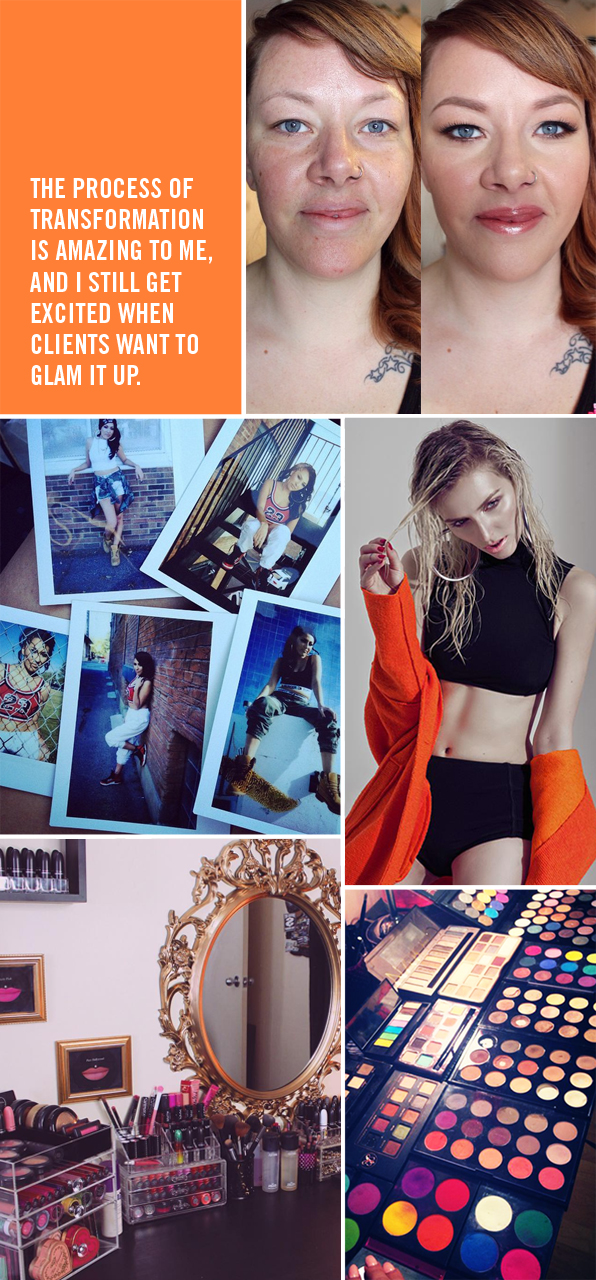 How did you come to study at Blanche?
I was living on my reserve in Northern Alberta and had no idea what I wanted to do after high school. One of my teachers gave me an assignment to research my top three dream jobs and Makeup Artistry was one of them. I found Blanche online, I applied and was accepted! I moved to Vancouver six months later.
What is your daily social media routine?
I always check Instagram throughout the day, replying to comments and scrolling for inspiration. I try to post makeup looks at least a couple times a week, and I mainly post on my IG and Facebook fan page.
What makes for a great feed? ie. your Top Tips for IG:
Having good quality pictures makes it that much better. Post original looks, be creative, and be yourself. Also, engage with your followers!
What sort of camera/editing program do you use for your photos?
I use my Canon Rebel t5i for most photos, and sometimes my iPhone 5s. For editing, the Facetune app is my go-to, and/or Photoshop to adjust coloring. I try to keep editing minimal and as natural-looking as I can.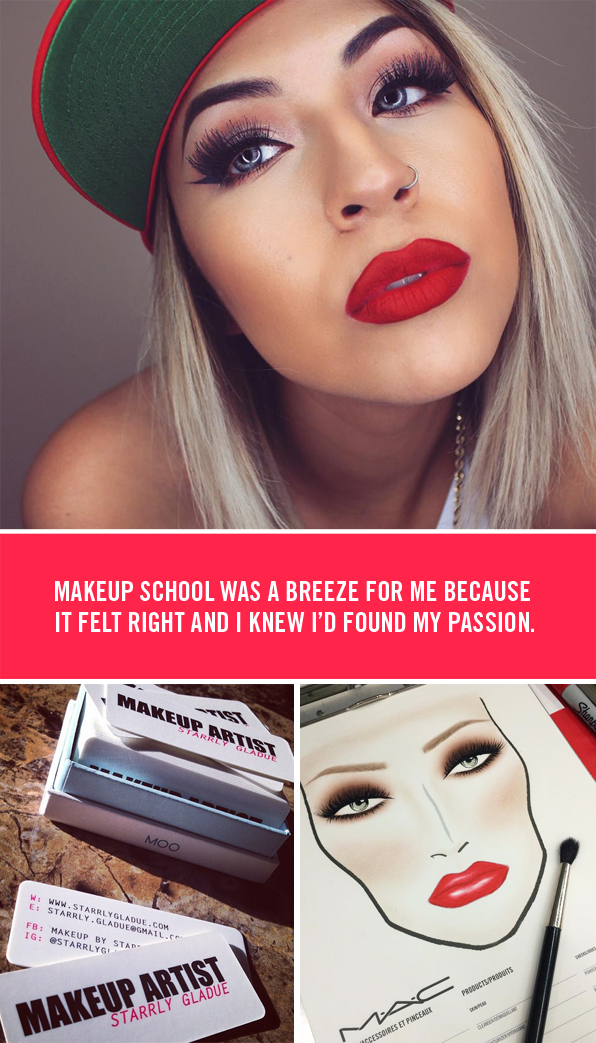 What's the most empowering thing about running your Instagram platform?
For me, it's inspiring others, which is one reason why I always share which products I use. I love doing bold looks to show people that you can have fun with your makeup. It's my creative outlet.
If @starrlygladue could be described as a recipe, the ingredients would be:
Colour, creativity, glam and passion.
Your favourite follows (accounts/blogs/vlogs/personalities that you love):
@JackieAina is my fav YouTuber. She keeps it real and has amazing skill and knowledge. @Amrezy was one of the first IG artists to show me love. She does the most gorgeous looks and has un-real fashion sense. I also love @Sugarpill, their makeup line is made up of vibrant colors and they share insanely creative looks. And last but not least, clothing boutique @CrownTheQueens; I'm obsessed with streetwear and Queens kills it for the ladies.
Favourite places to look for inspiration?
Instagram, Pinterest, and Beautylish are great places to look for inspiration. And a lot of times I'll go through my own makeup collection to draw inspiration from colors and textures.
Your #MVF, Most Valued Follower?
I don't just have one, there's so many that show love!
Weirdest personal beauty phase from the past?
I think we all had an "ugly eyebrow phase." There was a point in time when I used to tweeze my brows to as thin as humanly possible. Then, a few years later, I would use black eyeshadow to fill them in...lmao.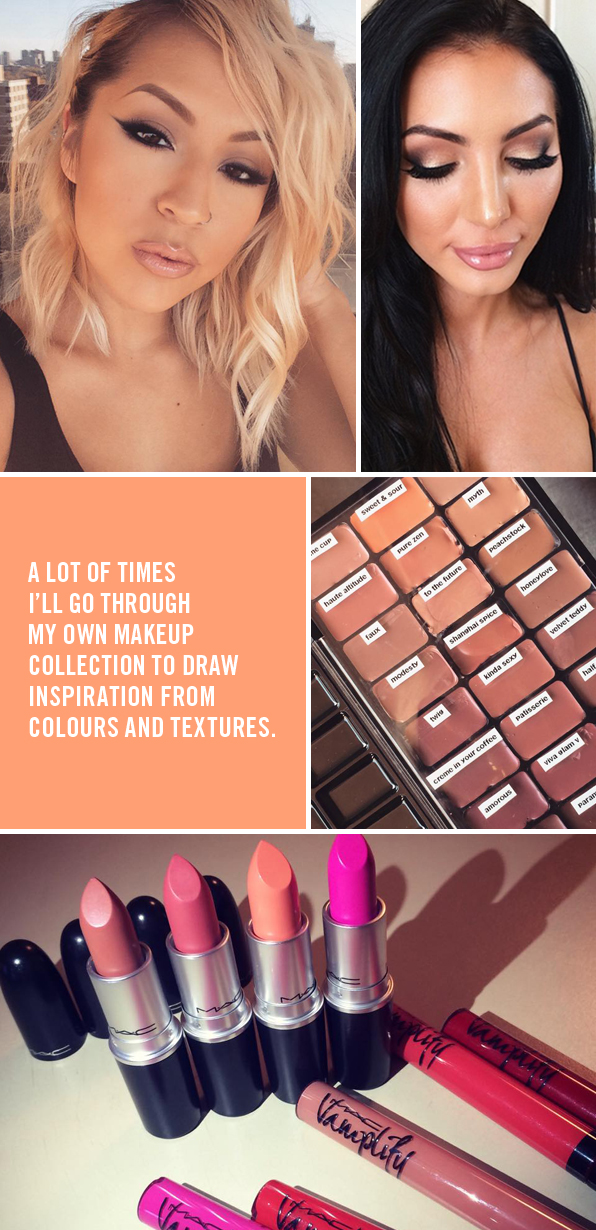 First time you were recognized 'on the street' by a follower?
It was literally on the street one night in Edmonton; he was so sweet and told me he was a fan. It's awesome when followers approach you – when you can connect with them in real life.
Most influential person you've met?
I was fortunate enough to have [Blanche Macdonald Fashion Makeup Program Director] Jon Hennessey as an instructor at Blanche. I also had the opportunity to work alongside [Blanche Macdonald Makeup graduate and] Celebrity Artist Andrea Tiller, and had the chance to meet beauty vlogger Jackie Aina. All amazing artists I've been able to meet that are influential and definitely worth checking out.
Coolest Freelance Makeup job you've ever done?
One that stands out is a music video I worked on for Hip-Hop artist RIFF RAFF. I did glow-in-the-dark makeup for all the UV scenes. It was such a fun project to be a part of, and it challenged my creativity (which is always a good thing).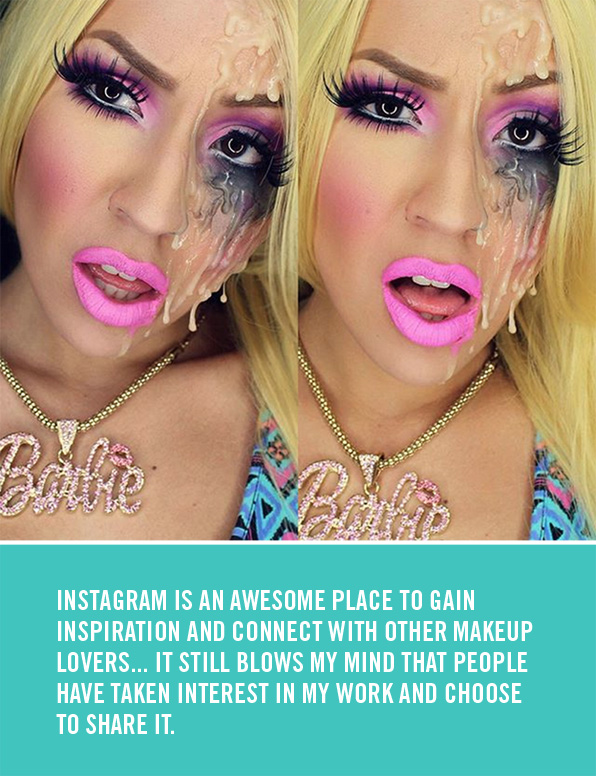 Biggest risk you've ever taken?
When I moved to Vancouver by myself at 18 years old so I could to attend the Makeup program at Blanche. It was my first time there and I barely knew anyone, but it was one of the best decisions I've made. I also achieved a Fashion Marketing Diploma a couple years later while in Vancouver, so it was a great move for me.
Proudest moment?
Honestly it has to be graduating High School, because I thought I would be another drop-out. But I'm happy I pushed through it because I wouldn't be where I am today.
When I was younger, I got caught up in the partying lifestyle, running away from home... I let it affect my schooling. So graduating high school was an accomplishment because it gave me a huge confidence boost and I felt I could pursue anything after that. If I wasn't in school I wouldn't have found and applied to Blanche. And Makeup school was a breeze for me because it felt right and I knew I'd found my passion.
Five years down the feed dream?
I'm not sure where I want to be in five years... I just want to continue to inspire others.
Motto in artistry? Motto in life?
"You can never stop learning" and, "dreams don't work unless you do."