Makeup
With thousands of artists, stylists and designers soaring into our halls from around the world each year, our classrooms have become dynamic global communities under the unitedly diverse banner of our Blanche World – a United Nations of creativity! In a glorious celebration of culture, our International students import a vibrant collection of new customs, insights and inspiration that colour our world in exciting new ways. The leap from their home countries to our corner of Canada comes with big change, courage and incredible journeys. Speaking in the international language of passion, we sit down with our global talent to talk the dreams that brought them here, the challenges they overcame, and all about the power of being an artistic representative in a new country. Meet the burgeoning stars that have joined us from around the globe in our UN storytelling!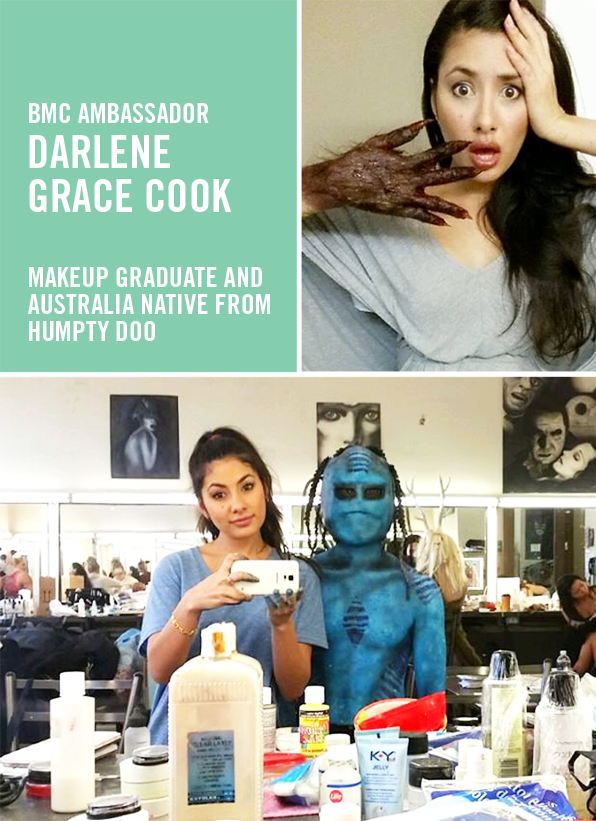 Hi Darlene! Where in Australia did you grow up?
I grew up in a small country town called Humpty Doo.
...You're not serious...?
I'm so serious. Population of 5,000, minus one! It's a very small beautiful country town that I call home. It's up north so it's really really country, in the middle of whoop-whoop-nowhere. There are kangaroos, there are crocodiles, snakes and spiders everywhere!!
So what brought you here?
The real reason I moved here is really crazy. I was raised as a farmer's daughter in (like I said) a small country town with my brothers, so I'm the biggest tomboy. I never considered a career in Makeup until I realised my love for gore and FX! One day my life took a huge flip: I lost something extremely important to me. That night I dropped to my knees and cried myself to sleep for the first time as an adult. And I had the most random dream, so real, with a voice that said, 'You need to book a one-way ticket to Vancouver, Canada to study Makeup Artistry, to one day head a feature film. I promise you that you will be the happiest you could ever be!' I woke up, my eyes stuck together from my tears, thinking, 'Why the bloody heck would I move to Canada when I've never met a Canadian, I've never seen snow. I'm from the other side of the world.' But the next day I googled '#1 Makeup School in North America' and Blanche Macdonald came up.
[Blanche Macdonald Admissions Director] Chaline Hird's the reason why I ended up choosing Blanche. I looked into other schools, but Chaline and the connection that I had with her made me come to Blanche Macdonald. She's amazing. Now that I've come here, I know it was the best decision of my life, and I've honestly never been so happy!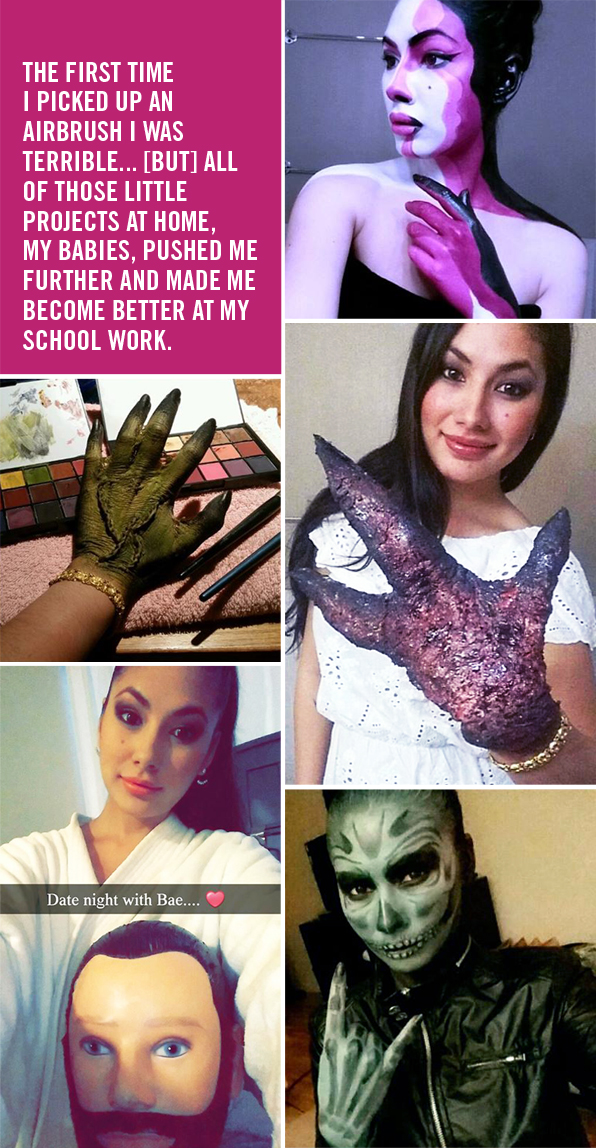 Obviously, language was not a barrier for you, but what are some of the other challenges that you faced and overcame in coming here?
The biggest challenge for me moving here: I had no friends, family, accommodation nor job. When I turned up in this strange place I was so nervous that I wasn't going to be able to make friends, worried that nobody was going to understand the Australian humour. And then a week later, I went to Blanche. Those girls that I studied with, they're now my best friends. I still speak to them every day and we hang out all the time. Everyone in that class was just ridiculous talented. We were all so close and motivated and would push each other to do better.
How have you been liking Vancouver?
I'm obsessed. I'm so obsessed I'm never leaving. If I could live here the rest of my life I would. The Canadian culture, the charm, the accent – which melts me everytime, tingles my ears like, 'St-op talking' – everything about Canada I love. Vancouver is ridiculous. It's beautiful. And I'm a North Van girl now, so I'll go to Cypress for a run and to chill out when I can.
Did you have a favourite module?
TV & Film! Let me tell you about that: I'm obsessed with a teacher named Sydney, everyone knows it, it's no secret. TV & Film was what I wanted to get into so I waited that entire time so eagerly, and then the second I got there I was obsessed. Obsessed with my teachers – Sydney, incredible, and then Leah comes along, hottie, love her – and then everything that I learned from them about TV & Film was everything that I needed to know. I knew there and then that that was where I was heading: straight into TV & Film.
How about a favourite classroom memory?
[Chuckles musingly] Favourite classroom moment...oh my god. There's so many! I was just talking with the girls about this the other day; we used to just cry ourselves in laughter, like legit be sitting in the classroom just crying. There was no drama in our classrooms at all, full stop. All of those moments have been my favourite. I'd prank the girls – play around with their work and stuff – and we'd prank the teachers. I mean, it was all amazing.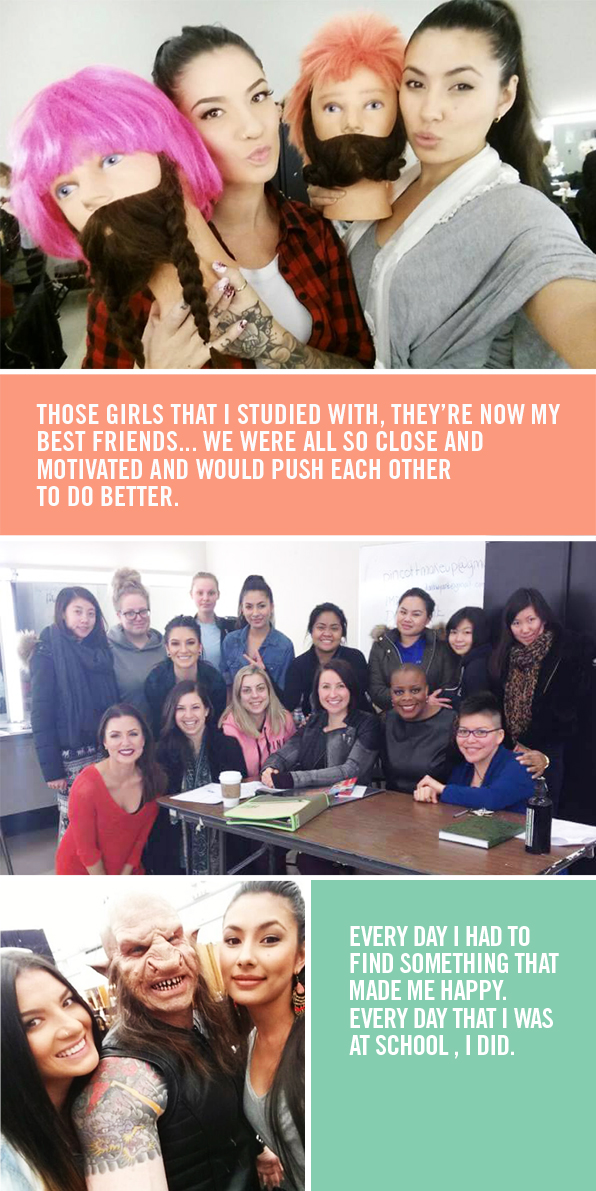 There seemed to have been a lot of them, looking at your Facebook feed! Tell us about this '100 Happy Days' thing that you had going.
That was the best idea that I ever carried out. My first day I thought about how, in 100 days, I would be graduating from the school that I dreamt about coming to. 100 days of happiness before I get there. That first day, I was sitting outside of Blanche Macdonald having lunch with the girls, just looking at how beautiful it was and I thought you know what, I need to take a picture of this. So I sat in front with my friends, staring at my dream. I thought. 'This is day 1.' Then, every day I had to find something new that made me happy. Every day that I was at school, I did.
Do you have a project that you were most proud of over your time here?
Honestly, it was all my little projects that I did at home – my babies. The first time I ever picked up an airbrush, I was terrible and I had no idea what I was doing. I went home and started practicing on my leg (I'm obsessed with Disney so I did this Peter Pan scape). All of those little projects at home, my babies, pushed me further and made me become better at my school work. Like with those crazy FX hands – they were all unexpected things that I did, playing at home. I was just trying things out. Out of my stuff that I did at school it would probably be my final, the wolf. I was like, 'Did I do that? Damn Gina!'
Well, we certainly loved seeing all of your at-home F/X! Speaking of out-of-class practice, did you do much volunteering?
I'm all networking and socializing and pushing my business, and when I first landed in Vancouver I knew no one. So I pumped myself up – I volunteered and networked my ass off until finally I got my in. After those six months, I started working with the photographer who's the main photographer on sets like Arrow, and who works with Will Smith and Clint Eastwood. Now he's like my brother from another mother. It's just amazing the people I've had the chance to meet in this industry. I've worked with some of the best photographers in Vancouver now. That's what it's all about – you have to put in the hard work, volunteer, push yourself and then it all starts coming back.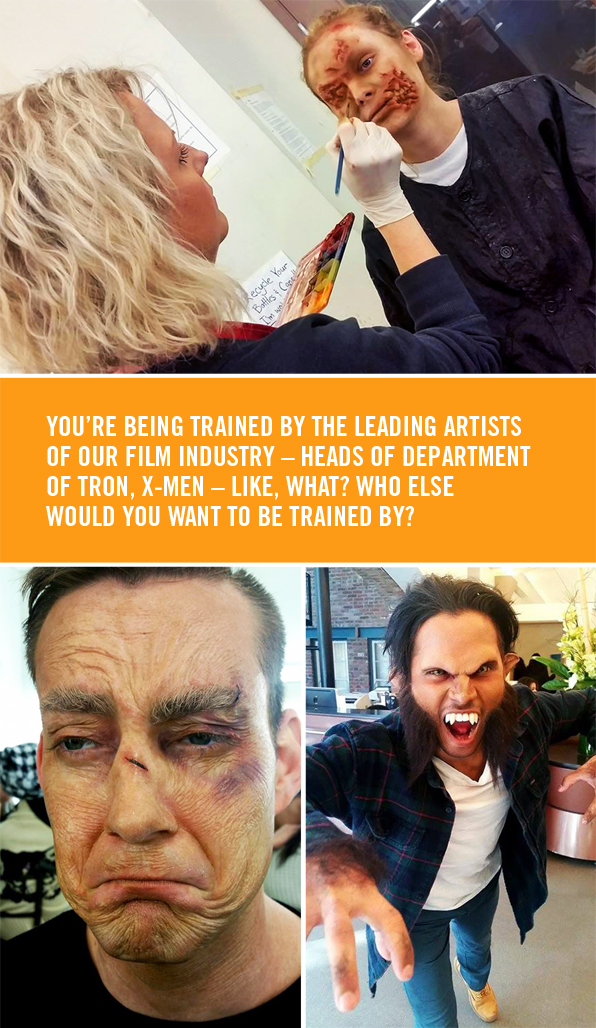 What do you want to do from here?
From here, my goal of course is to get into film, but one of my main things is also that I want to become somebody that people can look up to. I want to be able to inspire everyone else to chase their dreams. And to just do it, because you can do it. I've been a presenter for about seven years now, and I want to one day have my own label, to be able to get onstage and sell my business. I want even one day to represent Blanche Macdonald! I'd love to talk to students, tell them about how a small town girl from Humpty Doo moved here to come to this school, and tell them what it gave me to get to where I am now.
What are you most proud of in your journey?
What I'm most proud of is taking – and I say this all the time – 'Darlene's Leap of Faith.' Taking the leap of faith and following your dream, your ridiculous dream, and moving. Everything is about that leap of faith in life. Just do it. Take a breath and do it. I'm proud of growing up, moving away from my small town to come here and make amazing new friends and a whole new life.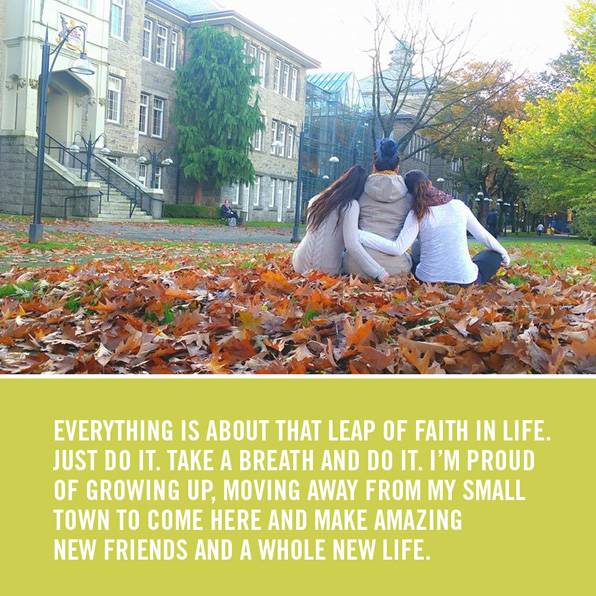 What would you tell a fellow Aussie looking into the journey to Blanche Macdonald?
If it was one-on-one, I would tell them, 'Do it. It's worth it.' You are being trained by the leading artists of our film industry – Heads of Department of Tron, X-men – like, what? That's ridiculous. Who else would you want to be trained by? They say it's the best Makeup School in North America, but I think it's more the best school in the world. I would talk that school up – I'm all for it.
If you could start all over again, would there be anything that you would do differently?
I had the best time...so what would I do differently? I would tie up Sydney so that he didn't leave for Hawaii during TV & Film, and stayed with me for the whole six weeks. I'd do that.
No, I mean honestly, I wouldn't change anything at all.