Makeup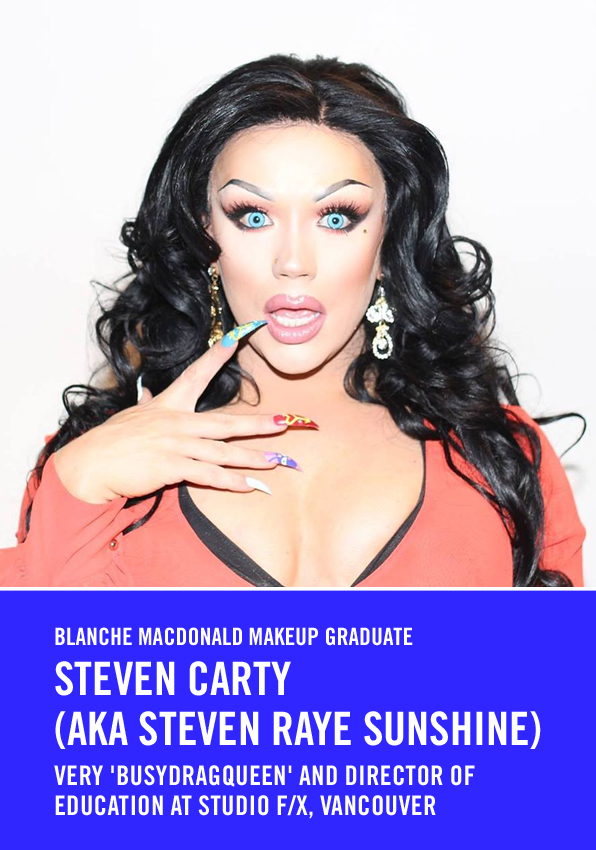 As a child actor seeking stardom from the pastoral settings of Mission, BC, Blanche Macdonald Makeup graduate Steven Carty quite nearly had his break. Having been offered the role of Pugsley in macabre kin favourite, The Addams Family, Steven probably wouldn't have been sitting here today, had it not been for his parents' reluctance at the prerequisite husking up. As Steven put it, "being young and gay in Mission – you don't need any more hardships."
But when one door closes another opens, as the saying goes. And for Steven, calling scene on set life would lead him to spot lights worldwide.
"Watching the Hair and Makeup Artists work on transforming people like John Travolta and Kirstie Alley into their characters was so neat and it just stuck with me. When I was in hair and makeup it would be the best half hour of my life.
"In Grade 11 we did this big production of Stoker's Dracula, and I got to create the dead Lucy and a vampire. That's what sparked the thought of going to Makeup School and then meeting [Blanche Macdonald Admissions Director] Jill Wyness during my tour at 16 sealed the deal. I didn't go to any school interviews after that and started right after graduation."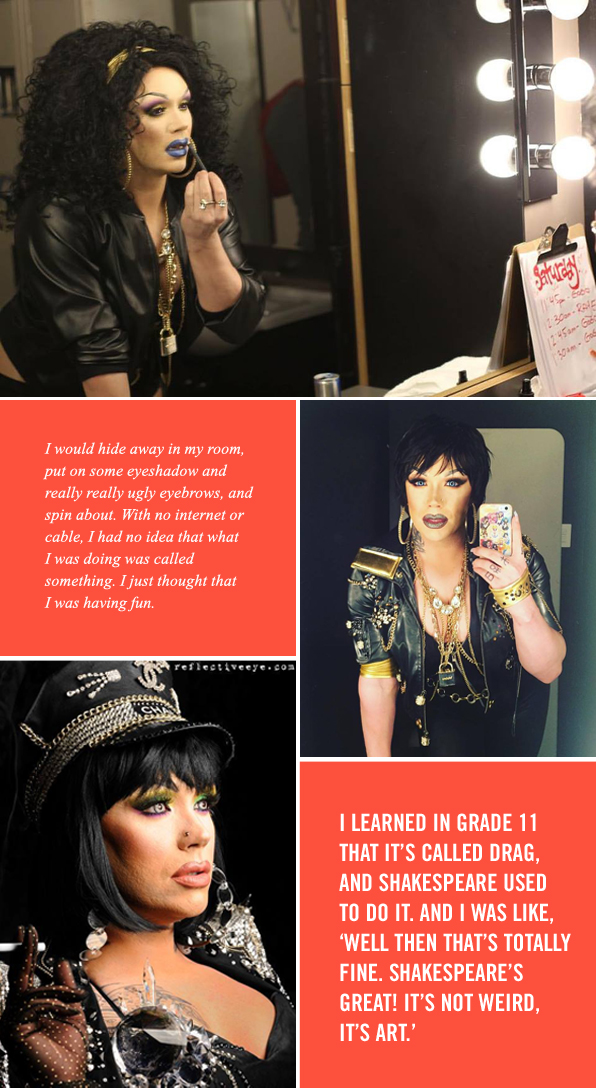 Steven was met with a level of support and creative calibre that he remembers to this day. It wasn't long after his first weeks that he realized the scope of professional opportunity now open to him.
"When I had the chance to see the work that my instructor, Michelle, was doing outside of the classroom, it really created a bond of respect. These are your teachers, but this isn't just college, not just beauty school. When you graduate, these people can become your coworkers. You get the chance to grow with these teachers and if you are really pushing yourself and really want to learn more, you can. You have to connect and go a little bit further than just 'Here's my assignment.'
"I would be running up and down the halls in full face showing each and every teacher because I wanted everybody's feedback. Every artist has a different way of doing things and that gives your learning this great diversity."
It was during one of Blanche Macdonald's Makeup industry tours that Steven first connected with Carla Antrobus, Owner of Studio F/X. And after nearly a decade – which saw methodical shop pop-ins by Steven – she admitted that she was an admirer of his work, and brought him on to the team. The weekly classes that he would go on to teach would benefit from the experience he'd gathered in his near thirteen professional years: from working the MAKE UP FOR EVER counter with Blanche Macdonald superstars Heather Nightingale, Jaylene McRae and Andrea Tiller to celebrity makeup sessions with Virgin Radio's Denai Johnson, nights spent with the Vancouver Opera and a lengthy collaboration with Senscience International Creative Director, Martin Hillier.
"Working with Martin Hillier was one of my biggest achievements. Maintaining ten years of art with somebody, creating new looks for every single season of hair – that's a pretty neat feeling. Our work is published all over the world with these big hair advertising companies and it's a humbling thing. It let's you know that if you continue on the right path, if you continue pushing your career, and take whatever you can get, it will pay off."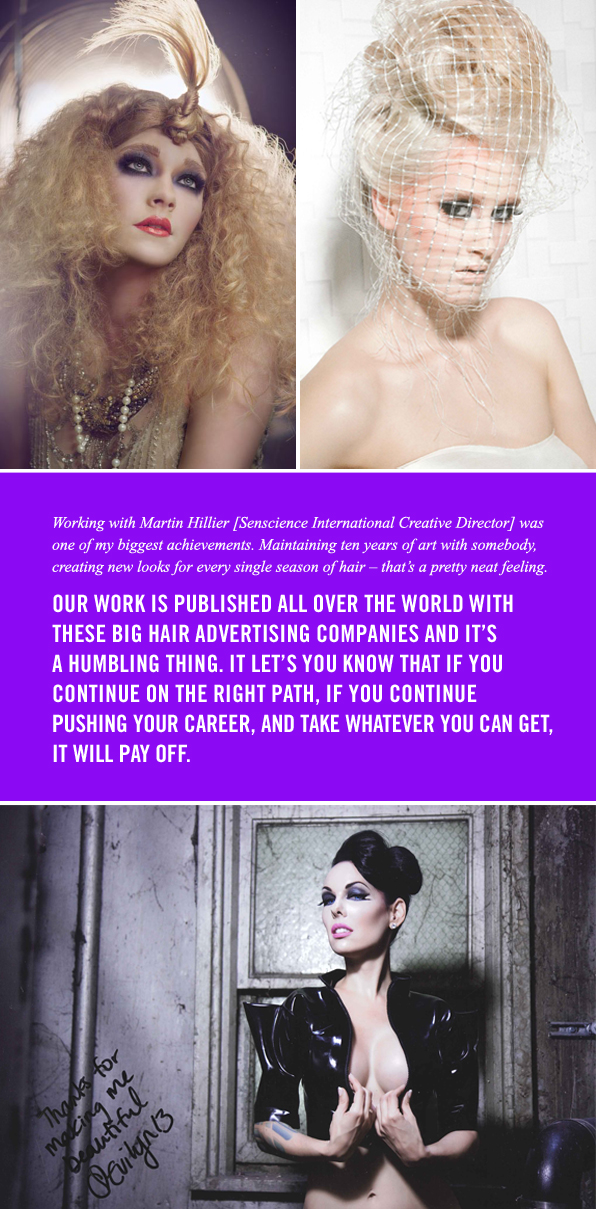 Today, Steven is still serving fierce transformations in an inspiring dual mentorship role, daylighting as Director of Education of Studio F/X, and breaking out into the evenings as the outlandishly divine, very 'BusyDragQueen,' Raye Sunshine.
"Raye started when I was in Mission; I knew that I was gay and I was having a bit of a hard time with that reality so I was looking for an escape. I dressed up as Sailor Mars for one Halloween and kept the wig; later, I would hide away in my room, put on some eyeshadow and really really ugly eyebrows, and spin about. With no internet or cable, I had no idea that what I was doing was called something. I just thought that I was having fun. I learned in Grade 11 that it's called drag, and Shakespeare used to do it. And I was like, 'Well then that's totally fine. Shakespeare's great! It's not weird, it's art.' "
Raye Sunshine has become renowned in the community for her extravagant, and often offbeat looks that fall anywhere in the range of Sia to Ginger Spice, Mrs. Grinch to the White Walker, Orange is the New Black inmate to wherever it is that her capricious whims wander that night.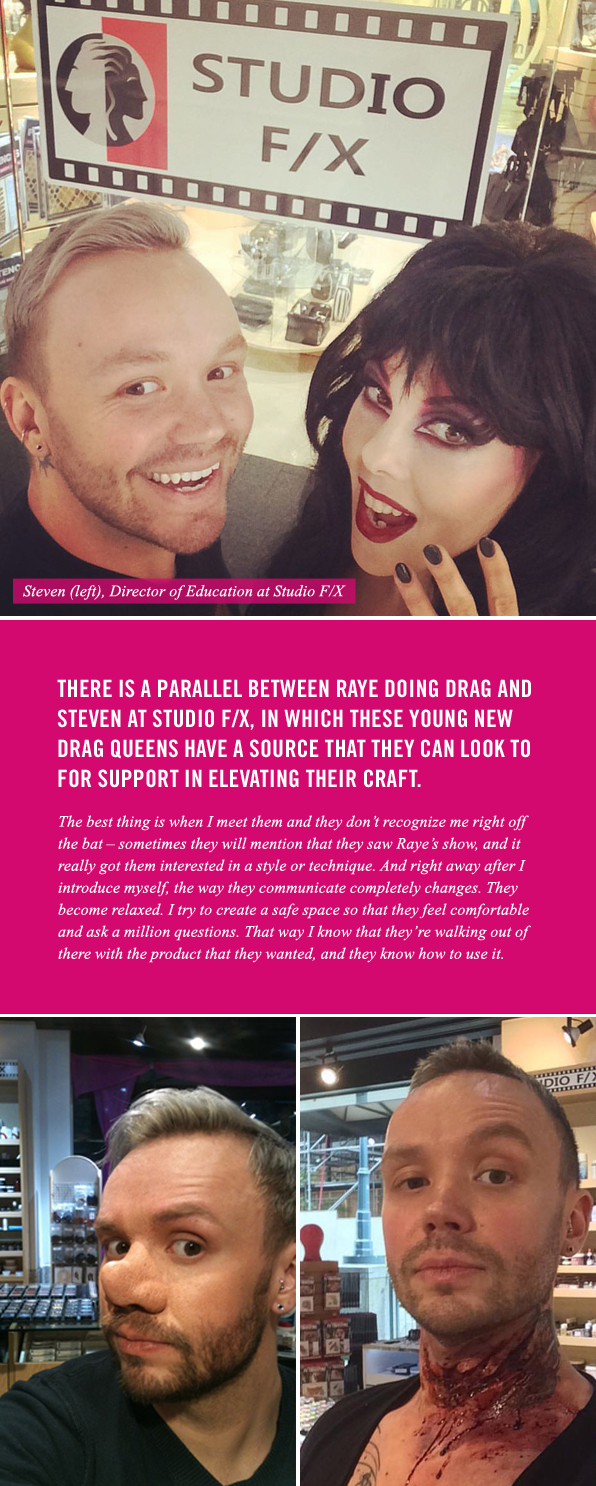 "I'll take the blank canvas of my gender or non-gender character and I'll start creating designs. Then the thought process gets away from me and it becomes more of an intuitive visual process. You're seeing it come to life, and as it's coming to life, you're building a backstory for it.
"Taking somebody through from male to female, female to male or a human to a creature of some sort is what I love, what I'm made to do."
These exorbitant bouts of cosmetic imagination have won Raye worldwide recognition. In 2010, she was honoured with the prestigious title of 39th Reigning Empress of Vancouver, which saw her visiting 22 International 'Court Systems' across Canada's grassroots LGBT network. And after the Busy Drag Queen comedy video that she starred in went viral, Raye even booked a gig in Korea. People were beginning to recognize both Raye and Steven on the street and, as a result, makeup jobs were streaming in.
"Whenever I would visit a new city's court system, I would make it my mission to go to at least one makeup store to see what they had. Most of the time, they would sell without providing any information on the products that their customers were buying. It was after seeing this that I really started getting into education. I wanted to help these Queens do what they wanted to do without hurting themselves. You can't put cream foundation on the inside of your eye – get a pencil!"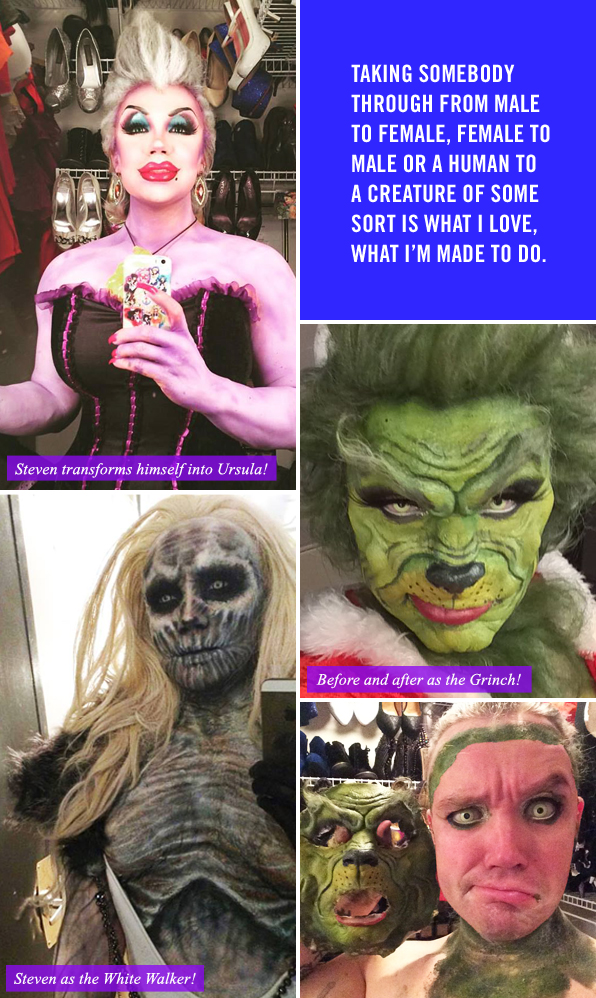 Now, as Director of Education at one of Vancouver's top makeup suppliers, Steven delights in the responsibility of teaching fellow Queens such dos and don'ts of product, urging them to "STOP USING BABY POWDER" and coaching them on technique.
"The best thing is when I meet them and they don't recognize me right off the bat – sometimes they will mention that they saw Raye's show, and it really got them interested in a style or technique. And right away after I introduce myself, the way they communicate completely changes. They become relaxed. I try to create a safe space so that they feel comfortable and ask a million questions. That way I know that they're walking out of there with the product that they wanted, and they know how to use it.
"There is a parallel between Raye doing drag and Steven at Studio F/X, in which these young new Drag Queens have a source that they can look to for support in elevating their craft."

Even if Steven has become a technical and creative counsellor for Vancouver's burgeoning Makeup and Drag scenes, he is forthright about the fact that he himself is still learning.
"The thing about being a Makeup Artist is that you are never too big to assist anybody. I'll assist a student, just to observe how they go about a look. You can always learn, from anyone, and there should never be an ego when you're training for someone. Assisting Jaylene McRae is on my list of things I really aspire to do, not just as a Queen, but as a Makeup Artist. Her transformation makeups are avant-garde and so stellar. I learned so much about changing face shape and creating symmetry in the mouth when we worked together at MAKE UP FOR EVER."

And for all of the 'flawlessness' going on under the spotlights, Steven serves up only 'realness' when it comes to the necessity of self-development, failure and perseverance in a Makeup Artist's career. Whether it's Steven hosting a class on contour, or Raye out belting tunes under the glitz and glare of the stage, their outlook is exhilarating and inspires us to get out, connect and create.
"There are no set rules in makeup; there is always the ability to take it somewhere fresh and you're always learning something new as you teach a class. If something is not really working during a demo, I'll problem solve right then and there. If I make a mistake, I'm going to tell you because mistakes will happen no matter what. It's a constant challenge but it's really fun.
"You don't really ever get over the fear of 'failure.' There isn't a day where, right before I step on stage, I don't want to puke into a bucket. And even when I'm creating something in my home studio, I'll be sitting there painting my chest and thinking to myself, 'Oh this isn't working, oh this is going to be awful.' It's about not giving up, seeing how it plays out, about having the drive to keep pushing. An hour later, when it all starts looking like something, I'll be so happy that I didn't quit. The minute you stop, you're letting yourself be defeated by yourself. You just have to keep going with it, and even if it doesn't turn out, you've learned so much.