Makeup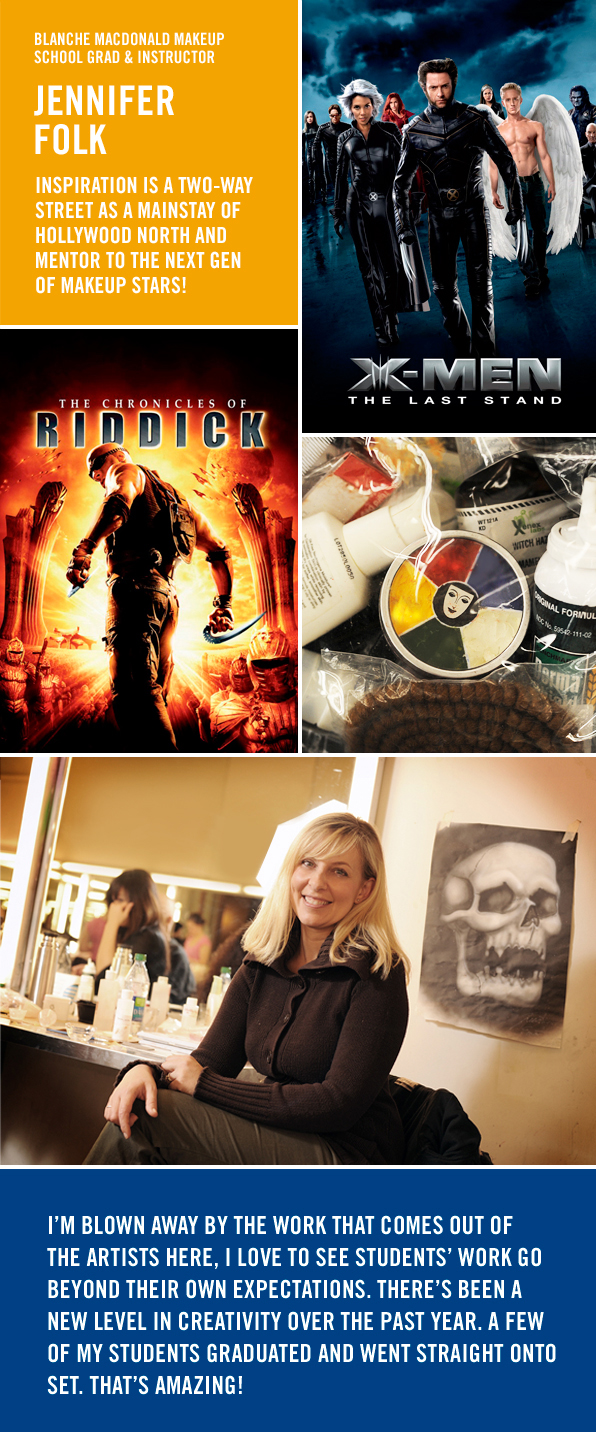 Jennifer Folk's students instantly realize that they're learning from one of the very best. As one of Vancouver's most respected on-screen makeup artists, Jennifer's remarkable résumé includes movies like The Chronicles of Riddick, X-Men 3, Slither, Mr Magoo, White Chicks, The Santa Clause 2 and TV series The L-Word, Tru Calling, The 4400 and Painkiller Jane.
But inspiration is a two-way street. And Jennifer insists that her biggest makeup thrill is the work she sees on a regular basis as an Instructor and Associate Program Director at the school were she once studied; Blanche Macdonald.

"I'm blown away by the work that comes out of the artists here," she beams. "I love those moments when you can hear a pin drop because everyone is so focused on their work. I love to see students' work go beyond their own expectations. There's been a new level in creativity over the past year. A few of my students graduated and went straight onto set. That's amazing!"

If Jennifer is able to help students exceed their professional expectations, it's because she's been exceeding her own since she was a young lady growing up in North Vancouver, when friends coming over after school would inevitably be on the receiving end of a makeover.

"I loved the colours and different textures," she recalls. "My grandmothers saw it was a passion of mine and nurtured it. They'd buy me big makeup trays from Sears and I would tan, blush and bronze my friends. Everything could always be washed off and it kept me out of mischief, so my family was happy!"

Once the teenage Jennifer had read an article in Elle about the makeup artistry behind the fashion industry, she knew her passion could turn into a career.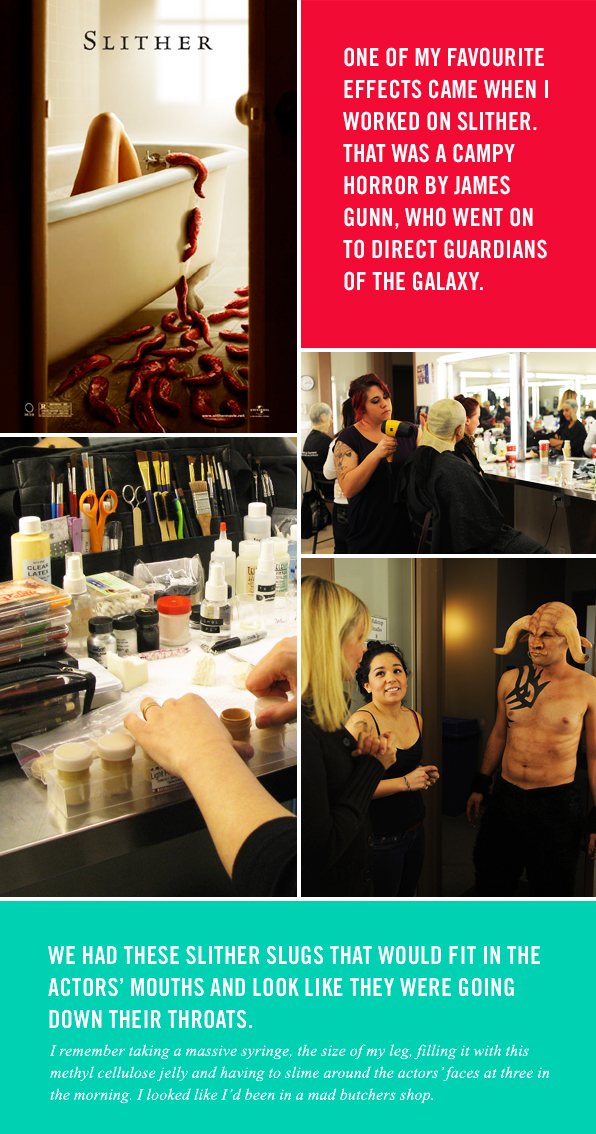 "You could do makeup for a living?" she laughs. "If I need to have a job, I'll take that one! I took private lessons from Fay von Schroeder, who's now one of our instructors. She'd been to Blanche Macdonald and had an amazing resume. Fay was getting busier and busier, so she started passing photo shoots to me. I found a modelling agency and started doing makeup for test shoots and brides. I wanted to learn more and every Makeup Artist I met told me the same thing – go to Blanche Macdonald."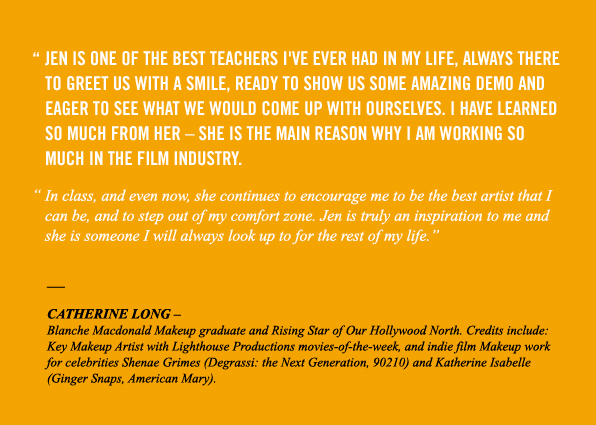 Blanche Macdonald's reputation as Canada's top Makeup School was already entrenched by the 1990s. Jennifer wasn't going to waste the chance to learn from the very best, even when her artistry didn't always flow instinctively.

"Some ideas I understood instantly. Other things needed study, practice and tweaking. Whether I had a friend's face or just my hand, I was always working on something. I was committed to studying, practicing and making a career in makeup a reality. I soaked up all the lessons and demonstrations. I was always excited to come to school and see what we would do each new day."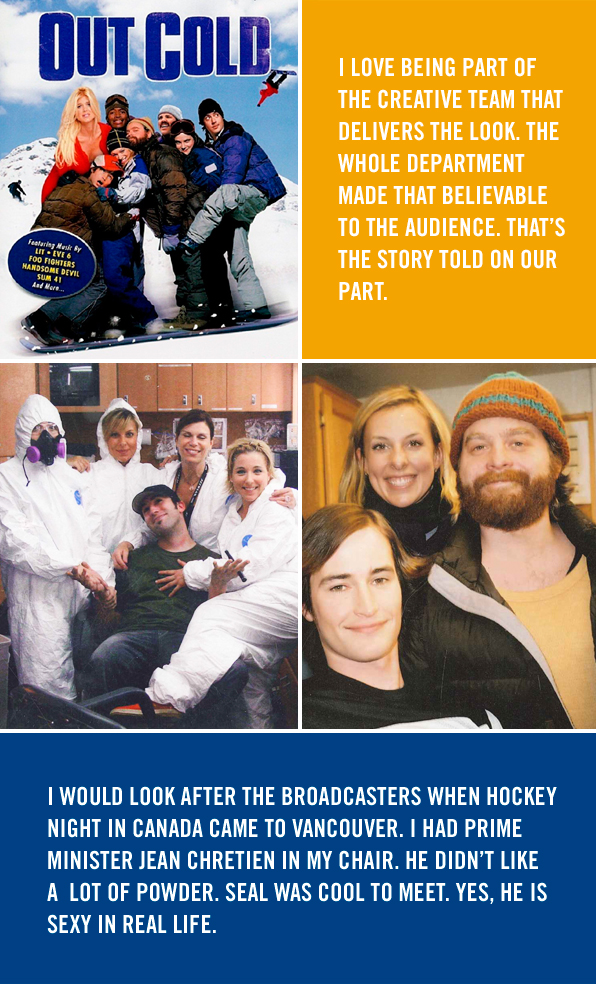 Her training at Blanche Macdonald led Jennifer to her first full-time makeup job. Which, not incidentally, led to more opportunities.

"A position at Act One came up, which was the only professional makeup store in Vancouver at the time. I was only there for about a year, but I met all the Makeup Artists working on the Vancouver shows. People like Victoria Down, Patricia Murray and Jayne Dancose. This was before online shopping. If you needed something for your shows, you would come in and stock up. When I started doing day calls and would show up on set, people would say, 'Hey, aren't you the girl from the makeup store?'"

The makeup store girl began working regularly for CBC and BCTV (which later changed its name to Global) bringing her talents to the channels' news and hockey coverage.

"I would look after the broadcasters when Hockey Night in Canada came to Vancouver. I had Prime Minister Jean Chretien in my chair. He didn't like a lot of powder. Seal was cool to meet. Yes, he is sexy in real life.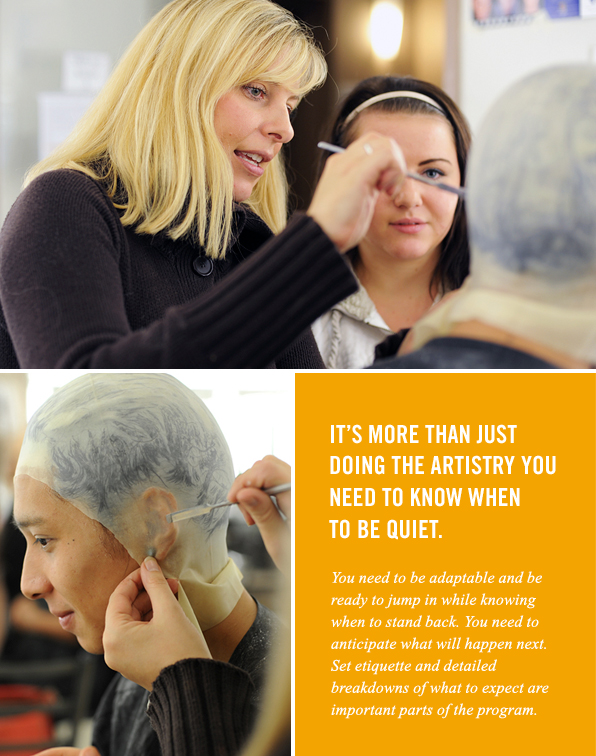 "I applied to the IATSE union because I wanted to work in films and eventually I got that phone call. I was super happy."

Once Jennifer had joined IATSE the TV and Film jobs came thick and fast. Feel free to ask Jennifer about her incredible résumé. There are many tales to be told.

"One of my first shows was Mr Magoo. The Head of Department was Sandy Cooper, who was very kind to me. I did a little bit of everything. You'd show up each day and not know what you'd be doing until you arrived. It was a comedy, so everything was funny and light. Comedies are always fun because everyone's in a great mood. Zach Galifianakis is pretty much the same character you see on screen. I was his Makeup Artist on Out Cold and Tru Calling. He's eccentric, dry and will say anything. He had me laughing every day.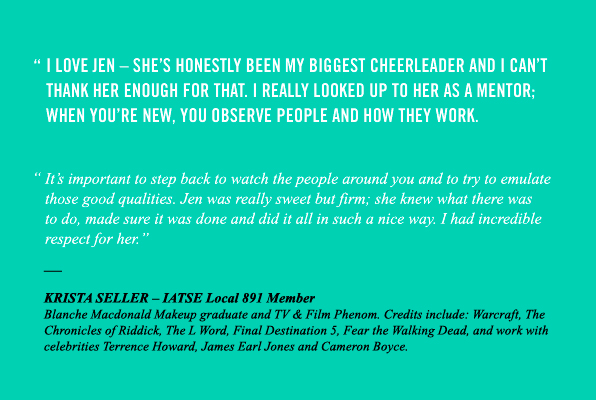 "One of my favourite effects came when I worked on Slither. Monica Huppert was the Head of Department and Todd Masters was working on the effects. That was a campy horror by James Gunn, who went on to direct Guardians of the Galaxy. We had many long nights out in different farms. You'd show up and see what needed to happen. And it would always be fun. We had these slither slugs that would fit in the actors' mouths and look like they were going down their throats. I remember taking a massive syringe, the size of my leg, filling it with this methyl cellulose jelly and having to slime around the actors' faces at three in the morning. I looked like I'd been in a mad butchers shop.

"I love being part of the creative team that delivers the look. The whole department made that believable to the audience. That's the story told on our part."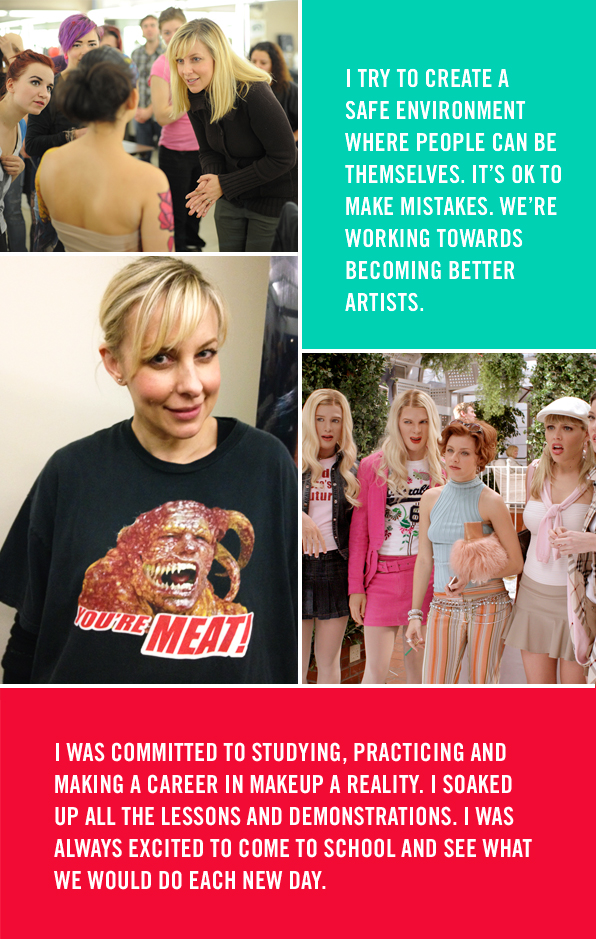 At Blanche Macdonald Jennifer does far more than share stories. Part of her job is ensuring that graduates' makeup skills are matched with their ability to fit into high-pressure professional situations.

"It's more than just doing the artistry," she insists. "You need to know when to be quiet. You need to be adaptable and be ready to jump in while knowing when to stand back. You need to anticipate what will happen next. Set etiquette and detailed breakdowns of what to expect are important parts of the program."

Jennifer spends less time on set these days, splitting her time between her roles as Instructor, Associate Makeup Program Director and full-time Mom. Teaching TV and Film Makeup and Special Makeup Effects, experience and enthusiasm come as standard every lesson.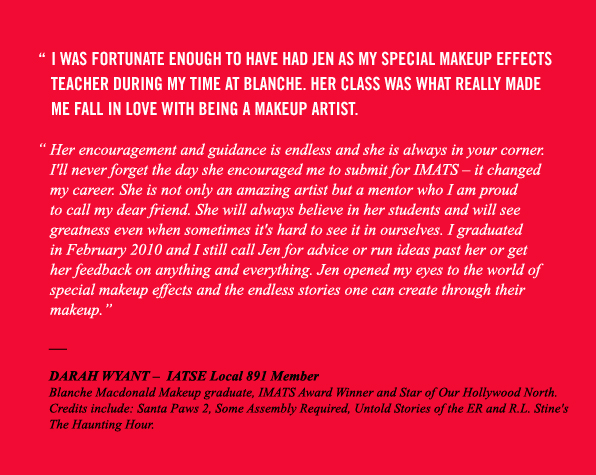 "I love keeping up to date on the latest products and techniques. I'm always reading articles, researching, talking to friends on set and going to guest lectures. My friends on set keep calling asking if I'm available so I've turned down a few films and TV shows over the past year. But this is my time to be a Mom!"

That maternal quality carries over into the classroom, where students discover an instructor that supports and pushes them in equal measure.

"When I came here I was a shy student. So I take the approach that the majority of people are shy and that's ok. I try to create a safe environment where people can be themselves. It's ok to make mistakes. We're working towards becoming better artists. At the same time, I'll always stress how essential it is to be punctual and have a makeup station that's clean and set up perfectly. If I don't set the standards, how are students to know? I want my students to get jobs and callbacks. Being a great artist isn't enough. You have to embody so much more."

She's created glamour and gore and hung out with movie stars, but for Jennifer, there's nothing quite as exciting as providing and finding inspiration on a daily basis.

"I'm very grateful," she smiles. "I love my job!"