Makeup
With thousands of artists, stylists and designers soaring into our halls from around the world each year, our classrooms have become dynamic global communities under the unitedly diverse banner of our Blanche World – a United Nations of creativity! In a glorious celebration of culture, our International students import a vibrant collection of new customs, insights and inspiration that colour our world in exciting new ways. The leap from their home countries to our corner of Canada comes with big change, courage and incredible journeys. Speaking in the international language of passion, we sit down with our global talent to talk the dreams that brought them here, the challenges they overcame, and all about the power of being an artistic representative in a new country. Meet the burgeoning stars that have joined us from around the globe in our UN storytelling!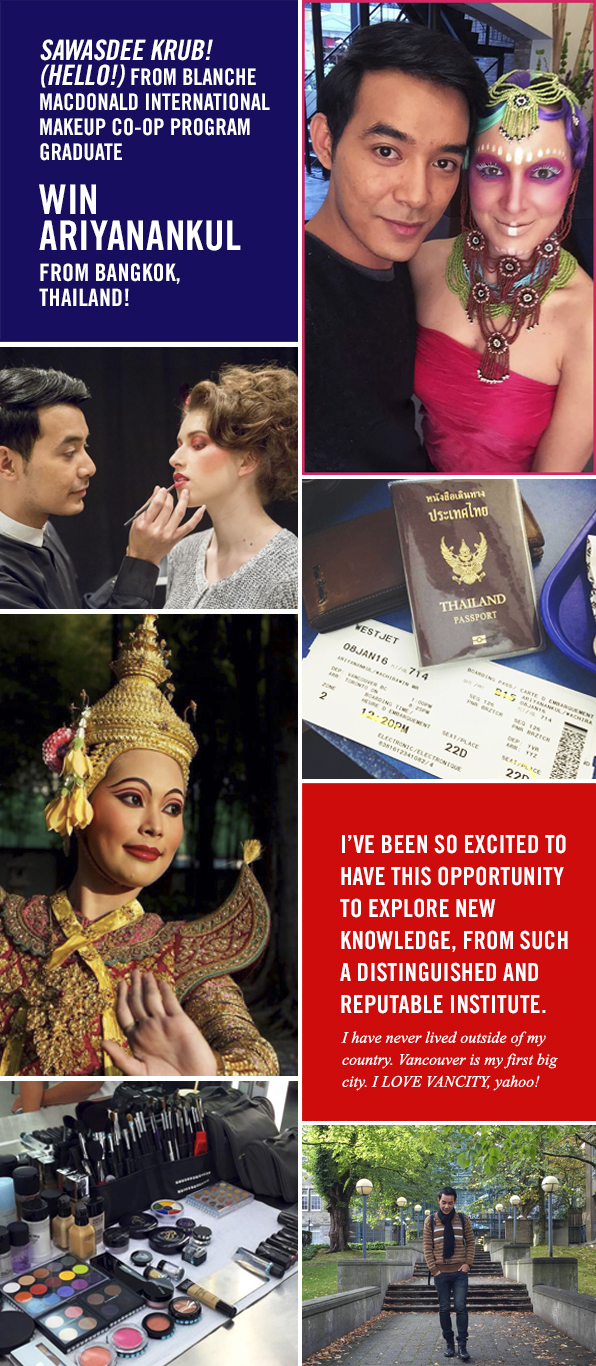 Wachirawin Ariyanankul nearly didn't make it to his first day of classes. Awaiting his Visa application to be processed, Win trekked through the Bangkok heat to the Canadian Embassy every single day, and those days ticked by, inching closer to the deadline of everything he had dreamed about. Finally, success! His Visa was approved. He hopped a plane from his native Thailand to Vancouver, and less than two days later – not time enough to shake his jet lag, let alone settle himself into a new country alone – Win stepped into the halls of the Blanche Macdonald Centre.
"I am so proud and very very excited. I have never lived outside of my country; I've only been on vacations around South Asia and never for more than a week. Vancouver is my first big city. I LOVE VANCITY, yahoo!"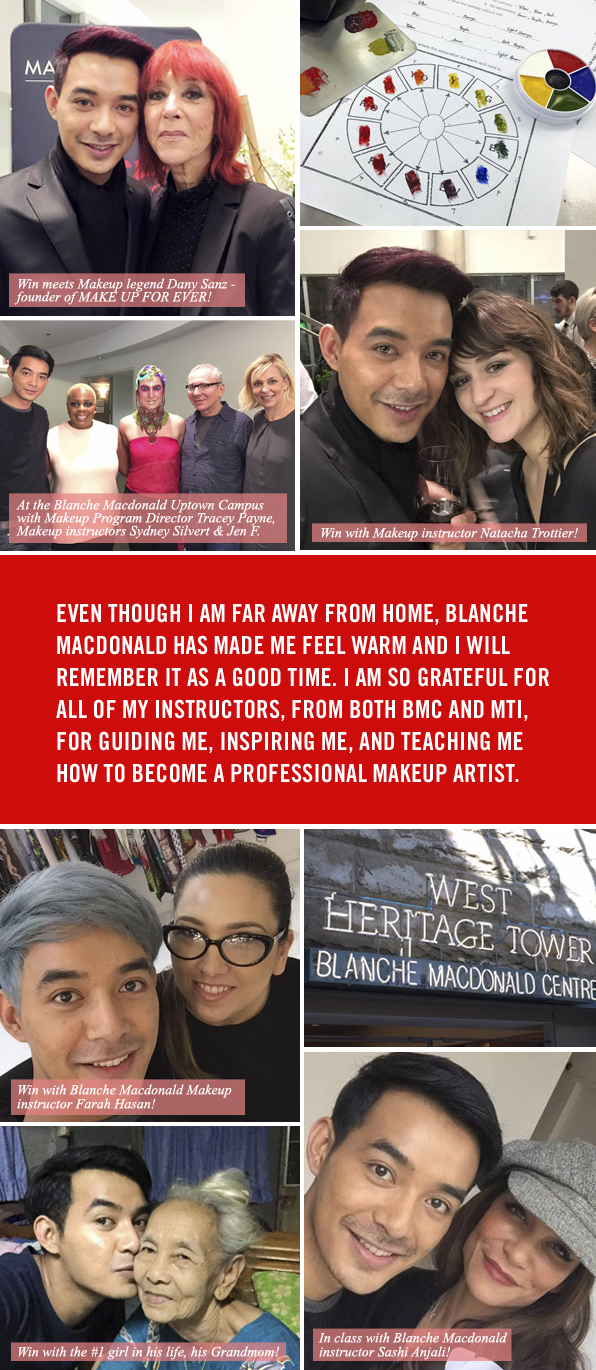 We are every bit as enthusiastic as Win. Everyone who has since had the pleasure of meeting him has been blown away by his artistic grace and gratitude in learning, and that's to say nothing of his makeup. A novice, Win certainly was not when he joined us in the International Co-op Makeup program at Blanche Macdonald; he left Bangkok as one of his city's most renowned emerging artists. He came here to humble himself in the face of new knowledge, to learn the planes of the Western face, and continue to strengthen his professional clout.
Win had always been artistic, spending much of his free time drawing, but it was one bit of artistry in particular that caught his eye and kept it still; tagging along on a job with one of his Makeup Artist friends, he was mesmerized by her brushstrokes, by the transformation that followed the bristles' dance. He wanted to create beauty like this.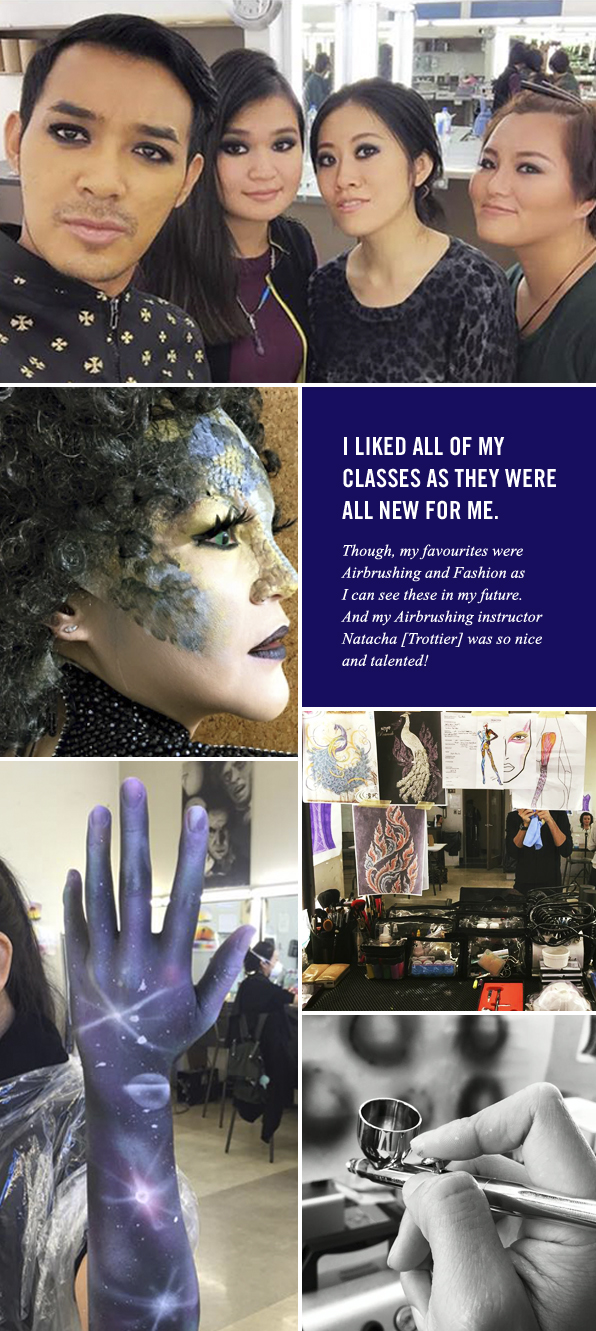 Win enrolled in the Makeup Technique International School (MTI) in Bangkok, where his innate talent attracted the eye of the Headmaster, Mr. Montri Wadlaiad. When Win graduated, Mr. Montri, a highly-reputed artist in Thailand, took Win under his wing and straight out onto the sets of the local TV & Film industry as his Assistant Makeup Artist. It wasn't long before Win won over the hearts of Thailand's premiere starlets, becoming the glam go-to for Maythavee Weiss (Miss Supranational Thailand 2010), Parnlekha Wanmuong (Miss Thailand World 1985) and singer/actress Thunyarat Trisuttiwong. Montri became more and more impressed with Win, and soon decided he was ready for the prestigious world of Khon.
"Khon is a Thai traditional performance art which, in the past, was limited to palace presentations. Currently, the Khon makeup is designed by my mentor, Lecturer Montri Wadlaiad. He has consulted with performance art specialists in the creation of the most appropriate design. He took inspiration from Thai paintings.
"The Royal Khon makeup shown here was from the performance sponsored by the Foundation of Her Majesty the Queen Sirikit of Thailand. It is organized once a year and lasts almost a whole month! I had the chance to join the team as a Makeup Artist for the past two years. I am very proud of myself to have had such an opportunity, to participate in one of the greatest performances that exists in Thailand."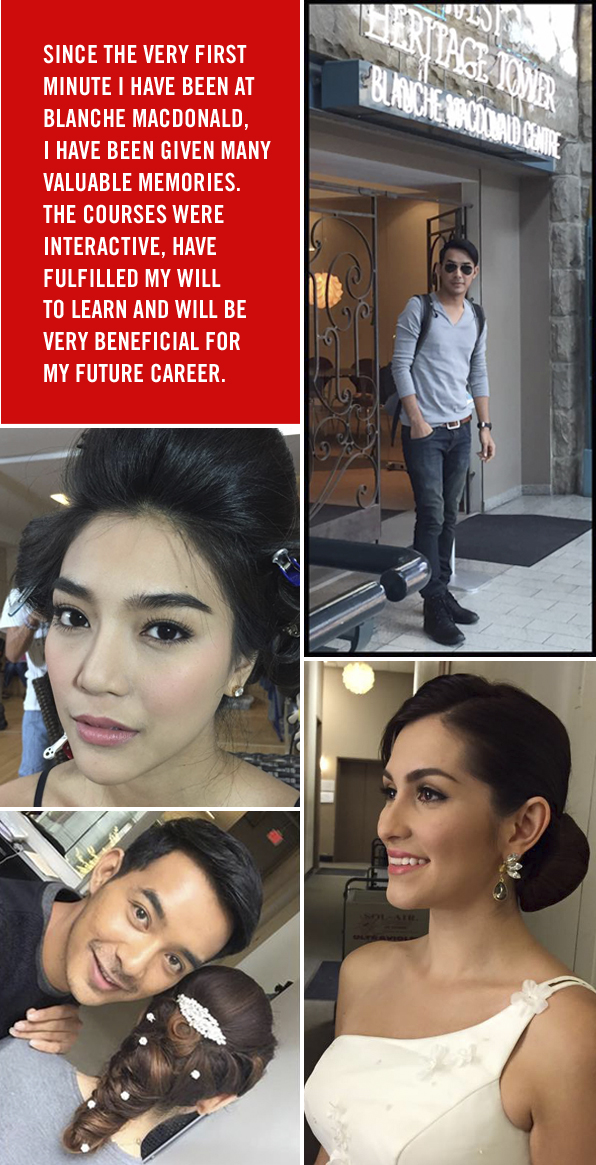 Win has been making waves in Vancouver too. In his short few months here, he has managed to make friends of top cultural players, beautifying the likes of Carmen Ruiz y Laza for her Joy TV show and pop band The Katherines. He's become a favourite to call up as Assistant to Pro Artists (and Blanche Macdonald graduates) Shaina Azad of Suva Beauty and Bollywood glamour authority Farah Hasan. He was even selected as a Makeup Artist for Vancouver Fashion Week's Spring/Summer 2016 season – we really couldn't have imagined a more perfect fit (neither could he). And throughout each new experience, he's only been making more connections and propelling himself forward in the local sphere of interest.
"Whenever I work with another artist I make sure to trade contact information with them. I have also used social media platforms to connect, such as the Blanche Macdonald Models Needed and 604 Vancouver Models & Photographers pages on Facebook, and modelmayhem.com."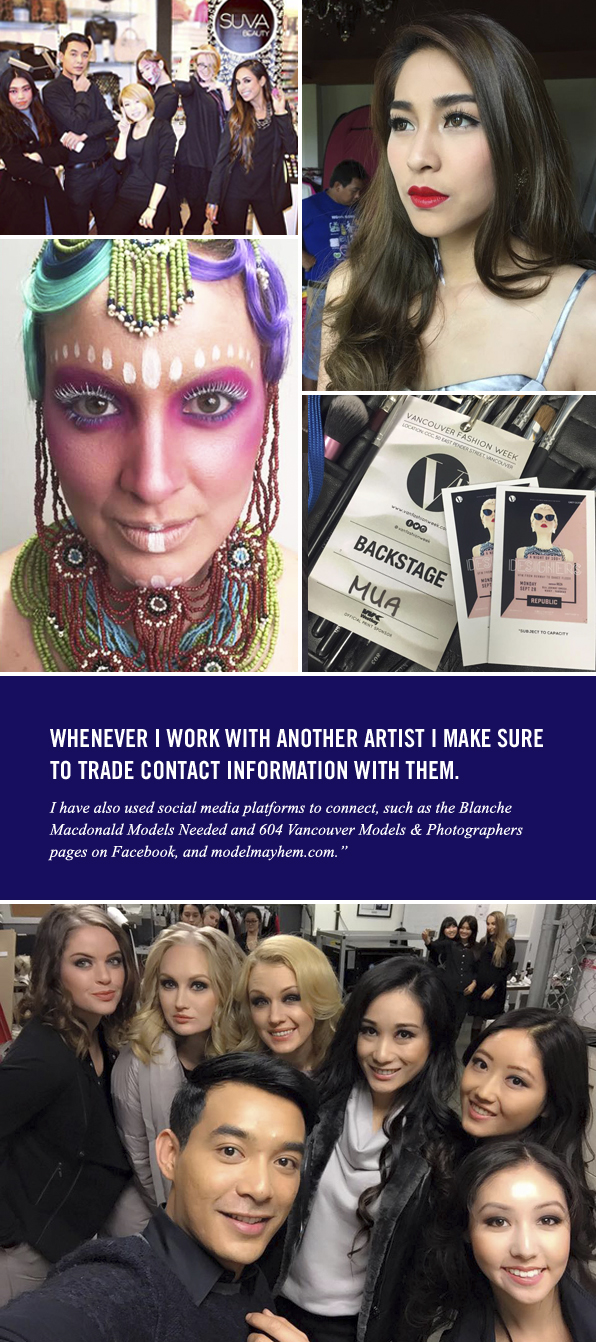 Even with Win's professional savvy and natural charms, it hasn't been easy; the communication barrier has been something to get used to.
"I did learn basic English in my country, so I could speak it a little, but not very well. Everything was very difficult at first. I am lucky to have friends who help me. Alina, my roommate from Russia, teaches me how to improve my written English. My teachers from Blanche Macdonald have been very helpful too. Also, every night I try find the time to study myself."
Challenges taken into account, Win's unshakeable ambitions and initiative in all aspects of learning led him through a powerful three months of artistic development at Blanche Macdonald.
"I liked all of my classes as they were all new and exciting for me. Although, my favourites were Airbrushing and Fashion Makeup. I can see myself working in these fields in the future. It ws a great opportunity to have Natacha as my Airbrushing instructor – she was so nice and talented!
"I've been so excited to have this opportunity to explore new knowledge, from such a distinguished and reputable institute. It's located in such a great environment too – Vancouver is one of the best cities to live in."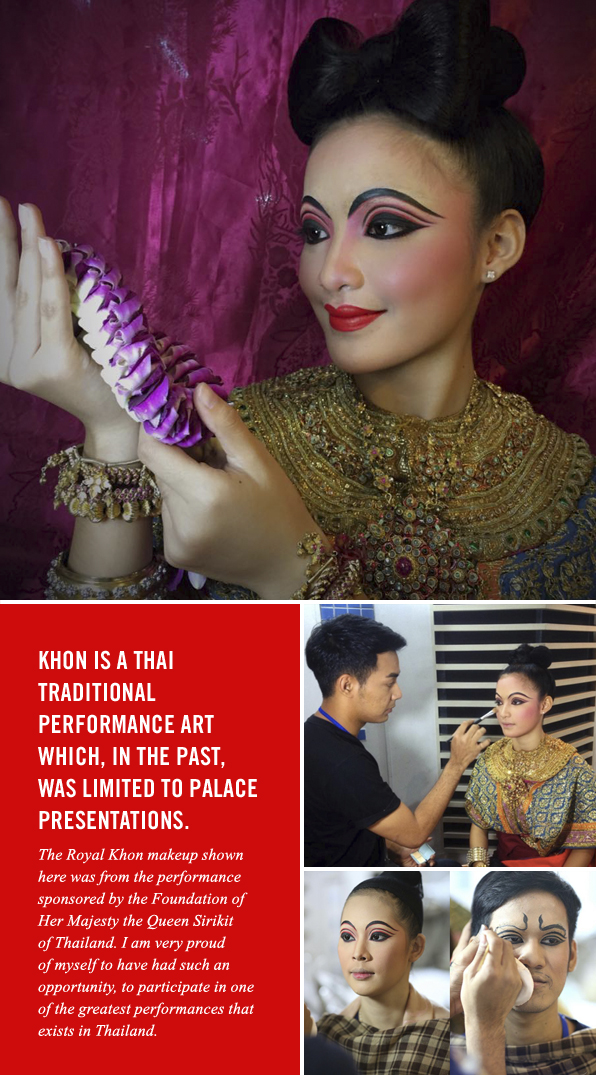 Word quickly spread of Win's warmth and willingness to share, making him the classmate to call on for extra tidbits of tips. It also made him a beloved addition to Blanche Macdonald's CurliQue Beauty Boutique Work Experience program. Q Talent Leader, and fellow Blanche Macdonald graduate, Jaylene Tyme thinks fondly upon his time spent on the floor with the CQ team.
"Win is an artist that encapsulates the spirit of grace. His beautiful personality has been a joy to have at CQ headquarters. Win was always there to lend a helping hand and make sure that our clients were well taken care of. Open to suggestion, Win really loves to absorb information and inspiration from fellow artists. Everybody he meets falls in love with him!"
The feelings are certainly mutual.
"I love the CQ team! I am so glad to have worked with them," enthuses Win. "There was a lot of teamwork, funniness and craziness. They supported me and developed my knowledge of product, how to sell, how to take care of the customer."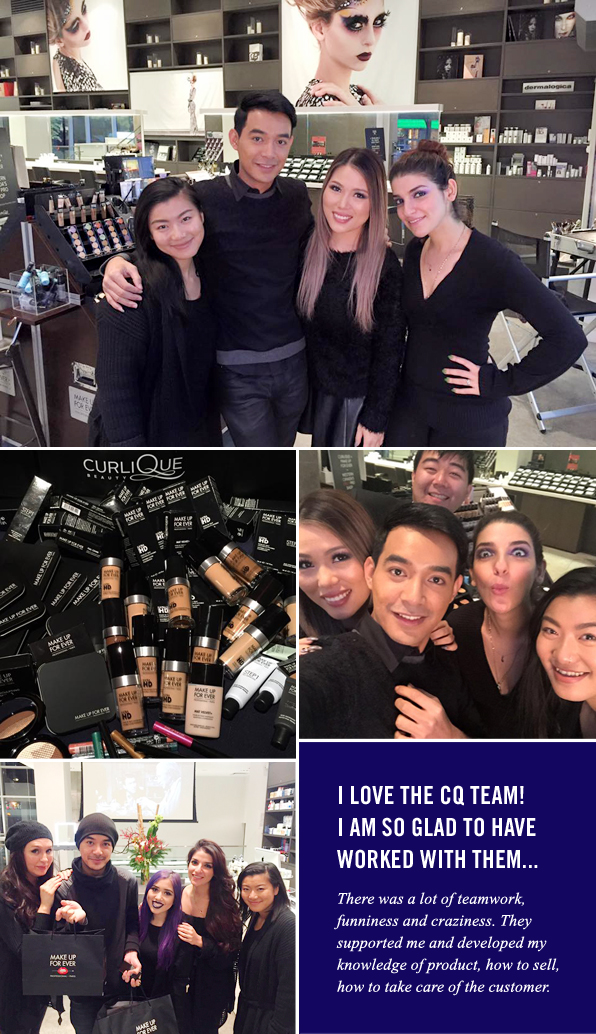 With less than a month to go until the Co-op Work Experience portion of his stay wraps up, Win is taking in as much as he can, coming by CQ every so often for hugs and updates on his latest cosmetic ventures. He may be soon leaving, but he has been inducted into the Blanche family for life.
"Since the very first minute I have been at Blanche Macdonald, I have been given many valuable memories. The courses were interactive, have fulfilled my will to learn and will be very beneficial for my future career.
"Even though I am far away from home, Blanche Macdonald has made me feel warm and I will remember it as a good time. I am so grateful for all of my instructors, from both BMC and MTI, for guiding me, inspiring me, and teaching me how to become a Professional Makeup Artist."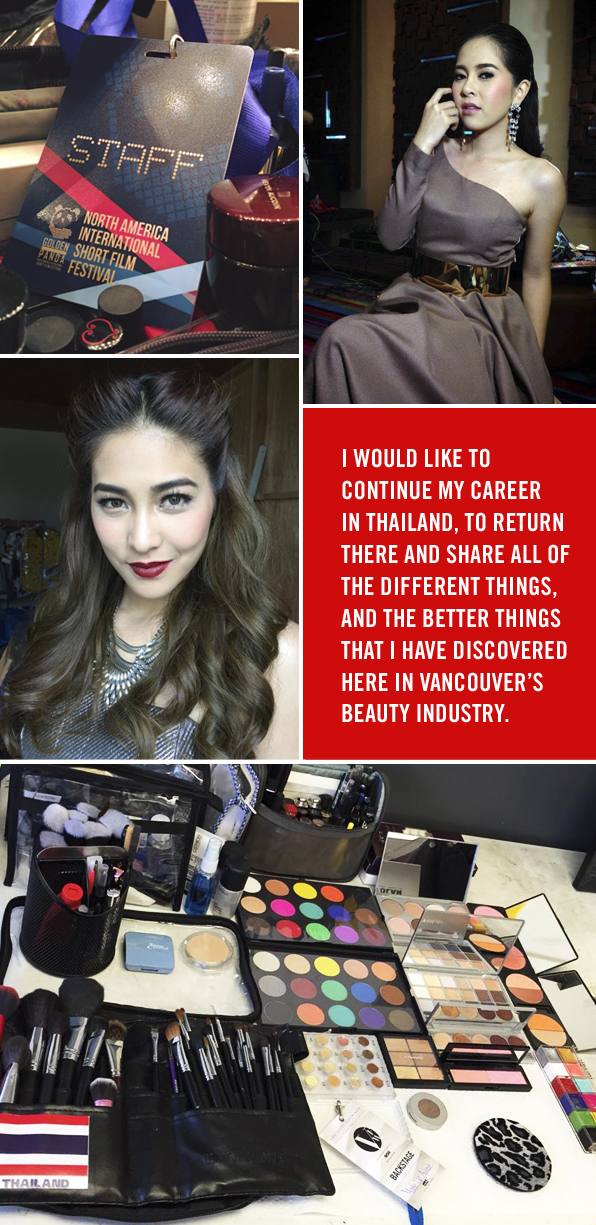 Moving ahead, Win hopes to make it, and make magnificent new things, in the world of Fashion, and perhaps even to become a Makeup mentor like those he has so cherished over his years of learning. What is certain is that when Win does make his homecoming, Thailand will be regaining a truly wonderful member of its artistic community, and Vancouver will be a little more beautiful, a little more inspired for what he has left in his wake.
"I would like to continue my career in Thailand, to return there and share all of the knowledge and experience that I have discovered here in Vancouver's beauty industry.
"KOB KHUN KRUB!" Thank you.