Esthetics & Nails

If life had turned out the way Tracy imagined, you'd be visiting her on the deck of a luxury cruise liner. But it was her piqued curiosity that got the better of her and forever set her life on a new path.
"Initially, I wanted to work in tourism. I had a friend who had registered for the Spa and Esthetics program at Blanche Macdonald and I thought it sounded so cool! I didn't know anything about esthetics, or even what to call it, but I made an appointment with the school to have a tour and the next thing I knew, I was enrolling in the program. I liked the idea of a service industry, but this was much more realistic and with so many more opportunities!"
The opportunities that followed a world class education at Canada's Top Spa School were almost immediately discernible to Tracy.
"I did do a bit of research on other schools, but nothing jumped out at me. I decided that I would call some local spas and ask whose graduates they would hire and everyone said 'Oh, Blanche Macdonald grads are the best!'"
That was over 13 years ago. Now firmly planted in the Esthetics industry, there's no other place Tracy would rather be. She's the Spa Lead of North Vancouver's Blu Harbour Wellness + Spa, the area's only spa certified in Medical and Advanced Esthetics, which has been her home for the last 6 years.
"This location is fantastic. And my clients here are really wonderful. One of the estheticians we hired here was actually the one that covered my maternity leave at another spa in the area so we're like a big family! And the owners are great - they've given me the opportunity to really grow my career and expand my skills."
Read More

Walking into Onyx Aesthetics Studio is like walking into a world where every day is a good nail day. It's a place where beauty is continuously unfolding; a place to be primped and pampered in total tranquility. In just two short years Onyx owner and Blanche Macdonald graduate Linda Trang Ly has cultivated the perfect space to showcase her inimitable esthetics skills: an IG-worthy salon with a killer team of estheticians and an impressive roster of clients.
Although Onyx has already achieved great success in its short life, the studio was a long time in the making. After completing the Nail Parlour program at Canada's Top Nail School, Linda spent nearly a decade doing nails in Ontario and Connecticut, until Vancouver's nail scene was finally established enough for Linda to bring her skills back home.
"When I was trying to get into the industry after school, everyone here wanted French manicures on sport length nails. I knew that if I stuck around I would change careers again, so I moved to Toronto. Because of that, I've been perfecting my skills and doing crazy long nails with art for the last 10 years! And this was even before all the gel polishes came out. I always knew I would come back home, but I needed it to be the right time for what I wanted to do. Once I saw on Instagram how things were evolving in Vancouver, I knew it was time to come back."
But having been out of the Vancouver scene for nearly 10 years, Linda had to quickly suss out what the new Vancouver had to offer to find the perfect place for the esthetics paradise she was planning to create. When her initial searches of Kitsilano and Kerrisdale proved unsuccessful, it was in a relatively unexpected neighborhood, on the suggestion of a friend, that Linda happened upon the ideal space for her studio – Gastown.

"The Gastown I knew was The Old Spaghetti Factory, The Purple Onion and some souvenir shops. But suddenly, Gastown wasn't just Water St. anymore! I saw this space and the shape of it and I knew that it was exactly what I had been searching for!"
Read More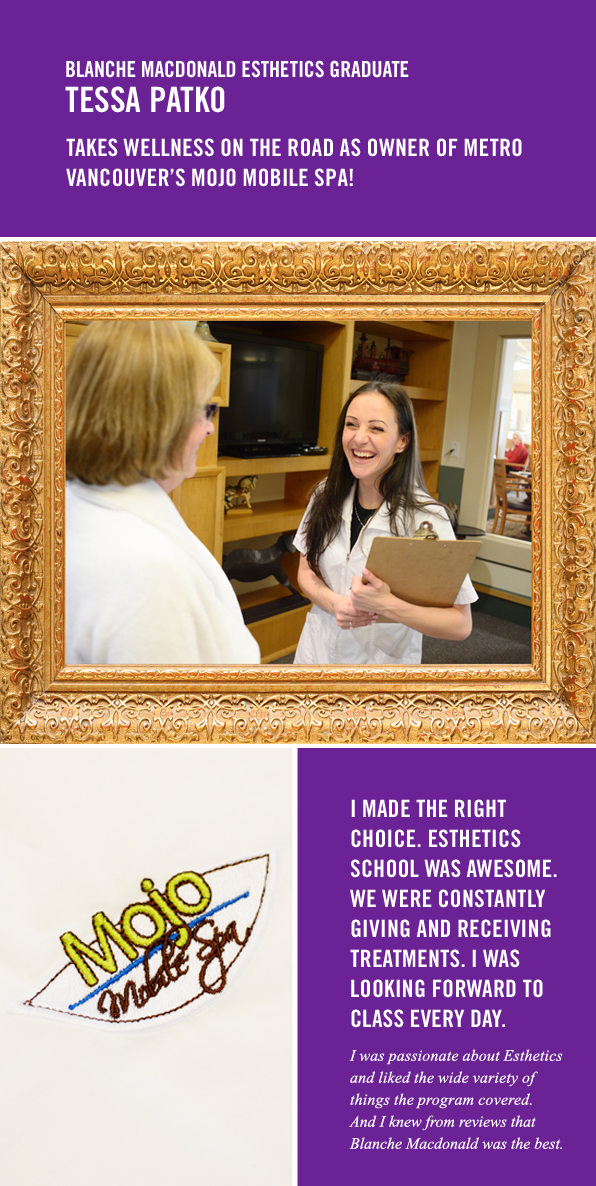 Everybody loves a trip to the spa as part of their wellness routine. But at the same time, not everyone has the opportunity to get out and give themselves the attention they deserve.
That's where Blanche Macdonald Esthetics graduate Tessa Patko and Mojo Mobile Spa enter the picture. If the people can't come to the spa, Tessa will bring the spa to the people.
"I'm providing services that clients might not otherwise be able to enjoy," she explains. "Mojo Mobile Spa is aimed at people who don't have the convenience of going to the spa, like busy mothers, people with health issues or people who don't have transportation. We're working regularly with seniors' homes now, which I love. I began receiving calls from grandchildren who were looking for people to go into the homes and give services. The need was there, so I started doing what I could to help. It really warms my heart to do those services. We'll do a soak, a massage and a polish and these seniors feel revived! They are really appreciative, love the attention and love to talk – as do I!"
Mojo Mobile Spa's reputation is growing fast. She was a finalist for the Richmond Chamber of Commerce's Young Entrepreneur of the Year, named as one of Richmond Review's 30 Under 30 business stars, and has been nominated for a business excellence award by the Surrey Board of Trade. Taking treatments to private clients, hospitals, hotels, pamper parties and corporate events across Metro Vancouver, Tessa already employs her own team of Estheticians, many of who come to her directly from Blanche Macdonald.
These honours and achievements haven't arrived by accident. They're the direct result of years of hard work. Luckily, Tessa is doing what she's always loved.
"I've always been interested in beauty and skincare," she continues. "I started experimenting with fashion, makeup and taking care of myself in my early teens, and I always loved going to the spa. Before that, when I was a little girl my Dad used to travel a lot and would bring back lotions from the hotels he'd stayed in. I'd tell my friends that if they put the lotions on their faces every day they would look like Barbie!
"After high school I studied business and began working behind-the-desk at administrative jobs. That wasn't for me so I went backpacking for a couple of years to think about what I wanted to do with my life. On the last leg of my backpacking trip I visited my grandparents in England. I was getting a pedicure with my Mom and she suggested I look at the world of esthetics. I was mulling it over with my grandparents and thinking about how they're so caring and how they always go the extra mile to make people happy. Their names are Morris and Josephine – which inspired the name of my business, Mo-Jo! I'm continuing the family heritage! As soon as I returned to Canada I registered at Blanche Macdonald. I was passionate about esthetics and liked the wide variety of things the program covered. And I knew from reviews that Blanche Macdonald was the best Esthetics Program in Vancouver."
Read More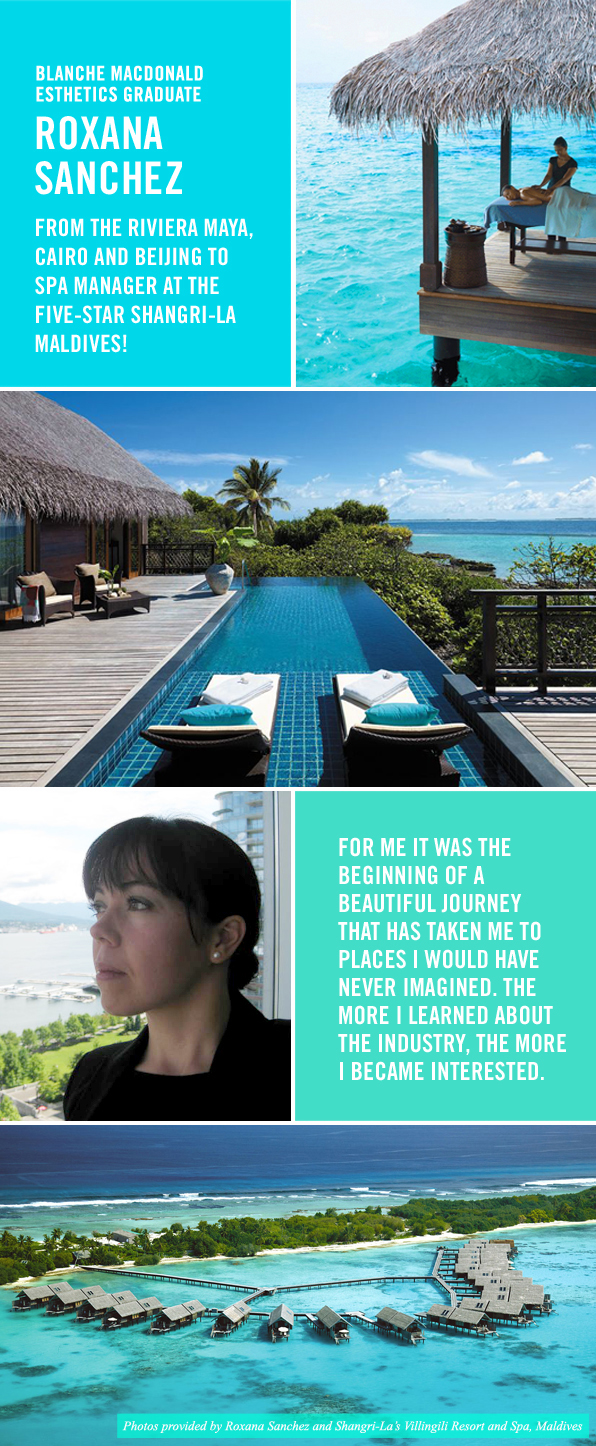 To be able to see and hear the Indian Ocean every morning is a truly inspiring awakening; its crystalline waves lapping at the white sand of the beach at Shangri-La's spectacular Villingili Resort and Spa, in the tropical paradise of the Maldives.
"My home is an island surrounded by natural beauty! Palm trees and clear ocean. Of course I'm enjoying it!" laughs Blanche Macdonald graduate and the Shangri-La Villingili's Director of Spa and Recreations Roxana Sanchez. "I have the opportunity to scuba dive every week and disconnect from the world into a breathtaking experience."
It's not all relaxation. Luxurious Island life keeps Roxana busy. Aside from recruiting, guiding and training the Villingili's international team of therapists and estheticians, she is responsible for the short and long-term strategic planning of her departments, purchasing and budgeting, and spearheading marketing campaigns, all the while keeping on top of everything going on in the spa and leisure industries, both in the Maldives and around the world.
It's an interesting challenge, but Roxana is used to management roles. She rose to the position of Spa Director with the Fairmont Hotels & Resorts group before she even began her Esthetics training at Canada's Top Spa School.
"I came to Canada from Mexico when I was 18 and lived close to the Fairmont Empress in Victoria, BC. Every morning I walked past this beautiful castle and really wanted to learn more about it. The first job opening I saw available was a spa receptionist, for which I applied instantly. The rest is history! For me it was the beginning of a beautiful journey that has taken me to places I would have never imagined. The more I learned about the industry, the more I became interested. I started to understand that it takes a special group of people to work towards the overall wellbeing of a complete stranger. It takes passion, selflessness and good energy to pull it all together. By the healing power of touch you can cure many conditions and make a good living at the end of the day."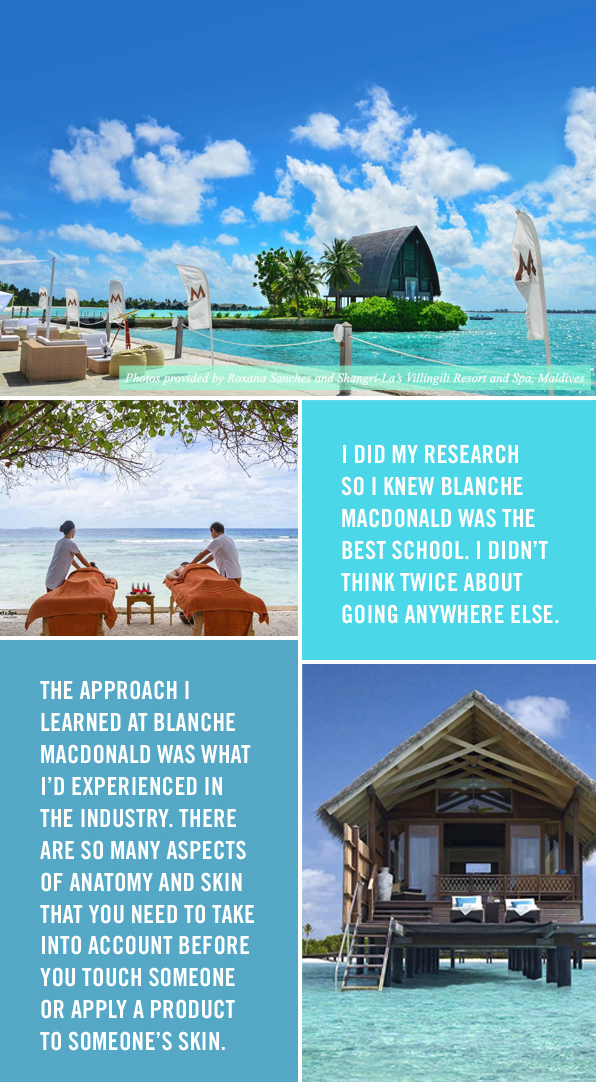 All Roxana needed to get her career rolling was a foot in the door. The more she learned about the spa industry, from administration to therapies to products, the more she loved it. She quickly rose to the position of Group Coordinator to Spa Reservations/Revenue Manager and was soon transferred to The Fairmont Mayakoba in the Riviera Maya, Mexico to become Assistant Spa Director. From there she was invited as an Acting Spa Director at Fairmont Nile City in Cairo and subsequently to Beijing, China as Spa Director for Fairmont Beijing. Roxana had become an international force in the esthetics world.
Read More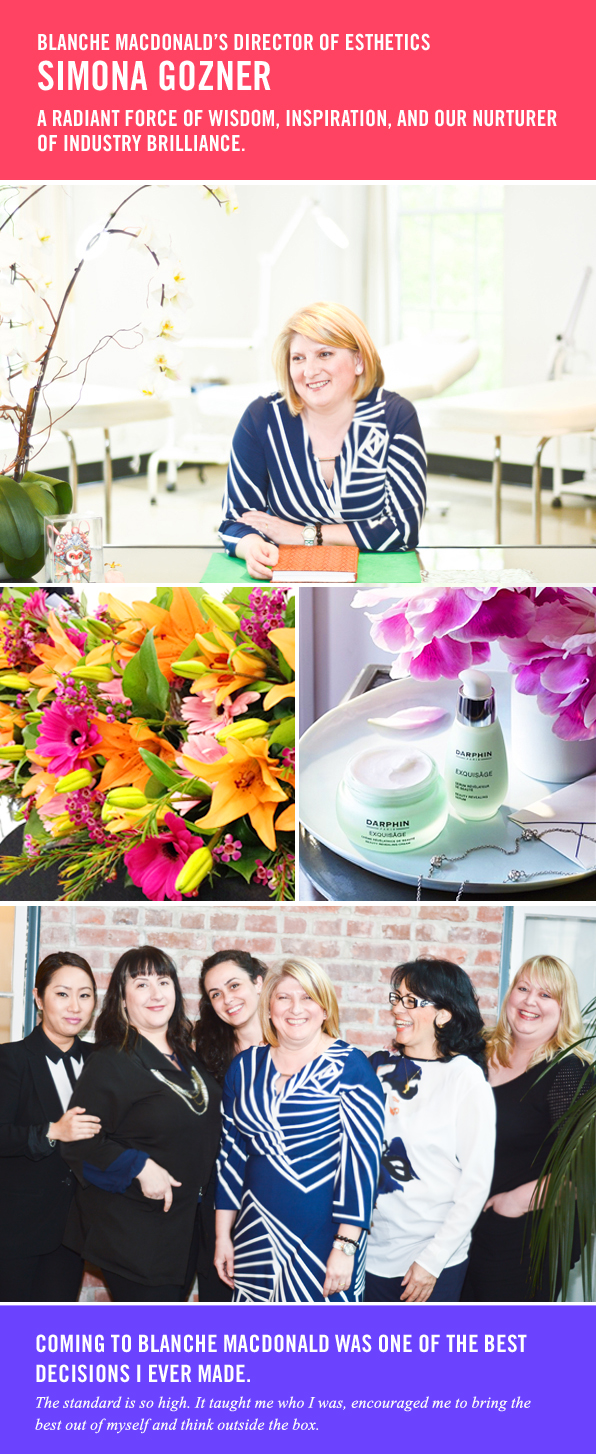 Hollywood doesn't make biopics on estheticians yet. There are still a few rock stars and revolutionaries to tick off the list first. When they do get to estheticians however, they'll probably begin with Simona Gozner.
25 years ago she was a refugee in a foreign land. Now, after a triumphal career with some of Canada's biggest spas and skincare lines, Simona has made a home for herself as Director of Esthetics at the same School where she once shone as a student.
"A great teacher is a student!" she insists. "We learn from each other and aspire to become better. One thing I've learned since I returned to Blanche Macdonald is how important it is to work as a team. That means the Esthetics Instructors, the faculty of our other departments, the Admissions Directors and students.
"As Instructors we're continually learning, taking different educational ingredients and connecting them in a way that creates a unique formula specific for each group of students. It's a very creative art."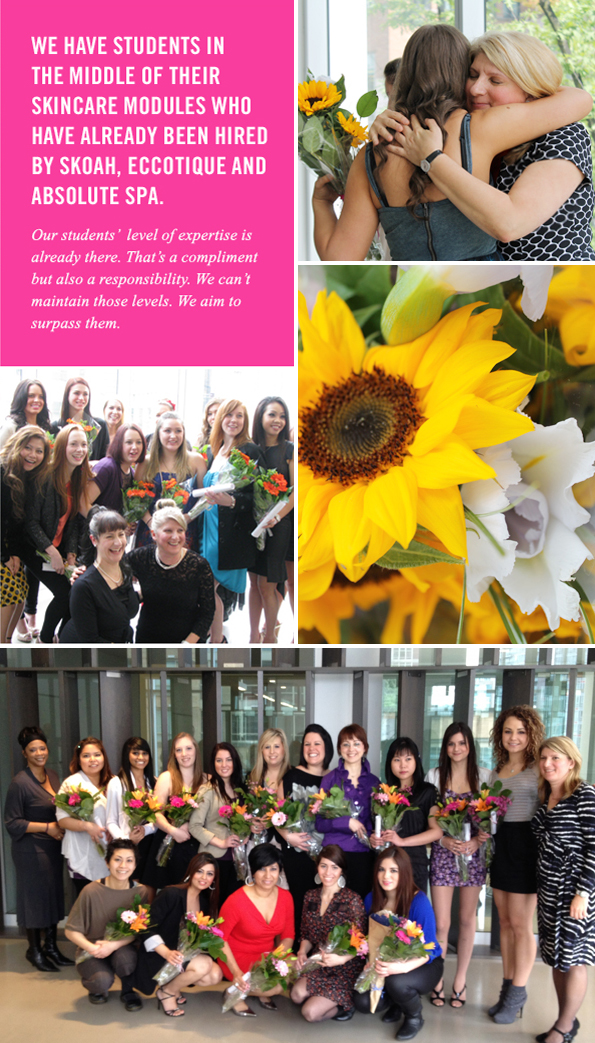 Simona's creative journey to Canada's #1 Esthetics School began on another continent, where the violent overthrow of dictator Nicolae Ceauşescu in her native Romania forced her to make some dramatic and unscheduled life decisions.
Read More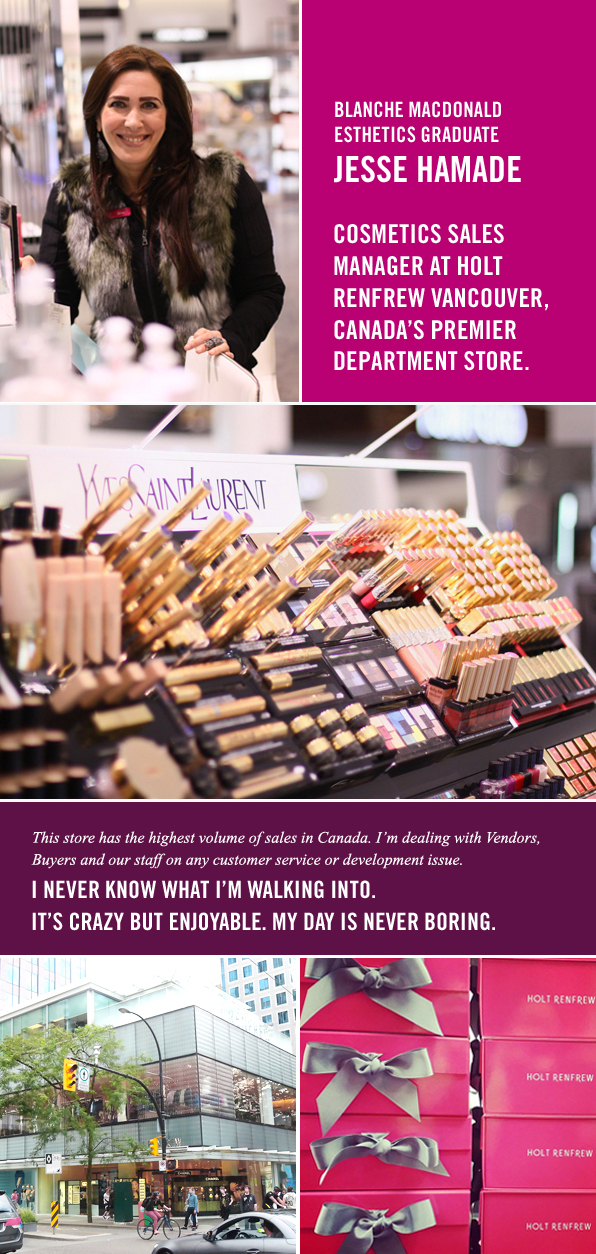 The phone never stops ringing.
Every five minutes, without fail, Jesse Hamade's in-store cellphone bleeps into life. That's entirely normal for one of the three Cosmetics Sales Managers at the Vancouver branch of Holt Renfrew, Canada's leading luxury department store. She's in high demand.
The continual stream of questions and requests doesn't faze Jesse in the slightest. An ability to deal calmly with the issues at hand comes with the territory.
"It's chaos!" she laughs when we bring up the question of what a typical day at Holt Renfrew looks like. "This store has the highest volume of sales in Canada. We have 80 associates in our department and if I'm the only manager on duty it gets busy. My phone is always on and my team is always calling me for something. I'm dealing with vendors, buyers and our staff on any customer service or development issue. I never know what I'm walking into. It's crazy but enjoyable. My day is never boring."
Jesse is Holt Renfrew's Cosmetics and Skincare department's swan, gliding serenely on the surface but working hard underneath all the same. And a major part of that work is ensuring that Holt Renfrew's many associates are as well-prepared and supported as possible.
"To me luxury means that our associates come first," she explains. "We don't throw people on the floor without an extensive training program. We want to do everything we can to help our staff succeed. My door is always open. There's a lot of mentorship that happens."
Read More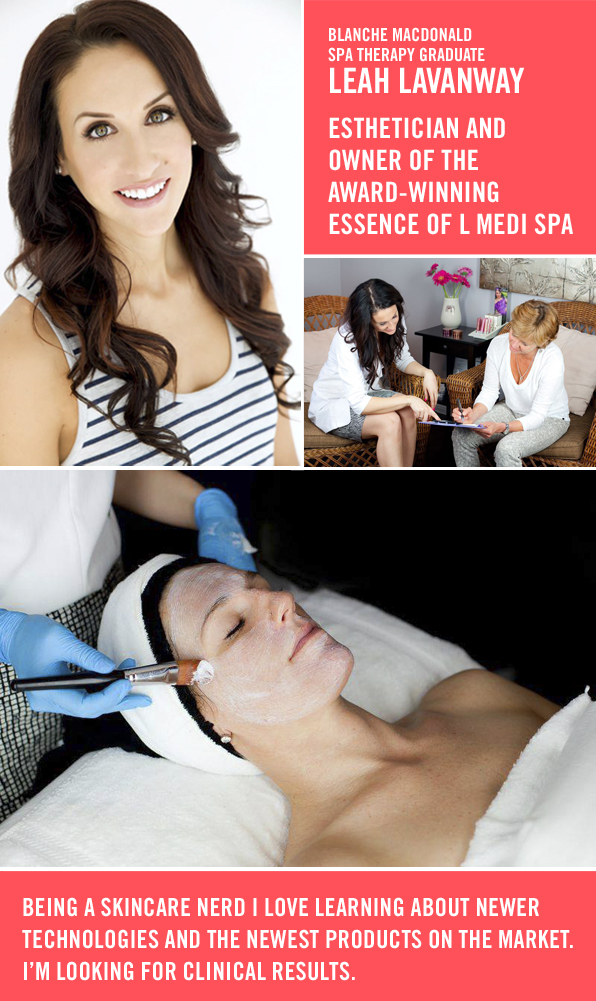 At first glance Dolphin Street in White Rock, BC looks like any other residential street in Greater Vancouver's greener suburbs. The only clue that something special is happening there is the Essence of L Medi Spa sign proudly standing in front of the home and workplace of award-winning esthetican and Blanche Macdonald graduate Leah LaVanway. It's where she's changing lives.
"Last year I won the Surrey Now Awards for the 'Best Day Spa' and 'Best Laser Clinic' for the Surrey/White Rock area and have been nominated for both categories again this year" smiles Leah. "That's people in the community voting for me! Every client that comes here for the first time says that they didn't expect a home-based spa to look like this. I wanted to create a tranquil sanctuary. The energy here is really calm and clients can connect with that."
The atmosphere at Essence of L may be relaxing, but that doesn't mean that Leah isn't providing serious skincare treatments. Dermapen, Celluma LED Therapy, Cold Laser Therapy, Microdermabrasion, Clinical Peels and Clinical facials are all available for clients looking for long-term solutions to skin concerns. Leah understands how debilitating skin conditions can be. She speaks from personal experience.
"I had cystic acne for ten years," she explains. "Struggling through that was challenging. I tried so many over the counter products. I used to go to a Russian esthetician in North Vancouver for my deep cleansing acne treatments and she'd perform manual extractions for over an hour. It was excruciating but gave me some form of physical relief."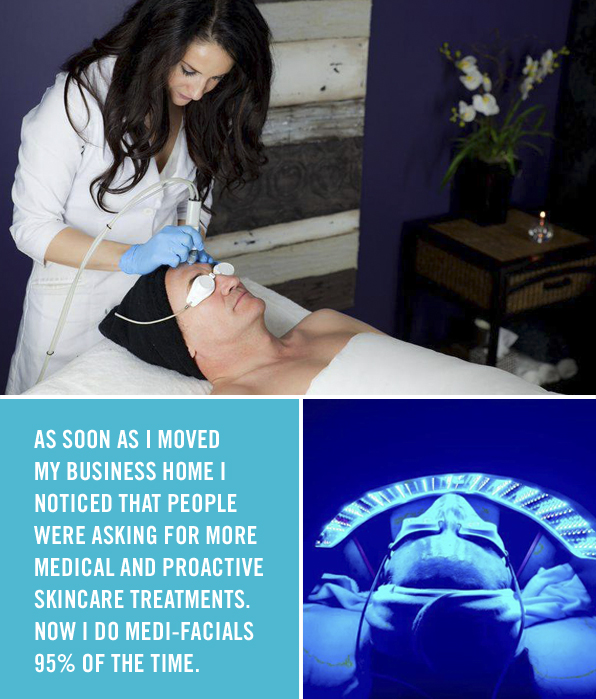 Leah was working in Mexico when a poolside discovery with a new friend led to a life-changing decision.
"She was an esthetician, studying Holistic Nutrition and Reiki Therapy. I read her workbooks daily and found them fascinating. Information about food allergies, and mineral and vitamin deficiencies made so much sense to me. I knew what I wanted to do with my life. I came home and told my parents I wanted to be an esthetician. I wanted to help people through the process and to see the light on the other side.
"I started researching esthetics schools and Blanche Macdonald was one of the first places that came up. It was love at first sight. Everyone I spoke to was open and honest. I came back to Canada in August and started the Esthetics Program in September."
Read More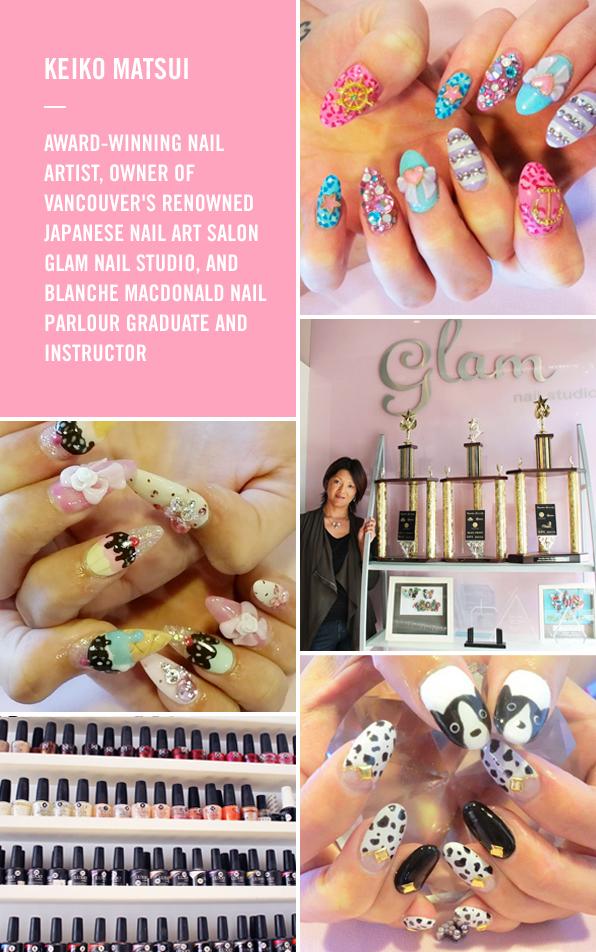 In the cozy, clean and crisp white space of Glam Nail Studio, the morning sun glints on the golden array of Nail Art trophies jostling for space along countertops and shelves, intersticed with the framed sets of the winning artwork. The girls have only just settled from the bustle of their opening preparations, and the stations are already babbling with the first customers of the day; that is, with exception to our chair and the one opposite where sits the owner of this Award-Winning space, Blanche Macdonald Nail Parlour graduate Keiko Matsui.
"At first I wasn't aware of competitions," chirps Keiko, swiveling to look at the impressive collection of glass and gold with a humble shrug. "Some of our staff that came in from Tokyo to work with us were wanting to go to Las Vegas; the competitions there are world renowned. I decided to give it a shot and I won third place the first time – I was very, very happy. Now, since we've begun winning these awards, there are nail technicians that want to come to work in this salon so that they too can win awards at the competitions. They know we know what we need to do!"
They certainly do. Just over six years into business, the Glam Nail team boasts an astounding twenty-one international awards for their highly acclaimed Japanese nail art, including Keiko's 3D Nail Art First Place win at IBS Las Vegas. And people have been noticing.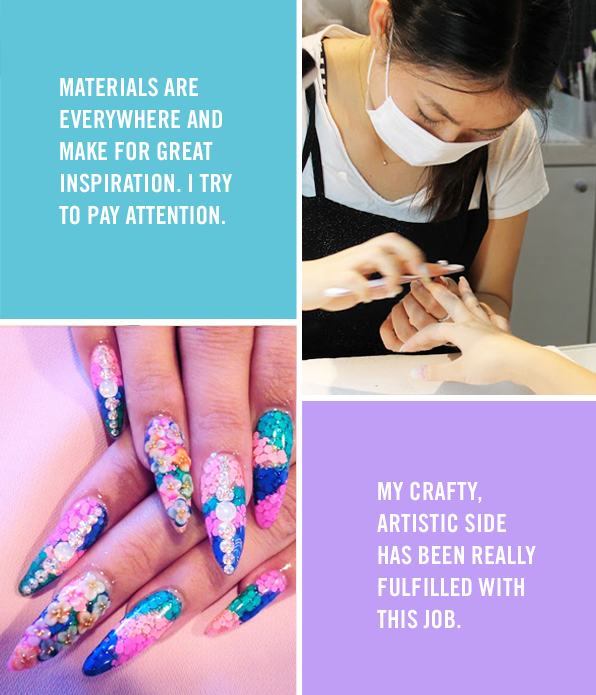 "Customers are actually coming in from different areas, crossing the border; sometimes they're even flying in, coming by as they pass through the Vancouver International Airport!
"We try to get the most experienced nail technicians; they are so dedicated to the salon and we have won many competition awards. Even now, Glam Nail is still one-of-a-kind in the Lower Mainland."
Since first tossing open the doors in the summer of 2008, Glam Nail's client base – which began only with a small group of loyal customers from Keiko's freelancing days – has grown exponentially, keeping the salon in constant flux and on their toes. This, in part due to the fact that Keiko and her girls are creating a new niche by educating Vancouverites about Japanese nail art technique and design.
"When I was still in Japan, about 18 years ago nobody was talking about nails. Japanese nail art really happened in the past 15 years or so; the nail technicians began to win awards in the international competitions, and the prominent ones were all of a sudden always in the magazines. Historically in Japan, the craftsman and craftsmanship is very appreciated. It was because of this that they were able to gradually establish so many nail art styles."
Read More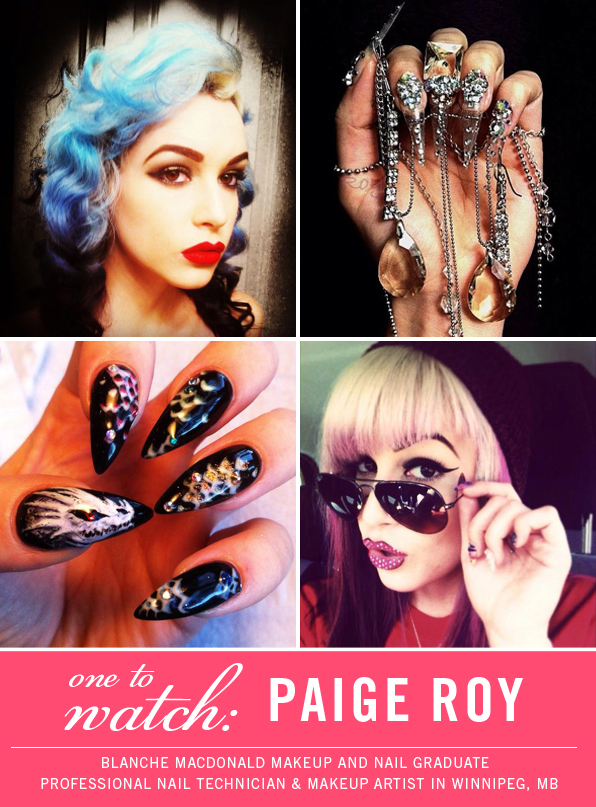 For clients of twice-graduate Paige Roy, imagination is truly at their fingertips. Since launching off from both Blanche Macdonald's Global Makeup and Nail Parlour programs, Paige has been busy brushing out incredible creatives which have seen nails metamorphosed into monarch butterflies, dragon's treasure, beetle shells and lightning storms (to name a few).
With a social media following that is on the up and up, a position as Nail Technician and Makeup Artist in one of Winnipeg's hottest salons, Cutting Loose Hair Design, and exciting makeup adventures on the horizon, the young lady from the small town of Victoria Beach, Manitoba is already changing Winnipeg's perception of what's possible.
"I really like when I'm taking off my clients' nail work, and they say 'Oh! It doesn't hurt! My nails still look good!'" she laughs. "I say 'Yeah! It's because I do it properly!' It's nice when people realize that I'm doing things the right way and taking my time to do it well. I've got a lot of girls who are used to going to other shops who want to be out in 20 minutes. Once they sit down I tell that they'll be here for a while!"
Paige is now the go-to girl for nail art and event makeup in Winnipeg, but it took her traveling across the country to Canada's Top Makeup and Nail School to get there. Piqued by the artistry she encountered during her stint modeling, Paige made the leap to the other side of the brush and began her search for the best place to make most of her time away from home, leading her to take on a pair of courses at the Blanche Macdonald Centre.
"I saw that there was a Global Makeup program and I knew I wanted to do that. The Nail Parlour course looked amazing as well, and when I found out that Makeup was only three days a week, I knew that I could fit it in!
"I thought it would be more scary because it's such a big city, but I was close to school and it was super easy to get everywhere. There was a speaker from MAC Cosmetics a couple of days before I started, and my Admissions Director Jill Wyness suggested that I come to see that. The transition was so nice, and everyone was really helpful."
Read More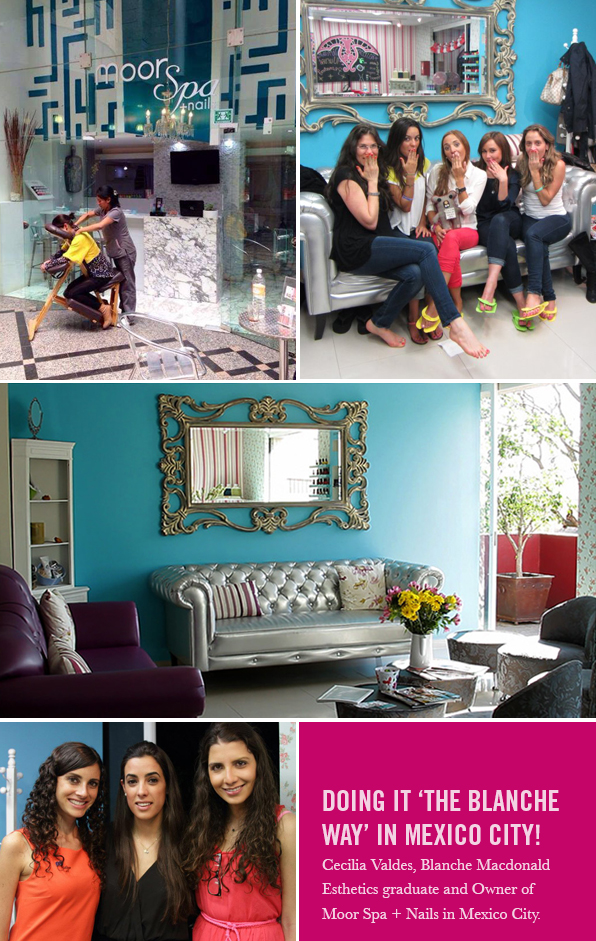 For Cecilia Valdes, born and raised in the bustle of Mexico City, an opportunity presented is never untaken, especially when it involves a business plan and a venue through which to share the healing powers of natural products.
"For me, it is the key element. The market in Mexico is only starting to be more aware [of the benefits of natural ingredients]. We are a little bit behind on that, but I feel that it is important. A line that gives you great results and is natural? Well, I think that's the best combination."
This winning combination comes in the form of Moor Skincare which, thanks to Cecilia's phenomenal entrepreneurial spirit and head full of fresh know-how from Canada's Top Spa Therapy School, is now an established favourite in her home city, sold in her lovely Moor Spa + Nails locales.
"After graduating from Blanche we came back to Mexico City, in November, and by February we had opened the spa. So everything was very fast!"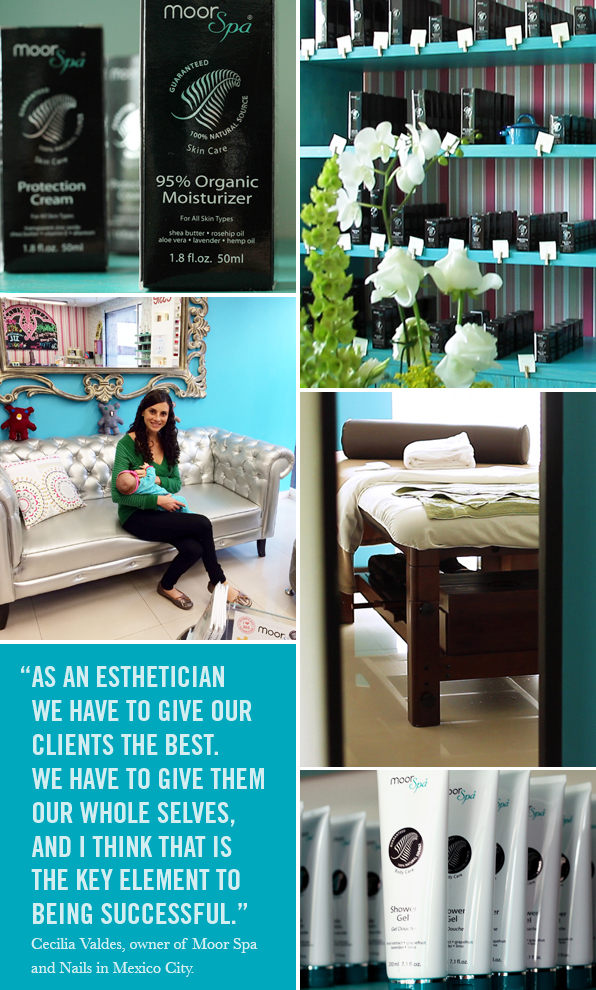 And it's been shooting up from there. In only three short years since Cecilia and her husband opened the doors to the first ever Moor Spa, they have laid the foundations of a botanical skincare empire with three buzzing locations, including one nestled in the prestigious walls of Saks Fifth Avenue. This growth may seem incredible, until you meet with her fiery sparkle and you realize that Cecilia is a woman for whom words of 'okay' or 'good enough' simply do not exist.
"You do the right things, you have the right personality and the right location… but I think the most important thing is the service you offer. As an esthetician we have to give our clients the best - not just a facial, the BEST facial they have ever had. We have to give them our whole selves, and I think that is the key element to being successful."
Read More