Esthetics & Nails


BEYOND FACIALS:

Spamedics

Medi-Spas have become a multi-million dollar industry faster than the speed of laser light. Doctors and Estheticians working together are constantly seeking the latest in facial rejuvenation cosmeceuticals, techniques and equipment. By combining their knowledge of skincare, they are able to offer innovative anti-ageing and health maintenance procedures both topically and subdermally with little or no downtime. After all, our skin is the largest organ of our body and can be an indicator of overall health.

The myriad of available treatments may read like Science 12 projects at first glance but they are light years beyond. In the world of anti-ageing, beauty and overall health, new treatments and products are being introduced almost daily. IPL, LED, EMS, MET, Faradic, Galvanic, Polyglucan and Beta-glucans...just what do they all mean?

Shedding light on these exciting cosmetic and medical therapies is the new Cosmetic-Rejuvenation training at the Blanche Macdonald Centre. Responding to the growing need of professional Medi-Spa training in spas and clinics, the college has added this dynamic module to its highly-renowned Professional Esthetics / Spa Therapy program.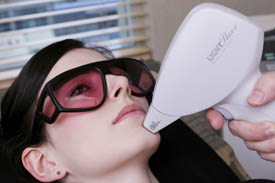 The Cosmetic Rejuvenation section combines forward-thinking education and interactive workshops with industry professionals, providing students with much-needed knowledge of advancing procedures and opportunities. This specialized curriculum includes studies in Fitzpatrick skin typing, the evolving types of light therapy lasers, IPL and LED, current cosmetic surgery techniques including mesotherapy and injectibles, advances in product formulation geared towards medi-spa treatments and cosmeceuticals, working within a clinical environment and following medical esthetic protocols.

Students receive BMC's exemplary Spa / Therapy Esthetics training, focusing on all aspects of skin care, anatomy, drug interactions and physiology. This solid knowledge background is critical for Estheticians and Spa Therapists who choose to work with medical practitioners or as Medi-Spa supplies.

Karen Melynchuk
Laser Technician, Vancouver Laser Centre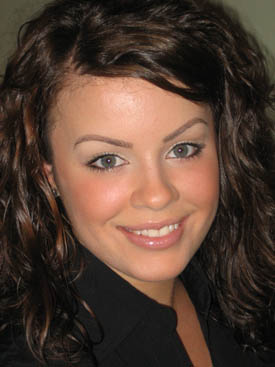 Putting the boot to aging effectively but gently with non-invasive laser and injectable treatments is Karen Melynchuk, Medical Esthetician at Dr. Martin Brauns' Vancouver Laser Centre.

She feels that society is becoming more health conscious and is experiencing a natural desire to fight our collective biological clocks. Joining that fight are cosmetic rejuvenation clinics that, according to Melynchuk, are equipped not just to help smooth patient's wrinkles with Botox, but also to address the many concerns that plague individuals as their bodies age.

"No two people are alike, and therefore, their treatments will not be the same. As new technology continues to develop, we will have even more treatment options available as we battle on in the fight for our ideal face," says Melynchuk.

What is the most fulfilling part of her job as a Laser Technician at the Vancouver Laser Centre? It is her clients' over-the-top excitement about the results they see from their treatments. "It feels wonderful to know that you've played a large part in their new confidence," says Melynchuk. She feels her Esthetics / Spa Therapist training and the support of her instructors completely prepared her for a career in Medical Esthetics.

"While studying at Blanche, they taught me about client care, professionalism, and ultimately, how to give each patient I see a 'wow' experience. The instructors at BMC did a great job of not only giving praise and encouragement for the different areas we wanted to take our careers, but they managed to make every single person in the class feel that their individual dream was attainable."

Fontini Corletti
Distributor, Vancouver Cold Laser Clinic

It is an exciting time for Blanche Macdonald grad Fotini Corletti. Not only is she the distributor of Vitasonix Cold Laser in Greece, Mexico and for various cruise lines, she has recently opened her own anti-ageing clinic in the Kitsilano area of Vancouver.

Before becoming an Esthetician, Corletti worked extensively in the fashion and cosmetic industries. She feels very fortunate to be in the Cold Laser / Anti-ageing industry right now because of all the options available to Estheticians and to their clients. She finds clients to be very up-to-date and educated on the latest treatments and credits this awareness to the Internet and media.

Developing a relationship with her clients and seeing the transformation and results achieved with microdermabrasion and cold laser is the best part of her job.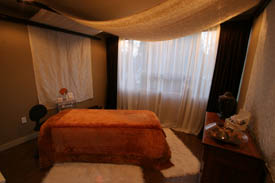 She sees her clients' self-esteem improve and touch every part of their lives.

"It's so rewarding to have teenagers, for instance, coming in for the first time, feeling self-conscious about their appearance because of acne or other skin conditions, and within a few weeks of treatments witness the transformation of their personalities. They start to feel better about themselves and their appearance," enthuses Fotini. She credits Blanche Macdonald's Esthetics program with teaching the most current education and newest methods, procedures and tools available on the market, thereby preparing her for her fast-paced and rewarding career. She also acknowledges the support she received from her instructors at the Blanche Macdonald Centre.

"My instructor, Sari, went beyond her responsibilities as an instructor with her vast experience as a Esthetician and her knowledge of the industry. It was invaluable as far as hands-on training, but she was also genuinely interested in each and every one of her students and provided the best experience possible during and following the course," says Fotini.

"I can honestly say it was one of the best experiences of my life and it prepared me for the world of Esthetics in a very profound way. I made some very good friends and the support and encouragement have been continuous. They have been there for me in every way!"