Esthetics & Nails
Esthetics/Spa Therapy Graduate
Pre-Opening Spa Director for the first Park Hyatt Spa and Wellness Centre in China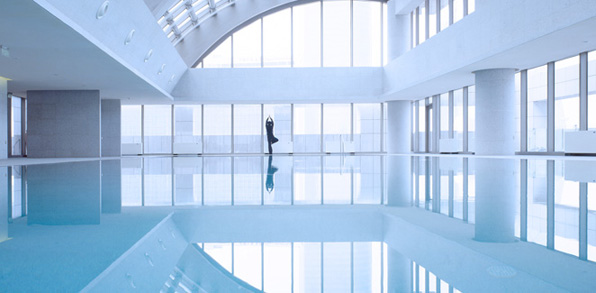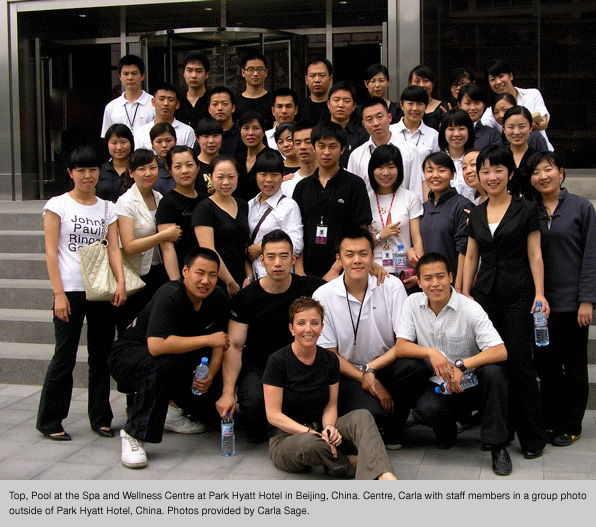 As a Pre-Opening Spa Director, Carla Sage is honored to have been the leader driving the Spa, Wellness and Fitness areas for the first Park Hyatt Spa and Wellness Centre in China. Carla has also lent her expertise as a consultant to various spas in the Caribbean and Central America. With a well stamped passport at the ready, Carla's passion for Spa Therapy knows no bounds!
BMC: Tell me a brief summary about how you started your career after graduating from BMC.
CS: After graduating from BMC (BMI at the time) I began working as one of the Esthetics Instructors. I already had graduated from West Coast College of Massage Therapy as an RMT, so the addition of an Esthetics Diploma was a great complement to my career and welcomed asset to teaching. I worked for BMC for 3 years and excelled to be one of the Senior Esthetic Instructors. From BMC, I was hired by Dermalogica International as the Director of Education for Canada. I worked for Dermalogica for just over 3 years and then began consulting, taking work contracts in Kelowna, BC, the Grand Cayman Islands, Belize in Central America, Anguilla in the British West Indies, the Bahamas and then China.
BMC: What was it like being the Pre-Opening Spa Director for the first Park Hyatt Spa and Wellness Centre in China?
CS: One of the most challenging positions of my career for sure. To give you an idea of my scope of work:
"This project offered guests a choice of two spas. The first classified as a Hyatt "pure luxury" spa sharing an international menu with a flare for the authenticity of traditional Chinese massage methodology, while the second Spa offered a menu dedicated entirely to traditional Chinese medicinal based treatments. I co-designed both the menus and the treatment protocols for both.
Along with the Spa there is a wellness centre offering yoga, Pilates, and meditation sessions. A juice bar, a nail bar, 8 foot massage stations and an additional 16 treatment rooms, 2 fitness centers and 2 - 25 meter pools completed the facility. I co-designed the programs, the menus, the layouts for the complete facility from start to finish.
Also, as part of my contract in Beijing, I played an integral part of a regional pre-opening support team. My responsibilities included training new and existing spa staff in all positions with special focus on esthetics and massage therapy for the Seoul, Hong Kong, and Saipan properties, as well as properties in 3 smaller communities throughout China."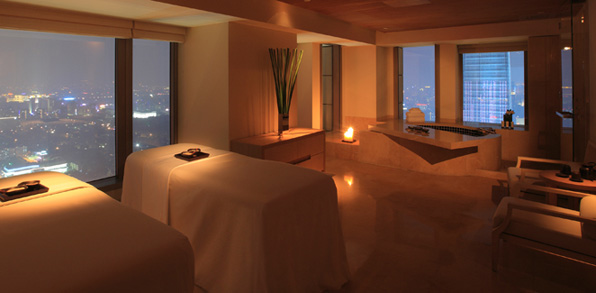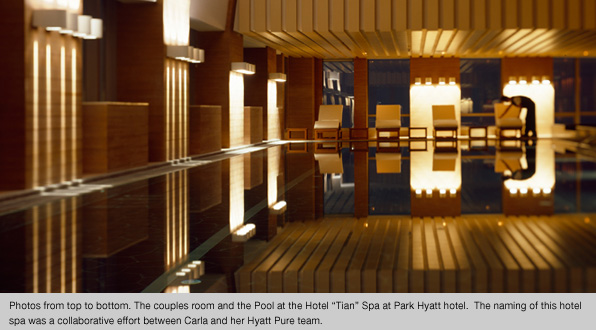 BMC: What were some of the challenges or obstacles that you have had to overcome during your 2 years in China?
CS: This is a tough question... it would be easier to tell you what was not a challenge. The language barrier was most difficult; I had an interpreter all the time, for everything.... I had to learn a bit of the language, as well as become educated in Traditional Chinese Medicine in order to co-design the menus for the Spa's. The culture is also difficult. Our CEO would start every meeting by saying.... " In China, everything is possible, and nothing is easy!" He had lived there for over 30 years..... that pretty much sums up the challenges of a foreigner.
BMC: You have travelled quite extensively in Asia, the Caribbean and Central America, which one is your favourite place? Why?
CS: Out of all my travels... I would have to say that Anguilla, in the British West Indies is my favorite spot..... I would go back and work there again... it is beautiful life is quiet, slow and peaceful. The island is 11 miles long and there is one grocery market, and one gas station.... you have to take a boat to get there, and the beaches are silk white sand and sun sets that make you stop what you are doing. I love the heat so this is the ultimate for that as well..... averaging 40 C any day of year.
BMC: What was your most unforgettable moment working in Beijing?
CS: Perhaps not a moment, but the people.... they are incredible. I have a huge amount of respect and love for those I met and worked with.... they live in a very repressed society, the communist government is everywhere and they grow up so limited to "life" skills and understanding what is outside of their country.... yet they are loving and thankful and have the hearts of gold.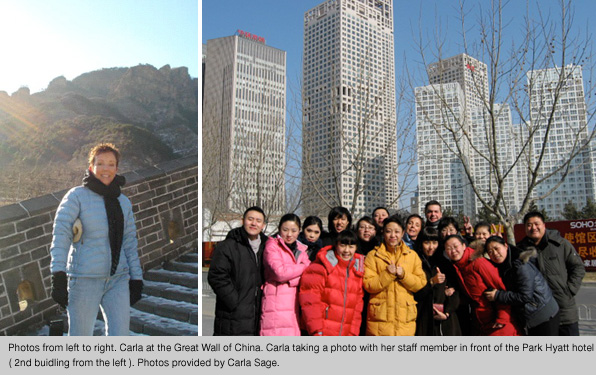 BMC: After working 2 years, what would you say are some of your biggest accomplishments?
CS: I've been in this industry for 15 years and I feel very blessed to have travelled as I have. The cultures I have worked in, the people I have met, the experience I have gained is priceless both to my career and to my life learning. So.... I can't say that I have one "big" accomplishment, except that I have a great portfolio of education in the Industry from all over, and I still love what I do.
BMC: Why did you choose Blanche Macdonald Centre?
CS: At the time there was BMC or Marvel.... I met them both and Lily (this is fine; Lily will ultimately have to decide this) was amazing to me.... between her and Peggy I was sold...... I made the best choice and learned some great business skills from both Lily and Peggy (same for here; we always include a student/grad's positive feedback about our staff and faculty) and Esthetic techniques from my course. I found the course interesting and realized that Spa was the route for me... along with my RMT I thought I had a good basis for instructing and Lise (the Esthetics Director at the time) was a great inspiration to instructing. BMC gave my foundation and also gave me the avenue to work for Dermalogica which was a career move that made my path what it became and how I got to where I am.
BMC: What would you tell future students coming to Blanche Macdonald Centre?
CS: Talk to instructors first to be sure you are getting into the right area.... Apply yourself and absorb every moment and every ounce of information from your Instructors.... they are talented ladies (and probably men now) at BMC, Lily hires only the best of the best ;)