Esthetics & Nails
Nail Parlour Graduate
Owner of Glam Nail Studio - Richmond BC
Keiko Matsui graduated from Blanche Macdonald's Nail School and established K's Mobile Nail Bar as a creative outlet while on maternity leave from her job at a local spa. In the years that followed, the demand for Matsui's Japanese-style 3D nail art was so high that in 2008 she opened Glam Nail Studio in Richmond, BC in order to serve her large clientele. Matsui is also an award-winning nail artist, achieving third place for her design at the 2009 Nailpro World Competition in Las Vegas.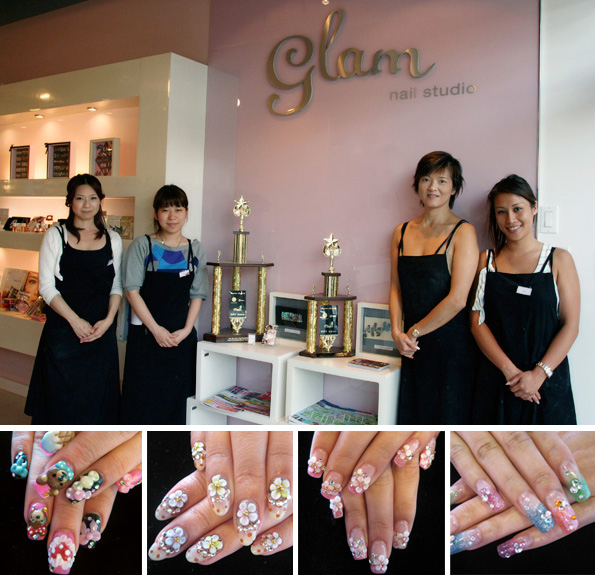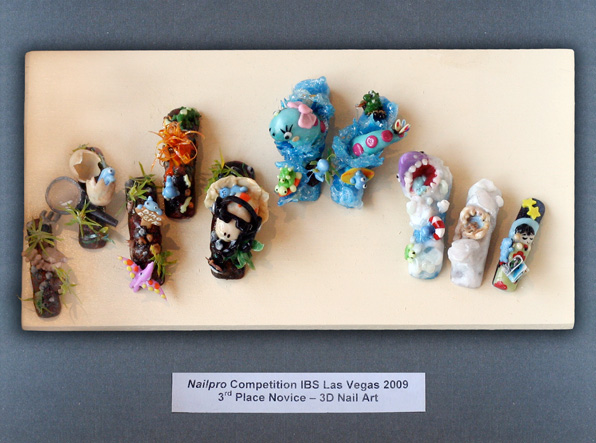 BMC: What was the inspiration behind this spectacular 3D nail art design?
KM: The theme for this 3D nail art design was "Prehistoric". We may tend to associate prehistoric era with rather dark colors such as brown. I wanted to use bright colors in this nail art, since my profession is to handle various colors. The design idea just came out very spontaneously.
BMC: Tell us about Glam Nail Studio. How did it come about?
KM: After graduating from Blanche Macdonald, I got my license, quit my job and joined the local spa as a nail technician for one year before I went on maternity leave. While working for a spa, I also had some clients on a mobile basis, meaning I went to their houses to do artificial nails with designs. When my son turned one year old, I started taking more clients and few years later I had too many clients to handle. So, I decided to open a salon to accommodate more people.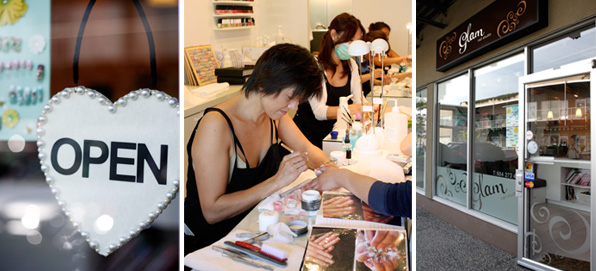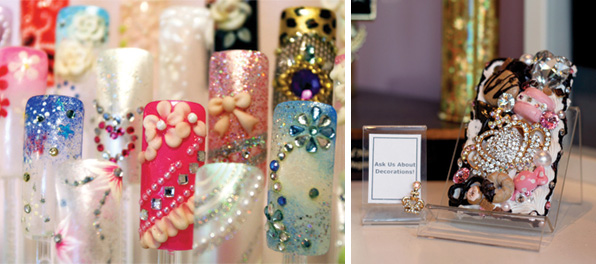 BMC: What were some of the challenges?
KM: Everything was a challenge. For the first few years, almost all the designs I did were for the first time. I remember receiving calls from clients about problems such as broken nails or stones coming off and so forth. Through trial and error, I have learned a great deal from each problem, taking each comment to heart and finding out the reasons to the cause of the problems by researching through the Internet, blogs and magazine articles. And this is not just the past - I still face some of these challenges today and this is one of the reasons why I cannot stop doing nails. I love to learn and improve.
BMC: I heard you have lots of fans that love your 3D art at the salon. So what are the top 3 most requested 3D nail art designs?
KM: Flowers (especially roses), ribbons and Hello Kitty.
BMC: Where do you get your inspiration?
KM: Every morning after my husband leaves for work and before my son wakes up, I am on the Internet. I visit Japanese websites, looking for good nail art designs and trends. I also keep an eye on trendy fashion boutiques with great styles to get ideas of colours, patterns, etc.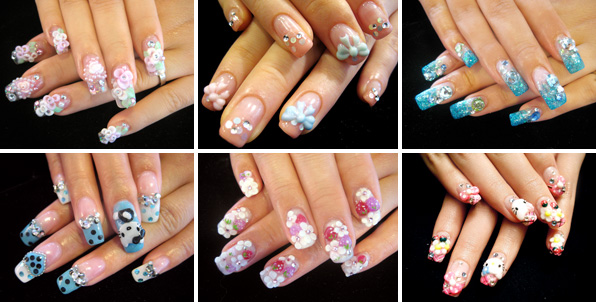 BMC: What are some of your favourite products?
KM: I purchase products not only from local suppliers, but also from other countries in Asia and the US. Especially 3D nail art brushes, they are important to me. I purchase my nail art brushes from Japan. If you saw the number of brushes I have, you would see how important brushes are to me. They are very important tools.
BMC: What would you say is the key to your success?
KM: Honestly, I am still far from being successful. However, one thing I know for sure is that I love creating things and doing nails. I never really think about being successful too much; instead, I just keep doing what I love and just let the results come naturally.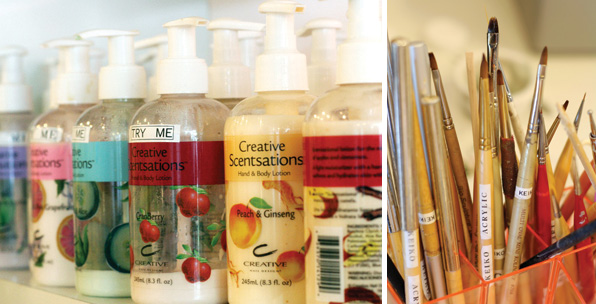 BMC: How did you hear about Blanche Macdonald Centre?
KM: I heard about your school from my friend. She is a graduate of your Esthetics/Spa Therapy program. I had a full time job and needed a flexible timetable to suit my needs. Blanche Macdonald was what I was looking for.
BMC: What would you tell future Blanche Macdonald Centre students?
KM: I am proud of being a Blanche Macdonald Nail graduate. I learned a lot of things; above all, I learned the important values and manners that a nail technician should have. We ensure that our studio is very clean at all times because sanitization is very important in our salon. Blanche Macdonald was the right choice for me. The College has taught me what I needed to know in order to run a professional nail salon with a fun atmosphere that provides great nail services for clients.
BMC: What did you enjoy most about the Blanche Macdonald's Nail Technology Program?
KM: My classmates were all from different backgrounds. There were housewives, students, office workers and so on. We all shared one common goal and were constantly inspiring each other in class, that was really was fun.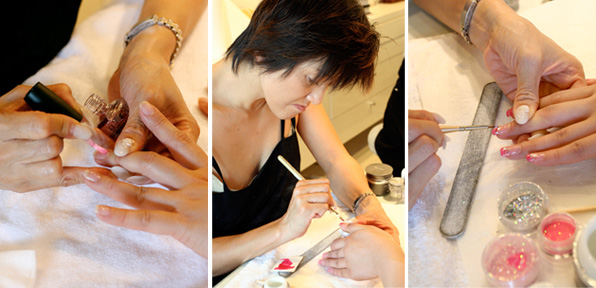 For Japanese version of this story, please click here to view.