Esthetics & Nails
From jet setting to exotic locales as an International Spa Consultant to surviving a terrorist attack in Mumbai.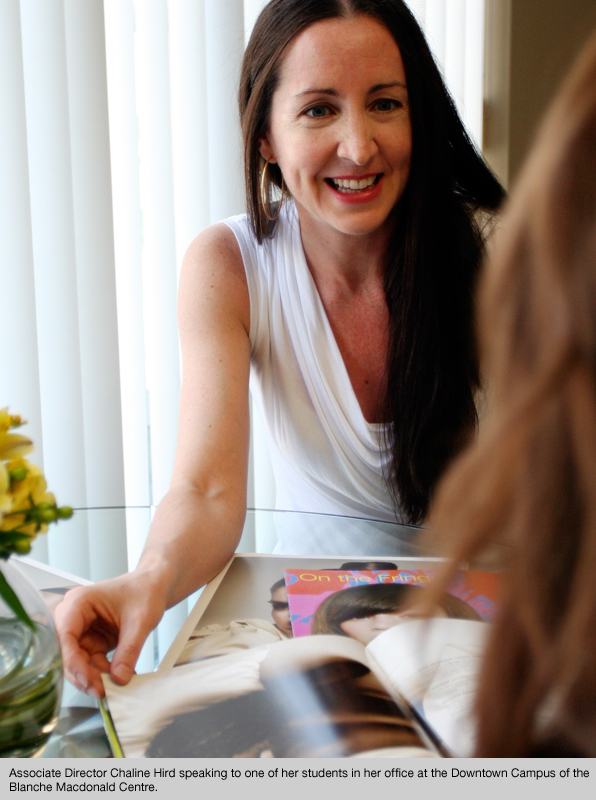 From behind her desk in Blanche Macdonald's Downtown Campus Associate Director Chaline Hird is the very essence of calm elegance. Her office is meticulous. Her smile is welcoming. Any time a student has a problem or a question, Chaline listens attentively before delivering the benefit of her considerable wisdom.
Little has changed in seventeen years. In 1993 Chaline was an Esthetics student at Blanche Macdonald. Her favourite instructor was Lise Graham, who today is the Managing Director of the Downtown Campus and just happens to occupy the office next to Chaline.
"As a student she was always at the front of the room," smiles Lise. "And there was always a grin. Everything she did was perfect.
"When I became Managing Director every time a position came up I'd say, where's Chaline? She's phenomenal, just like she was as a student. She's a perfectionist. She's very detail-orientated. And she genuinely cares about other people."
It's not unusual for Blanche Macdonald students to end up rejoining the family on a professional basis down the line. After all, they've had the best training. But Chaline's journey as a manager, director, trainer and consultant for some of the world's finest spas and back to the school is beyond remarkable. It's taken her from Vancouver to Australia to England to India and back again.
Her incredible adventure began with the decision to come to Blanche Macdonald.

"I'd heard of Blanche Macdonald through word of mouth," recalls Chaline. "My mum was in the industry and she had Blanche Macdonald grads working for her. I'd always heard great reviews. As soon as I arrived I felt I was meant to be here. I loved the camaraderie. It was a really positive atmosphere. And I was so passionate about what I was learning."
Chaline won a job in the Downtown Vancouver's Sutton Place Hotel straight out of esthetics school.
"I got that job through the career resources at Blanche Macdonald. I felt prepared, but I still was really nervous. Real paying guests in a hotel! And it was a hotel that catered to celebrities. I worked with Tom Selleck, Susan Lucci, Ray Liotta, the cast of The X-Files and models like Christie Brinkley. When you're working on celebrity guests you know they have the resources to go to the best spas in the world. And you're giving them a treatment they love! That makes you feel great about what you're doing and the level of training you've received."
Chaline soon became head esthetician and trainer at Sutton Place, which in turn led to a job offer from Aveda, travelling around British Columbia training professionals about products and treatments. Chaline instantly took to teaching, and while still working for Aveda returned to Blanche Macdonald as an esthetics instructor.
"Esthetics Director Debbie Nickel and Lise kept tabs on me," laughs Chaline. "They invited me back. I was thrilled! I was so excited about the program. I made the students feel confident in their abilities. I'm a super positive person and I love motivating people! Sometimes my students were like, what is she on?"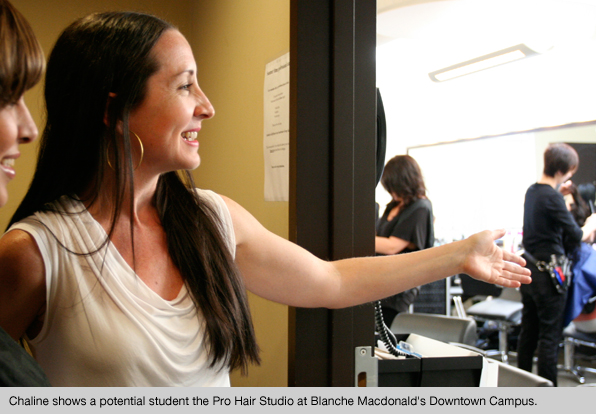 It was time for Chaline's career to go international. The offer of a role with Aveda in Sydney, Australia was too exciting to resist.
"I felt like it was time to jet set," she explains. "I would travel all around Australia, going to different Aveda spas, consulting for them and enhancing their business and sales. The skills I'd learnt travel well, and being Canadian-trained is a huge bonus! Everywhere I've been they say Canadian estheticians are the best. I've been around the world a lot, so I know that."
After four years down under Chaline returned to Vancouver to begin her own mobile spa business. Her reputation as a special esthetician had preceded her.
"I called it C-Spa, for Chaline. The overheads were low, clients were relaxed and the money was good. It was just word of mouth. I never advertised. It was hard work but very lucrative. I ended up hiring estheticians to work for me. When I started there weren't a lot of people doing mobile spas. Now there are. I sold the business to one of the ladies who worked for me ten years ago. She's still running it today."
Chaline sold C-Spa for the opportunity to be a director and part of the start up team behind Miraj Hammam Spa, Vancouver's first Turkish Bath-style spa. Once that was successfully established, Chaline was ready for her next challenge, managing Canada's first Men's spa, the Absolute Spa at the Fairmont Hotel Vancouver.
"I did that for a year and was promoted to Absolute Spa's Director of Advanced Training and Education. I would travel and train and went to a lot of international spa shows. In the UK I listened to heads of hotels and spas from around the world. I heard them talk about the next level of spas, and I knew that's where I wanted to go next."

When an opportunity at the ultra-high end ESPA International arrived, Chaline seized it. She was offered the job of International Spa Consultant, where her role would be to advise the staff and owners of some of the world's elite spas.
Chaline had reached the mountaintop, the executive role with the exclusive spa company, when an otherwise routine trip to Mumbai, India made her radically re-evaluate her priorities.
"I got ill from a local restaurant," she recalls. "I was so ill they sent a doctor to my room and was put on a drip. I was recovering after a few days. Then, at 4am, I got a call from my boss's son. He said, 'I don't want you to panic but there's been a terrorist attack in Mumbai. They're targeting westerners in five star hotels. You can't leave your hotel room until we call you back'.
"The whole city shut down and I was in the room for 52 hours, with just the mini-bar for water and CNN on the whole time. It was terrifying. Eventually I was escorted off the site by armed security guards and put on an airplane back to London. When I got back I felt that I needed to go home and reconnect with my family and friends. So I resigned."
Included in those friends and family were Chaline's former instructors and colleagues at Blanche Macdonald.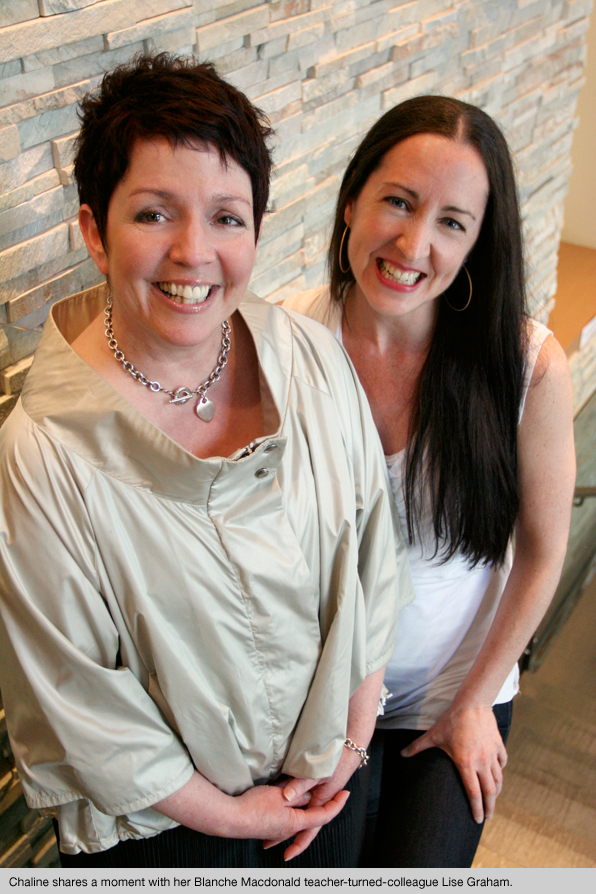 "I emailed Debbie Nickel to tell her I was coming back and I was interested in what jobs she knew were available. I got an email back from Lise Graham saying that Blanche Macdonald was looking to add to its admissions team."
Fate was demonstrating its terrific sense of irony. Chaline had returned to the esthetics school that had launched her towards the four corners of the earth. It turned out that Blanche Macdonald was exactly where she wanted to be.
"I love the people I work with and the atmosphere," she insists. "I love meeting people, taking them through this process of committing to something new and watching them evolve. This school launched me into my career. It's awesome to be a part of it."
Chaline is still the same enthusiastic perfectionist that came to Blanche Macdonald seventeen years. Canada's best esthetics school hasn't changed its attitude either.
"There was a lot of warmth and positive energy going on when I first came here," she smiles. "Now the school is so much bigger and there are so many people involved, it's taken that atmosphere to another level. Nothing stays the same here. It's always moving forward. That's really inspiring."