Esthetics & Nails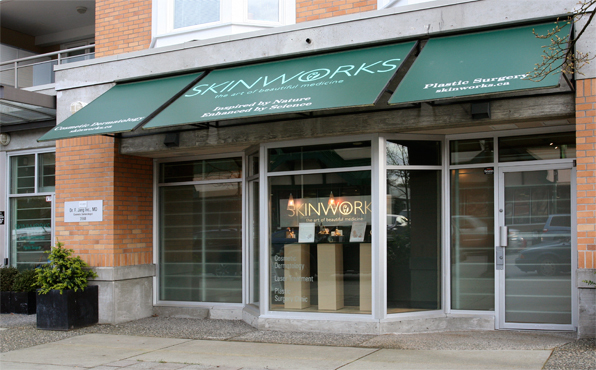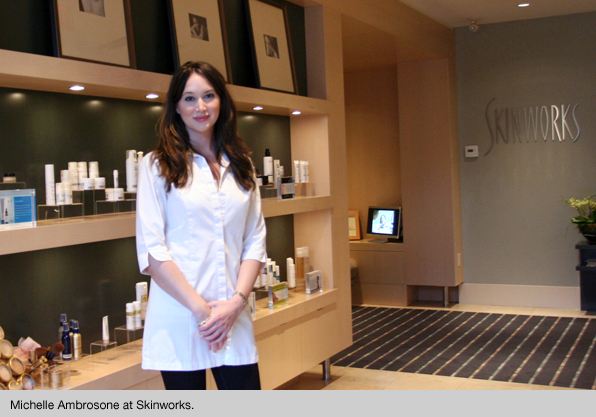 Dr Frances Jang is a dermatological superstar. When magazines like Fashion or Elle Canada, or broadcasters like CTV News need expert advice, Dr Jang is the person they speak to. When she's not sharing her extensive knowledge with the world, Dr Jang runs a private practice with plastic surgeon Dr Nick Carr: Vancouver's most prestigious cosmetic dermatology and plastic surgery clinic, Skinworks.
Blanche Macdonald Esthetics graduate Michelle Ambrosone is a key member of the Skinworks team. She's been a Laser Technician there for the past six years, taking her position at the clinic straight after completing her program at Canada's top Beauty School.
"I started researching jobs before I graduated from Blanche Macdonald," recalls Michelle. "I wanted to start working right away, so I literally went through the phone book calling every doctor asking if they hired estheticians. I was pretty motivated. It was actually one of my instructors, Erin Grimble, who suggested contacting Dr Jang. She ended up being the one."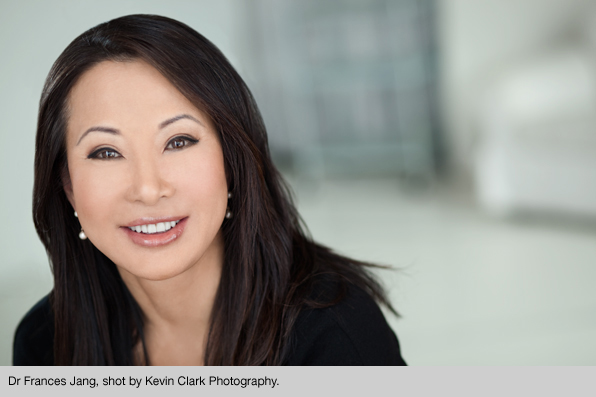 Acquiring a job within the medical field was the culmination of a passion Michelle had developed in high school in the small town of Castlegar, BC.
"This is going to sound nerdy, but I always had a fascination with skin," she happily admits. "I was interested in how the skin works. I wanted to know how to have the healthiest skin possible, and how to create that for other people. If they had problems, I wanted to help them. I knew I wanted to work with skin but didn't necessarily want to become a doctor to do it. How else could I work with skin in a medical setting?
"I did a lot of research, and opened communication with some Clinical Estheticians in the States. I really picked their brains. I decided that if I wanted to be the best, I had to be trained by the best. I knew the Blanche Macdonald Centre was the best Esthetics School in Canada, so it was an easy decision."
Within a year Michelle had moved to Vancouver and was starting the course she had heard and read so much about.
"Of course my favourite part was the skin aspect of the program. My instructors were phenomenal. They had so much knowledge of the industry and were so good for networking. Erin Grimble was my skincare instructor and I could tell instantly that she's passionate about what she does. That passion is the most important thing to have in your career. I've always believed you'll be more successful if you love what you do."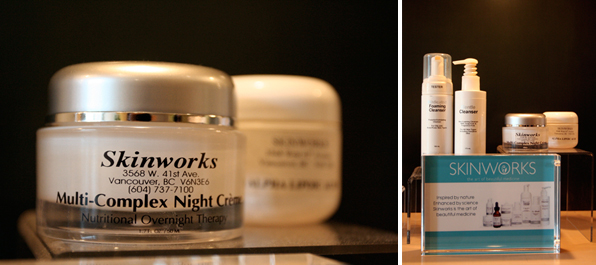 Michelle had that love. Determined to go straight from Blanche Macdonald to a medical facility, she won over her interviewers at Skinworks with her knowledge and enthusiasm.
"I wasn't really nervous," she insists. "I felt well prepared. Skinworks is where beauty and medicine meet, and that's exactly what I wanted. I did my research and found out as much as I could about the practice and the treatments they provided. I was reading a lot about dermatology in general because I wanted to be prepared for anything."
The job was hers. And she's been there ever since.
"Dr Jang has been a mentor to me," she smiles. "I'm so fortunate that she had the confidence in me to take me on as a member of her practice. We're both perfectionists. I think that's why we work well together. We both have to have everything perfect before we're satisfied. I can't even describe how much I've learned from her.
"Dr Jang is always looking for the latest and greatest technology. Patients want to know what's out there, and they trust us to stay updated. If there's a new laser on the market with impressive medical studies behind it, you can be confident that we'll be the first to have it. We're all constantly learning and developing professionally. I've been to Dallas and LA for advanced training, and we're always refining and perfecting our techniques as treatments evolve. It's a privilege to be a part of such a forward thinking company."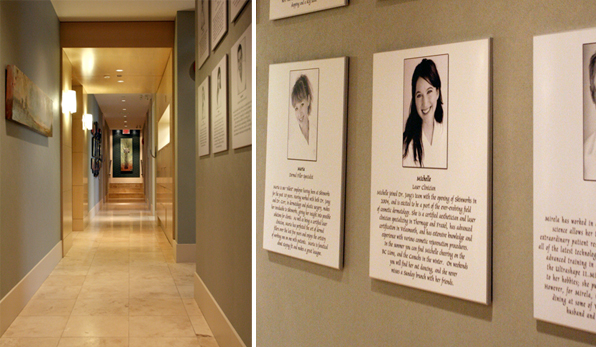 What's a typical day like at one of Canada's best and busiest cosmetic clinics? There's no such thing.
"That's part of what I love about it," smiles Michelle. "Every day is different. It's the job of the technician to first bring in the patient and take their history. I look at their skin, have a conversation about their concerns and which treatments they're interested in, and discuss what we can offer. I'll then brief Dr Jang before she goes in to examine the patient, make a diagnosis and prescribe a treatment plan. I then go over the mechanics of the procedure – how it's performed, how the technology works and the results they can expect, plus answer any questions they have.
"We're doing consults and procedures all day, every day, from laser treatments to dermal fillers and Botox. Everything is overseen by Dr Jang. Most treatments are performed by the Technicians, Nurses and Dermal Filler Specialists, although there are some procedures like Botox and certain injections that are exclusive to Dr Jang, and in that case we will assist."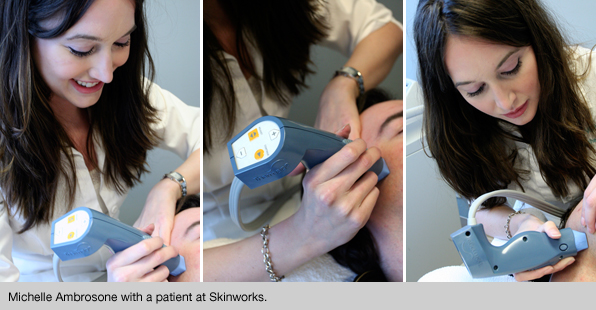 Michelle enjoys the cutting-edge technology and the prestige that comes from a job at Skinworks, but her prime motivation is the same one that took her to esthetics school to begin with. She's actively helping people change their lives and improve their confidence.
"We do mandatory follow-ups with our patients after their treatments to make sure they're pleased with their results, and we teach them how to maintain their skin," she explains. "It's incredibly rewarding. There's nothing like the feeling of knowing you've helped someone improve his or her self-esteem. When you feel confident in the way you look you're going to be more confident in all aspects of your personal and professional life. Everybody wants to feel beautiful. There's nothing like making someone feel like that, especially when they have a condition that they didn't know could be treated. You can see the happiness that it brings. It's an incredible responsibility to have a patient trust you with their skin...their face! It's an honour.
"We were taught at Blanche Macdonald that so much of esthetics is about developing a rapport and building relationships. It's more than just coming in for a treatment; some people are there to change their lives. It's a great feeling when they feel comfortable enough to open up to you and tell you personal details about their lives. You look forward to seeing them again, and hearing about what's new."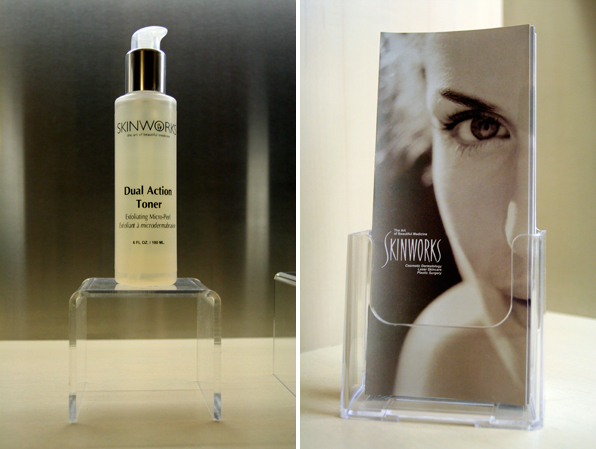 After three years at Skinworks, Michelle decided she wanted to approach the business from a different perspective. Dr Jang allowed her to go from full time to part time, enabling Michelle to finish her Commerce Degree at the Sauder School of Business at UBC.
"I'm so grateful to Dr Jang for her flexibility with me, and for allowing me the opportunity to explore my education. You should never stop learning. Knowledge is power.
"Since my major is marketing, I expanded my role at Skinworks into advertising, and I'm the Editor of our newsletter."
Michelle's enthusiasm for her work and her workplace shines through with every sentence. That passion was always there. Once it was focused, she was unstoppable.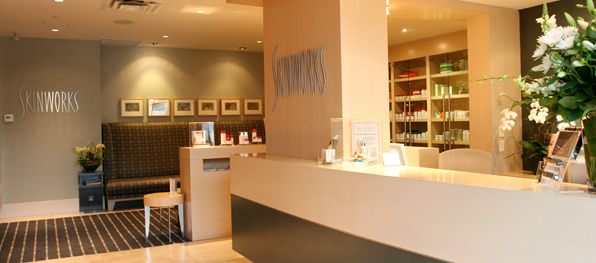 "If you want to work for the best, you need to be trained by the best. That's a no-brainer. The Esthetics Program at Blanche Macdonald gave me the foundations that opened the door to get into this business, and into a rewarding career with limitless potential.
"Talk to your instructors! They know a lot of people. Do your research before you graduate and network as much as you can. Be proactive, be persistent, and have passion for what you do! I'm incredibly grateful for the life that I have. I wouldn't change a thing."