Esthetics & Nails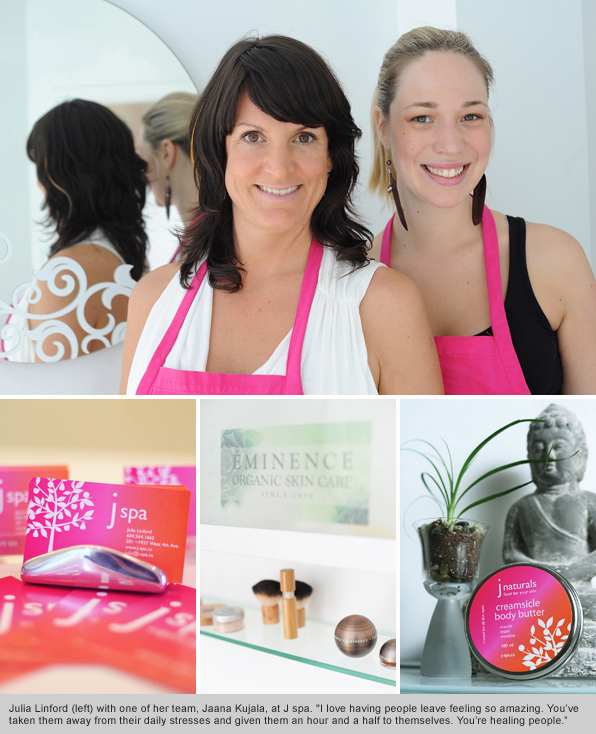 Facials make up 90% of Julia Linford's business at J spa, the light-filled space she owns in Vancouver's fashionable Kitsilano neighbourhood. Julia understands that for a spa to become known for its speciality, it really has to be special.
"You have to go above and beyond," she explains. "You have to give so much more than a facial. You have to create an experience. You do that with the music, the feeling, the vibe, the sound, the smells, the products, the textures, the hot and cold, the massage techniques, using your intuition and feeling what your client needs. It's about working with people's energy. Estheticians are givers. It can be exhausting but it's so rewarding. It's the only job where people leave loving what you've done. It's super positive!"
Perhaps it was inevitable that Julia would eventually return to her hometown to start J spa and its exclusive product line, J naturals. It's where she began an esthetics journey that took her to England, the South of France, the Caribbean and Brazil.
"I was always into pretty things and caring for my skin as a kid," she continues. "I wasn't really into the makeup side of things. More natural beauty. I've always been good at massage and I knew a lot about skincare just by reading about it. I got a job in Whistler selling skincare products by Lancôme and Estée Lauder, and decided to take the course at Blanche Macdonald a couple of years later."
Once Julia had decided to make esthetics her career, she chose Blanche Macdonald to begin her formal education.
"I knew I wanted to travel and that taking the course at Blanche Macdonald would help me do that," she recalls. "I went on line and did some research. And one of my friends had taken the program already, so I knew it was one of the best esthetics schools in Canada."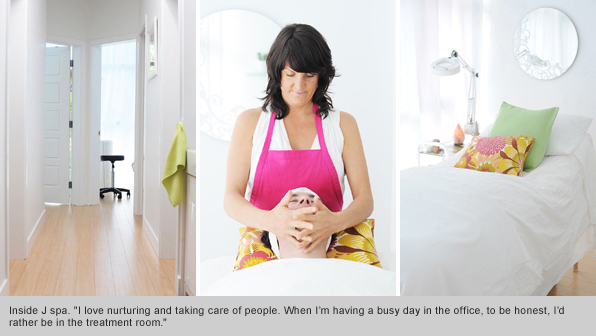 Julia's research and her friend's positive reviews proved to be entirely accurate.
"It was the most fun course you could ever take," she insists. "You're giving each other treatments all day, and learning about the body, which I love. Biology was always my favourite class at school.
"I loved the skincare section the most. We learnt to visualise the layers of the skin and the products penetrating them. Estheticians see things a little differently and we're analysing people all the time. We're always thinking about ways we can help and make people look better. I often have the urge to stop people on the street and tell them how I can help.
"Blanche Macdonald teaches you how to do the treatments. They teach you the important fundamentals. Then you learn from working on people."
Armed with a diploma and a sound grounding in the fundamentals of the industry, Julia was eager to restart her career and gather new experiences.
"I was young, so I wanted to party, travel and see the world straight away," she continues. "I knew that I could do that as a beauty therapist.
"I worked at Spa at the Century in Vancouver for six months, got a lot of experience and an amazing reference letter from the owner. My parents are British and I really wanted to get to England. I did an interview on the phone for the Sanctuary Spa in Covent Garden, London before flying over. I was in England for three years on and off.
"I loved London. I ended up getting a job at Harvey Nicholls at the Aveda Concept Salon Spa. I had Boy George, Ralph Fiennes and Patsy Palmer from Eastenders as clients. I used to wax Boy George's eyebrows and tint his lashes."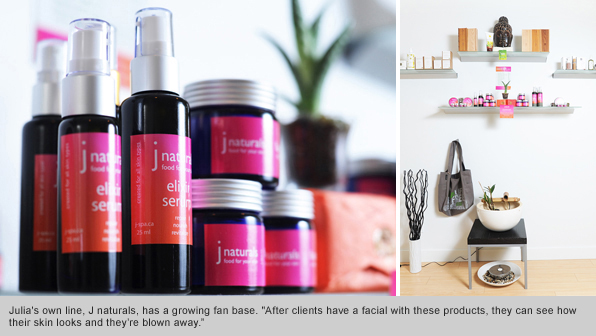 After three years in London, Julia relocated to warmer climes, taking a job as a massage therapist and esthetician on a yacht based in the south of France. On her return to Vancouver, Julia explored the many options she had available, assistant managing a spa and working and training other estheticians as a skincare sales rep. The travel bug caught up with her again and she headed to the Cayman Islands, working at a resort for two years. It was there, in the Caribbean sun, that the idea of a spa of her own became a tempting proposition.
"I knew I could get ahead financially if I went to the Cayman Islands. So I decided that I was going to save some money when I was there. I came back, put a business plan together and started J spa."
Starting from a rented room at the back of a hair salon, Julia began her business rightly convinced that her talents would be the key to its success.
"When you focus on what you want and stay determined, it'll all work out. I knew what I was good at and that I wanted to specialise. That's how you can brand your spa and get known. I'd had a facial with Eminence Organic and it was the most amazing facial I'd ever had. And I'd worked with all the lines over the years. I wanted to do Eminence facials, as I hadn't started my own line at that point. I was fully booked from the day I opened my doors."
Combining a serenity in the treatment room with a talent for self-promotion outside it, Julia outgrew her rented room, took a three-month working vacation to Brazil, and came back to a new location in Vancouver's bustling Main Street neighbourhood.
"It was a really cool live/work space with two treatment rooms," she smiles. "It had that really homey feel to it. My business doubled."
J spa moved to its current location this spring. It's been Julia's most successful relocation so far. Now she employs three estheticians to keep up with the demand. The business is growing on a seemingly daily basis, but Julia is still at her happiest when she's being a hands-on esthetician, seeing clients and making a difference in their lives.
"A good day for me is when I have the time to do a bit of paperwork but I can spend most of my time with clients. I love nurturing and taking care of people. When I'm having a busy day in the office, to be honest, I'd rather be in the treatment room. It's way more relaxing when it's just you and the client. I love educating people on the importance of natural skincare. I love helping people love the skin they're in. And I love having people leave feeling so amazing. It's euphoric. You've taken them away from their daily stresses and given them an hour and a half to themselves. You're healing people."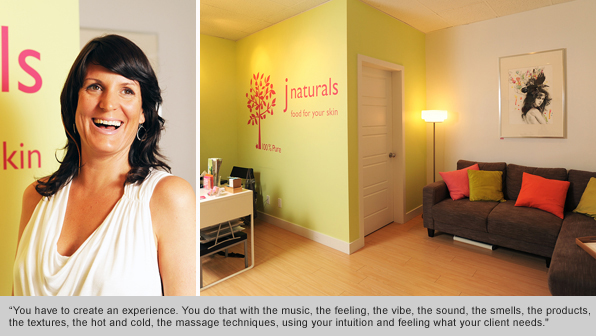 As J spa has grown, so has its own product range, J naturals.
"I met this woman who made her own skincare products and soaps. I had all these ideas about products so I asked her if she could help me make my own line.
"I know a lot about ingredients – plant and essential oils – and how they work on the skin. I know how powerful they are and I wanted them in my products. I created a line that's really simple. It feeds the skin and gives it exactly what it needs. I was using these on my own skin and started seeing better results. I could see the crow's feet around my eyes going away. After clients have a facial with these products by me or my girls, they can see how their skin looks and they're blown away."
Looking back at her esthetics adventures around the world, Julia understands that it's the combination of education and experiences that's allowed her to become the incredible businesswoman she is today. Sure, it took a lot of hard work on the way. That's the price of success.
"Always stay focused," she stresses. "Believe in what you're doing. Go out there and make it happen. Do those things with intelligence behind them. That's the way to become an entrepreneur."