Esthetics & Nails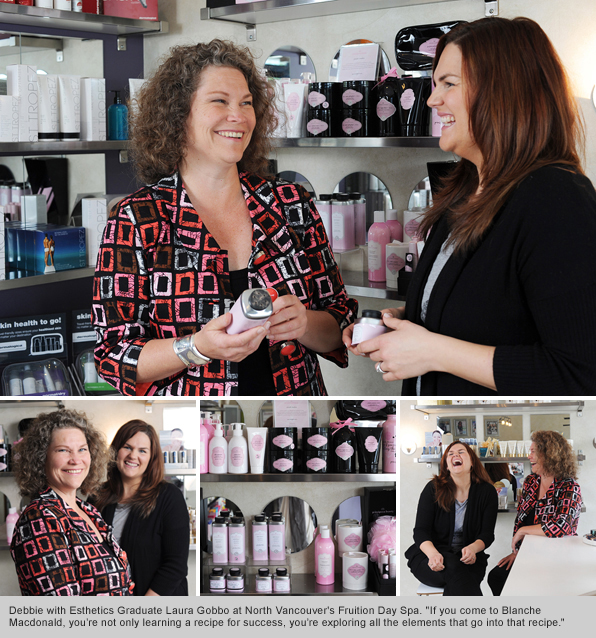 Who is Debbie Nickel?
She is a wise woman. Teacher. Mentor. Mother. Comedian. Her electric blue eyes hold the profound gaze of a philosopher, reflecting years of stories and students – a million moments of inspiration, wonder, laughter. The woman of a thousand hats who wears them all with grace and magic, she is the alchemist of dreams, the creative genius and the passionate spirit behind Canada's best Esthetics Program.
For 20 incredible years, Debbie has been one of the key visionaries of Blanche Macdonald's internationally renowned Esthetics and Spa Therapy Program – a program that has inspired thousands of graduates to become the next generation of industry leaders.
From her small town beginnings in Ponoka, Alberta, Debbie has been an esthetician, salon owner, instructor, director, consultant, spokeswoman, judge and chair. Today she is an internationally respected esthetics expert, heading judging panels, auditing competitions, lending her expertise to provincial and national organizations, and leading the Blanche Macdonald Esthetics Team as Executive Program Director.
But she wasn't always a guru of the esthetics world.
"I didn't know anything about esthetics," Debbie reminisces. "I moved to Vancouver and did a number of jobs. One day my mom said 'Okay, are you ready to grow up yet? I'm going to pay for you to take a course and I think you should take esthetics.'"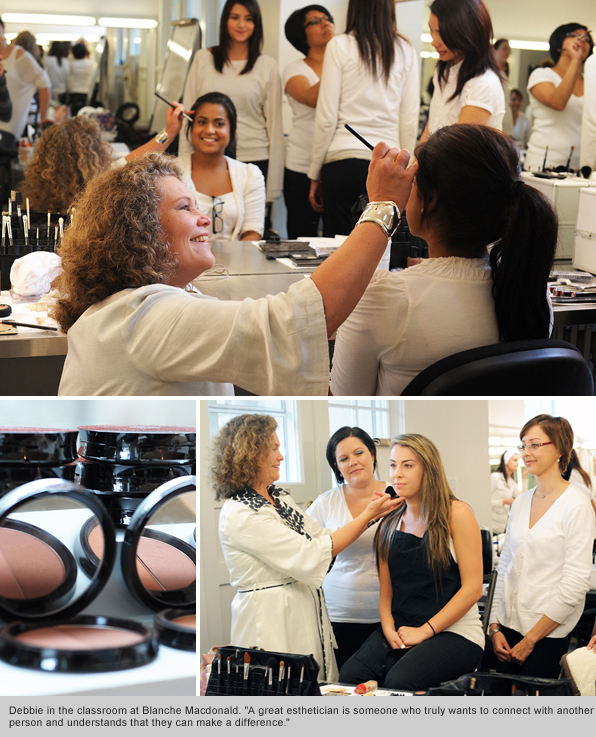 Debbie soon became a star student, and even before she had graduated, the school's director had offered her a teaching position. She declined, recognizing that she needed to go out into the world and apply her newly acquired skills first.
"I worked in the industry for a couple of years. Then one of my instructors called me and said 'I think it's time that you started teaching for me'. So I did." She explains.
"I was pregnant with my second child when [Blanche Macdonald President] Lily Lim called me and said 'Would you like to come work with me at Blanche?' I said 'No, I'm expecting, but thank you very much for the offer.' A few months later she called me again and I thought, you know what, I want to use my brain and have a challenge. So I started here at Blanche. That was 20 years ago."
Debbie quickly became a core part of the Blanche Macdonald team.
"The Esthetics Program really started growing. I remember Lily said, 'We need someone to take this on – to manage it, lead it, come up with ideas, help students to grow, develop instructors and really put the program on the map.' So I stepped forward. We kept moving and changing and growing over the years.
"This past year Lily said 'it's time for you to develop and grow in another area'. And I became the Executive Program Director. That's how my family now needs to refer to me if they want anything. 'Excuse me, Ms Executive Program Director, may I please have the ketchup?"
This is how conversations are with Debbie. She'll fascinate you with anecdotes and philosophy and then crack a great joke. She believes a sense of humour is an important component of any great esthetician – or instructor.
"Using humour opens up the opportunity for students to learn as well. Because if I can direct something back to me, it gives them permission to laugh. When you laugh, you take in a breath and it opens students up to go okay, I can do this."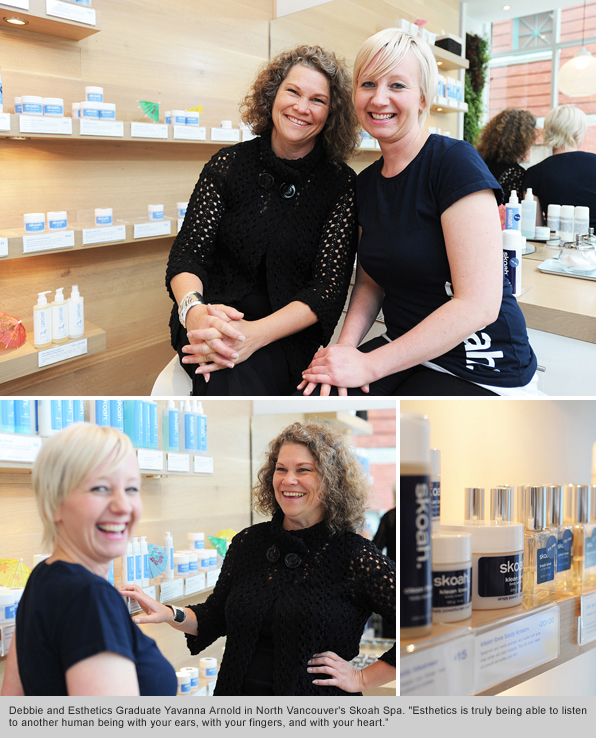 Laughter is clearly Debbie's medicine – but what really keeps her alive and ticki ng is learning.
"Learning is my juice. What keeps me excited everyday is knowing there is going to be a challenge. I'm a lifelong learner. Every once in a while things will be going smoothly and I'll think, is my time done? Is my work done? And then someone will phone, email or walk in and there's another opportunity to learn something new, to be surprised, to be awestruck."
If learning is Debbie's juice, inspiration is a vital ingredient. Some of her most inspiring experiences have been the life-changing moments she has shared with her students.
"The moments that always stick with me are the ones where I got to witness someone's 'a-ha' moment, where someone had been fighting with themselves about something, saying 'I can't, I can't'. And it was simply taking their hands and saying 'let's try, put your hands in mine, okay, let's do it'. It's like they're riding a bike and you let go and they just keep going and they look back at you and say 'Hey, I'm doing it!' I just love that part of it."
Debbie is constantly inspired.
"People inspire me. Nature inspires me. Adversity inspires me. Everything inspires me because everything has the opportunity for some kind of learning. I can't think of a situation on a daily basis that isn't an opportunity to learn something.
"There are a lot of inspiring people out there – but the trick is to recognize that the most inspiring one of all is the one in the mirror."
When Debbie looks in the mirror she sees a philosopher and a visionary staring back at her – and at her core dwells a true passion for esthetics. To her, an esthetician is a unique blend of skill and compassion.
"A great esthetician is someone who truly wants to connect with another person and understands that they can make a difference. When you learn something hands on, you begin, you become a novice, then you become a master, and then you become a philosopher."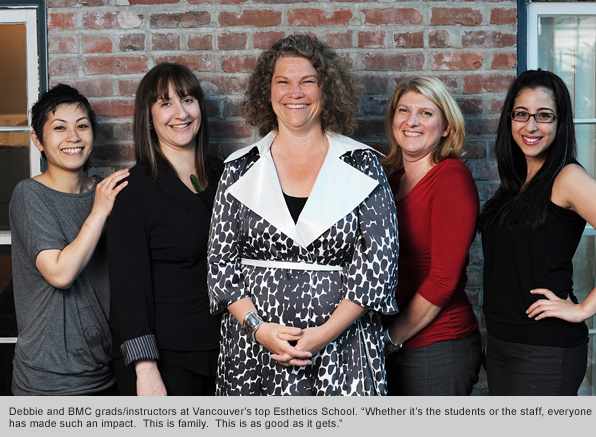 Debbie has indeed evolved into a philosopher in her own right. And what is her esthetics philosophy? She answers in three Zen words: "Do no harm."
"Sometimes the best answer is just silence and a caring touch. You provide the space and the ears. Esthetics is truly being able to listen to another human being with your ears, and with your fingers, and with your heart."
These are profound words, charged with the power of a life in an industry where caring for other people resides at its very heart. At its roots, esthetics is a humanitarian field. Estheticians are changing the world, one person at a time, making a powerful difference to society at large through small, meaningful individual connections. They are the pebbles creating ripples of compassion and care, spreading out to touch one another in the great ocean of humanity.
And Blanche Macdonald is the natural first step on this amazing road.
"If you come here, you're not only learning a recipe for success, you're exploring all the elements that go into that recipe. You understand them, you can combine them, and you can create either a service or an experience. You learn how to engage with the industry as a practitioner, as a manager, and as an owner. We want you to be so well rounded and have so many choices when you leave us."
Along with its exciting and innovative courses, Debbie explains what really sets Blanche Macdonald apart.
"It's the absolute dedication and commitment to every student. We truly, truly care. That connection is so profound in the Esthetics Program because we are touching each others' bodies every day. It's not at arms length – it's right there.
"People eventually connect with Blanche Macdonald, whether they're a student, an owner or a manager who employs Blanche graduates. The impact of this school on this industry is profound. All roads lead to Blanche Macdonald."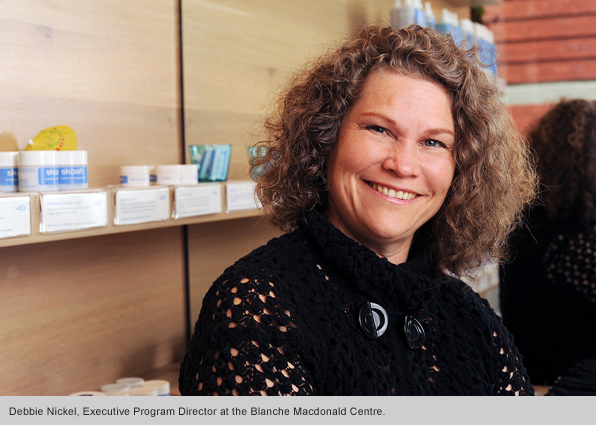 Indeed, the Blanche Macdonald community has woven itself into the very fabric of Debbie's being.
"Whether it's the students or the staff, everyone has made such an impact. I've been to weddings, to funerals. This is family. This is as good as it gets."
For Debbie, being a part of Blanche Macdonald has become more than just a job. It is a way of life – a source of inspiration, purpose, and vitality. And how did she navigate her own path to Blanche Macdonald?
"I followed the signs. I signed up for an adventure and continually followed the forks in the road to see where it might lead. And it has been a most amazing and fulfilling journey to be a part of Blanche Macdonald."
Anything else we need to know about her journey here?
"Yes. I'm just getting started."