Esthetics & Nails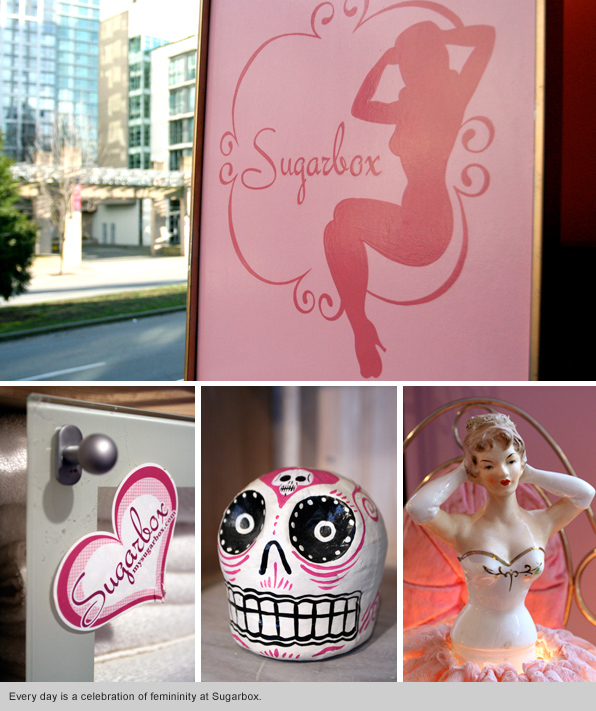 For the young ladies of Sugarbox, waxing is a serious business. Spend even a few minutes discussing their chosen craft and prepare to be dazzled by the thought and detail behind the hygiene regime, technique and even the high-end secret wax they use at Vancouver's best Brazilian Waxing Salon.
At the same time, the three Blanche Macdonald Esthetics School graduates at Sugarbox, Mara Bennett, Lindsay Renton and Sarah Milewski, appreciate that it's impossible to approach this personal and potentially painful art form without a delicate touch and a great sense of humour. Putting clients at ease is an essential element of what they do. People, understandably, can be nervous. And nobody is more apprehensive than the guys.
"Sometimes girlfriends and wives make men come in," smiles Sarah, who is one of Vancouver's few Male Brazilian specialists. "You can see they're terrified. I just tell them that we'll get through it and that we can take a break at any point. When they're done they normally say that they thought it was going to be way worse.
"There are a lot women who come in and are really embarrassed by hair somewhere on their body," she continues. "I'll say, 'Don't worry about it. I've probably waxed it on myself. Never feel embarrassed to ask me to wax anything'."
This spirit of fun and openness is everywhere at Sugarbox. It's not just clients that reap the benefit of this light-hearted atmosphere. It's incredibly enjoyable for the staff too.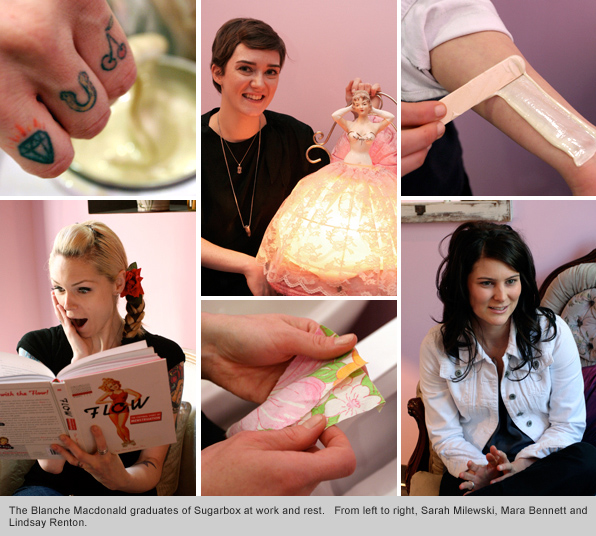 "I don't feel that I've had a job for the four years I've been here," agrees Mara. "When I'm with a client I feel like I'm hanging out with a friend more than working. It's so relaxing. Sometimes I start looking for my slippers before I realise I'm not at home."
Sugarbox owner Jane Brookes wasn't seeking Blanche Macdonald graduates in particular. She just happened to find three of them who were perfect for what she was looking for. She'd worked with Mara as estheticians at Spa Utopia. She met and fell in love with Sarah when they met in a tattoo parlour. And Lindsay was a client at Sugarbox before she made the transformation to a member of the team. All three came to Sugarbox with different careers behind them. But they all shared a passion for their profession and an esthetics education at Blanche Macdonald.
"My best friend wanted to do esthetics," recalls Lindsay. "I was 21 and had just returned from travelling. She had done a lot of research and thought Blanche Macdonald was the best esthetics school. We did everything together, so we went down for an interview and decided to sign up!
"I was the girl who'd do my friends' makeup and hair. I'd give my grandmother pedicures. I had those tendencies, but had never thought about doing it for a career. The course was amazing! When I started learning I realized it was completely perfect for me. Working with people on such an intimate level was so enjoyable. I loved doing facials and body treatments. I like being one-on-one with people. I think I work best that way."
Mara knew she wanted to enter the world of esthetics from the first time she visited a spa as a 16-year old in Williams Lake, BC.
"I walked in and it was like, whoa!" she explains. "I was thinking about going into nursing, but I wasn't really ready for four years of school. As soon as I saw the spa I thought I wanted to work there. I was having my first bikini wax and I said to the girl, what's your job title? She said, 'I'm an esthetician'. She had gone to Blanche Macdonald, so I looked it up on line.
"I loved esthetics. I still do. I actually miss the things we don't do here. I'm always asking friends to come over so I can give them manicures."
Unlike her colleagues, Sarah had introduced herself to the world of waxing before coming to esthetics school.
"I always liked waxing people. I'm half-Portuguese, so I knew what it's like for people to hate the hair on their body," she admits. "My friends would always ask me to wax them. I'd wax the nipple hairs off every boyfriend I ever had. I liked the instant gratification."
Sarah came to Blanche Macdonald and shone as a natural born waxer.
"I was the fastest waxer in the class. I understood the concept. It was my favourite thing. I wanted to put people at ease and have a good conversation at the same time. I realised that I liked talking to people. 'Oh, you have a moustache you hate too? Let me help you with that'."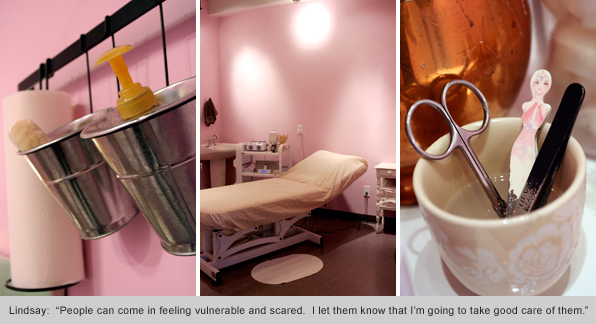 Mara was the first Blanche grad to join forces with Jane. They'd worked together before Jane decided to go into waxing full time.
"I was travelling when I received an email from Jane saying, 'I need help! Come and work with me'," recalls Mara. "I came back to Vancouver and three days later I ran into Jane in a restaurant. She hijacked the dinner!"
Mara came to Sug arbox and became a full time waxer. Her role as an esthetician had changed, but intimacy was still at the very heart of what she was doing.
"90% of what we do here are Brazilians. People know and trust us. Especially when they're being waxed for the first time. We're friendly and we make friends. I have clients that come in and I can't wait to see them. I have a client who knits things for me!"
Lindsay was working as a freelance esthetician when she decided to specialise in Brazilians.
"I liked getting Brazilians," she insists, "but everywhere I went I'd either be butchered or there'd be a weird girl doing it that didn't talk. I went to places where the waxers were nervous. Which made me nervous!
"I gave myself a mission to find the best Brazilian waxers in Vancouver. I looked up reviews for the top ten Brazilian waxing salons in the city. I went to every one of them, had a wax, and wrote down what I liked and didn't like. Then I'd practice on my clients. When I found Sugarbox I thought they were number one. It had a fun atmosphere. It was easy-going. It was very private. Conversation was easy. I was a client here for six months. I said to Jane, 'If you ever need someone, let me know.' Two weeks later she called me."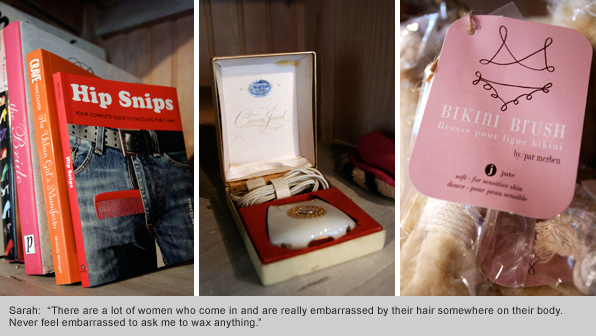 Mara, Lindsay and Sarah are all bring their different personalities to the waxing table, but they share one common belief that makes them perfect for Sugarbox. It's an appreciation that although every Brazilian finishes with the same end product, the person on the end of that waxing is an individual that deserves to be treated in the way that's perfect for them.
"I've got a lot of clients who say that they'd never let anyone but me see them," promises Sarah. "That's because they become so comfortable."
"Some people have a tougher time getting through it," agrees Mara. "If that happens I slow down and do this thing where I breathe deeply, we end up breathing together and we talk about gentle things. There are other clients who barely notice anything's happening and I have to get them to stop making me laugh."
"A lot of people are nervous when they come in here," admits Lindsay. "It's cool when they leave that they feel good and they've been calmed. I learnt at Esthetics School that we have to cater to people's specific needs. Everyone is an individual and I approach every client differently. People can come in feeling vulnerable and scared. I let them know that I'm going to take good care of them. We'll laugh and giggle and they'll feel great when they walk out of here. I love making people feel good."
Sugarbox is probably Vancouver's busiest and best Brazilian Waxing Salon. And it's not just clients who think so.
"Working here is amazing!" insists Sarah. "It's interacting with people who can be terrified at first, and then they're so thankful. And the finished product looks like a work of art, compared to what it looked like before. It's like going to Maaco and getting a new paint job!"