Esthetics & Nails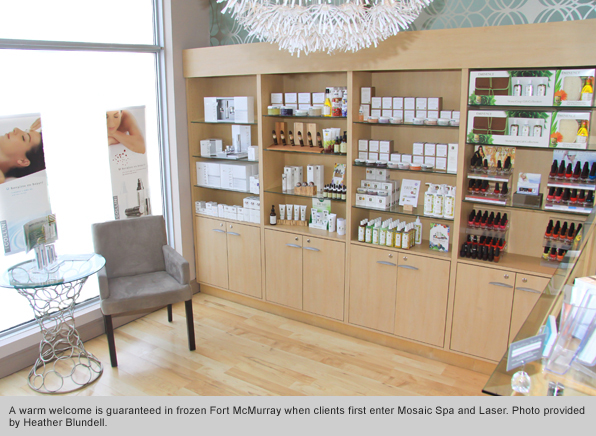 Winters are long, hard and very, very cold in Fort McMurray.
"It was minus 40 this morning," laughs Heather Blundell. "That's ok. It's good for business."
If you're out and about in a sub-arctic, Northern Alberta oil town like Fort McMurray, there's a fair chance you're going to experience some skin problems. Which is why its population is eternally grateful to Heather for opening Mosaic Spa and Laser. How grateful? Heather moved her spa and laser treatment business from her home to its store location in October. Since then she's had to recruit a staff of 17. You can almost hear her business booming.
"The main skin problem here is dryness," continues Heather. "There are a lot of skin issues with the extreme temperatures."
Defrosting the citizens of Fort McMurray comes naturally to Heather. Since she made the decision to come to Blanche Macdonald and make esthetics her career she's been facing and beating challenges on a regular basis.
"Things were changing in my life around 2005 and I needed a career change," she explains. "I was living in Shuswap at the time. I packed my children and some belongings into a U-Haul and made the five-hour drive to Vancouver. We moved to Yaletown and I started Esthetics School at Blanche Macdonald.
"My Mum had started me on facials when I was 12 years old. I used to go to the one spa in our small town and I loved it ever since then. My cousin and aunt had studied at Blanche Macdonald. I knew the name and I knew that girls that went there for esthetics were always hired first. That was important for me!
"On our first day of class we all had to introduce ourselves and tell everyone why we were there. I said I was there because I wanted to open up my own business. Now I've done it!"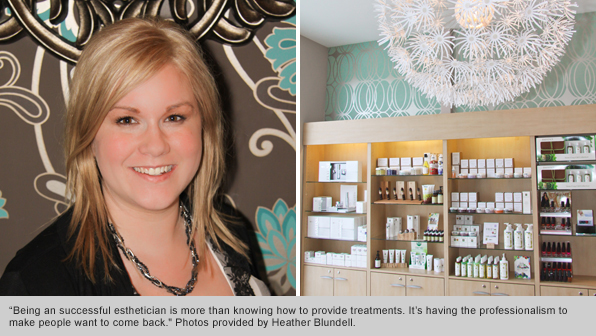 Heather had arrived at Esthetics School with her long-term future in mind, but she was still able to focus on enjoying the day-to-day experiences of learning.
"Blanche Macdonald would have been hard work if you didn't want to be there, but I loved it. I made some good friends and really enjoyed the instructors. I graduated very confident in what I knew and what I'd learnt. It was more than knowing how to provide treatments. It was about having the professionalism to conduct yourself with clients and in business. That professionalism I got from Blanche Macdonald has made a real difference. I'm very proud to say I went to a very well known school in the esthetics world. Everywhere I applied I was always offered the job before the other candidates and I know I was always paid more than the other girls. That's how it was for me anyway."
Heather had secured a job for herself at a spa in Salmon Arm before she'd even graduated. She moved to Kelowna and worked at a pair of spas there before trekking to Fort McMurray and starting a business of her own.
"I enjoyed being a professional esthetician," she insists. "Although my education from Blanche Macdonald meant that even some owners I worked for weren't up to par with my knowledge."
Heather also found the time to increase her skill set with a laser treatment program in Vancouver.
"It was good, although Blanche Macdonald was better," smiles Heather. "I suppose you could go into laser without learning esthetics first, but if you weren't an esthetician I think that would be tough. I had a really good understanding of skin from my time at Blanche Macdonald."
Kelowna's loss was Fort McMurray's gain. Confident in her ability to help and heal, Heather built a studio in her home and opened for business."Fort McMurray is a busy city and very expensive. Probably one of the most expensive places to live in Canada. Space for lease is hard to find, because there's been such an explosion in population. I did a lot of advertising in the local paper and I was always very honest. I'd would always tell laser clients that the results might not be 100% perfect."
People appreciated that honesty. In under a year Heather's reputation (as a facial magician as well as an amazing laser technician) has blossomed and the business had outgrown her home. Mosaic Spa and Laser had been born.
"I purchased a day spa that already existed, changed the name and moved in. I was in charge of the redesign, because I like to have my hands in everything. People have commented on how nice and peaceful the new design is."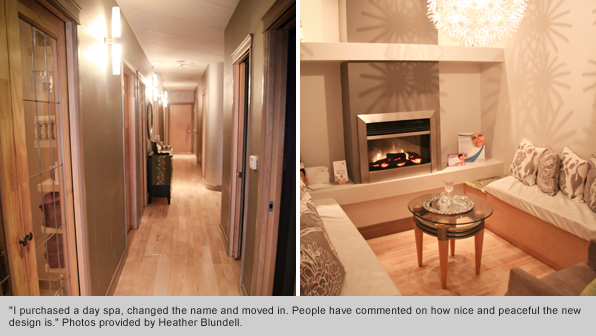 That design is one small reason why Mosaic has become Fort McMurray's busiest spa. The main reason is the leadership Heather has brought to the Mosaic, demanding the same high standards from her team that she'd set for herself.
"It's the qualifications of all my staff that gets clients through our doors. They have to be certified or licensed from a credible school, not some quickie course somewhere. Everybody here is well trained and has a lot of knowledge. Honesty and integrity is huge for me. People in town know and respect that. We have 17 girls here now. Eight of them are estheticians, and there are four massage therapists and five front desk staff. I have employed a Blanche Macdonald grad, but she's pregnant and leaving us soon. As soon as I saw her résumé come in I thought, 'Oh, we have to get her!' We still have to employ two more full-time estheticians, another esthetician part time and another massage therapist.
"Fort McMurray has other spas, but we are the only Medi-Spa in town. Clients expect a bang-up service and I know we deliver that here."
The one drawback facing Heather – one that every spa owner would be happy to face – is that Mosaic is so busy, she only has limited time to see clients herself.
"I'm still doing all the IPL [Intense Pulsed Light] treatments and skin resurfacing, and I'll keep doing that until more of the team are ready. Apart from that I'm not doing that much hands-on work right now, because I'm doing so much management. I do miss facials. They're my favourites. I still do a few for some of my regular clients, just not as many as I used to. The clients I do still see, and even the ones I'm not able to treat personally any more, will send me emails and drop by for a chat. I love that part of being an esthetician, the deep personal connection you make with people."
It's not really the Northern Alberta climate that's bringing people into Mosaic Spa and Laser. It's Heather, her team and their dedication to their craft. The esthetics and business brilliance of Mosaic's owner is changing the face (and faces) of Fort McMurray. Remarkably, Heather insists that anyone can do it. You just need the right training and the right attitude.
"Don't fixate on what you're going to make the moment you graduate esthetics school," she promises. "You have to look at the bigger picture. In the past year I've taken some giant steps, but I started out small and worked my way up in the industry. I learnt things in every place I worked. I picked up ideas on what I liked and what I didn't.
"Being an successful esthetician is more than knowing how to provide treatments. It's having the professionalism to make people want to come back. You have to want it, to enjoy it and love it. That way, you can really fly with it."