Esthetics & Nails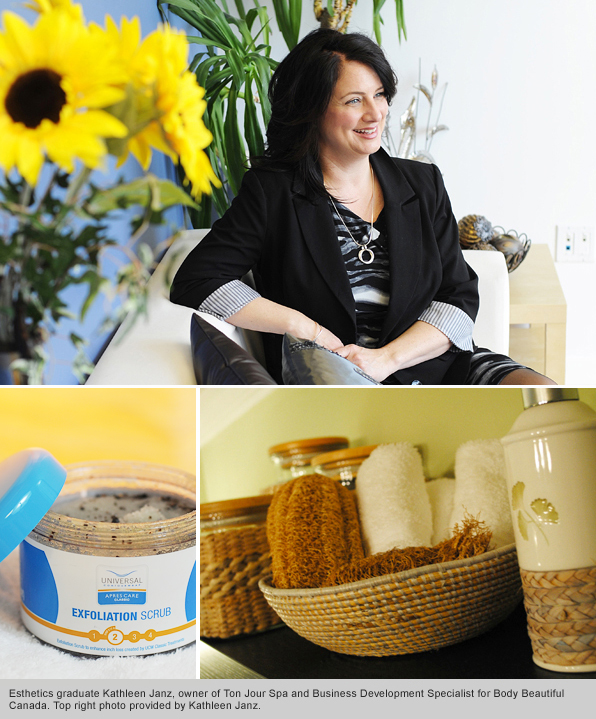 As the Business Development Specialist for Esthetics Distributors Body Beautiful Canada, Kathleen Janz spends much of her time travelling North America, training fellow Estheticians on the Company's incredible equipment and treatments.
For most people one exciting and extremely successful job would be enough. But Kathleen loves the giving and receiving nature of Esthetics so much, she still finds the time to run her own spa, Ton Jour. It's a remarkable dual career, especially when you consider its starting point.
"I was 38 years old," she explains. "I'd been working at home so I could be with my two girls before and after school. I realised that they would soon both be gone, and started thinking about what I would want to do once they left home. I was actually getting a treatment at a spa when I thought – I could do this! I loved makeup and skincare. I love people. It's a very nurturing business. And that was it!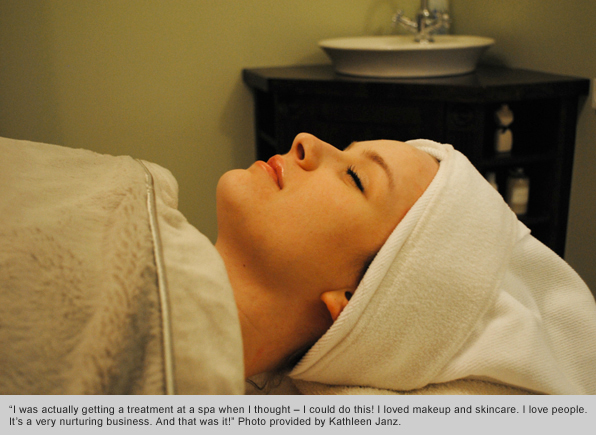 "Running my spa was my first love. I love esthetics and the hands on element of giving treatments. The clients that I have are people who have become friends. I believe our paths have crossed for a specific reason – not necessarily for pedicures and waxing. For me it's a lot deeper than that. I don't take it lightly that people let me touch them. They let me listen to them. I don't have this deep empathetic relationship with all my clients, but I do have it with a lot of them. I'm fulfilling my purpose. I was tenacious about deciding what my next purpose would be. For a long time my purpose was being a mum. Now my kids are grown women."
Kathleen's journey to this empathetic approach to Esthetics – an approach that has seen her succeed in two fields simultaneously – began with an idea that quickly led her through the doors of Canada's top Spa School.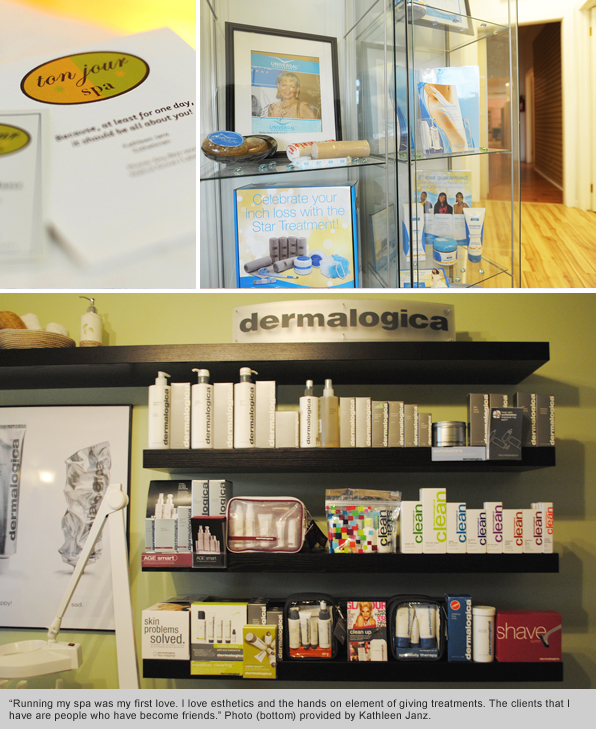 "I was actually receiving a spa treatment when I decided this was going to be my career path," continues Kathleen. "I called Blanche Macdonald and made an appointment to meet with Debbie Nickel, and as soon as I walked in I knew this was the place to be.
"I felt the excitement. It was a big deal to start school again at 38 and start a new career. It was clear that this was meant to be my next path and it was a really great experience. I loved school. I loved the training. I loved the science and how in depth the education was. I loved my teachers. It was run really well and I felt prepared. And I did very well, I must say."
Kathleen originally had planned on working at a nearby spa but wanted the flexibility to work on a schedule that would allow her to spend time with her two girls. The solution had already presented itself at Esthetics School.
"Doing a business plan was a big part of our grade at Blanche Macdonald. It was a really fun project to do. My daughter helped me come up with the name. For my birthday a graphic designer friend designed my logo. And it's still my logo! Everything I did when it came to opening Ton Jour was really close to my business plan. It was so helpful! I graduated in May and by December Ton Jour was open.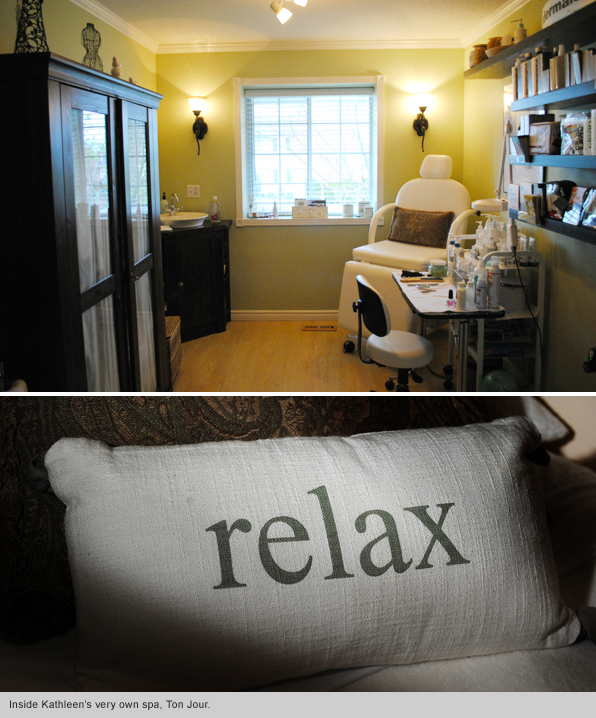 "Business was good. And I loved it! I liked the freedom of owning my own business. I could do the treatments in my own way and take longer if the client needed it or wanted to talk. Part of the reason I got into esthetics is because I love talking with people."
Kathleen was soon talking to Body Beautiful Canada, the North American distributors of the Eurowave Body Toning electro-muscle stimulation Machine and the Universal Contour Body Wrap. She bought both, to the delight of her clients and, very soon, her bank manager.
"There's a guarantee that clients who receive Universal Contour Body Wrap will lose a minimum of six inches in the treatment or they don't pay. I've been doing it for seven years and I've never given a free wrap."
Kathleen loved what she saw in the two treatments. And Body Beautiful Canada loved what they saw in Kathleen.
"Body Beautiful Canada needed experienced trainers. They asked if I'd be interested in getting certified to become a trainer. With all of my positive experience with the product, it was an easy decision to make! They knew I was committed to the equipment, the education and they believed in me as a spa owner," she smiles,
"I like to believe they think I'm professional and charming too."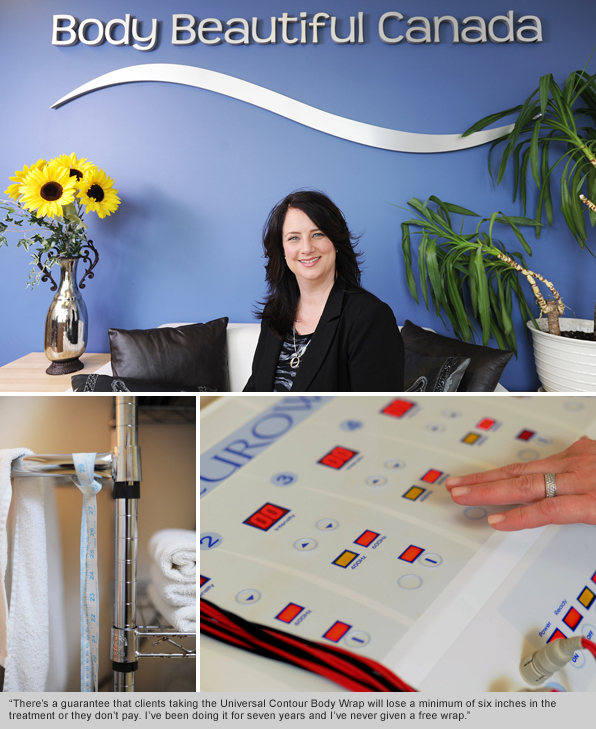 Today Kathleen can be found training and educating estheticians as far away as Montreal, Toronto, North Carolina and Arizona.
"I go into spas that purchase our equipment and do the certification training. The fact that I'm a spa owner and esthetician means other spa owners and estheticians can relate to me. I love meeting new people. And I love being able to help them add new treatments to their spa menu that will help to make them more profitable; being able to offer them my experience as a spa owner and esthetician, and my knowledge as a certified trainer is a great fit."
Business Development Specialist is a role that means more than certified trainer. Kathleen pitches in on sales, customer service, processing and shipping – wherever her talents are needed. It's a full time job. But it's her passion for esthetics, the art and science of caring, which means her own clients at Ton Jour receive the same commitment as the major accounts for Body Beautiful Canada.
"Being able to do Ton Jour as well as my sales and training for Body Beautiful Canada is a great partnership," she insists. "I don't have to let go of what I love about esthetics. It's been so rewarding and fulfilling. I wish I'd done it sooner. When my kids were smaller I could have been doing esthetics from home when they were at school.
"There are people I feel I am meant to care for. Esthetics is what brings them to me, and then it goes beyond that. Regular clients have told me that this isn't just about pedicures. It's humbling that people will undress in front of us and talk to us on a personal level. I try to encourage the therapists that I train to not take that privilege lightly. It's a deep, intimate and humbling thing that can be life changing for the client as well as for the therapist."