Esthetics & Nails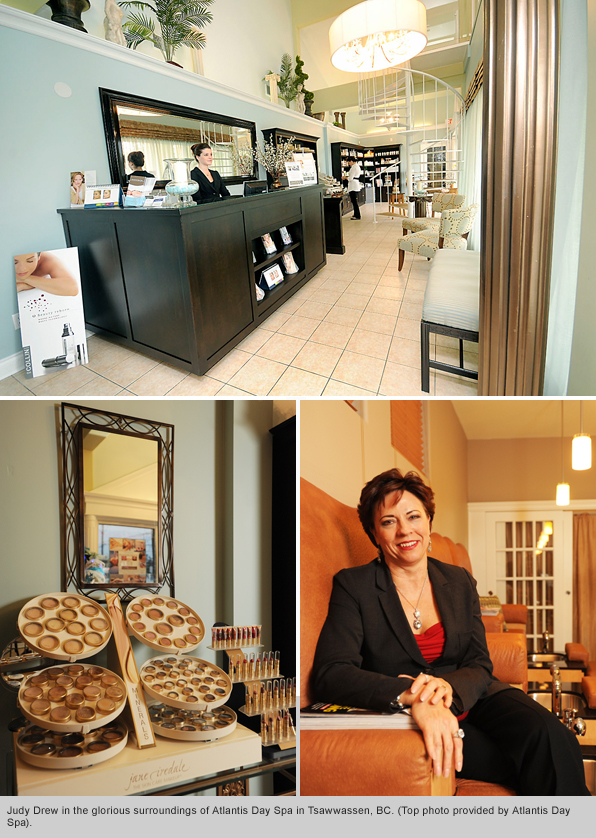 When Blanche Macdonald Esthetics graduate Judy Drew opened Atlantis Day Spa in Tsawwassen, BC back in 1994, she knew she was creating something special. Today, Atlantis is double its original size, and still the town's best and busiest spa.
Judy's unwavering standards of excellence have made her an iconic figure in British Columbia's esthetics community. She's continually reinvented Atlantis with the introduction of new treatments and technologies, which is just one of many reasons why the spa has been the starting point for a generation of successful estheticians, including Blanche Macdonald grads and current Atlantis employees Laurie Watt, Jen Clarke and Jacqueline Bruce.
Judy never planned on becoming an inspiration. It just came naturally.
"Before I went to Blanche Macdonald I was working for a company managing cosmetic departments," she explains. "I wasn't able to provide the hands-on quality of service that I really wanted. I decided to open a business at home teaching people about makeup and skincare. I started seeing salons offering esthetics and I realised that I could do more.
"I did a lot of research before I went to Esthetics School and Blanche Macdonald had a real commitment to the industry. The other schools I spoke to didn't seem to have the same passion. The program gave me what I needed to move forward in the industry. I knew what I wanted to do but didn't know how it was going to look. At Blanche Macdonald my knowledge was extended to the point that I was really confident moving forward."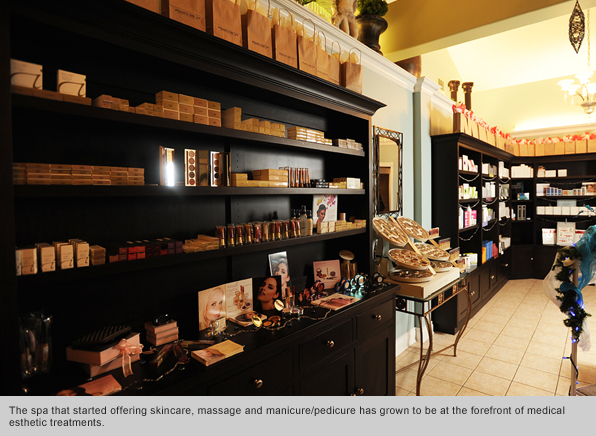 The way Judy describes it, her next step was simple. She found the space, recruited four like-minded estheticians, and opened Tsawwassen's first day spa. Since then, Judy has incorporated the building next door (dismantling the coffee shop that stood there to create luxurious steam and treatment rooms) and the spa that started offering skincare, massage and manicure/pedicure now is at the forefront of medical esthetic treatments like laser treatments and physician performed full facial rejuvenation treatments including botox and facial fillers.
"My speciality is skincare," continues Judy. "When I was young my interest was in makeup, helping someone to look beautiful. As I reached my 30s I realized that beautiful skin was the most important aspect of beauty, so after taking my esthetics training with Blanche Macdonald my passion for skin care became my focus. As I entered my 50s my skin care needs changed along with my clients' skin care needs. I wanted to see results more quickly. That's when I started researching laser and advanced therapy like the botox and injectibles. I wanted to offer those advanced therapies to my clients."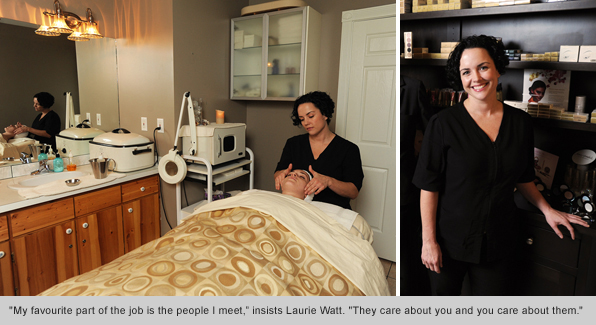 Judy's been at the cutting edge of treatments since she graduated from Canada's top Esthetics School. She still visits Blanche Macdonald regularly, answering questions and speaking to students about the opportunities ahead of them. As a leader in the esthetics community, universally recognised as a brilliant businesswoman and a walking inspiration, it's her way of giving back. Still, being a hands-on esthetician is at the heart of everything she does.
"I'm still treating clients almost every day," she smiles. "That connection with the client is the most important thing I do. I could give it all up to be in a treatment room taking care of a client. For me it's like giving someone the tools to understand how they can look and feel better. That's it for me. I love making that connection with people and seeing the light bulb go on when they understand that the education I am giving them will make a difference. They will see the results in their skin and know how to take care for their skin in between treatments at the spa. I know I've done something to make that person's life better."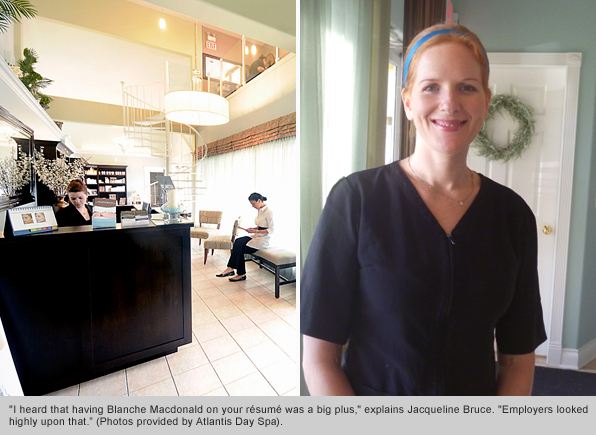 Judy's ability to make lives better goes beyond just clients. Atlantis has been the launch pad for many successful careers. The current crop of Atlantis estheticians includes Blanche Macdonald grads Laurie Watt, Jen Clarke and Jacqueline Bruce.
"We've had a connection to Blanche Macdonald for years," admits Judy. "I'll phone Debbie Nickel all the time. We're looking for people like Jen, Laurie and Jacqueline who have had great training and taken a career from it."
Jen, Laurie and Jacqueline all came to Atlantis, and esthetics, from very different backgrounds. But it was what they learnt at Blanche Macdonald that brought them together and to Tsawwassen.
"I never thought I would go in this direction growing up," laughs Laurie. "I worked for Air Canada in heavy maintenance - completely opposite to what I do now. I never wore makeup to work. I wore steel-toed boots and a hat most of the time. But I always had that girl inside me that always cared about makeup. I was laid off and needed to move onto another career. That's when I decided to go into esthetics. I was paying for my education and wanted the best school and training. Blanche Macdonald is well known as the best."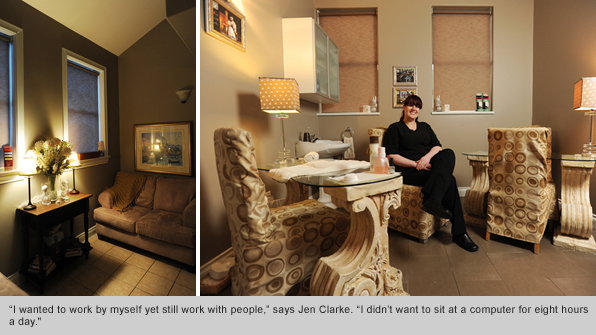 "I'd been a client of a little spa in Richmond for years," explains Jacqueline. "I would talk to the estheticians there who raved about how much they enjoyed their jobs. That was a big positive for me. I was constantly hearing good things about Blanche Macdonald. I heard that having that school on your résumé was a big plus. Employers looked highly upon that."
"I wanted to work by myself yet still work with people," adds Jen. "I didn't want to sit at a computer for eight hours a day. I knew that if I went into esthetics I could teach, I could open my own place. I have nothing but great memories about my year at Blanche Macdonald."
Judy's close connections with Blanche Macdonald allowed her to skim the top layer of cream from an already-creamy crop of esthetics graduates. Even after the recommendations though, her estheticians had to pass a rigorous interview process before getting the job. That involved delivering hands-on pedicure and facial treatments to a stern esthetics critic; the boss. Which, in Jen's case, was one of those rare moments where having an employer fall asleep in an interview is a good thing.
"I love working with my staff and helping them hone their skills," continues Judy. "Jen is such a loyal person – both to us and her clients. She'll get the job done and do it well. Laurie makes everything very beautiful. She cares about clients and educating them. Jacqueline is a social butterfly. She's very good with bringing clients in and making them happy. She does a lot of pedicure/manicure – which is one of the more social services."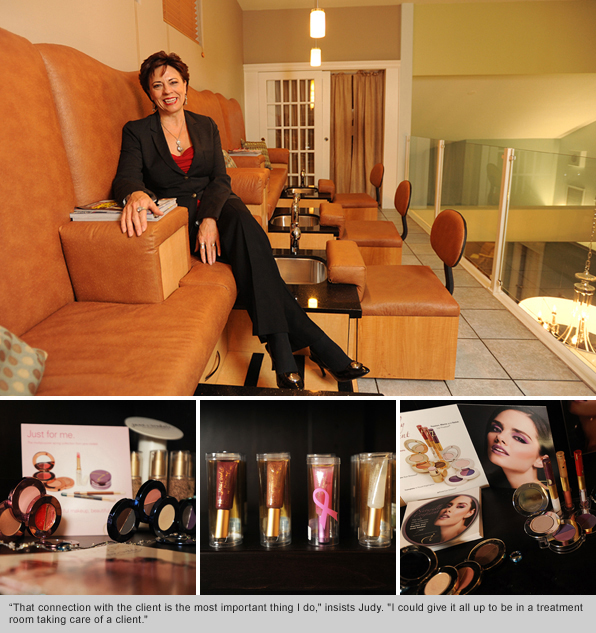 Although Jen, Laurie and Jacqueline all have their individual strengths, there's no such thing as specialisation at Atlantis. All the estheticians have the training and experience to do all the treatments, from pedicures to laser work. It's part of growing as a professional and a human being. Which is vital, as the most important part of the job remains the connection they make with every individual client.
"My favourite part of the job is the people I meet," insists Laurie. "People from all walks of life – young and old. It's so rewarding when someone wants to see you and only you. They care about you and you care about them. We're a team here and we've made it part of our lives. I love how it's owned by two women, Judy and her daughter Christy, who put their heart and soul into it. It's not some corporation only interested in making money. They care about their employees and clients and I like that. We're all family here."
"Contact with people is an essential part of the industry," agrees Jacqueline. "When a client asks to see you it shows that they've appreciated the service you've given them. There are four other spas in Tsawwassen now, so to know that I've done a good job and they're going to come back is a great feeling."
All four of Atlantis' Blanche Macdonald alumni look back on their educations and careers with fond memories. The proof is in their longevity. Jacqueline came to Atlantis four years ago. Laurie, six. Jen came straight from Esthetics School twelve years ago and has never looked back. For Judy, the day she became an esthetician was the beginning of an incredible adventure.
"I still find this rewarding," smiles Judy. "It's been 20 years since I became a professional esthetician. There are so many aspects to the business you can get involved in. You could work for a doctor or go into retail. Experience everything, find out what you love and don't be afraid to follow your passion."