Esthetics & Nails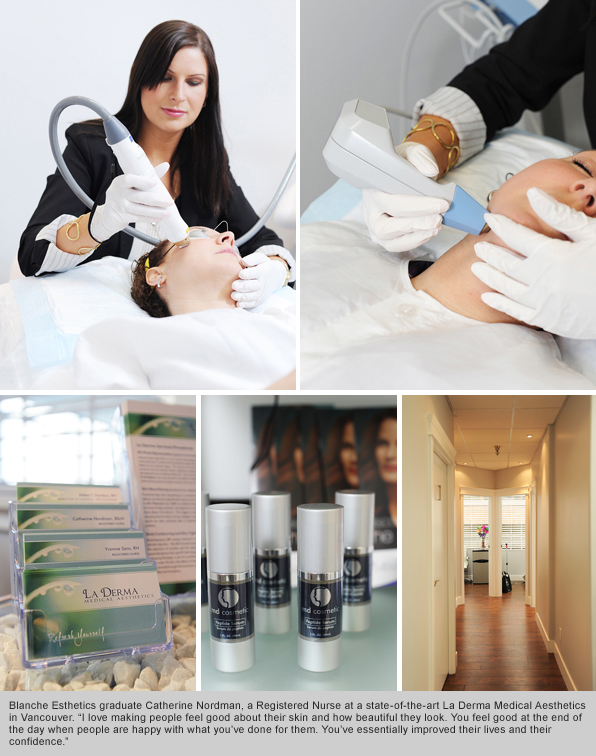 "I was amazed by the care I received. Catherine did my hair removal and did an amazing job. Her attention to detail was superb and I felt very comfortable in her chair. I strongly recommend to anyone who wants laser hair removal or to look and feel younger and sexier."
These are words from just one of many testimonials on the Yaletown Laser Centre web site, extolling the technology and service while at one of Vancouver's leading private Laser and Cosmetic Dentistry Centres. As a Registered Nurse, Catherine Nordman is responsible for many medical procedures at some of the best facilities in town. Now, Catherine has extended her vast expertise to La Derma Medical Aesthetics, a state-of-the-art medical facility in Vancouver. But no matter where she shares her knowledge and skill, the heart of her work is still reliant on the theories and techniques she learnt during her time in the Esthetics Program at the Blanche Macdonald Centre.
"The way I do treatments and most of the services I'm providing, the basis is esthetics-driven," explains Catherine. "I learned so much in my year at Blanche Macdonald. I use that knowledge a lot more than what I learnt in four years at nursing school. Going through the Esthetics Program and working in the spa industry, you definitely develop the ability to interact with your patients and build relationships. You learn how to read people. You can figure out what their individual needs are and help them feel comfortable. A lot of that comes from my esthetics training."
Catherine isn't playing down her nursing training. She's dealing with medical conditions every day. But she understands that it was her decision to enter the esthetics industry and her embracing of the philosophy behind it, that's taken her from her Vancouver home to Toronto, around the world and back again.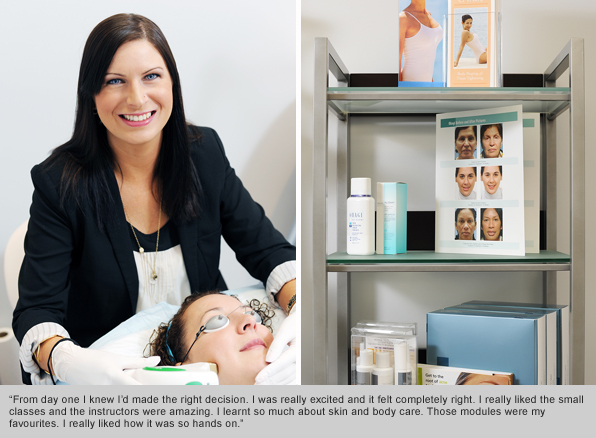 "Even in elementary school, I was a girly girl. I was really into makeup and cosmetics. After high school I decided to go into skincare. I learnt about Blanche Macdonald through a friend who was interested in taking a Fashion course there, and another friend who wanted to take the Makeup Program. I went in for an interview, just to check it out, and decided that it was the perfect fit. I met with Lise Graham and she was lovely. She showed me around and talked me through the curriculum. She tied together the chemistry and biology with the makeup and creative side. I thought it would be something I'd really enjoy, and it was only a yearlong program, which was perfect. I knew I would find a pretty exciting position after graduation".
The program Catherine had been introduced to on her guided tour turned out to exceed her high expectations.
"From day one I knew I'd made the right decision. I was really excited and it felt completely right. I really liked the small classes and the instructors were amazing. I learnt so much about skin and body care. Those modules were my favourites. I enjoyed the theory and science part of it, but I really liked how it was so hands on. It was always fun to receive a treatment, but I actually preferred to give them, learning the techniques and really getting into the theory behind it."
Catherine was right when she thought she could land a skincare position straight out of Esthetics School, and she continued to develop her skills and enthusiasm for the industry at several high-end spas in Vancouver.
"The Blanche Macdonald Esthetics Program gives you a really good knowledge base," insists Catherine. "I felt totally prepared for my position when I graduated. Oasis Skincare Spa was a boutique style clinic in Yaletown and a lot of fun. That was where I learnt a lot of the more advanced treatments like microdermabrasion. I felt I was giving my patients really effective facial treatments and I liked the science behind the products I was working with."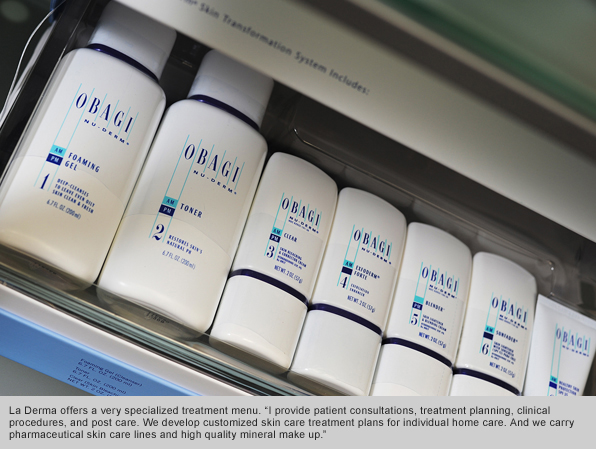 Catherine took a year off work to travel the globe. But that didn't mean she was taking a year away from esthetics. Instead, she used her time away from Canada to explore different countries and cultures' approaches to skin and body care. And it was that exploration that gave her the inspiration and drive to keep furthering her education.
"I was always picking up different cosmetics and coming across different skin treatments. I had homemade waxing treatments in Thailand. Threading and massages in Turkey. We went to a traditional Hammam spa there. The approach there was very cleansing and therapeutic. In Vietnam I had a massage that involved the practitioner stepping on my back. When I was in Rotorua, New Zealand we went in all these hot mineral pools. Travelling abroad opened my eyes to a lot of different health and beauty treatments. I wanted to perfect my skills and be more focused on specific skin treatments. That's when I decided to go to nursing school in Toronto and do my laser certification."
For four years, including four Ontario winters, Catherine worked hard for her Bachelor of Science Degree in Nursing. At the same time, she was working and training with the medical laser company.
"Debbie Nickel was one of my references for that job," smiles Catherine. "They only hire estheticians to become laser technicians. That's where I learned how to do laser hair removal and skin tightening treatments. The winters weren't great, but it was worth it because at the end I had my degree and I was able to combine the esthetics with my medical and laser training. I wanted to stay in the cosmetic industry and find a private practice where I could work with a physician and other laser technicians and estheticians. With the nursing training I could also do more advanced treatments such as laser resurfacing, tattoo removal and injectables."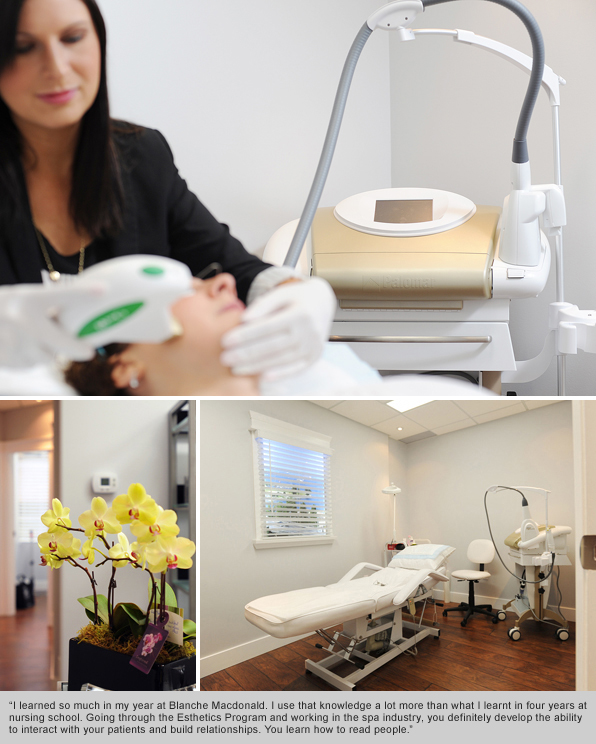 Catherine's time as Yaletown Laser's sole Registered Nurse allowed her to utilise many aspects of her enormous skill set. Recently, Catherine decided to focus on a different approach of the Medical Esthetics industry to expand her expertise. She contacted Helen, owner of La Derma Medical Aesthetics, another top-notch medical facility in Downtown Vancouver. Catherine's professionalism, extensive industry knowledge, experience and skill set made her an ideal candidate for the position. Soon enough, she became the newest Registered Nurse to join the team at La Derma.
"Both Yaletown Laser Centre and La Derma are medical clinics, so they're both very treatment-driven and results orientated. La Derma is a unique balance of Esthetic treatments and medical procedures. It's a physician-directed facility with the most current technology. We deliver individualized treatment plans in a professional and ethical manner. We have a very well informed clientele who wants effective treatments and the safety of medically trained, experienced professionals and a caring and supervised environment."
"At La Derma, I provide patient consultations, treatment planning, clinical procedures and post care. I still do treatments for acne, rosacea, spider veins, broken capillaries and hyper-pigmentation. Both clinics provide medical grade, prescription strength skincare products and combine home care with treatments like microdermabrasion, intense pulsed light photorejuvenation treatments, and fractional non-ablative skin resurfacing, which is really effective for scar tissue, fine lines, textural issues and enlarged pores. Now I get to work with the new Palomar Artisan system for Fractional skin resurfacing and Intense Pulsed Light Photorejuvenation treatments, excellent for improving scars, stretch marks and overall skin texture.
"I now also provide body contouring with the Exilis system, which is new to Canada. The Exilis is the only Health Canada-approved device for fat loss, wrinkle reduction and skin tightening. We develop customized skin care treatment plans for individual home care. And we carry pharmaceutical skin care lines and high quality mineral make up. The Medical Director, Dr. Alibhai is the physician who provides botox and filler treatment to our patients. An exciting new technology on the horizon at La Derma is the TattX device – great for effective, virtually painless tattoo removal!"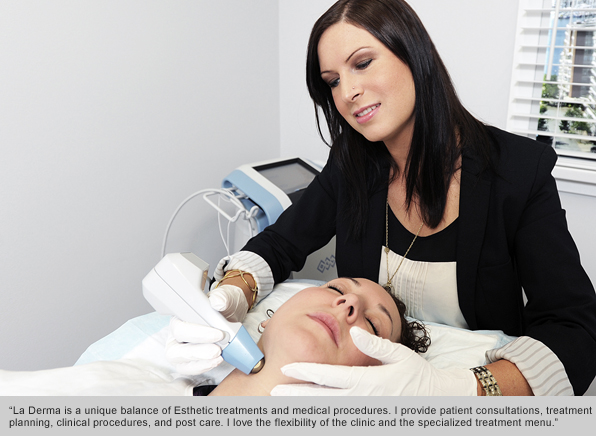 "I love the flexibility of the clinic and the specialized treatment menu. We offer very safe, effective skin and laser treatments to patients who truly want corrective and preventative aesthetic solutions. All of the clinicians are very experienced, professional and certified to operate the devices."
It's close to a decade since Catherine graduated from Vancouver's top Esthetics Program. Products, technology and the extent of her knowledge have changed a lot since then. The one thing that hasn't changed is the sense of reward she gets from the simple pleasure of making people feel better about themselves.
"Even though I'm a Registered Nurse, I still love giving patients mineral makeup applications, making people feel good about their skin and how beautiful they look. I'm never going to lose that artistic, creative side. Even when you're providing a medical service you still want to make your patients comfortable and see them leave happy.
"I like to build solid relationships with clients. They're not just coming in for a session and you never hear from them again. You feel good at the end of the day when people are happy with what you've done for them. You've essentially improved their lives and their confidence. It's nice to be able to do that for somebody."