Esthetics & Nails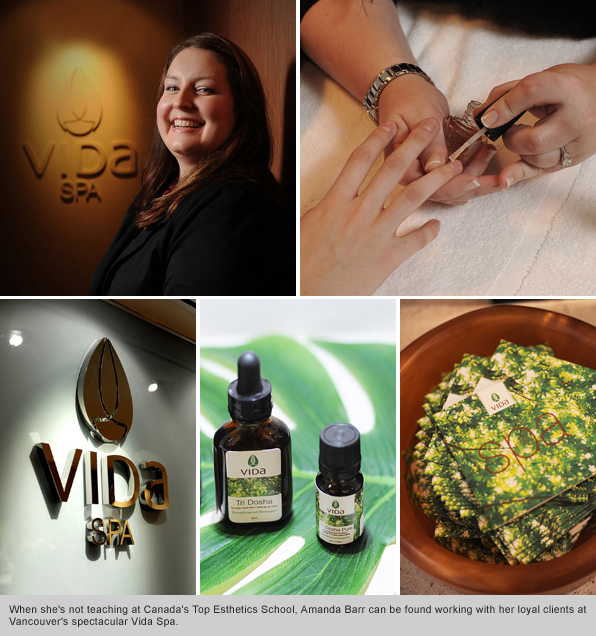 "I kind of have three jobs," smiles Amanda Barr. "I love them all!"
Amanda likes to keep busy. Every week the Blanche Macdonald Esthetics graduate sees loyal clients at Vida Spa's three locations in Vancouver, trains esthetics teams for high-end skincare line Sothys, and teaches as one of the incredible instructors at Canada's best Spa Therapy School. Considering Amanda wasn't originally sure that esthetics would be the right career for her, it's been a remarkable journey.
"Growing up in Pemberton I wasn't really sure what I wanted to do," she explains. "My grandma introduced me to manicures and facials, and I loved what the industry was about. There are zero spas in Pemberton, but a lot in Whistler nearby. I never went to them though. Spa trips weren't exactly in my high school student budget."
Unsure of where to take her career after high school, Esthetics seemed like an enjoyable (and low risk) option.
"Friends of friends had been to Blanche Macdonald so I'd heard great reviews and knew about the School's reputation. It was only a yearlong course and I figured that if I didn't like it, I'd still learn some stuff for myself. And if I did like it, great! My family came down to Vancouver for a tour of the school and we all loved it. Everyone was so friendly. I knew I wasn't going to regret it."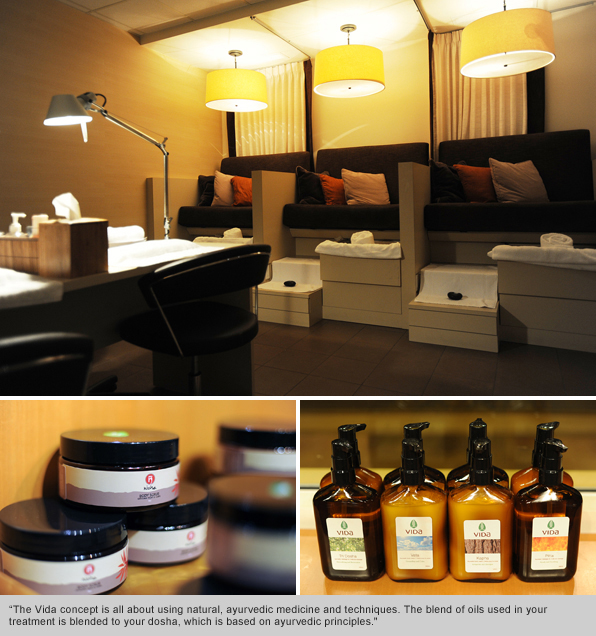 Once she began the Esthetics Program what had started as an interest soon blossomed into a passion. Even though her studies were nothing like what she expected.
"I thought it was going to be a lot more fluffy!" she laughs. "It was real world experience and education, right down to the very real information. Esthetics School was actually better than I thought it would be. I really loved the skincare module and makeup, but it wasn't fluffy in any way, shape or form."
Amanda graduated and immediately started working at an EvelineCharles spa in Vancouver. Within five years she'd worked her way from Junior Esthetician to Lead Esthetician, discovering new roles and career paths on the way.
"I naturally fell into a training role at EvelineCharles," she continues. "That's when I realised I wanted to teach as much as possible. Once I'd started I knew that was my passion."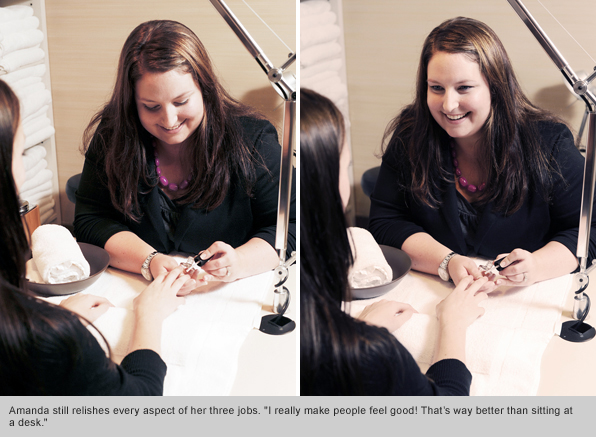 Taking the bull by the horns, Amanda took the advice of her mentor, Blanche Macdonald's Executive Program Director Debbie Nickel, and took a Provincial Instructors Diploma for teaching adults. She came back to Blanche Macdonald, met with Debbie and Program Director Simona Gozner and rejoined the School that had launched her into the World of Esthetics to begin with.
"My first teaching contract was for a nail module," she explains. "Barb Baker did my training, which was an honour for me, because she was one of my instructors when I was a student. Now I'm teaching skincare modules and working on cosmetic retail with the Makeup department.
"I never thought that I would end up back at Blanche Macdonald. It's kind of surreal. It's made me appreciate that I kept in touch with Debbie and never burnt any bridges. I tell my students how important that is all the time."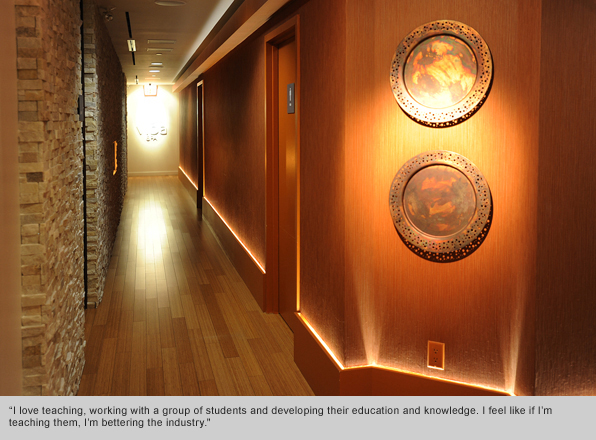 Those students are fortunate to have one of Vancouver's most respected estheticians teaching them on a daily basis. For Amanda, it's hugely rewarding too.
"I love teaching, working with a group of students and developing their education and knowledge. I feel like if I'm teaching them, I'm bettering the industry. I know I will always do any job the best I can, and I feel that I can instil that level of enthusiasm and knowledge with them.
"Our students today are so smart! They're so much more advanced than I was when I started. The industry is too. Estheticians have to know about lasers, physics, chemistry and biology. Things I didn't expect to have to learn about when I came into the industry. I was expecting fluffy!"
Having learned from the best, Amanda appreciates that there's more to being a great esthetics instructor than theoretical and practical expertise. For any successful esthetician, an always-welcoming, professional demeanour is as much artistry as technique.
"That's an important but hard thing to teach," continues Amanda. "I try to do that through example. We always try to instil high expectations, whether we're in a theory class or performing services in a practical room. We try to relay the message about how important our students' jobs will be and how every word can make their clients feel. It's so exciting to watch them develop. Near the end of the program we can see how they've changed and grown into this new career."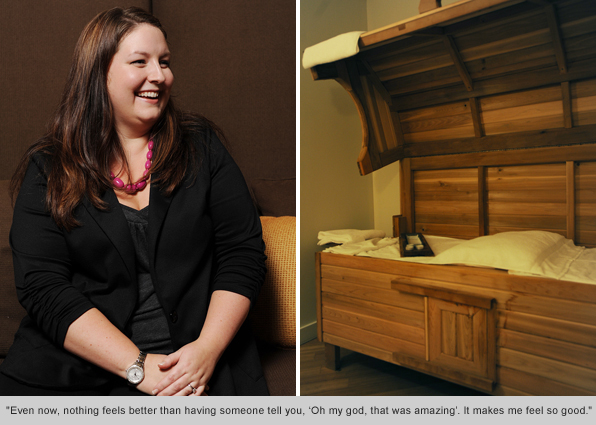 Amanda has devoted herself to her students at Blanche Macdonald, but that doesn't mean she's left her loyal clientele behind. After Amanda left EvelineCharles it quickly became clear that she had plenty of clients who still wanted and needed her in their lives. Now she's working at Vancouver's spectacular Vida Spa, those same clients are still devoted to her.
"The Vida concept is all about using natural, ayurvedic medicine and techniques. The blend of oils used in your treatment is blended to your dosha, which is based on ayurvedic principles.
"I don't know why my clients only want to see me," she smiles. "There are so many great estheticians, especially here in Vancouver. But you build up that history with clients and they don't want to see anyone else. They know what they're going to get and that the service will be consistent and great. They love it and so do I. I can't give it up. Even now, nothing feels better than having someone tell you, 'Oh my god, that was amazing'. It makes me feel so good. When you're with a client for an hour or two and they tell you that, it fluffs you up a bit. Before I became an esthetician I never worked anywhere where I'd feel so great about what I was doing and how I made people feel."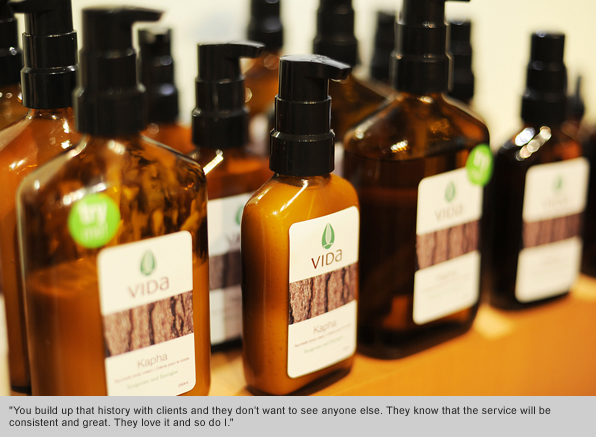 Somehow Amanda finds the time to give even more to the Esthetics industry as a Trainer for Sothys, looking after all the company's education classes across BC.
"It's a lot to live up to," she admits. "With such a high-end line the training really becomes interesting. When I see estheticians realise what this line is capable of and the results they can get from it, it's amazing. It makes my job as a trainer so much easier because they're usually into the line almost as much as me!
"I love European skincare lines. They're always on top of the latest ingredients and techniques. Training estheticians is fun, even though it can be a lot of work. I love to network and meet estheticians. We get to share ideas and stories."
Eight years after she first walked through Blanche Macdonald's doors, Amanda has returned as a valued member of the team that first inspired her. Now she's sharing that inspiration with the next generation of estheticians.
"I had no idea I was going to love it," she smiles. "But that's before I started doing services and getting the response from clients after they spent time with me. It was like, 'Wow, I really make people feel good! That's way better than sitting at a desk. I love this!'
"I can get creative with makeup or how to treat people's skin and give treatments. I can get creative with people skills too. I treat everyone the same – with respect. When clients have to show parts of themselves they may never show other people, that's when their true selves come out."