Esthetics & Nails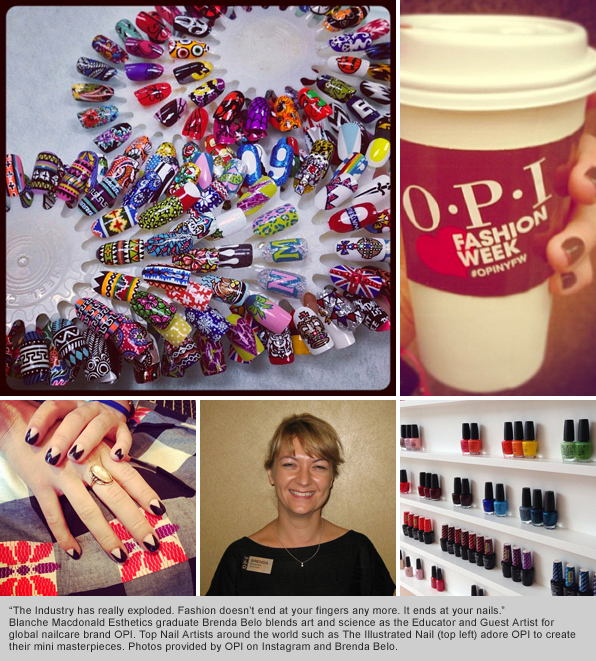 As an Educator and Guest Artist for global nailcare brand OPI, Brenda Belo knows how far a passion for manicures can take an Esthetician.
"The Industry has really exploded," she insists. "Fashion doesn't end at your fingers any more. It ends at your nails. It's about having a complete look. When I was growing up I never had a manicure before I came to Blanche Macdonald. Now young girls are having princess parties and getting manicures and pedicures. Nail enhancements are becoming the norm for anybody who wants to always look good.
"The Nail Industry has come out of its infancy and is almost an adult. It's not quite there yet, because there's still more growth to come. Every year there seems to be new technology coming out that creates new opportunities for Nail Technicians. It's a real career now."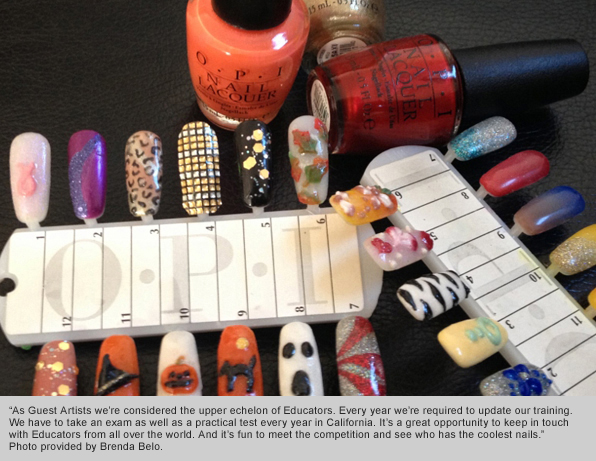 Brenda understands. She's been involved in the Nail and Spa business since she graduated Canada's #1 Esthetics School two decades ago. Now her role for OPI takes her across North America teaching professional Nail Techs and Estheticians the latest techniques and technologies, while her expertise and charm has led to multiple appearances on TV screens and within the pages of some of Canada's most popular magazines.
"We're concentrating on training professionals to use the product properly," continues Brenda. "One of the biggest challenges in the beauty industry is getting people to understand that all brands aren't the same. They have different technologies. I try to teach the professional how OPI technology can make their job easier and smarter. I've done a lot of PR work for OPI in Canada when we're launching new colours and products. I've been on Breakfast TV and appeared in Chatelaine, Zoomer, Lulu and a lot of blogs."
Brenda never intended to make nails the core of her career. She's just grateful it turned out that way.
"I was very lucky with Esthetics," she explains. "I stumbled into it. I was a theatre major in school. Then I took a Makeup program, not at Blanche Macdonald, and a nail program was part of the course. After I graduated I found myself doing more nails and I started loving it. So I began investigating Esthetics schools, which led me to Blanche Macdonald. A lot of the schools I looked at seemed like they just wanted to sell me something, but when I went to Blanche Macdonald it felt down to earth, comfortable and ethical."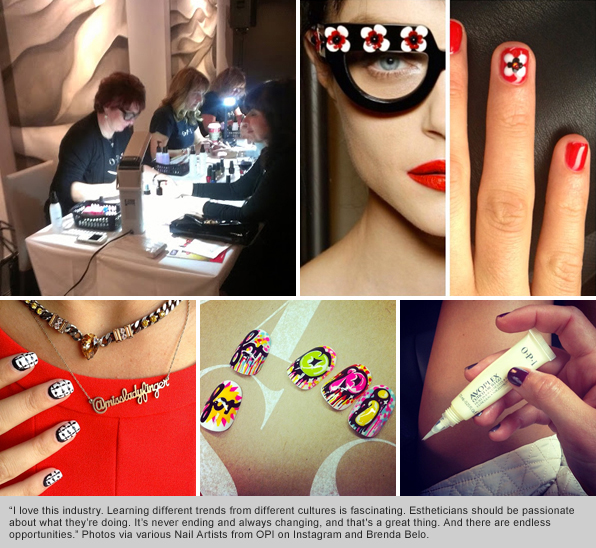 As soon as Brenda began studying, it was the beginning of a beautiful friendship.
"I really enjoyed drama and biology in high school, so as soon as we got into skin section of the program I was like, bring it on!
"I was a troublemaker! I never let my instructors forget me – on a daily basis! I tend to like being the centre of attention. I tried to learn everyone's name and I was always trying to be the motivator. If someone had a problem they would come to me and hope I would approach whoever was in charge. That's been the story my entire career. I guess that's why I'm a good manager."
Brenda clearly made an impact with her instructors. Back then Blanche Macdonald ran a professional spa out of the Esthetics department, and after graduation Brenda went straight from the classroom to working with clients. She soon became an instructor on the Nail Technology course, before moving to Vancouver's prestigious Sutton Place Hotel as a full-time Esthetician. After a few years Brenda's natural leadership skills could no longer be contained.
"When the opportunity came up I approached the management at the hotel and told them why they needed to hire me as a Spa Manager. I gave a full proposal explaining the pros and cons of staying with the current management, and gave them the benefits of bringing in new blood and someone with different experience. At the time they weren't marketing the spa at all. It was just an add-on for hotel guests. They saw the potential to actually make money as a spa and hired me. I was there for four years."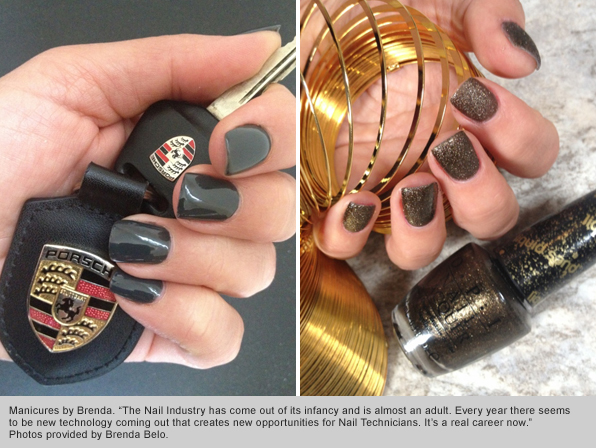 Brenda moved into a management position with Mega Hair Group, starting their very first spa in Burnaby's Metrotown before becoming a divisional manager.
"I like being in charge! I like telling people what to do!" she laughs. "I try to look at the big picture and see things from the consumers' point of view. The focus of this industry shouldn't be how to make money from clients. More like, how do I make this person come back all the time, and how do I make Esthetics better? When I started in this industry there was an attitude that hair and nails and facials were jobs that weren't for smart people. We all know that's not true now. Part of my drive has been to change that perspective."
For over a decade, OPI has been at the heart of that drive.
"I was approached by OPI's Regional Manager who was looking for Educators in the Lower Mainland. She'd worked with me previously. The rest is history! I've been an Educator and Guest Artist for 13 years now. They won't let me quit!
"As Guest Artists we're considered the upper echelon of Educators, so we're usually the ones who attend large events as speakers. And there are certain events that only Guest Artists do. We get a little bit of extra training. We're held to a different standard. Every year we're required to update our training. That's not just through product knowledge. It's skills too. We have to take an exam as well as a practical test every year in California. It's a great opportunity to keep in touch with Educators from all over the world. And it's fun to meet the competition and see who has the coolest nails.
"My favourite thing about OPI is that it's a family-run business. They're very big in maintaining the ethics and the quality of our industry. We're always improving the quality of chemicals used in our products."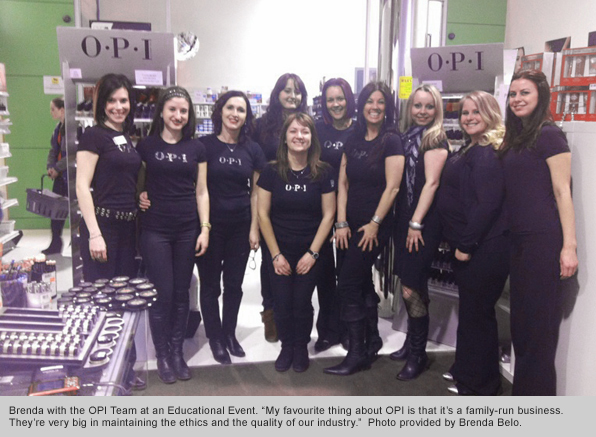 OPI is only part of Brenda's story. She taught Esthetics in Langley, before moving to Toronto and managing a pair of spas. She's worked as a consultant in Ontario too, helping spas open and develop. It's business, but it's also pleasure.
"I love this industry," she insists. "I love coming into a classroom and meeting new people. I learn something from every student I come across, whether they're a novice or have been doing it for 40 years. When I see students who can draw the Mona Lisa on a nail, it's so inspiring. A student at Blanche Macdonald taught me how to do a small bird on a nail. Phenomenal! Learning different trends from different cultures is fascinating. You get to see beyond Canada and North America in the beauty industry. Estheticians should be passionate about what they're doing. It's never ending and always changing, and that's a great thing. And there are endless opportunities."
Brenda's career has taken her across Canada and California, loving every mile on the journey. She understands and appreciates that she had a good starting point.
"I kept in touch with my instructors and friends at Blanche Macdonald," she smiles. "Whenever I thought I wanted to change jobs I'd call them for advice. When I wanted to hire people I'd always call Blanche Macdonald to hear who they'd recommend. I knew the quality of students that would come out of there. Even in Toronto people know it's a really good school. Whenever I meet people who want to go to a school in Vancouver I always say that they need to go to Blanche Macdonald. The quality and reputation is there. They'll treat you like a person, not just a number."