Esthetics & Nails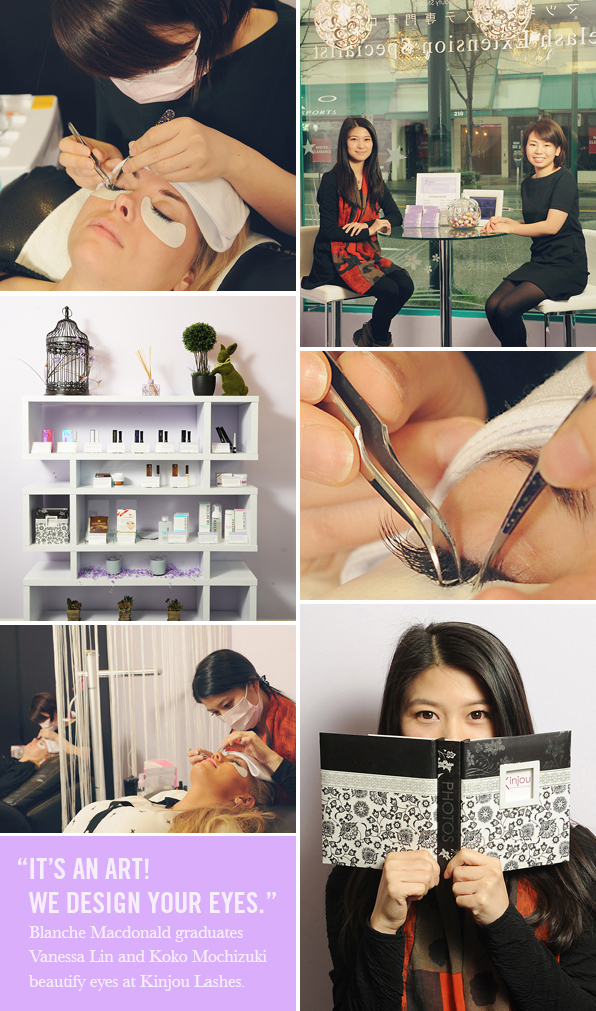 They met on the Nail Parlour Program at the Blanche Macdonald Centre, but Vanessa Lin and Ryoko 'Koko' Mochizuki aren't in the mani/pedi business any more. Instead, they took what they learned at Canada's #1 Spa School and applied it to an entirely new field, beautifying the eyes of Vancouver at Kinjou Lashes.
"Vanessa never even said hi!" laughs Koko. "At the time she didn't speak much English, which is why she didn't talk to me. I remember that after graduation a group of us went for sushi in Burnaby. I thought she was very mysterious."
"Well," smiles Vanessa, "I'm special!"
Vanessa jokes, but she's telling the truth. She's the owner of a growing lash extension business who first came to Canada from her native Taiwan to study English. When she discovered that she liked both Vancouver and the beauty business, Blanche Macdonald offered an ideal solution.
"I wanted a Canadian Diploma so I could work in Canada," she explains, "so I came to Blanche Macdonald. I wanted to be a proud graduate with a Diploma from a prestigious institution."
Just a couple of months earlier, Koko had joined Blanche Macdonald's Nail Parlour Program after a school in Langley she'd enrolled in had unexpectedly closed its doors.
"Blanche Macdonald is the most famous school in Vancouver. I didn't want another 'closed down school' experience again. So I chose the most trustworthy school, even though it was so far from where I lived."
Although Vanessa and Koko hardly knew each other while at Nail School, after graduating their paths would cross again.
"I became friends with a nail client of mine who wanted her lashes done every two weeks," continues Vanessa. "She was looking to start a company and wanted me to get into that business with her. That became Feather Lashes Beauty Lounge."
After a couple of years her partner wanted to explore other directions. Vanessa was happy to take over the business and changed the name to Kinjou Lashes. Although with just one employee at the time, Vanessa needed another pair of enthusiastic hands to train. For Koko, who had just graduated from the Esthetics Program at Blanche Macdonald, the timing was perfect.
"I had an employee who'd been to Blanche Macdonald," smiles Vanessa. "She told me she had a classmate who was interested in lashes. I messaged Koko on Facebook and asked her that if she wanted to try learning eyelash extensions, we could work together."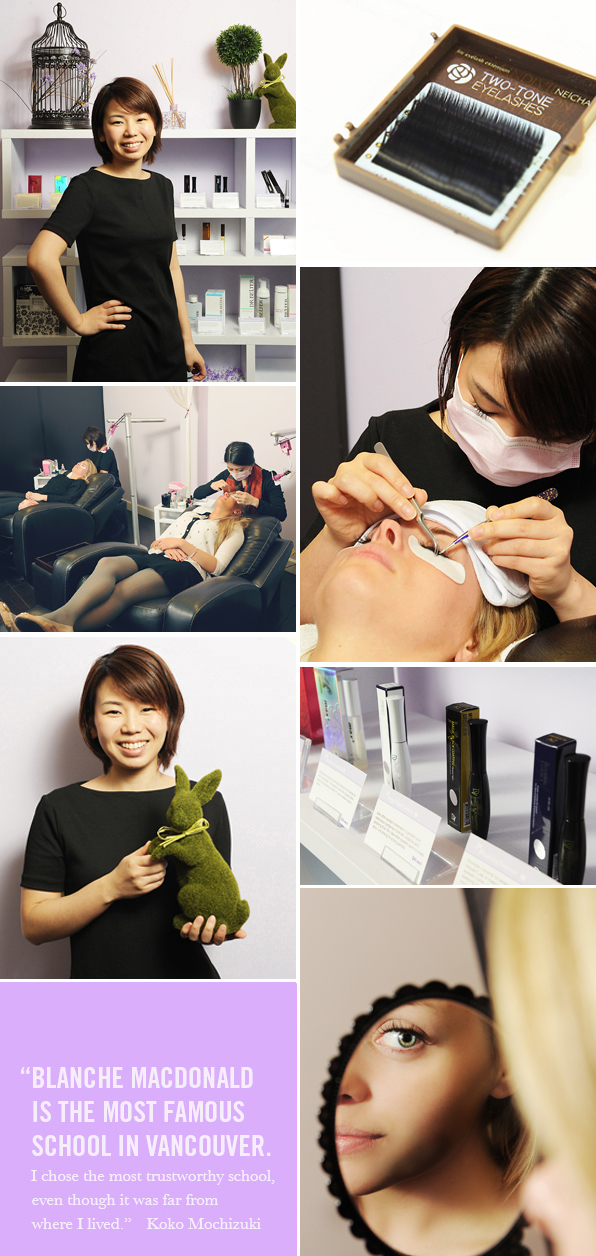 "I was a guinea pig!," smiles Koko. "I'd gone back to Blanche Macdonald to take the Esthetics Program. I knew it wouldn't hurt to have another skill set."
Vanessa and Koko have been working together at Kinjou Lashes ever since; their growing clientele testament to the care and professionalism they take with everyone that comes through their doors.
"We have consultations and ask what kind of lashes clients want," explains Vanessa. "Often clients don't know exactly what they're looking for, so we'll ask if they usually wear mascara or false lashes. If they bring their false lashes we can check and see how long they like them. For people who wear mascara, we recommend adding extensions an extra third of their normal length.
"We are different. The technique here is really important. We don't attach lashes to your skin. A lot of places do. We have a lot of SOS clients who come in and we have to remove their extensions. Then we'll give them a minimum of two weeks for their own lashes to grow back before giving them fresh extensions. Clients are normally nervous the first time they come here, but the second time they come, they always fall asleep while we're doing the application."
"We don't do cookie cutter jobs here," adds Koko. "We're honest with clients. If clients have damaged lashes we won't do an application. We'll help them repair their lashes then get them to come back for extensions later. We know what to apply and we won't apply lashes that aren't perfect. Customer service is very important to us. We always explain what we're doing. We won't touch your skin or do anything that will cause your natural lashes to fall off or get infected. You're coming for lash extensions to beautify your eyes. So why would you want to damage them?
"When clients come back we check every lash and see if they're glued properly or if they're coming loose and moving around. We remove any extensions that need to be removed, clean the natural lashes, then attach brand new extensions. When clients come here for the first time they're surprised that they don't feel a thing. They sometimes say, 'Have you done anything?' Then I'll give them a mirror and it looks great."
Professionalism is essential to everything they do at Kinjou Lashes. So is creativity.
"It's art!" insists Koko. "We design your eyes. Some lashes aren't suitable for some eye shapes."
"We study that in our training," confirms Vanessa. "We'll look at how different eyes work with different lashes. If you have patience, you can do this. We can train you to have a steady hand. If your lashes are healthy, we can do 200 or more extensions in an hour."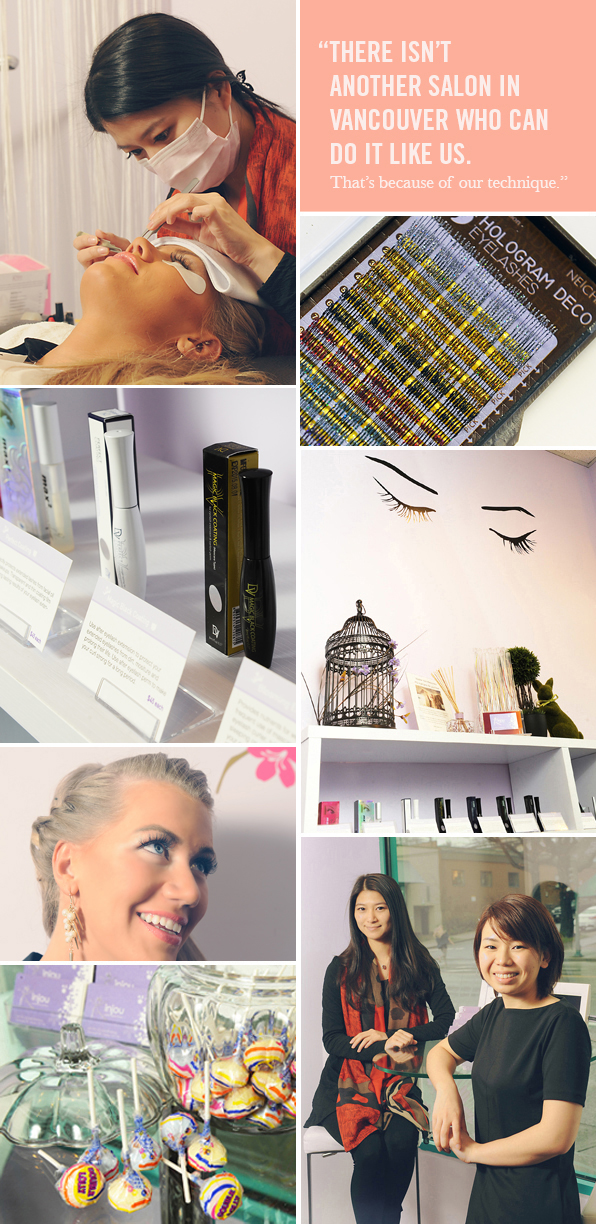 Kinjou Lashes' professionalism and creativity is paying off. Clients looking to keep their lashes in pristine condition will return for a relaxing refill application every two weeks. That keeps Vanessa and Koko busy. To cope with demand, Vanessa is looking at opening up a second branch in Richmond. As an expert in her field, she's also supplying extensions technicians across Canada as the official national distributor of Neicha Lashes. It's a growing industry. And Kinjou is at the forefront.
"When we opened the store customers would walk in and ask 'what are eyelash extensions?'" recalls Koko. "We don't get that now. People know what's going on with their eyes now and are taking the time to educate themselves."
"It's become popular because it looks natural and the results are really good," explains Vanessa. "I have a lot clients who see people looking at them differently. Like, 'Are those real lashes?' There isn't another salon in Vancouver who can do it like us. That's because of our technique."
Even though Vanessa and Koko are moving the entire Eyelash Extension Industry forward, they haven't forgotten where they came from. They're still using the lessons they learned at Blanche Macdonald on a daily basis.
"I remember our field visits to various salons," recalls Vanessa. "I learned a lot from these salon operators. Studying sanitizing practices really helped me prepare to comply with all the regulations the industry demands."
"I learned how to speak to clients to understand more about them," adds Koko. "It's important to ask clients about their lifestyle because they won't always tell you. They could be doing things that will cause a lot of trouble for eyelash extensions. Things like hot yoga, for instance. We ask and listen to how they live day-by-day, which helps us arrange and choose their lash thickness, length, curve and glue.
"Whatever you're doing in the beauty business, learning to talk to clients is a very important skill to have!"