Esthetics & Nails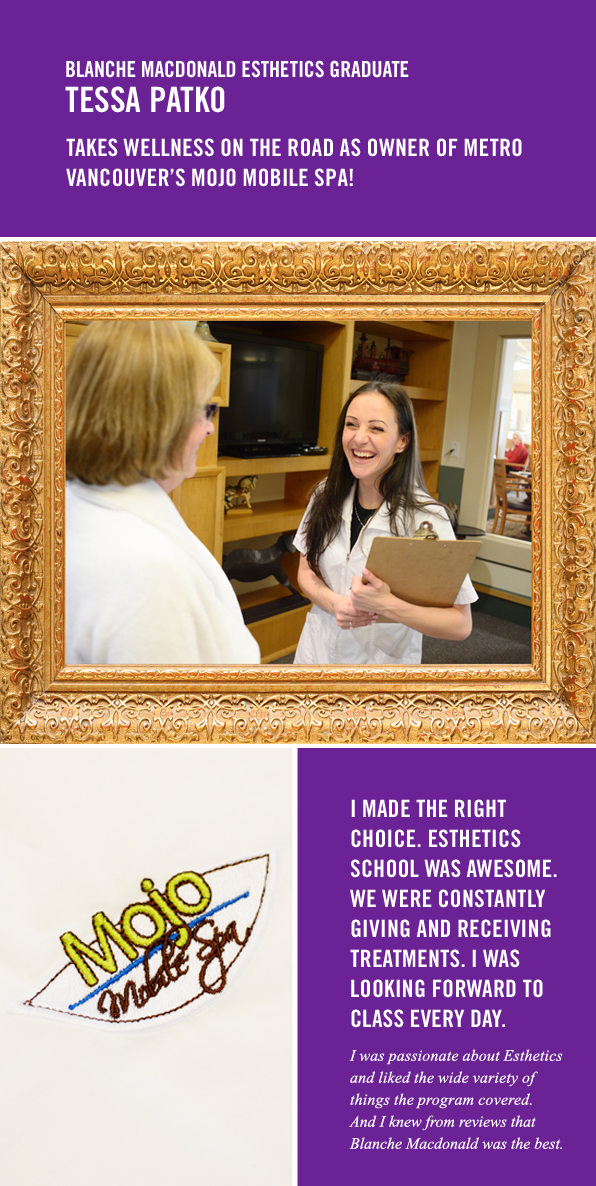 Everybody loves a trip to the spa as part of their wellness routine. But at the same time, not everyone has the opportunity to get out and give themselves the attention they deserve.
That's where Blanche Macdonald Esthetics graduate Tessa Patko and Mojo Mobile Spa enter the picture. If the people can't come to the spa, Tessa will bring the spa to the people.
"I'm providing services that clients might not otherwise be able to enjoy," she explains. "Mojo Mobile Spa is aimed at people who don't have the convenience of going to the spa, like busy mothers, people with health issues or people who don't have transportation. We're working regularly with seniors' homes now, which I love. I began receiving calls from grandchildren who were looking for people to go into the homes and give services. The need was there, so I started doing what I could to help. It really warms my heart to do those services. We'll do a soak, a massage and a polish and these seniors feel revived! They are really appreciative, love the attention and love to talk – as do I!"
Mojo Mobile Spa's reputation is growing fast. She was a finalist for the Richmond Chamber of Commerce's Young Entrepreneur of the Year, named as one of Richmond Review's 30 Under 30 business stars, and has been nominated for a business excellence award by the Surrey Board of Trade. Taking treatments to private clients, hospitals, hotels, pamper parties and corporate events across Metro Vancouver, Tessa already employs her own team of Estheticians, many of who come to her directly from Blanche Macdonald.
These honours and achievements haven't arrived by accident. They're the direct result of years of hard work. Luckily, Tessa is doing what she's always loved.
"I've always been interested in beauty and skincare," she continues. "I started experimenting with fashion, makeup and taking care of myself in my early teens, and I always loved going to the spa. Before that, when I was a little girl my Dad used to travel a lot and would bring back lotions from the hotels he'd stayed in. I'd tell my friends that if they put the lotions on their faces every day they would look like Barbie!
"After high school I studied business and began working behind-the-desk at administrative jobs. That wasn't for me so I went backpacking for a couple of years to think about what I wanted to do with my life. On the last leg of my backpacking trip I visited my grandparents in England. I was getting a pedicure with my Mom and she suggested I look at the world of esthetics. I was mulling it over with my grandparents and thinking about how they're so caring and how they always go the extra mile to make people happy. Their names are Morris and Josephine – which inspired the name of my business, Mo-Jo! I'm continuing the family heritage! As soon as I returned to Canada I registered at Blanche Macdonald. I was passionate about esthetics and liked the wide variety of things the program covered. And I knew from reviews that Blanche Macdonald was the best Esthetics Program in Vancouver."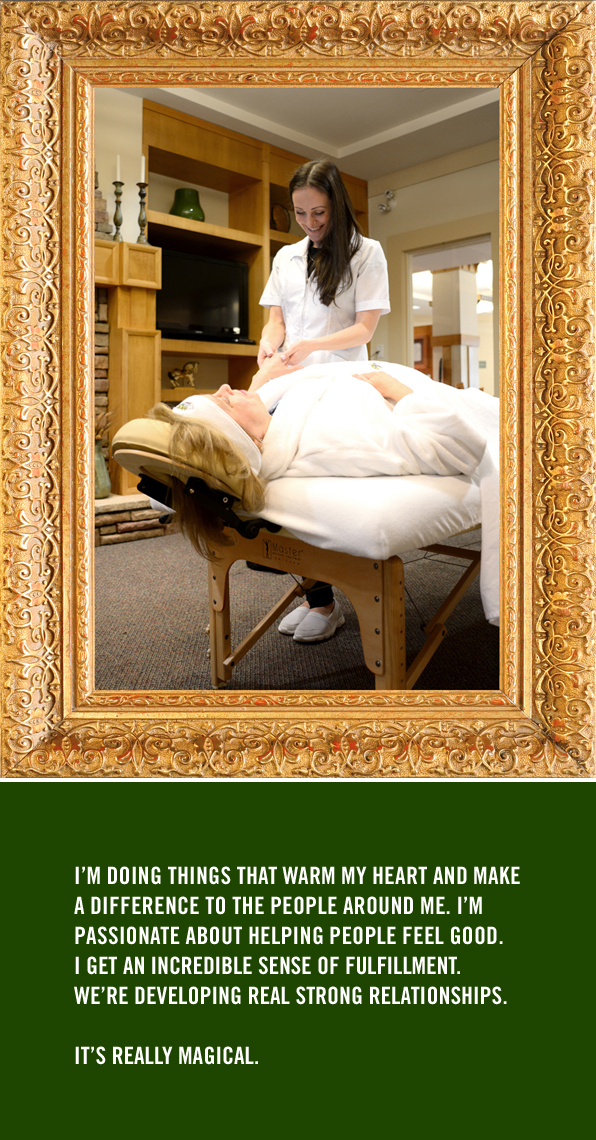 Tessa arrived at Blanche Macdonald with high expectations. But even she couldn't have anticipated how her year at Esthetics School would provide the inspiration to write her own life story.
"I made the right choice!" she beams. "School was awesome. We were constantly giving and receiving treatments. I was looking forward to going to class every day. When we started learning about the anatomy of the body and skin conditions I was worried because I'd never done well in science classes up to that point. But relating it to esthetics got me so interested. I was top of my class! I can't explain the type of camaraderie and the atmosphere that was created there, but it helped me excel. We received a lot of individual attention, not just about the schooling but also about our personal growth. I was treated as an individual, and I was able to maximize my personal potential. I'd never had that experience with any other school or university I'd been to. Lots of people can do treatments, but things you learn in that program, particularly about yourself, are irreplaceable. That year at Blanche Macdonald changed my life."
Tessa still smiles when recalling her time with Esthetics Director Simona Gozner. Four years after graduation that connection is still strong.
"Simona is one of my mentors. She's going to be a mentor for life. She gives me peace of mind. She helped me evolve as a person and a businesswoman. She built that ladder for me to climb. I know I can still come to her with anything. She's the first person I call when I'm looking for estheticians. If she has students she thinks would benefit from getting out into the field for some work experience, I'm happy to take them on for a project."
Invigorated and itching to show Metro Vancouver her newfound esthetics and business skills, Mojo Mobile Spa was born.
"I was an eager beaver!" laughs Tessa. "But first and foremost I was an esthetician. I started off out of the back of my car doing massage, waxing, body wraps, facials, nails, spray tanning, and eyebrow and eyelash tinting. But I needed to hire people and get a web site and my marketing going. I was wearing so many different hats. There was always something to do. Now my focus is on my team's development, but I don't think I'll ever stop giving treatments, whether it's a Mojo appointment with clients or friends coming over for a glass of wine. I'm my team's and their guinea pig, so I'm still giving and receiving treatments regularly."
Tessa did it all when Mojo Mobile Spa began, but now she's focussing on the business as she's boldly taking spa services where they've never gone before.
"We've participated, sponsored and or donated to many local fundraisers. Things like Women Making a Difference, The Nite of Hope, Parkinson's Society, Touchstone Family Services, Pathways Clubhouse and Rotary International. By being an active part of the community I've been introduced to some incredible people."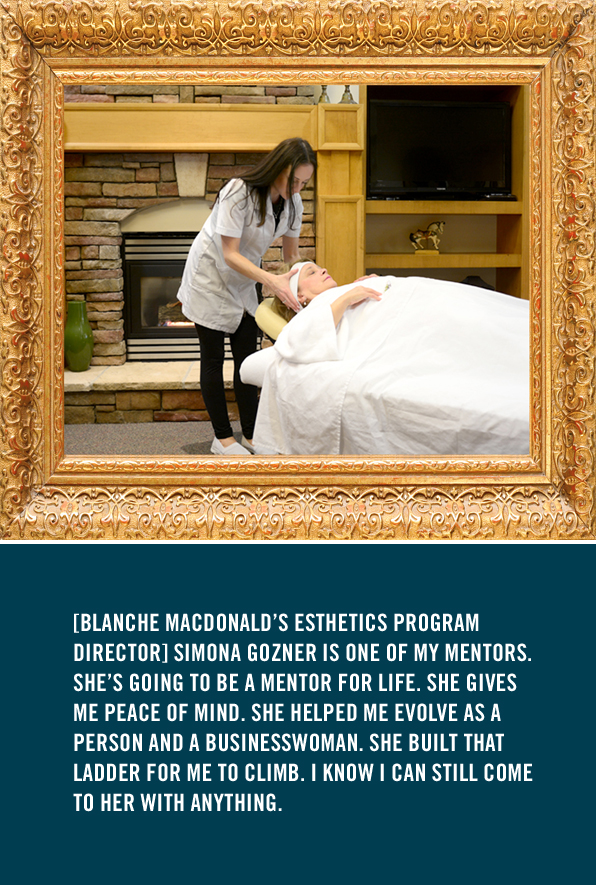 Showing that Mojo Mobile Spa cares is a key part of Tessa's day to day activities. So is finding and training motivated and independent-minded estheticians excited about joining her team.
"I'm always looking for more estheticians. They're subcontractors, so it's exciting for me to help them set up their own businesses and get their careers going. To be part of the Mojo team you need a vehicle, of course, but it's more important to have the right attitude. My estheticians are working independently all day, so they're responsible for getting to their clients on time and doing a great job when they get there.
"Estheticians don't get enough credit for giving so much during their treatments. They're putting their heart and soul into every client. Estheticians working for me must be patient and compassionate. Those are qualities all estheticians should have, but our clients can have health issues or disabilities that they need to bear in mind. We tend to have more interaction and talking with clients than in a regular spa environment. Not only are our clients looking for a treatment like having their nails done, they're looking for camaraderie. Having the opportunity to be touched can really make a difference in their day."
Tessa may be less hands-on as Mojo's business' expands. But inside, the unmistakeable heart of an esthetician – one that genuinely cares about everyone that crosses her path – beats harder than ever.
"I'm busy but I'm doing things that warm my heart and make a difference to the people around me. I'm passionate about helping people feel good. When I know that seniors are getting help, I still get an incredible sense of fulfilment. We're developing real strong relationships. We're not gossiping, we're having quality moments, talking about their lives and getting advice from people with experience. It's really magical."