Envision this: you've just been chosen as one out of tens of thousands of face-painting hopefuls to join the backstage ranks of the world's reigning Cosmetic Queen for New York Fashion Week. You soar out to the Big Apple on the order of an Instagram notification and join right in on the frenzy of shows like Anna Sui, Diesel Black & Gold, Calvin Klein and Hugo Boss. A few days later you're pulled onto a flight to Milan where you brush it out for luxury legends Gucci, Prada, Dolce & Gabbana, Bottega Veneta and Versace. Another ticket is thrusted at you. It reads Paris. Givenchy happens, as does Jil Sander and Valentino. You're there amongst it all, and you end it with a magical motorcycle tour of the city.
This is Jenna Kuchera's fantasy. A fantasy that flung through into real life.
"When I found out I had won Pat McGrath's #backstagewithpatmcgrath Instagram contest, I was on set with my friend Alan Chan shooting for Kit and Ace – just a regular work day – and I hadn't looked at my phone for hours. When I had packed up I saw that I had something crazy like 50 missed calls," recalls the Blanche Macdonald Makeup graduate-turned-Pat-Prodigy. "I knew at that point that I must have won."
"I threw my life together, my kit together and I was away for over a month with her team. I wasn't expecting that time frame either so it was all just really crazy!"
Jenna can't reveal too much of her whirlwind month with Pat—MBE (that's Most Excellent Order of the British Empire), and widely-dubbed 'Most Influential Makeup Artist in the World'—but what we do know is that what was supposed to be just one Fashion Week turned into three.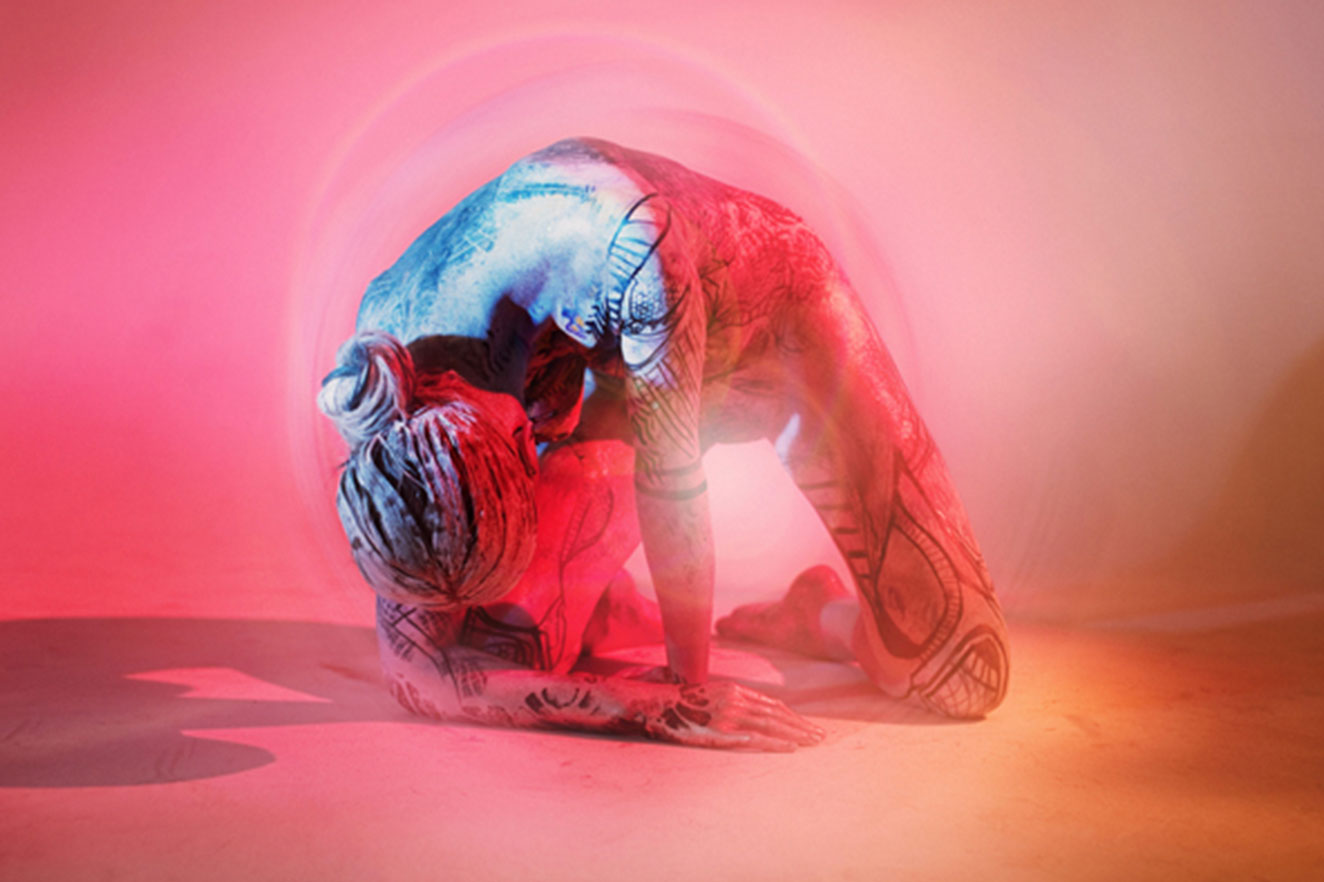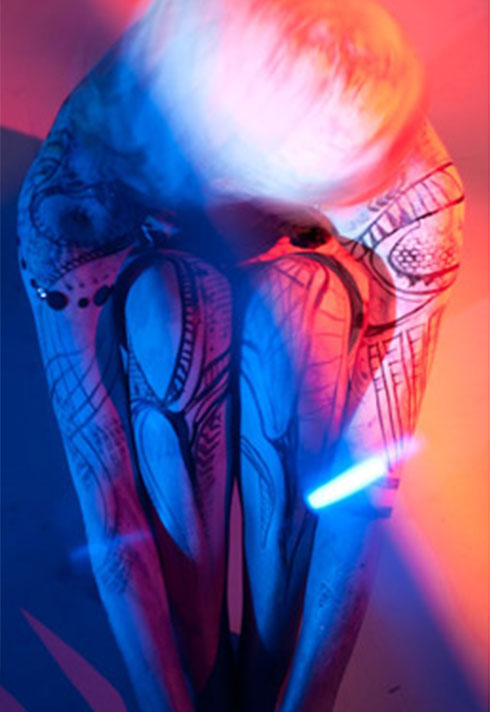 "She asked me to come along to Milan and Paris and of course, you're not going to say no. It was a dream come true for her to ask me that, as was every opportunity that came up during that time with her. I was so in shock that I didn't really think about it too much. I feel that if you're thinking about how, 'I'm here, working on the World's Best Team,' you start to get panicked and nervous. For me, the more that I relax and do my thing, and not really think about, the better. It wasn't until I came home that it sunk in."
As astonishing as this may all seem to be, it is not all that far-fetched. After all, like Pat's ennui-blasting reinvention of editorial beauty in the 1980's, Jenna has been vivaciously reimagining the standards of artistry in Vancouver. Her less-than-natural makeup style, which elevates character in unapologetic blitzes of glitter and hue, has made her one of the most sought-after Makeup Artists on the local scene for a mind-boggling gamut of sets. From the fresh calm of Aritzia lookbooks; to eye-pummeling conceptual editorials with the likes of Grimes; music video sets for Hedley and Eating Out; and face-doodling sessions with Norman Reedus (we'll get to that later), there is simply not enough space in this article to describe her range of artistic reach. Jenna takes it all on with chroma-packed prowess and enviable cool. And the international scene has taken note.
---

A lot of these people in the creative community
are open to doing something new, having fun
with it and not taking it too seriously.

---
The fashion-slick scapes of New York, Paris and Milan can seem distant dreams for most, but especially so for Jenna, who began her journey in a small town just outside of Penticton, BC.
"When I was young my mom would have friends come over on some Saturday afternoons and we'd have hillbilly barbecues with all of these characters drinking Budweisers and—as it was the nineties—wearing cut off denim shorts and big blonde hair," laughs Jenna nostalgically. "There was one instance where my friends, my sister and I snuck into my mom's makeup and dressed ourselves up like our moms—teased our hair and did beauty marks and the lip liners that are too dark. The women thought it was hilarious and everyone was having so much fun about it, working together to find us more props."
This was Jenna's 'Cosmetic Awakening'—Makeup for fun, Makeup for transformation, for characters and collaboration.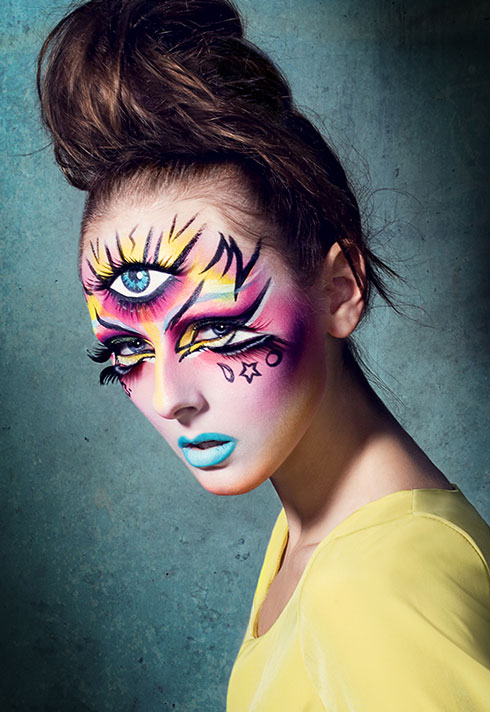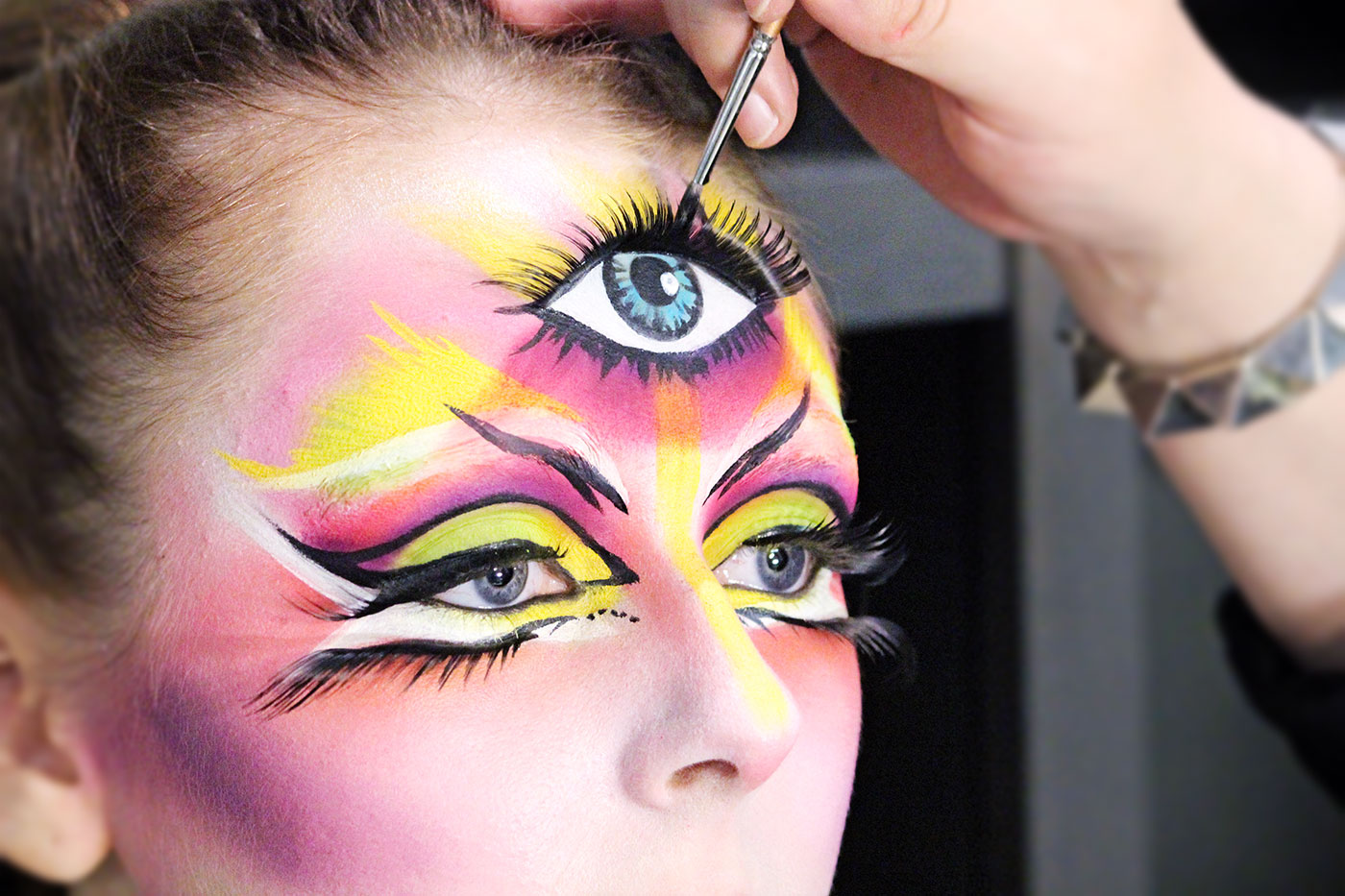 At just fifteen years old, Jenna forayed out into the world of freelance with a beauty-tome-taught talent (it can be said that her first classes were coached by cosmetic greats Kevyn Aucoin and Bobbi Brown), working on a circuit of word-of-mouth bridal gigs, and dreaming up outlandish creatives in the studio of then high school pal, now renowned New York photographer Owen Bruce.
---

Blanche was the best. I had the most fun.

---
She might have stayed a big fish in a small pond forever, had it not been for one irresistible invite. Her best friend was going to Blanche Macdonald. She should join.
As would become something of a motif later in her life, Jenna packed her bags up in flurry and whim, not knowing quite what to expect of Canada's Top Makeup School, but ready for big changes.
"Blanche was the best. I had the most fun. We were all super tight buddies in my classes. I remember them all fondly and keep in touch with some of them still. We were always dying with laughter over whatever—whether it be beard day, dressing up like pirates or some hilarious thing. There were always some crazy shenanigans going on.
"That's also when I became quite serious about what I wanted to do. I started to realize that I cared a lot about doing well with this. In a small town sports are considered competitive, but we were definitely competitive with creative work within our class. That really helped me to excel in those days."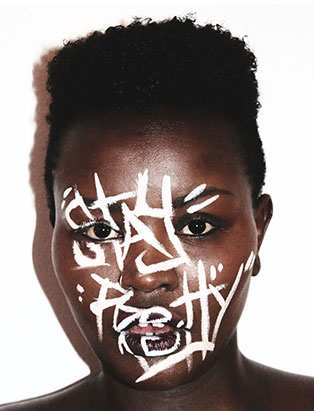 The rapid pace of expectation and growth that her in-class competitions brought left Jenna wanting more. Shortly after graduating, a recommendation from instructor Jennifer Folk to apply to the IMATS (International Makeup Artist Trade Show) Battle of the Brushes was an easy yes for Jenna, and an even easier yes from the application board.
"I found out that I had been accepted and needed to make money—quickly—to get to LA, so I made a raffle basket with a bottle of tequila and a bag of Doritos. All of my friends would come by my work to put money down. All of a sudden there were more than 100 people who were going to be want to know whether I had won or not, so I was like, 'Shit, I better win.'"
Jenna did win. She took first place in the Beauty/Fantasy competition with her macabrely brilliant black widow creative (which can still be spotted on the IMATS banner to this day).
Having swept the podium of the Canadian Makeup show earlier that same year, placing first in each of the three competitions she entered (Glamour, Fantasy Runway and Body Painting/Airbrush), one might imagine that Jenna walked into the IMATS, and her many subsequent challenges, with easy confidence and ease of mind. That this is not the case speaks strongly to how she has come to be where she is today.
"I have confidence in what I'm doing, but I don't ever have that assumption that what I'm doing is going to be better than anybody else. Or that I'm going to win a competition because I've already won three or four. After each is over I reset. New game. Anything can happen. The constant challenge drives me, and drives any artist to keep up their game and keep performing. It's so important."
It may not be the gold that Jenna is interested in with these intensive artistic trysts, but the golden opportunities that have presented themselves as a result of her years competing – both in the arena, and with herself – she takes in gratefully. Her brazen vision, coupled with a modest and genuine mien, caught the eye of Blanche Macdonald Fashion Makeup Director Jon Hennessey, who promptly signed her on with his bar-raising talent agency Nobasura.
"The industry has really expanded for me, just in meeting new people and having these opportunities come up. Last year I was able to work with Norman Reedus and Djimon Hounsou, who are amazing, awesome guys for a film called Air. Norman Reedus doing my makeup was funny. That was a good time." (He's apparently quite talented too.)
---

I've been very lucky in having people allow
me to do whatever craziness I'd like to do.

---
"A big reason that I like working film is that it can be so fun. And as I do Beauty and Fashion Makeup almost every day, it's really important to me to keep up in the world of Special Effects. Those skills transfer into other projects that I do; they definitely help with problem solving, and I've used this mindset at shows and shoots."
It is this sort of invaluable industry-reaped insight that Jenna has been bringing back to the classroom, as an instructor at the Blanche Macdonald Centre. Though well under 30, she's far more than qualified for the position—having worked her first Fashion Week at 22, keeping a swift and cool-headed rise ever since, Jenna has become somewhat of a hero to her fledgling creatives.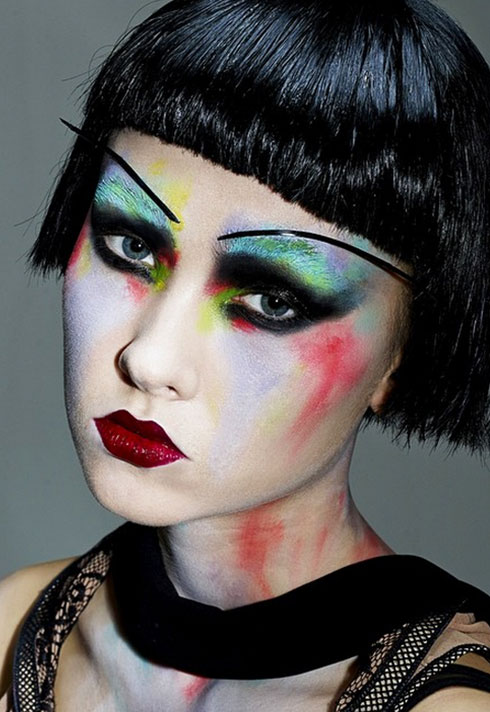 "I like to come back to Blanche because my students all look at me with sparkles in their eyes. They all listen to every word I say and are just so excited to be there. To have relationships with people that are learning something from you is such an interesting feeling. They're really happy and thankful to have me there and I feel the same way about them."
In the wake of her glorious globe trot with Pat Mcgrath, Jenna hints at BIG things on the horizon. It's unsurprising and, of course, all very hush-hush for now. Wherever it is that she ends up, Jenna insists that she'll hold Vancouver enshrined as her creative home.
"What I really like about working here is that a lot of these people in the creative community are open to doing something new, having fun with it and not taking it too seriously. Once people feel like they have mastered whatever they want to master here, it's a lot easier to bring it to other markets. You feel confident with your work once you've had this playground to figure it out in.
"I've been very lucky in having people allow me to do whatever craziness I'd like to do. I call them my friends, but they are professionals – really amazing photographers, stylists, models. I've just worked with them so much that they've become my friends."
Makeup has always been a means to great times with great people for Jenna. And even now, making her break into the prestigious hustle of the backstage elite, she manages to source out these two happinesses.
"Everybody on Pat's team is super welcoming. They are all extremely talented—some of the best Makeup Artists in the world—and that can easily make somebody a jerk. I deeply respect all of them, not only for their experience and their skill, but because they're good people who accepted me and were super generous with their knowledge. They went beyond my expectations of just being really awesome-cool-amazing humans. If you're like that you're going to get further ahead."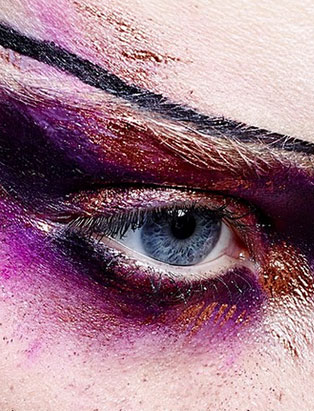 Though we'll greatly miss Jenna's own liberal outpourings of savvy and artistic wit about campus during these next thrilling stages of her career, we can think of few more fitting to take on the challenge of making over the world of Fashion Beauty.
"Fashion is at a point where it's starting to change and I'd like to be a part of that in a positive way. It's been a nice feeling for me to be a supportive friend or role model for younger people that are in the industry. It's something that I would like to continue to do. There's going to be a new generation that challenges the older conventions of beauty and I'm hanging out waiting for that to happen, but also hoping to be a catalyst for it to happen too. In my own way. In my own work.
"I'm looking forward to seeing how my work will change into the future, as I go out to experience and learn more of the industry—what it will look like when I break out some of my weirder Jenna Kuchera stuff down the road, and make people question things."
We can't wait.