Blanche Macdonald's Co-op Programs
STUDY + WORK IN CANADA
Blanche Macdonald Centre is pleased to announce that the College has received official government approval for a 2 year Full-time Co-op Diploma program in our Global Makeup Artistry, International Makeup Artistry*, Fashion Merchandising, Fashion Design, Esthetics and Pro Hair programs. This will allow International students the phenomenal opportunity of studying with us for one year and then working in Canada for one year in their area of study and gaining valuable work experience in their field of study. Students will require a Canadian Co-op work permit.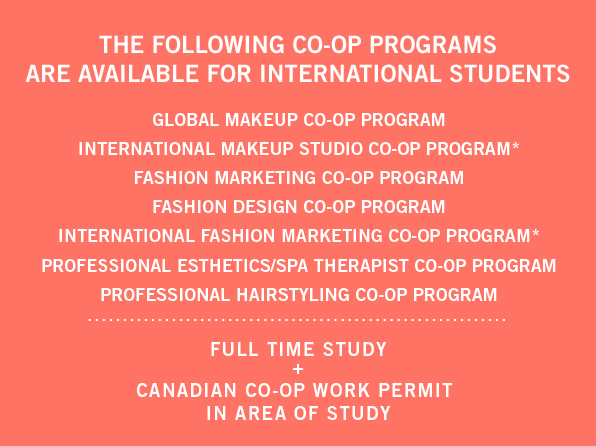 * International Makeup Artistry = 6 month Study + 6 month Canadian Working Permit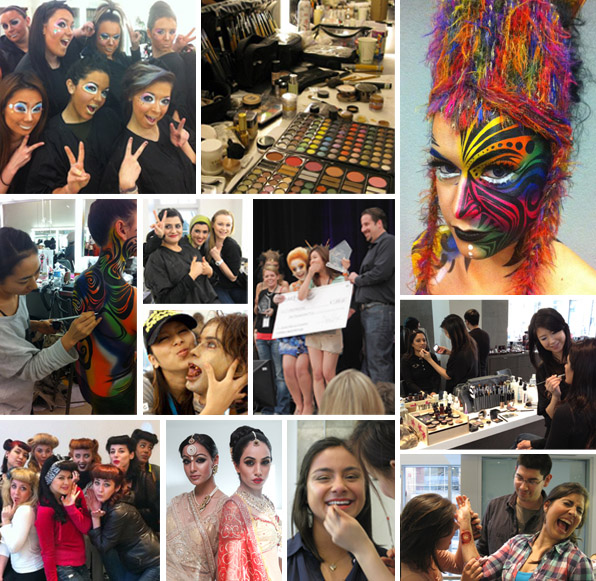 With our International students who choose Co-op, they will first study full time in their Blanche Macdonald Program followed by the same duration of their Co-op work experience program.
For information on upcoming Co-op program start dates, please contact an Admissions Director (details below).
Blanche Macdonald has a team of fully dedicated Career Placement Directors for each program. Our Directors will work closely with our Co-op students right from the beginning of their study period through to their Co-op program to coordinate work experience and volunteer opportunities (both paid and unpaid).
Established since 1960, Blanche Macdonald Centre is a world class educational institution in Vancouver, BC, focusing on the creative and applied arts. We are a fully government accredited college and we enroll over 1300 students per year. Now, the school has three Vancouver campuses, a Pro beauty store - CurliQue Beauty and a Pro student hair salon - Q&A.
Five-time Emmy Award-winning Makeup Artist Eve Pearl recently called Blanche Macdonald "the Harvard of Makeup". We teach our students to the very highest industry standards. Our curriculum is authored by two-time Emmy Award-winning Blanche Macdonald Makeup Director, Mr. Todd McIntosh. Throughout the year, some of the top talent in the Beauty industry take time out of their busy schedules to visit our campuses and speak and demonstrate their talent and knowledge to our Makeup students. International VIP Guest instructors and artists include Oscar Award-winners Ve Neill (Makeup Designer/Makeup Department Head for The Hunger Games, The Amazing Spiderman, Pirates of the Caribbean) and Howard Berger (Makeup Department Head for The Chronicles of Narnia) and the Celebrity Makeup Artists for Madonna, Lady Gaga, Florence + The Machine - Sharon Gault and James Vincent.
Recent award-winning Blanche Macdonald Makeup Artistry students and graduates:

International Makeup Artist Awards Toronto 2012 – Kiki Xiang, 1st place; Kara Alaric, 2nd place
International Makeup Artist Awards NYC 2012 – Taylor Dunn, 1st place; Cristina Adrianzen - 2nd Place; Nikki Dobsinsky - 3rd Place

International Makeup Artist Awards Vancouver 2012 – Catlyn Jeong, 1st place

International Makeup Artist Awards Vancouver 2011 – Veronica Duk Soo Cho, 1st place; Shawnna Downing, 2nd Place; Isabelle Champigny - 3rd place

Canada's Best Beauty Talent for Makeup 2012 – Marcia Garnes
Procter & Gamble's Beauty and Grooming Awards: Canadian Makeup Artist of the Year 2013 - Blair Petty
Dior's 'Best North American Makeup Artist' Competition 2013 – Aya Coulter, Gold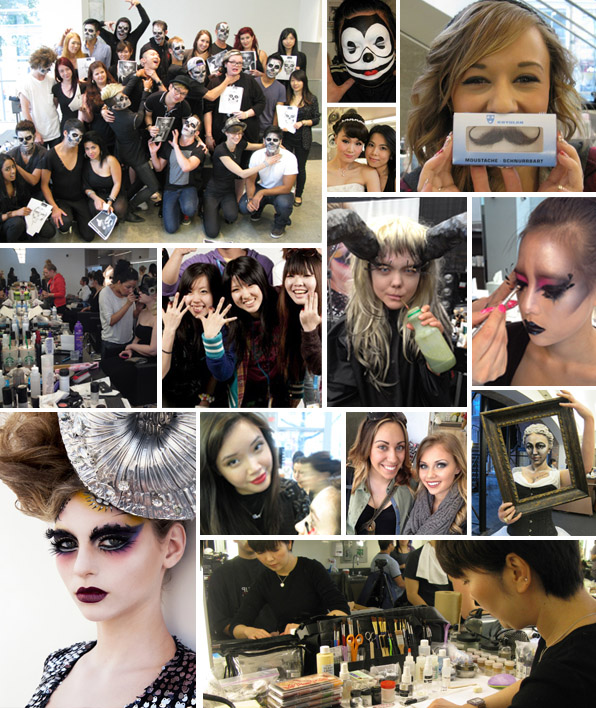 Please contact us for more information regarding our admission process or start dates:
Atelier Campus
Jaye Wong Klippenstein, International Marketing Director
jaye@blanchemacdonald.com
Lina Lee, Associate Director International Department
lina.l@blanchemacdonald.com
Lina is also fluent in Korean
604.685.5560

City Square Campus
Josephine Lee, Associate Director
josephine@blanchemacdonald.com
Josephine is also fluent in Mandarin and Spanish.
604.685.0347