Grad Success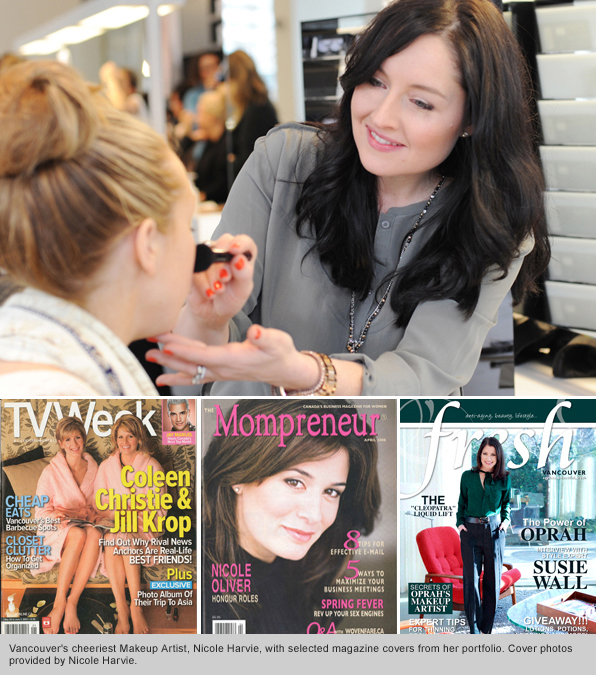 Nicole Harvie always expects the unexpected. As a makeup artist specialising in the twin environments of live and reality-based TV, she knows that on any given day, tension and nerves are potential hurdles that need overcoming. Which is why her job means making sure everybody on screen feels as great as they look.
"I'm the cheermeister!" she laughs. "When I did a stint on the Citytv Morning Show I had to wake up at 3.45am five days a week. No-one feels that good early in the morning. Your responsibility as a makeup artist is to get everyone's day off to a good start. Pretty them up and cheer them up. How are you today? What have you got planned? People feel great when they get their face on and feel taken care of. I want people who sit in my chair to leave with a little extra energy as well as a bit of colour."
Delivering that shot of energy comes naturally to the graduate from Canada's #1 Makeup School. It's noticeable the minute you meet her; a combination of warmth, charisma and gentle professionalism that's led her from Blanche Macdonald to the studios of Shaw, Citytv, Global TV and CTV, and has taken her behind the scenes on some of Canada's most entertaining lifestyle and reality TV shows, including Take it Outside with Kelly Deck, She's Crafty, and Urban Suburban for HGTV Canada, Smart Cookies and The Cupcake Girls for the W Network, Crash Test Mommy for the Slice Network, and Million Dollar Neighbourhood for the Oprah Winfrey Network.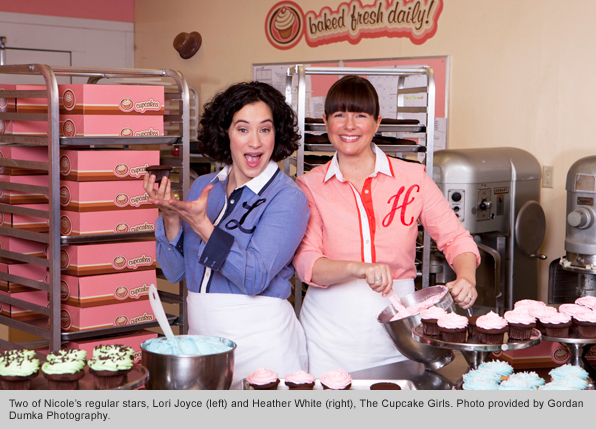 "For the most part, these reality-based shows are pretty real to life. I love being on set in the fervour and all the ups and downs. It's rewarding to see the final result. And it still excites me to see my name roll on the credits.
"I've been on camera on Anna and Kristina's Shopping Bags and Anna and Kristina's Beauty Call, talking about how to do red lips, concealer and so on. For a number of years I did segments on MTV Canada and Citytv on beauty and fashion. I like being on screen when I know what I'm talking about, and I know what I'm talking about when I talk about makeup."
Read More
Ana Luisa Valdes always loved cutting hair. Now she gets to share that passion. As the BC Educator for the globally distributed, environmentally conscious Hair Line Davines, it's Ana's job to travel to salons around the Province, teaching professionals advanced cutting, styling and colouring techniques, along with how to best use the brand's wide range of products. It's a fabulous position, ideal for a stylist whose gift for making people look and feel great was apparent even before she arrived at Canada's #1 Hair School.
"I really don't remember how I started cutting hair," she laughs, recalling her time growing up in Tampico, Mexico. "I had no training. It was something natural to me. My aunts would get me to cut their hair with the same scissors they used in the garden. My sister-in-law ran a hair salon in Tampico. She saw me doing hair and said that I should help her in the salon."
When the suggestion came that she should enhance her natural talent with some formal training, Ana Luisa investigated the possibility of a dramatic change of scenery.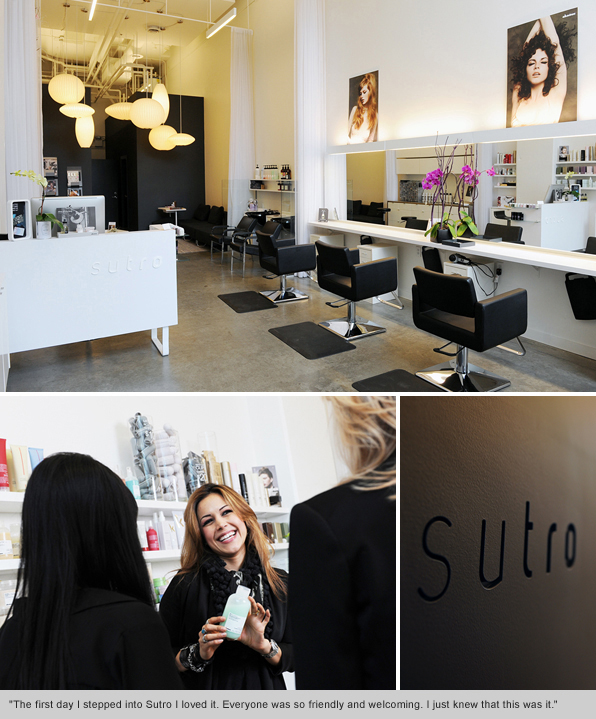 "I'd been to Vancouver before, and I'd always liked it. One of my girlfriends from Mexico lived here and said that I should try Blanche Macdonald. I heard it was one of the best schools. And the brochure they sent me looked really interesting."
Read More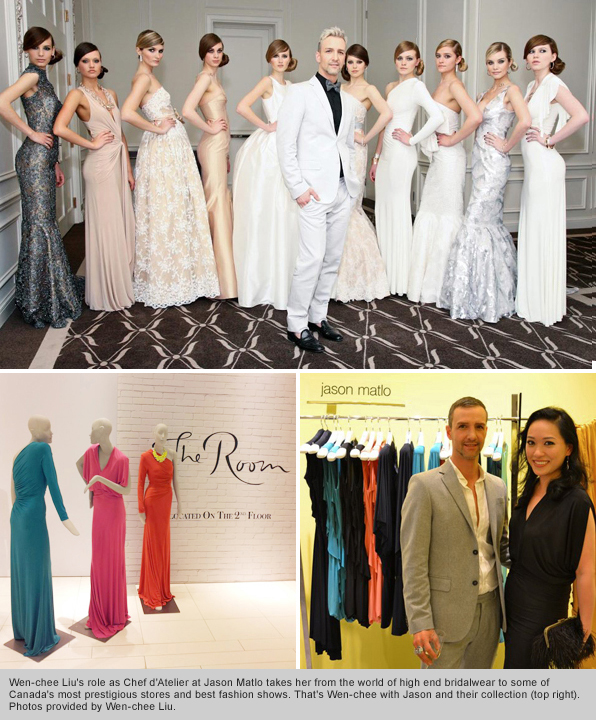 As Chef d'Atelier at Vancouver fashion label Jason Matlo, Wen-chee Liu takes a hands-on approach with everything her role requires. Which leads to the obvious question, what exactly is a Chef d'Atelier?
"It's a very fancy name!" laughs Wen-chee. "People think that I cook. I don't! It actually means that I head up the studio. It's Jason's name on the label, but we have about six people here all working together. The creative process is very exciting. We all pitch in design ideas, do research, draft patterns and sew. The eventual decision of what we create depends on what looks good, what's cost effective, and what fits into our customer profile and brand DNA. Everyone that works at Jason Matlo contributes to the design process from conception of design to finished product. And when Jason isn't in the studio I'm responsible to act on his behalf."
Chef d'Atelier is actually a highly revered French term; the most important position in a design house. The role embodies much more than just designing. A Chef d'Atelier needs to possess many skills and aptitudes: expertise in drafting, draping, garment construction and production. Working with a team, training, insuring proper execution, and managing deadlines are essential. The Chef d'Atelier must have style and a level of taste as the decisions they make contribute to the final look of a collection. It's Jason Matlo's name and reputation that's at stake with every garment that leaves his Gastown Atelier, and the designer puts plenty of responsibility on Wen-chee's shoulders.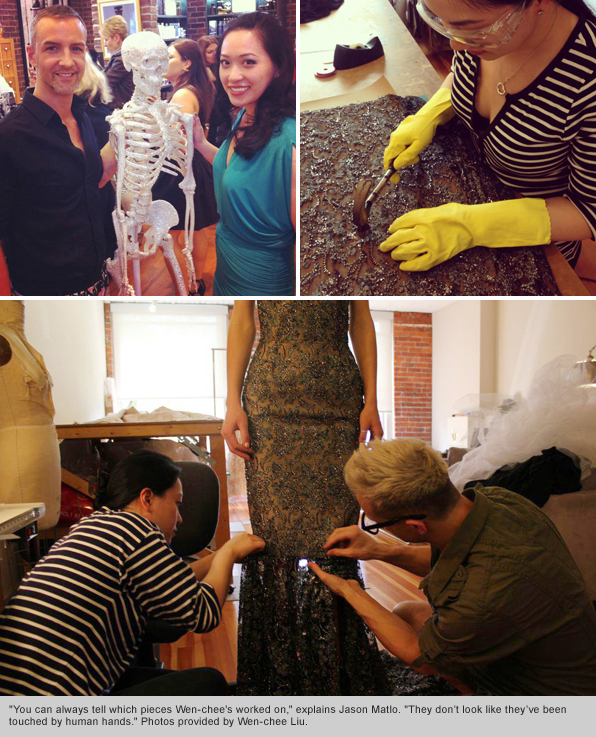 "She's my right hand in here," explains Jason. "She can almost complete my thoughts. We've been working together for so many years I don't even have to articulate what I need. She can read my body language and know what I need before I actually ask for it.
"She has a lot of great attributes. She's very honest. She knows what she wants and she has incredibly good taste. She'll let me know when something's not working, believe me! We're designing a lot of pieces so it's good to get that honesty quickly. She has a great eye, and is incredibly fast and detailed. You can always tell which pieces she's worked on. They don't look like they've been touched by human hands."
Jason isn't the only person blown away with Wen-chee's sewing, creative and organizational skills. They were evident even before she arrived to take the Fashion Design Program at Canada's #1 Fashion School.
Read More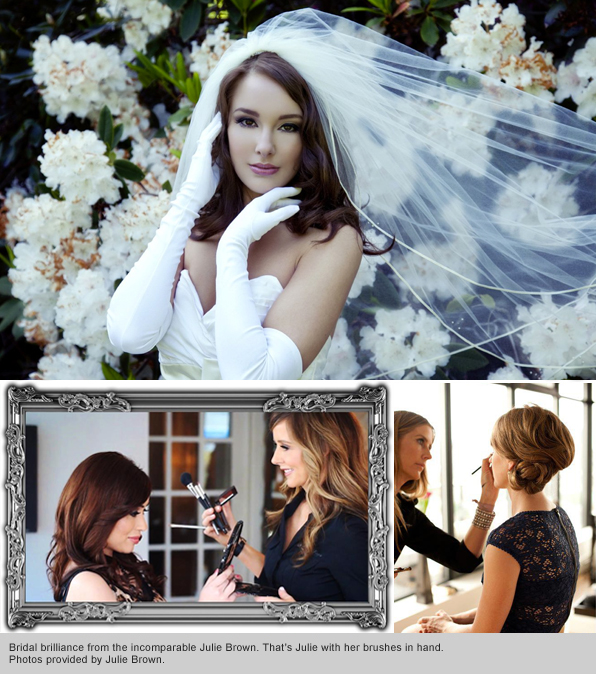 It's never too late to begin a new career. Julie Brown is proof. She's one of BC's most in-demand Bridal Makeup Artists (with a Weddingwire.com Bride's Choice award to prove it), an IATSE permittee for the film and TV industry, a beauty columnist for Fresh Magazine and an instructor at Canada's #1 Makeup School, which is exactly where her own makeup journey began.
"I was in my late 30s, working as a flight attendant for Air Canada," she explains. "I was spending money on makeup like crazy and doing it on friends as a hobby. I was thinking about a career in makeup but felt like I was too old to make a change. I'd thought about going into makeup when I was younger, but I was dissuaded by my parents. It was always something I loved doing. I was fascinated by the transformation process. During my school years I would rip pages out of fashion magazines of makeup, clothes and hairstyles that I loved, and made collages in scrapbooks. I was so surprised when I came to Blanche Macdonald that we were asked to do assignments called photo morgues. That's what I did when I was younger!
"A friend told me, 'You're going to be 38 anyway. Why not be a 38-year-old who's a professional Makeup Artist?' I knew Blanche Macdonald's reputation, so I went on the web site, and saw that I could do the Global Makeup Program Monday through Wednesday or Wednesday through Friday. I could go to school and still fly the other half of the week!"
Read More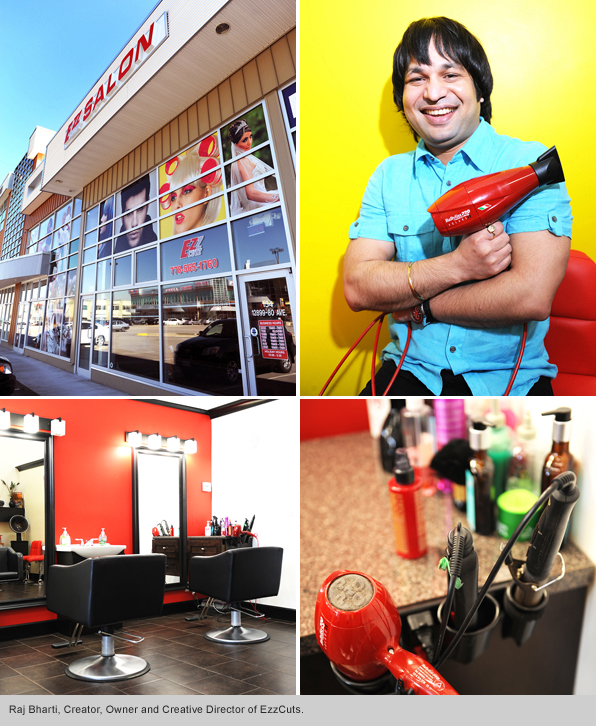 There's a reason Raj Bharti decided to call his Surrey salon EzzCuts.
That's pronounced 'easy cuts' and, as the name suggests, it's a space where men and women can treat themselves in a fun and informal environment; a salon where Downtown Vancouver styles don't come with Downtown Vancouver prices.
There's a gentle irony to the name too. Because getting to a point where Raj could become a successful stylist was far from easy. Although once Raj had decided that Hair was going to be his future career, he was determined to overcome any challenges that came his way.
"I'm from Delhi and my first jobs were in hotel management in Mumbai and Bombay," explains Raj, who graduated from Canada's #1 Hair School and is now the Owner and Creative Director at EzzCuts. "Lots of Bollywood stars live there. I would see film stars, TV stars, singers and models, and they all were having pictures taken the whole time. I liked that, and realised that I wanted to work in something creative. I wanted to work with my hands.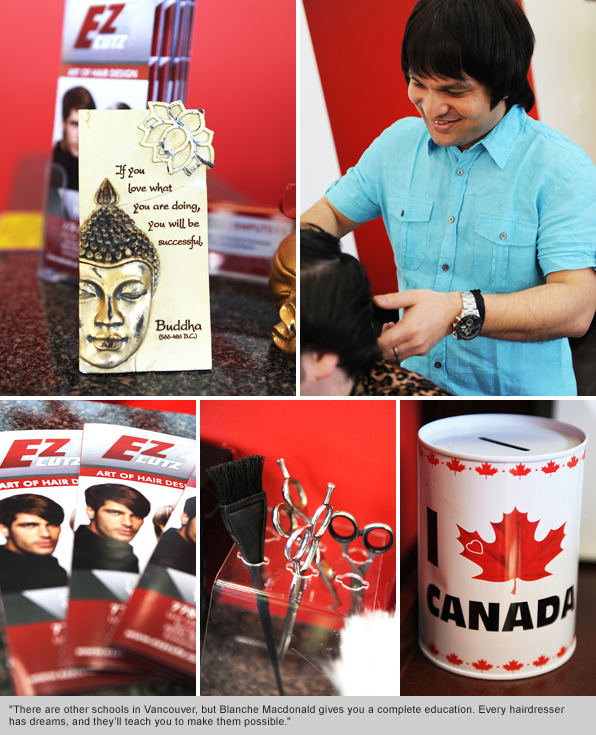 "Soon after I came to Canada I decided that I needed to go to Blanche Macdonald. It had everything. There are other schools in Vancouver, but Blanche Macdonald gives you a complete education. They teach you about fashion shows, how to work in media, TV and films. Every hairdresser has dreams, and they'll teach you to make them possible."
Read More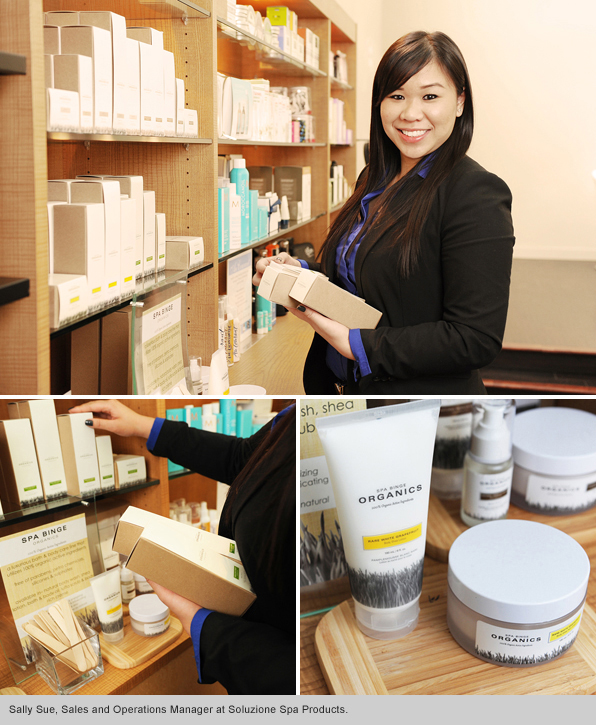 Sally Sue, Sales and Operations Manager at Soluzione Spa Products, has earned the right to talk about chasing dreams. She's running the day-to-day business for the Vancouver-based, Italian-inspired company, managing the Canadian distribution, sales and training for a dozen major spa product lines. It's a position that regularly takes her across North America on training missions. And it's the exact job she was aspiring to when she was a student at Canada's #1 Esthetics School.
"Follow your heart towards what you want to do, not what other people want you to do," she insists. "Start at the bottom and it will grow into something big. Everyone thought I wouldn't be successful. But as long as you keep following your heart and believing in yourself, it will happen."
You'd be forgiven in thinking that Sally's can-do attitude and school-to-success story sound like motivational fiction. But Sally's journey, from being discouraged to enter Esthetics School to a position with Absolute Spa at one of Vancouver's best hotels to her Management role and global travels, is all absolutely true.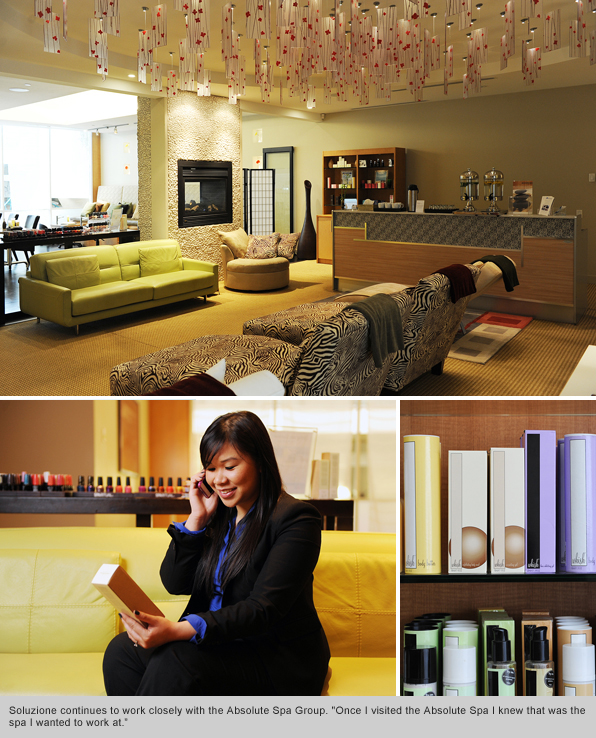 "Growing up in an Asian family they believe in you being a doctor or an accountant. That's not a cliché. In my family it was real! I was studying marketing after high school when I discovered that one of my friends had a girlfriend that was attending Blanche Macdonald and was really enjoying it. I did some research and went there to check it out. Lise Graham showed me around and I fell in love with it. Everyone had huge smiles and open arms, and they told me that I would fit in well at school. My parents thought I shouldn't do it but I had no doubt that I wanted to be a student at Blanche Macdonald. So I dropped out of college and registered."
Read More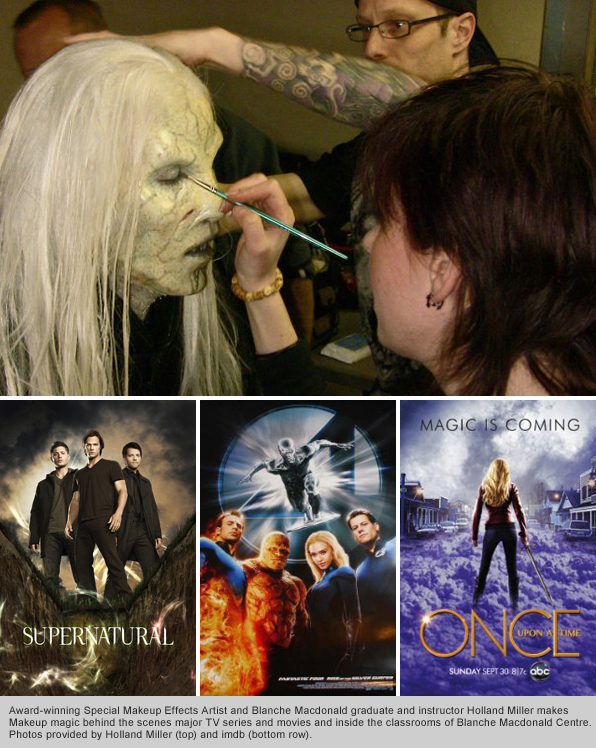 "When I was 16 I snuck into the theatre and saw Aliens. At that moment I knew I wanted to make monsters."
Holland Miller knows all about monsters. The young man from Sacramento now inspires the next generation of Makeup Effects magicians. You've seen his work on Fringe, Supernatural, Once Upon A Time, The Cabin in the Woods, Elysium, Sucker Punch, Underworld Awakening, A Haunting In Connecticut, Fantastic Four: Rise of the Silver Surfer, Underworld: Evolution, The Chronicles of Riddick, Twilight: New Moon, The X-Files, and Stargate. And when he's not on set, Holland teaches at Canada's #1 Makeup School. Which just happens to be where his own makeup journey began.
"After Aliens I bought a whole lot of Fangoria magazines and all the science fiction and horror fanzines I could get my hands on. I went to community college when I was 17 and did a couple of art courses. We had to do a commercial illustration for a funeral home and I drew a coffin with a corpse coming out of it. I thought it was funny as hell. My instructors rejected it without even looking at it."
With an artistic career looking unlikely, Holland enlisted in the US Navy. On duty in the Persian Gulf during the First Gulf War, the opportunity to reignite his creative tinderbox arrived unexpectedly.
"We'd run emergency simulation operations. Part of that was first aid. One time they were looking for someone to simulate wounds. I said I was really into horror movies and that I'd played around with rubber before. I had cotton, latex, rubber and little bits of plastic. I did a broken femur and tibia from what I remembered from Fangoria. People were blown away with how graphic it looked. Seeing how shocked people were with how gross and realistic they thought it was, I knew I could do this."
Read More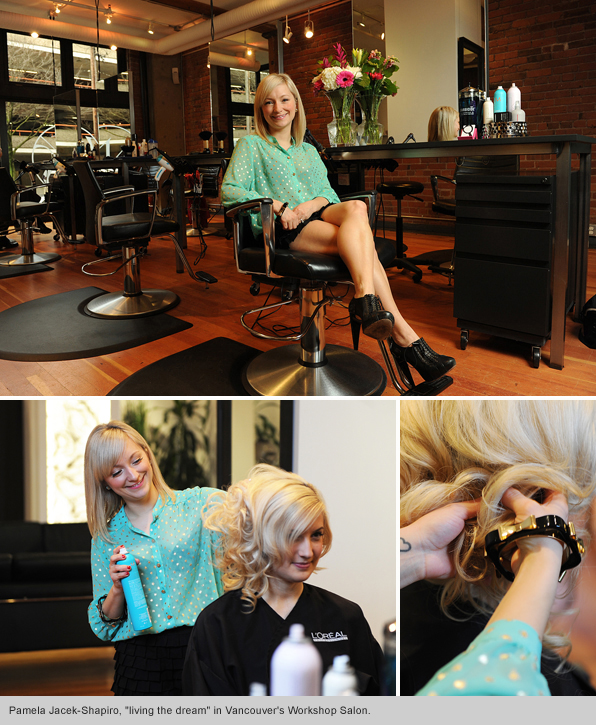 Pamela Jacek-Shapiro understands the Beauty Business. She's been a professional Makeup Artist. She's worked in hair salons and behind the scenes at Fashion Shows and photo shoots. So now the graduate from Canada's #1 Hair and Makeup School is operating as a self-employed Hair Stylist based out of Downtown Vancouver's Workshop Salon, she appreciates that she's hit the career jackpot.
"Renting a chair as a hair stylist is like living the dream," she smiles. "I have my own business. I have flexibility. My hours can be long, but that's because I want to really cater to my clients. I can work late or on my days off. I'm available for my clients when they need me. It's very satisfying to be out on my own making it work.
"The owner at Workshop, Franco Federico, is a friend of mine. He's very education-focused. So am I. I came here when the salon opened in June, and it's been awesome."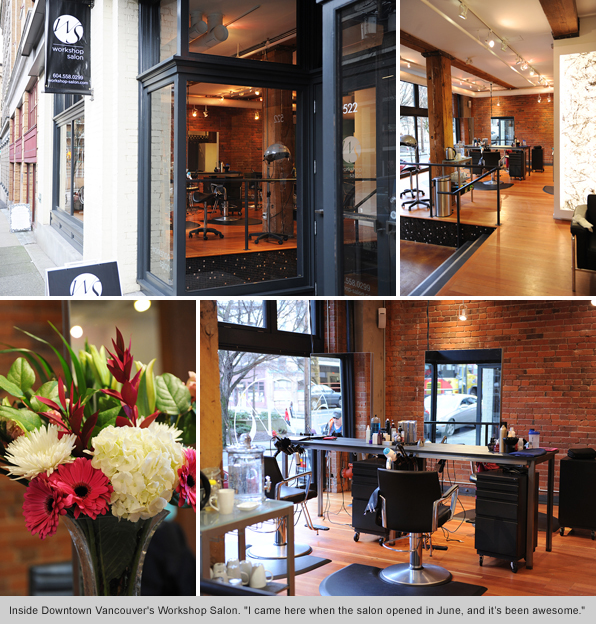 It's not surprising to hear the petite stylist enthuse about being her own boss. Pamela has explored multiple avenues in the hair and makeup businesses, and listening to her describing her adventures, she's enjoyed every step on the way. Pamela understands all the options out there. Now she's chosen the one that's perfect for her.
Read More
"It is NOT our mission to make clothes that make a woman look good, but it IS our mission to make clothes that make a woman feel beautiful."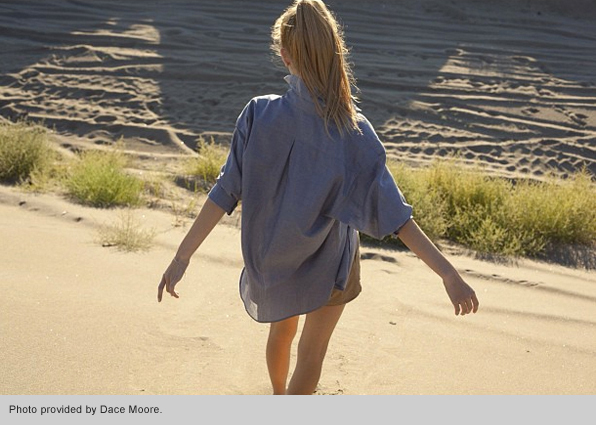 That's the proud mission statement greeting visitors to the facebook fan page of dace, the internationally acclaimed, Vancouver-based fashion label.
Women across Canada, the USA and even Switzerland understand what pulling a dace piece out of the wardrobe means. That same sense of elegant style has graced the pages of countless magazines across North America and beyond, including LOULOU, Redbook, Fashion, Flare, Elle, Chatelaine, NYChic and Canadian Living. For the label's creator, designer Dace Moore, becoming one of Vancouver's fashion superstars wasn't easy. But there's always been a sense of inevitability about Dace's fashion ascendancy, even before she arrived at Canada's #1 Fashion School.
Read More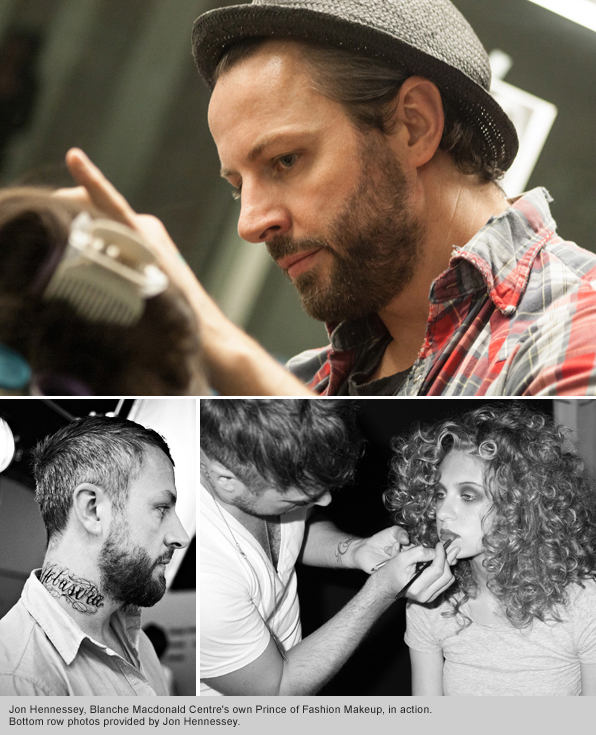 Jon Hennessey is Makeup Royalty. The graduate-turned-instructor at Canada's #1 Makeup School has hundreds of Fashion Shows in New York, Milan and Paris, and countless editorial and advertising shoots under his belt. He tours the World with the superstar educators of The Makeup Show. And somehow he's found the time to put together one of Vancouver's strongest creative teams with his NOBASURA Artist Management.
We feel blessed to have an artist of Jon's international standing on the faculty at Blanche Macdonald. Talk to him for a few minutes and you'll realise the feeling is mutual.
"I love it when I'm sharing my experience," he explains, "and I see a certain energy being reflected back from students that are passionate and hungry and want to absorb as much as they can. I love sharing that information."
Jon understands the power of inspiration. It's at the core of his own journey into makeup.
Read More