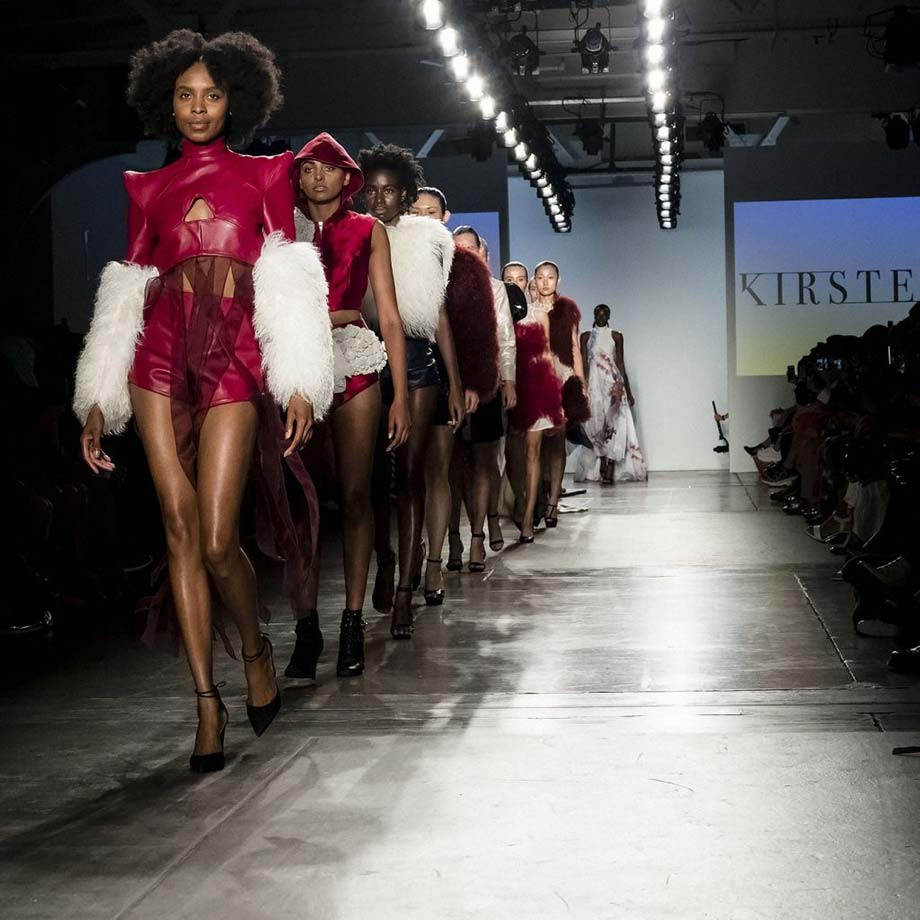 It will come as no surprise if Kirsten Ley becomes a household name in fashionable homes in the very near future. After being described by Executive Program Director Peggy Morrison as "the Student of the Decade" during her time on the Blanche Macdonald Fashion Design course, Kirsten has taken her couture collections around the globe, starring at Fashion Weeks in New York, Vancouver, China, Australia and Tokyo. If that wasn't enough, she's recently moved to Paris to continue her adventures in the beating heart of the fashion world.
These remarkable achievements are perfectly understandable once you get to know Kirsten. She's practically Wonder Woman.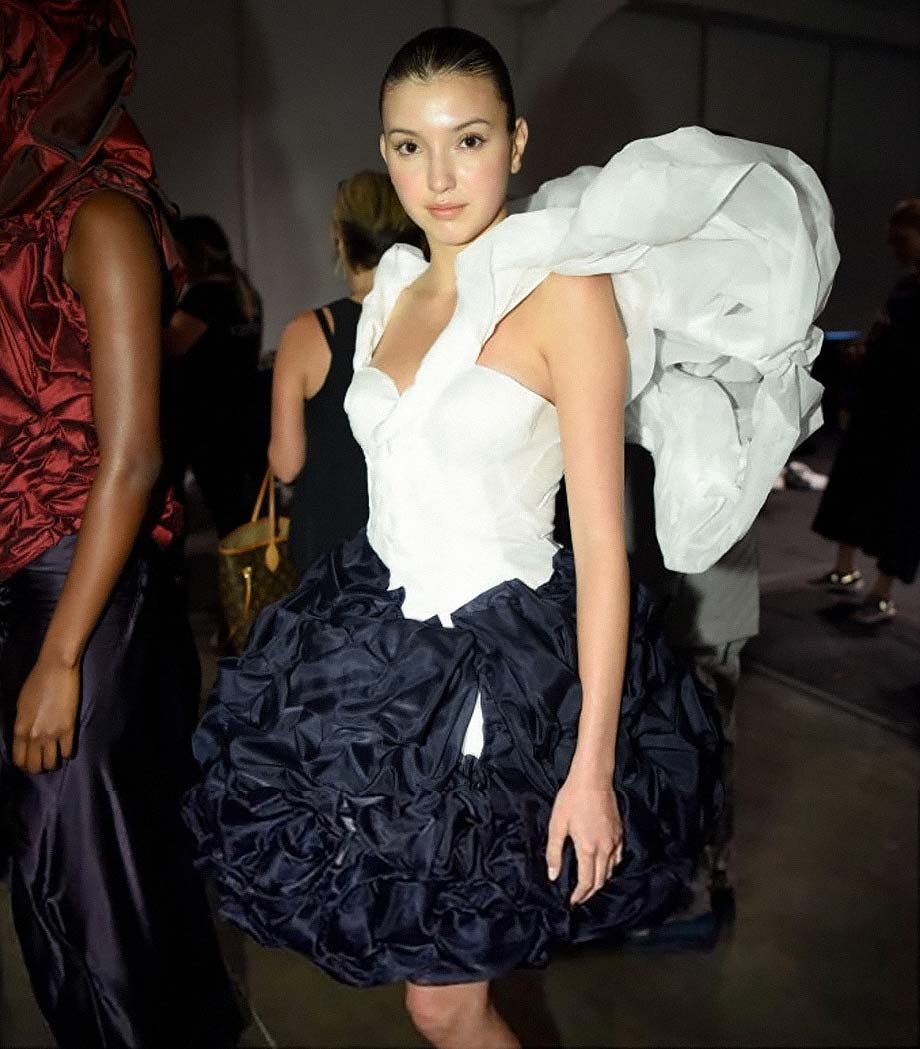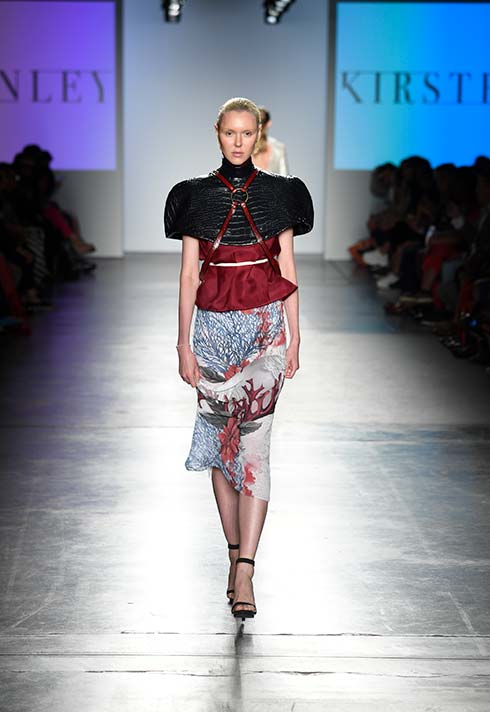 ---

If I couldn't create art I'd lose my mind. Every single collection is a reflection of where I am in life.

---
"I'm going to sound like a crazy person," she laughs, "but if I couldn't create art I'd lose my mind. Every single collection is a reflection of where I am in life. It's my journey. I'm a happy and balanced person, but as an artist I'm highly emotional. I need this outlet to express myself. On my days off from creating collections, I'll paint or write music for my shows.
"I still get up at 5am every morning and go to bed around 2am every night. When I was at Blanche Macdonald I also had an internship and was teaching yoga every morning. I'm a night owl and a morning person. I find my relaxation and rest practicing yoga. I get enough rejuvenation from that to compliment my sleeping schedule, or lack of one!"
Channelling her endless energy directly from the universe (rather than the traditional method of sleep we mortals use), Kirsten's intellectual approach to creativity knows few bounds either. Her award-winning graduate collection juxtaposed concepts by matching the constriction of leather body casts with the free-spirited escapism of billowing silks.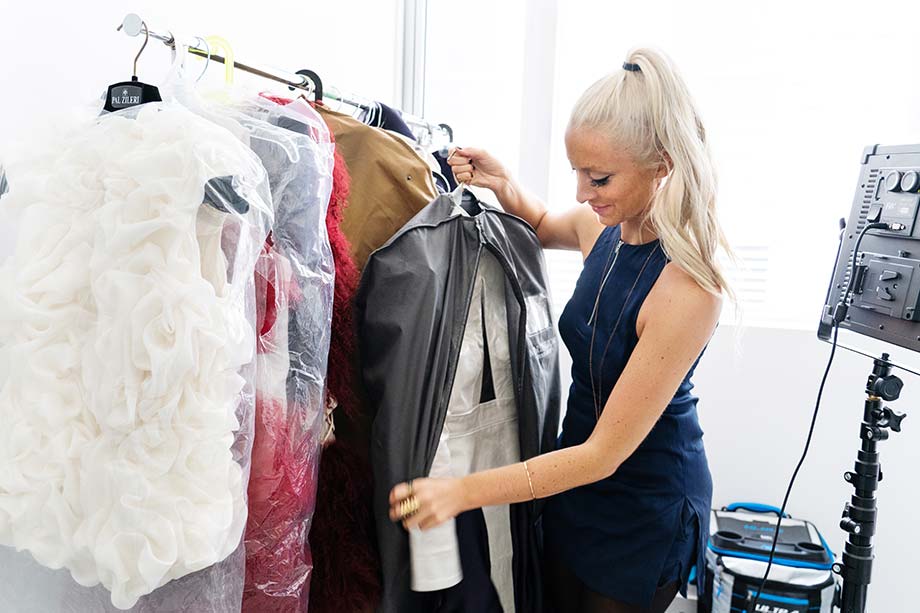 "That first collection was inspired by my personal experience," she continues. "I was diagnosed with scoliosis when I was 13 and was put in a back brace for 22 hours a day. I was an actress, dancer and opera singer and the only time I was out of the brace was when I would dance, sing or perform. The dichotomy of the bound leather garments with the flowing silks is like breaking free of the confines I grew up with. That's one reason why I called my collection 'The Unbearable Lightness of Being,' which is one of my favourite novels too. Milan Kundera took Nietzsche's idea of eternal return, which I think is relevant to the cyclical nature of fashion."
Physical and creative super powers are helpful, but Kirsten insists she couldn't have scaled her globe-conquering heights without the assistance of the Team at Canada's top Fashion School.
---

I loved my time at Blanche. Everything I learned at school in terms of time management and work ethic prepared me for the professional world. I loved everything that the faculty continues to offer. I hear a lot of grads say that you get out of Fashion School what you put into it. That's absolutely true. I wanted to work my butt off and make something of my time here. The faculty and staff have gone above and beyond helping me at school and after graduation.

---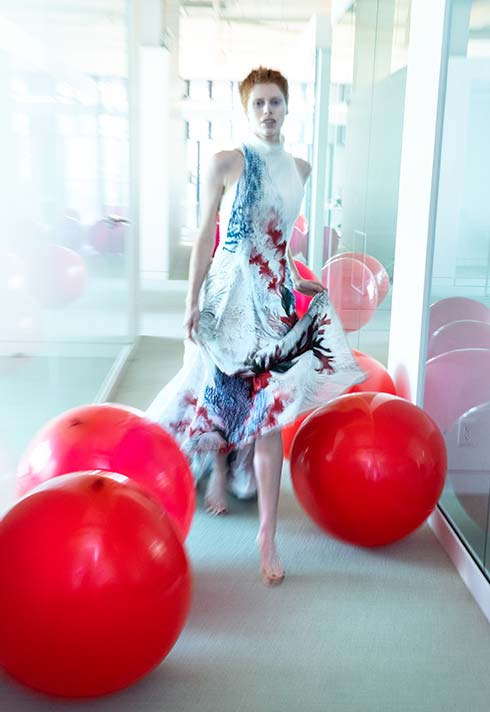 "Tyler Udall, from our first meeting, completely understood me. He has the ability to see the final picture and to visualize it on the runway before a needle has been brought to fabric. I have the utmost respect for him and I'm honoured by his belief in me."
"[Program Director] Peggy Morrison is an incredible woman with a massive wealth of knowledge about every designer you could possibly imagine. Picking her brain opened up a Pandora's Box into the insides of the world of fashion. Her approval and support truly meant that I was doing something right because she doesn't sugar coat anything. She's been a pillar of inspiration.
"Sara Armstrong's ability to see things differently and from an artistic perspective helped me eternally with my drafting and construction process. Most of my pieces aren't traditional and Sara helped me achieve what was in my head. She gave me the confidence to trust my own gut instinct.
"[Fashion Career Director] Mel Watts has been absolutely incredible. She keeps the wheels running and has a work ethic to be envied and admired."
Kirsten deservedly won the Award for Overall Achievement at her year's Blanche Macdonald Fashion Design Graduate Show, but that was merely the first in a long list of triumphs.
"Vancouver Fashion Week asked Blanche if there was a student they'd recommend for a sponsorship, and they picked me! Three months after I graduated I was able to show my collection at Vancouver Fashion Week. It was my own show so the music, hair and makeup were all my decision. It was incredible, as an artist, to see my ideas come to life. I got a standing ovation from people I was told never get that excited. That show made it into Vogue China. I knew then that if I ever had an opportunity I wasn't going to waste it. I was going to work as hard as I could."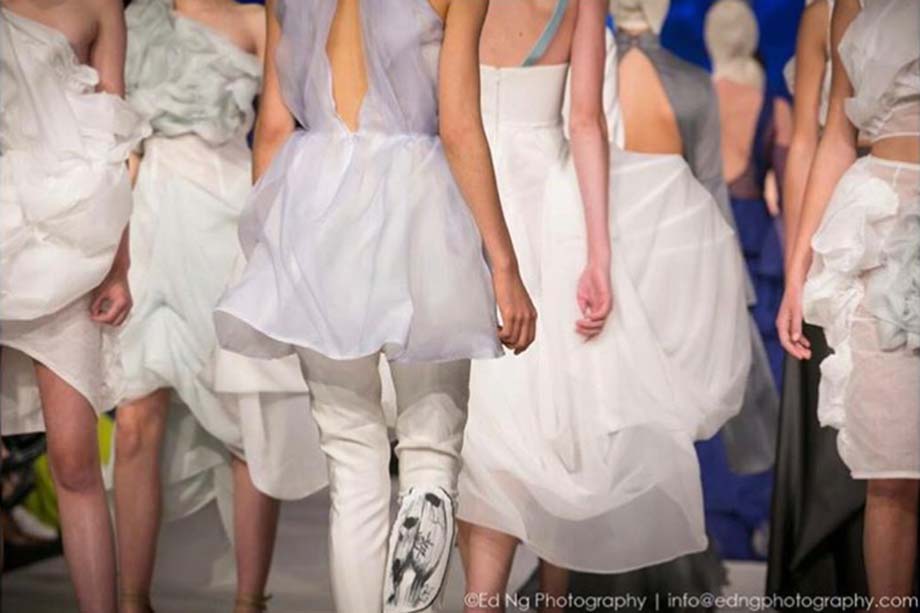 Kirsten's second collection, Fantome, appeared on the runway only six months later. Again a mix of intellectual inspiration and relentless perspiration, Fantome was the collection that cemented Kirsten's international reputation.
"I wanted to surprise people. I started thinking about Snell's Law, the way that light refracts and distorts through water. I wanted to bring that idea into clothing. I built these cloud-like structures where everything was hand sewn. I'm obsessed by couture and sewing for 16 hours a day is meditation for me. I like making things harder for myself!
Kirsten showed at her second Vancouver Fashion Week that fall, and was immediately offered Amazon Fashion Week in Tokyo. From there she travelled to Perth for Australia Eco Fashion Week and after that Harbin Fashion Week in China, which is where she was when she was offered New York Fashion Week. For any young designer a show at New York Fashion Week should be a dream come true. There was one caveat to that New York show. They wanted a brand new collection. And Kirsten had just two weeks to create one. Even that wasn't a problem for this stylish superhero.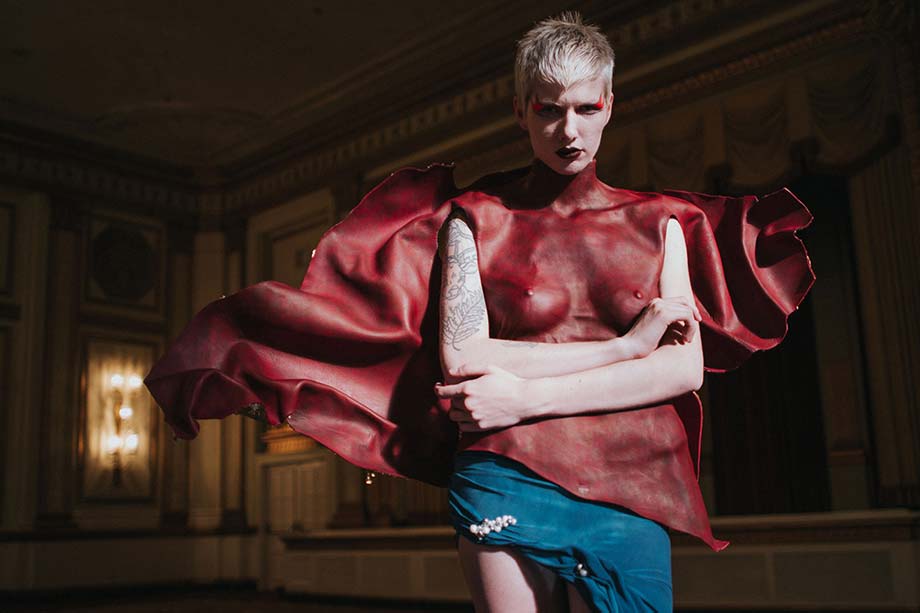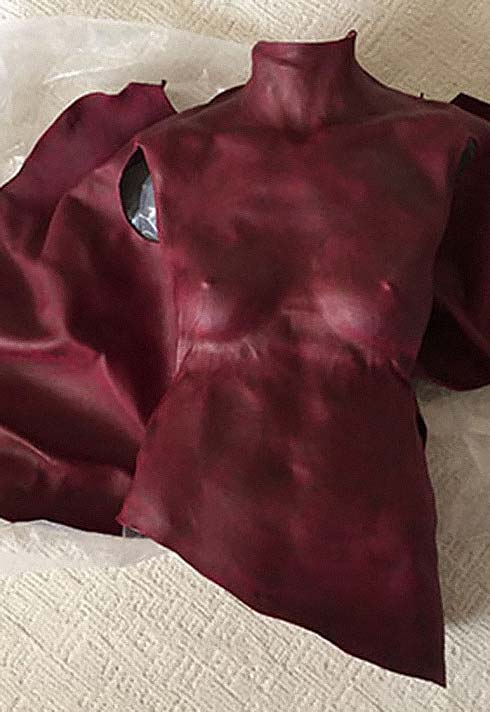 "I'm always two seasons ahead in my brain. I wanted to move away from Fantome and the world of physics. I'd been thinking about Rome, where I'd lived when I was younger, and how Nero played the fiddle while the city burned. I was reading death sonnets by Donne and Keats. Those were the inspirations. I'd already bought the fabric and designed everything before I left for those international Fashion Weeks."
The result was Nero, a collection with a colour palette (burnt greens and browns, apricot flames and plenty of black) reflecting death, loss and a burning Rome. By now the global fashion industry knew who Kirsten was and understood what she was capable of. Vogue UK was one of many publications to feature this soon-to-be superstar.
---

I immerse myself in my art and creation. I'm never thinking about the reception. As long as I get a reaction, I've done my job.

---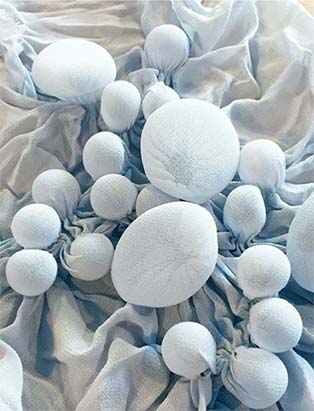 "The articles are more motivation to do better and work harder. Not because I need the press to shower me with accolades. I want to evolve as an artist, which means putting more hours in and working on my techniques. I never expected any of this and constantly thank everyone who has helped and continue to help me. It's all incredibly humbling."
Features in Vogue would be the pinnacle of many designers' career. For Kirsten it's merely the beginning. Her couture collections are now accompanied with ready-to-wear counterparts, and she's recently moved to Paris to pursue new (and currently top secret) opportunities. You could and should follow her to keep up to date with her adventures, but chances are everyone will know the name Kirsten Ley soon. Whatever happens, this designer is sticking to her unique creative vision.
"I immerse myself in my art and creation. You have to dive in and not worry about how people will react. I'm never thinking about the reception. As long as I get a reaction, I've done my job. That's what's exciting to me."