Ask Laura Eastveld about Eminence Organics and a smile instantly appears across her face. Esthetician training is more than just work for the famous Hungarian Organic Skincare Line. She absolutely adores everything they produce.
"The products are amazing," she beams. "It's an organic raw food diet for your face!"
For Laura, working for Eminence Organics is as much pleasure as business. The Blanche Macdonald Esthetics grad has sampled and enjoyed the many career options the industry offers, but she's found her calling as a Trainer for Eminence, educating fellow estheticians around Vancouver, and as far away as Lillooet and Chilliwack, about one of the world's finest skincare lines.
---

Eminence is an amazing fit for me... I'm happy, fulfilled and excited to do my job.

---
"I train estheticians on product knowledge, new product launches, how to do our facials and our massage protocols," she explains. "It's easy to fall in love with these products. They smell good enough to eat. Some people have tried. A colleague of mine left a sample of our Raspberry Pore Refining Masque in her fridge and her husband accidentally ate it on some toast.
"Eminence is an amazing fit for me. Every aspect feels right. I'm happy, fulfilled and excited to do my job. I don't work directly with clients any more. I look at my accounts and the people I'm educating as my clients. All the accounts I work with are great. And there are a lot of them! I love making estheticians superstars, knowing that they're going to be better at giving services and making the right recommendations for their clients. They're already in love with the product before I start. That makes my job easy. I'm just making them excited to sell the product."
The Tsawwassen native didn't always aspire to create esthetics superstars. When she first considered studying at Canada's top Esthetics School she was looking at another program entirely.
"When I was 18 I wanted to be a Makeup Artist," she explains. "I was virtually the only goth in Tsawwassen from the ages of 13 to 15 and back then I was pretty creative with my own makeup. I always knew that Blanche Macdonald was an amazing school. When I checked it out in person they told me about the esthetics program. I'd never even thought about esthetics before then. I spent a year thinking about what I really wanted to do before my mother convinced me to take the esthetics program. She had a friend who owned a spa in Tsawwassen and thought it would be a better career for me. All my instructors at Blanche Macdonald were amazing – extremely knowledgeable and professional. I got great training when I was there."
---

I liked making people beautiful and making them feel good about themselves.

---
The training was terrific, but the Esthetics Program also revealed natural gifts Laura had been previously unaware of.
"I never realised I had a talent for facials," she laughs. "I really enjoyed the science and skincare aspect of the program but I also discovered that I had this healing touch. Every time we partnered up all the other students wanted to be my partner and I didn't understand why. After I graduated I went on to do two levels of Reiki training. It was just something I was naturally good at."
Laura dropped off her résumé at Tsawwassen's best spa, Atlantis Day Spa, owned and run by fellow Blanche Macdonald grad Judy Drew, before she'd even graduated, and went straight from Esthetics School to working with clients.
"I knew Atlantis was one of the top spas in town and I wanted to be there. I went in for an interview, and did a facial and a pedicure on the manager.
"It was a great experience. I liked making people beautiful and making them feel good about themselves. Skincare was my strength for sure, but I was providing all the esthetics services at Atlantis. Working for Judy was such a good experience. It was the best place for an esthetician to start because she would have people coming in educating us on all of the lines she carried. We would have regular training and I was always learning something new."
---

I love making estheticians superstars.

---
After two years at Atlantis Laura decided to leave Tsawwassen for the bright lights of Vancouver. After another couple of years working in Downtown spas, followed by her first experiences as a skincare trainer and rep, a fan from Laura's past led her to a dream position at a spa called The Healing Centre at The Harmony Hotel resort in sunny Nosara, Costa Rica.
"I'd actually given the manager of this resort a pedicure three years earlier. A regular client of mine had bought her a gift certificate for a treatment at Atlantis. This manager wanted to bring me to The Healing Centre, but didn't know how to find me. I happened to bump into my old client when I went back to Tsawwassen for a 30th birthday party. She told me that her friend had been looking for me for years and wanted to hire me. A month later I was on my way to Costa Rica.
"Working at The Healing Centre was one of the most amazing experiences of my life; just the lifestyle and being in the hot sun every day. The manager there told me that we were going to make our products out of cucumbers, bananas, papaya, coconut oil, raw sugar and stuff like that. I was like, you're kidding me, right? Then we started to create these facials and they were amazing. The fruit and vegetables there are organic and beautiful. We would blend everything up fresh just before the treatment. We did body treatments where we'd layer the body with banana leaves. I would work in my bare feet. It was a rustic setting but absolutely magical."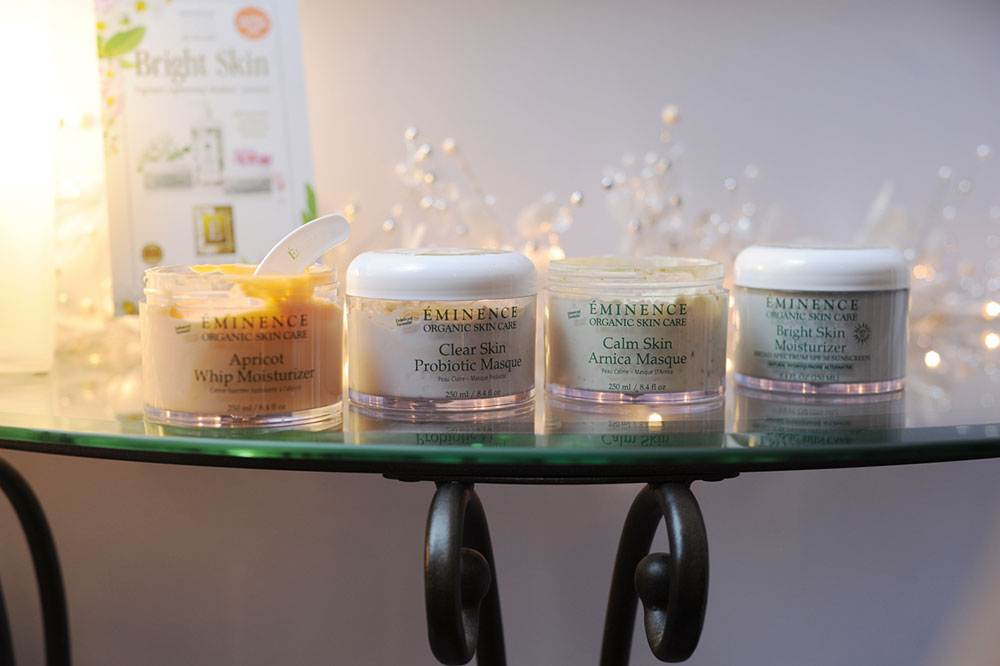 Inspired by what she'd experienced in Costa Rica, Laura returned to Vancouver looking for new challenges. She took a position as a Trainer for a skincare line that took her as far as Alberta and Washington State. She wasn't a fan of the travel involved, but she must have been doing something right. Because it wasn't long before she'd been approached by Eminence Organics for the position of Trainer. The rest is wildly enthusiastic, smile-filled history.
"For my first rep job I had to visit a lot of retail stores where they sold skincare products but the staff weren't trained in esthetics, so it was hard for them to really understand what I was talking about. Estheticians have this scientific language that we speak, because we understand skin types and conditions.
"When I speak to estheticians now I'm really there to help with what they want from their training. I like to make sure they know the product first and I'll gladly incorporate a demo if that's what they ask for."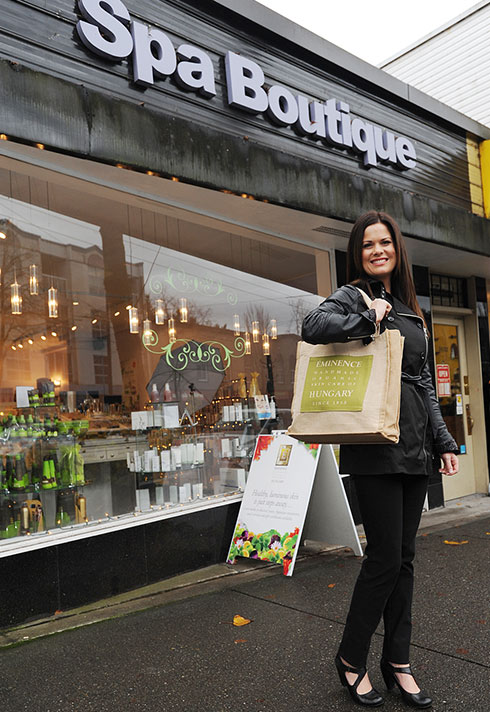 Among those estheticians Laura loves educating are the next generation of superstars, the students at Blanche Macdonald.
"One thing that stands out for me is that I've had a chance to go back to Blanche Macdonald and train the students on the Eminence product line. I remember being that 21-year-old sitting in the chair listening to reps come in and talk about their lines. Now I'm the one standing there!
"I never saw myself as an esthetician when I was younger. And I definitely never saw myself as a Trainer when I was at Blanche Macdonald. But you set goals for yourself and you want new challenges. It was scary jumping into that training role at first. It was a part of me that I didn't know was there before. Like I didn't know I had a talent for giving facials, I didn't know I had the talent to be a great trainer too."